"Mary took a pound of costly perfume made of pure nard, anointed Jesus' feet, and wiped them with her hair. The house was filled with the fragrance of the perfume. But Judas Iscariot, one of his disciples (the one who was about to betray him), said, "Why was this perfume not sold for three hundred denarii and the money given to the poor?" (John 12:3-5)
Hi Fighter,
We begin this week with a snapshot of Jesus' family. How would you describe it? Dysfunctional is the first word that comes to mind for me.
Of course, this isn't Jesus' actual biological family. Jesus broke ties with them early in His public ministry, after they tried to reel Him in (Mark 3:31-35). That painful story concluded with Jesus asking, "Who are my mother and my brothers?" and giving the answer, "Whoever does God's will is my brother and sister and mother" (Mark 3:35).
Jesus' disciples, it seemed, replaced the dysfunctional family of His youth. Even so, that new family included people like Judas Iscariot – the man who eventually handed Jesus over to those who killed Him. Was Jesus' new family really an upgrade?
And then there's Mary – the central character in this Gospel narrative from John 12. Her actions were extravagant, passionate, and, … yes, sensual. In the context of family, it seems almost incestuous, and yet Jesus accepts her passionate display of love towards Him and honours her for it.
What can we say about the familiy of Jesus – the biological and the adopted. They regularly get Jesus wrong. They are full of problems. They are passionate, extravagant, human and broken. Has anything changed?
I had dinner with my family last night. It was my dear youngest daughter, Fran's, thirteenth birthday. Three of my four children were there, and it was the first time the three had been together in more than a year. It was wonderful. We had a great night. Were we an archetype of harmony and familial functionality? Hardly, but compared to some of the domestic scenes that appear in the Gospels, we looked pretty good!
Of course, the wonderful thing about the Gospel stories is that, in the end, it all turns out OK. Jesus' relationship with His mother is restored, and one of Jesus' biological brothers (James) becomes a leader in the early church. Jesus' biological family evidently experienced some healing, and certainly His adopted family did too.
This is what we all hope for with our families. Do any of us see our children reach adulthood without experiencing anguish, division, rage, betrayal, sickness, tragedy, failure and alienation? We experience all these things, and yet we experience love too. Indeed, it was the love of Jesus that brought His families back together. May the love of Jesus be a healing force for us and for our families too.
Reasons to be Cheerful
I have much to be thankful for this week. Celebrating Fran's 13th birthday has been wonderful. Having my darling daughter, Imogen, back with us this week has also been very special.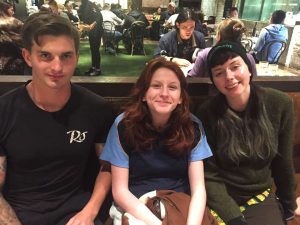 I also received a wonderful gift this week from my friend, Michael Attallah. It's pictured below – a fantastic pencil sketch of Joy and myself.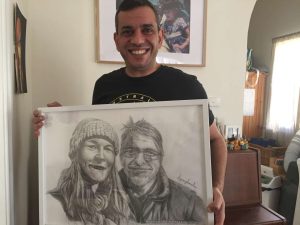 Michael is actually not the artist, but rather his partner, Lee Choung Hwa. We have never met this amazing woman and yet she created this wonderful gift for us!
And to add icing to the birthday cake, I had three responses to last week's appeal for a new book-keeper. Yes, I need somebody to replace dear Walter in that department (who I continue to miss terribly). I had not really expected anybody to respond right away, and certainly not three people. Thank you.
Our Sunday Eucharist
I promised last week that we'd have Joel Jammal and George Christensen joining us for our Sunday Eucharist. Unfortunately, George came down ill and our mate , Mack, took his place. Then, when it came time for Mack to do his reading, he was gone.
We found out later that Mack was needed by his wife and children. In truth, Mack had his priorities right, and we made do. You can see the recording below. I've included most of the introductory chat between the three of us where we talk about what's going on, locally and globally.
Join us this Sunday at around 11.45 am and you may find a few more of us chatting! We begin our formal liturgy at noon via:
All support is appreciated
If you're able to financially support me via Patreon, it is deeply appreciated:
Middleweight Division ($10/month) where you get access to the member site, along with the videos and other resources.
Heavyweight Division ($100/month) which includes individual coaching, along with software subscriptions to both Buzzious and Streamout, allowing you both to publish an unlimited number of quality blogs and to livestream.
Super-Heavyweight division ($400/month) includes all of the above plus me training with you one-on-one – at The Fight Lab and at Binacrombi Bush Camp
The fight goes on
Please keep me in your prayers as I battle to retain my certification as a professional boxer. It would appear that the Combat Sports Authority (CSA) wants me to retire. They've created a series of extra hoops for me to jump through before they'll renew my boxing license, including clearances from both a neurologist and a cardiologist!
There's a pic of me below strapped up to a cardio machine, assessing my heart. Happily, all my results thus far have been exceptional. I've got to the end of the month to complete the tests, but it's just the paperwork now. It seems that the Lord still wants me fighting. Let's pray that the battles ahead will not overwhelm us.
Your brother in the Good Fight,

www.fatherdave.org
www.fighting-fathers.com
www.holytrinity.org.au
www.binacrombi.com.au
www.israelandpalestine.org
www.prayersforsyria.com
www.dulwichhillgym.com
www.boxersforpeace.com
www.warriorweekends.com
Preacher, Pugilist, Activist, Father of four