"Let the same mind be in you that was in Christ Jesus, who, though he was in the form of God, did not regard equality with God as something to be exploited, but emptied himself, taking the form of a slave, being born in human likeness." (Philippians 2:5-7)
Hi Fighter,
It's a special time for us religious folk at the moment:
If you're a Christian, you're in Holy Week.
If you're a Muslim, you're in the middle of Ramadan.
If you're a Jew, Passover has just started
Bizarrely, it's also the start of election season, which means that both the visual media and the airways are overflowing with things political as well as things religious. That sounds like a highly volatile combination!
In light of the potential for confusion, I thought we'd spend a moment reflecting on the 'kenosis' passage from Paul's letter to the Philippians. It's printed above.
Christ "emptied himself", St Paul writes. The Greek word Paul uses here is 'kenosis', which refers to the act of emptying – in this case, Christ's self-emptying. Christ made Himself small, Paul says, "taking the form of a slave", to enrich others.
This passage became a key focus of discussion in the Arian controversy of the 4th century, where the church struggled to define the relationship between God, the Father, and Jesus, the Son. The same verse then became central to Eastern Orthodoxy, though not with any focus on the relationship between Jesus and His Heavenly Father, but rather on kenosis as our means to achieving union with God!
For me, one word comes to mind when I read these verses – namely, 'passion'.
I'm not sure exactly how St Paul envisaged the relationship between Jesus and His Heavenly Father, and I don't think he really intended to say much about that here. Rather, I see Paul as reflecting on Jesus as one who poured out His life for others, holding nothing back, leaving us this kenosis model of passionate self-emptying.
Behind all the election rhetoric at the moment are individual men and women vying for positions of political power. The model of kenosis moves us in the opposite direction. From the very start, Jesus was downwardly mobile. His starting point was equality with God. His end point was crucifixion! This is not the direction that any of us really want to go in.
Let the same mind be in you that was in Christ Jesus" (Philippians 2:5).
It's a big ask! Don't we all want to get ahead? Every politician is striving for the top job, and most of us are looking for a leader who can help us best move forward? None of us really wants to descend the social ladder, even if for the sake of God, love and justice.
"Faith is passion", said Kierkegaard. "Have this mind among you that was in Christ Jesus", says St Paul. The life of faith is a risky, costly, counter-cultural roller-coaster ride. Jump on board if you dare!
Into the Lion's Den
With the date of the election having now been fixed, it's time for me to come clean about my own political ambitions (or lack thereof).
As most of you know, I'm running as the United Australia Party candidate for my local electorate of Grayndler. For those who don't know, this is the same electorate for which Anthony Albanese is the Labor Party candidate!
'Albo' is an old mate of mine. I have words of support from him printed on the back page of my most recently-published book. He is expected to become our next Prime Minister. What, in God's name, inspired me to take him on?
In truth, this won't be the first time I've taken a fight where I've been the underdog, though I think Rocky Balboa had better odds in his first fight with Apollo Creed. Like Rocky though, I just want to still be on my feet when the final bells rings, and to know that we did our best to get our message out.
I'm proud to be representing the United Australia Party at this election, not because I think we're going to win but because I'm proud to represent a party that stands up for freedom.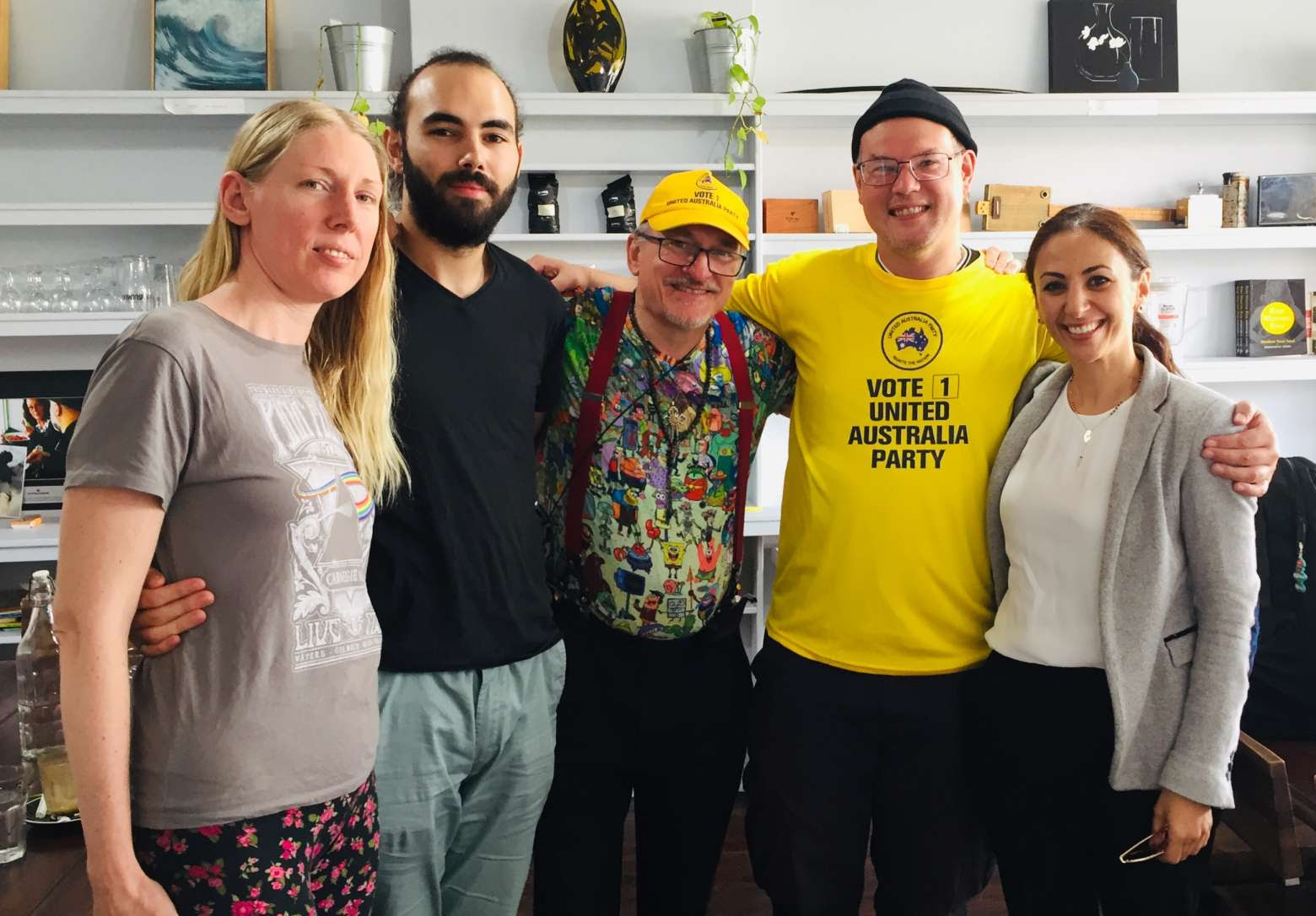 I've seen too many people die over these last couple of years. Government lockdowns have killed people I know, and they almost killed me. I won't go on further about this now. Suffice it to say that I remain deeply concerned about government over-reach, about loss of free speech, and about the creation of a two-tiered society that divides the vaccinated from the unvaccinated.
In truth, my goal at this coming election is not victory but kenosis. I'm aiming to pour myself out for the things I believe in, and I have a great team of talented and driven people working alongside me. I'm trusting that God will honour our efforts in ways we might not yet anticipate.
Our Sunday Eucharist
What a pleasure it was to have my two dear friends, David Baldwin and Tom Toby, join me last Sunday. David is a well-known friend and scholar. Tom brought a special perspective to our Bible readings as a Shia Muslim.
I thought it would be great if we could find learned friends from the other Abrahamic faiths to offer us their wisdom on our Old Testament reading most especially. Indeed, I'm still hoping to have John Safran join us soon so that we can benefit from a genuinely Jewish commentary on the Torah. Surely, we can all only benefit from the sharing of our wisdom.
I'm not sure who I'll have with me this Sunday as it's Easter, and it's a big ask if I have to drag people away from their families to join us. Either way, our Easter Sunday liturgy will begin at noon via:
Thank you for your support
Every dollar I receive from you via Patreon is deeply appreciated. It doesn't go to me directly but to Fighting Fathers Ministries which finances our web work and our other ministry activities (Binacrombi, the boxing club etc) and from which I do draw a small wage. I appreciate all support and do believe I can give you something in return.
Middleweight Division ($10/month) where you get access to the member site, along with the videos and other resources.
Heavyweight Division ($100/month) which includes individual coaching, along with software subscriptions to both Buzzious and Streamout, allowing you both to publish an unlimited number of quality blogs and to livestream.
Super-Heavyweight division ($400/month) includes all of the above plus me training with you one-on-one – at The Fight Lab and at Binacrombi Bush Camp
Keep me in your prayers please as I venture into the lion's den of politics. I don't see myself as a career politician by any means, but I do believe that much good could be accomplished through this stoush. The cross of Christ reminds us that victory can come in a variety of forms. On to glory!
Your brother in the Good Fight,

www.fatherdave.org
www.fighting-fathers.com
www.holytrinity.org.au
www.binacrombi.com.au
www.israelandpalestine.org
www.prayersforsyria.com
www.dulwichhillgym.com
www.boxersforpeace.com
www.warriorweekends.com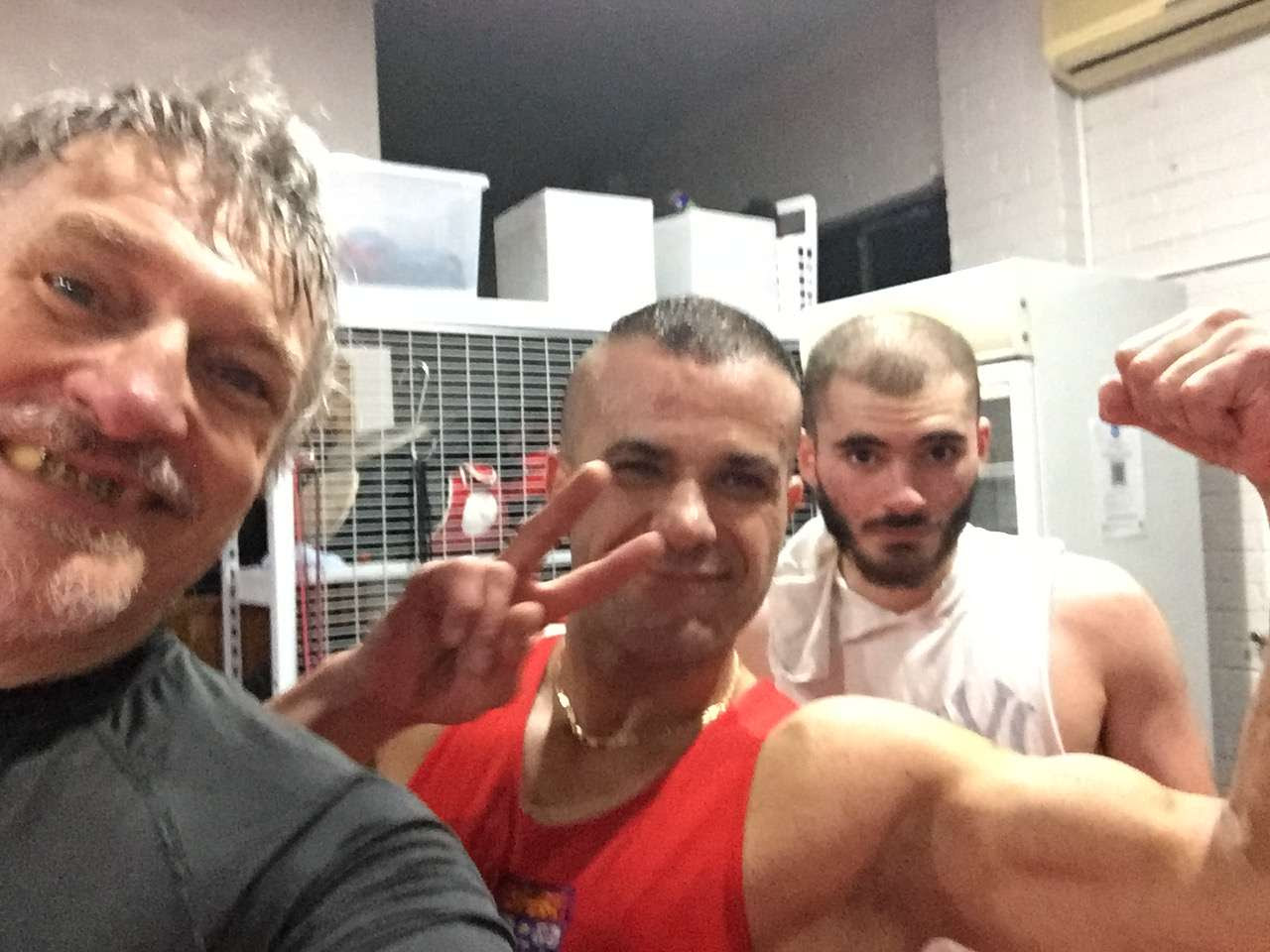 Preacher, Pugilist, Activist, Father of four