(Last Updated On: July 30, 2022)
"Someone in the crowd said to [Jesus], "Teacher, tell my brother to divide the family inheritance with me." But he said to him, "Friend, who set me to be a judge or arbitrator over you?" (Luke 12:13-14)
Hi Fighter,
I start today with these disconcerting words from Jesus – "who set me to be a judge or arbitrator over you?" (Luke 12:14).
Someone was seeking Jesus' help. No, the man didn't have any terrible disease that needed healing. He had a brother who was trying to swindle him out of his inheritance. Even so, it was surely something that Jesus could have helped him with. Jesus shows complete disinterest!
Christian piety tells us that we should bring all our griefs and pains to Jesus, believing that He is always ready to hear and to answer our prayers. This encounter suggests though that there may be some things that weigh heavily on us but that are of little or no interest to Jesus at all!
The issue in this instance, of course, is money, and I confess (with shame) that money worries have kept me awake at night on multiple occasions. Certainly, I have committed my money issues to prayer, time and time again. Is it possible that Jesus, rather than sympathising with me in my pain, is instead shaking His head, saying, "tell someone who cares!"?
Jesus' issue with money is fleshed out in the warning He subsequently gives to the crowd – "Be on your guard against all kinds of greed" (Luke 12:15) – and in a story He tells them about a foolish businessman who never gets to enjoy the fruits of his labour (Luke 12:16-21).
The businessman in Jesus' story had been very successful. He'd made huge profits and had resources stored up for years to come. Jesus doesn't so much suggest that his actions were evil, but rather stupid – "'You fool! This very night your life is being demanded of you. And the things you have prepared, whose will they be?"
You can't take it with you. We all know that, and yet we continue to live as if life were a game where the person who gets to the end with the most money wins. It comes from living in a society based on two primary values – labour and consumption. It's what makes the world go round – we work and we consume. Biblical religion turns these priorities on their heads – urging us both to fast and to rest (sabbath).
It is hard to resist the lure of materialism when all our peers are busy trying to live the dream. But we worship a different God and we dream a different dream. I guess that means learning to pray different prayers too?
A Big Weekend in the bush
We were back in the Binacrombi wilderness last weekend, and it was intense.
We spent much of the Saturday with a young guy, Peter, who had fallen off his bike and damaged his knee. With cloud cover blocking helicopter access, and swollen rivers making regular ambulance access difficult, we ended up spending most of the day getting the young man to the hospital. Thankfully, everything came together in the end and he is doing great.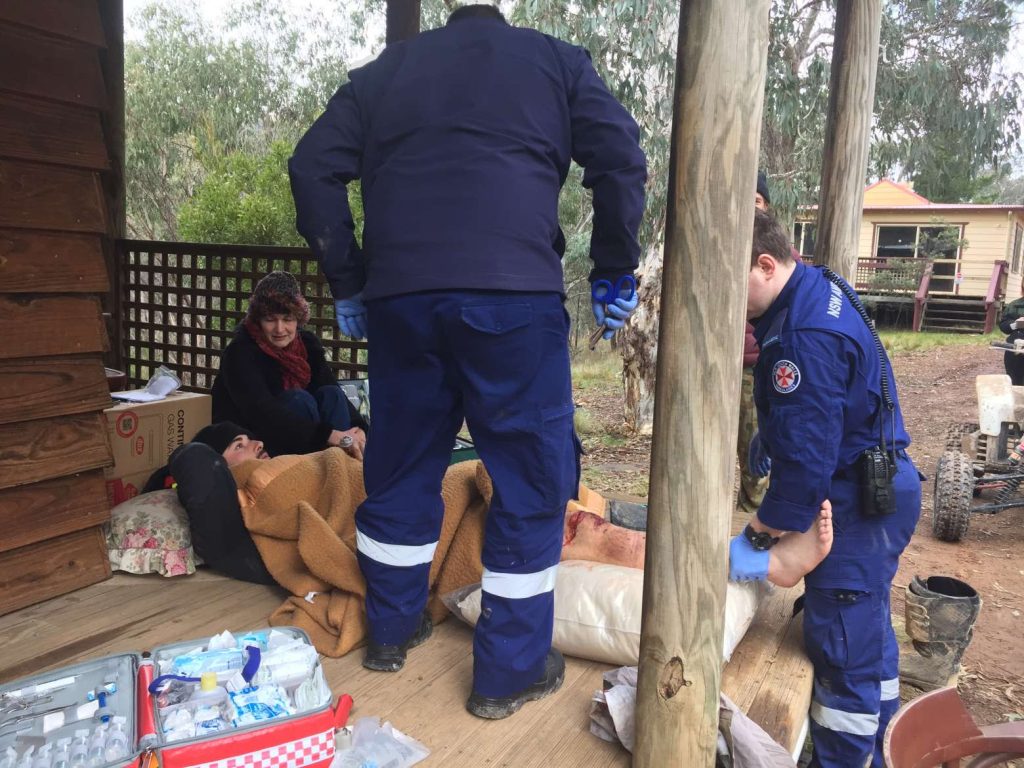 The Saturday Night Bush Bash was a three-way showdown between myself, Australian middleweight champion, Nathan Nicholas, and our special visitor from Sweden, Father Ola Joyce.
Some of you will remember that I had the privilege of taking the wedding of Ola and Jessie a little over two years ago. You can see the wedding pics in my March 2020 newsletter. Jesse and Ola are back in Australia, and they now have a young son, Eli. If we can get the whole family to Binacrombi next time, we might start on young Eli's training.🥊
Our Bush Eucharist on the Sunday was also very special. As I had both Father Ola and Rev. Joy with me, they partnered me for our Bible Banter. Our friends originally scheduled for last weekend – Doug Pyeatt (from the USA) and John Crawley (from Canberra) – have graciously agreed to join me this coming Sunday. 😊
So … please join us at midday this Sunday through any of the usual channels:
Mack's half-time speech
The battle for freedom continued this week with a big rally for Julian Assange in Canberra on Thursday. I wasn't able to attend that rally but I did talk about Julian in an interview I did with Mack Marchegiani. We also talked about God, freedom, the Manly 7, and my early years working in Dulwich Hill when it was still a warzone. The interview can be watched on Rumble or heard on Spotify.
If you're not familiar with Mack's work, he's an inspirational leader in the freedom movement, a teacher, a family man, and he used to run a boxing gym! You'll find lots of other interviews he's done on his Rumble and Spotify channels, and you can also follow him on Telegram as @Mack_The_Truck.
Thanks for your support
Thank you again for your support. We had two people increase their subscription levels on Patreon this week. Perhaps God does hear my prayers about finances after all!
In truth, I am deeply grateful to each of you who support me financially and with prayer. If you haven't signed up yet but do want to contribute, please choose one of the following options at the Patreon site.
Middleweight Division ($10/month) where you get access to the member site, along with the videos and other resources.
Heavyweight Division ($100/month) which includes individual coaching, along with software subscriptions to both Buzzious and Streamout, allowing you both to publish an unlimited number of quality blogs and to livestream.
Super-Heavyweight division ($400/month) includes all of the above plus me training with you one-on-one – at The Fight Lab and at Binacrombi Bush Camp
In closing, l must mention that I'm hoping to hold another training weekend in the bush for the weekend of August 12 to 14. Put it aside in your diary now. And don't forget training this Saturday, Tuesday and Thursday @ The Fight Lab.
May God bless and strengthen you for the work to which you have been called.
Your brother in the Good Fight,

www.fatherdave.org
www.fighting-fathers.com
www.holytrinity.org.au
www.binacrombi.com.au
www.israelandpalestine.org
www.prayersforsyria.com
www.dulwichhillgym.com
www.boxersforpeace.com
www.warriorweekends.com
Preacher, Pugilist, Activist, Father of four