(Last Updated On: July 23, 2022)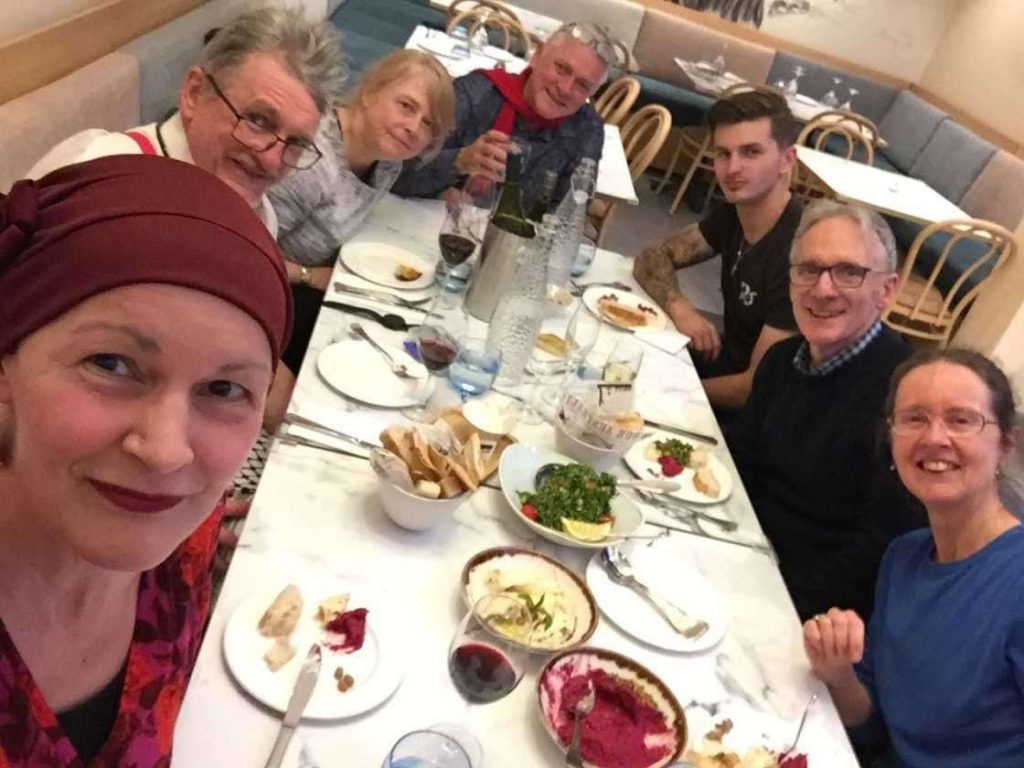 A wonderful family dinner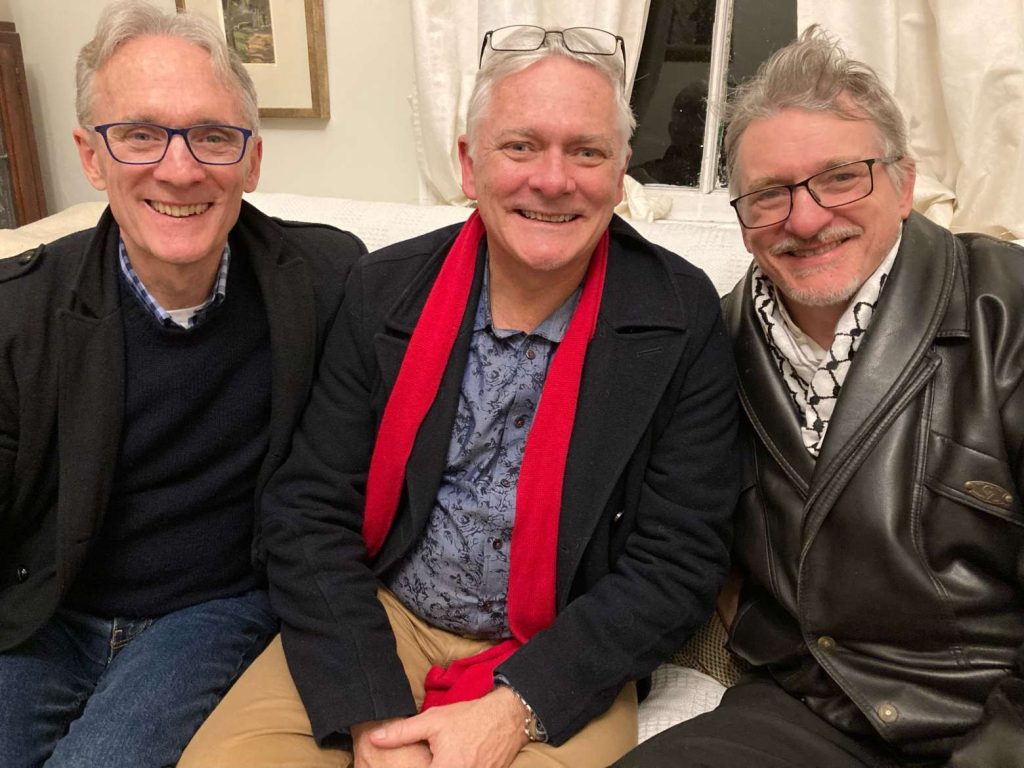 with my brothers, Rob and Andy, celebrating their birthdays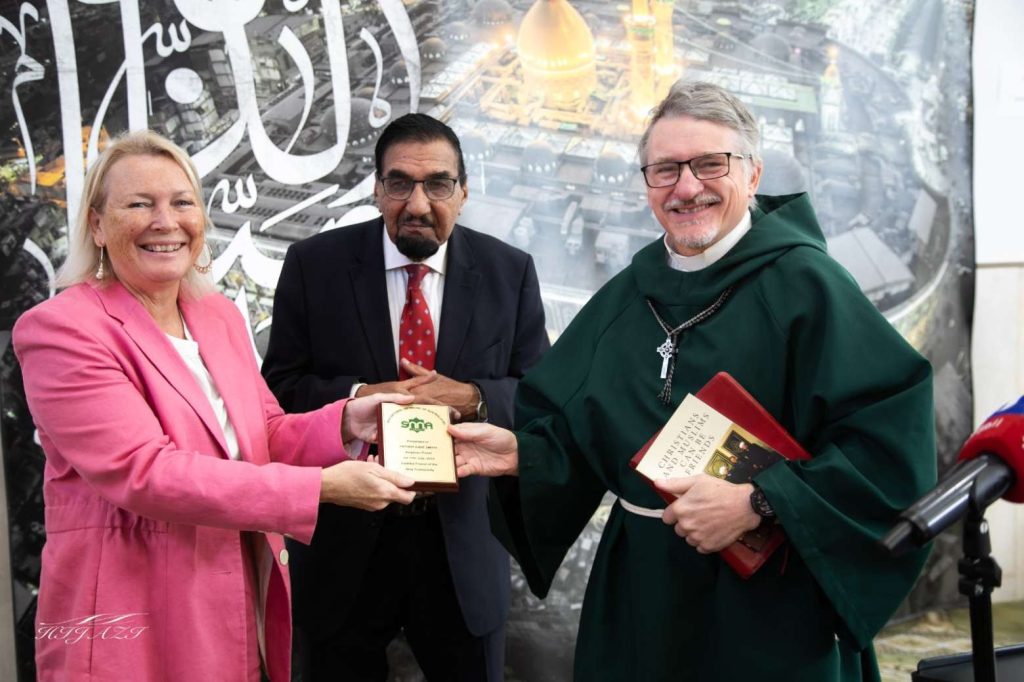 Awarded "Faithful friend of the Shia Community" 🙂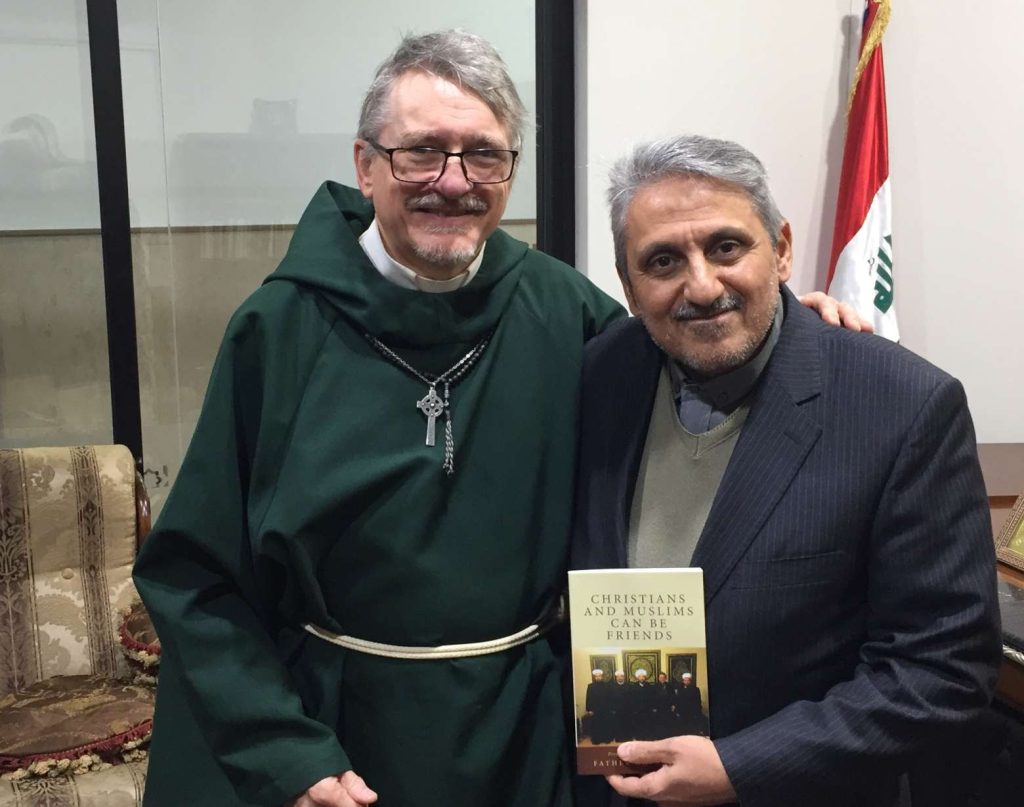 with the Iranian ambassador
"So, I say to you, Ask, and it will be given you; search, and you will find; knock, and the door will be opened for you. For everyone who asks receives, and everyone who searches finds, and for everyone who knocks, the door will be opened."
(Luke 11:9-10)
Hi Fighter,
I begin today with this extraordinary promise from Jesus. All you need to do is ask and you will get whatever you ask for! Name it and claim it – it's yours for the taking! Can it really be that simple? Perhaps it can be?
True story: Two days ago, in my morning prayers, I was praying for direction. Where does God want me directing my energies now? I also prayed for financial stability. After prayers I made myself a coffee, sat down at my desk, and immediately received a phone call.
"Hi! Is this Father Dave? I'm from Eureka Entertainment. Have you heard of the reality TV show, "Million Dollar Island"?
Thus began a rather mind-blowing call where I was invited to apply to be one of 100 Australians who would be shipped out to some remote island where they would compete, with the winner taking home a million dollars!
This was not a trick. The woman who rang me had done her research. She knew exactly who I was, and she'd been watching A Current Affair's news coverage of both my church work and my boxing gym. Her team evidently believed that I would be a good addition to the show. I saw the hand of God at work and was already thinking about some of the amazing things that we could do with the million dollars.
We talked about the application process. It sounded as if I had been pre-approved, but there were still lots of forms to fill out. We organised for her to send me all the information that I needed. Then, just before we parted, she said, "Oh, I should have asked, 'Are you vaccinated?'" I said, "no". She said "Oh … Sorry … I should have asked that first … Well … sorry … it's been nice talking to you." (end of call)
That's all I'm going to say about that.
One morning earlier, I'd dropped Fran at school and then headed off to the palliative care unit of one of our local hospitals. I have a relatively young friend with brain cancer who is not expected to live too much longer. I've been praying for her for a long time, but my hopes for her are fading.
I got to the front door of the hospital and found I had to prove my vaccination status. "We are a COVID-free hospital" the volunteer told me. I said, "my friend isn't expected to live much longer. I don't think she's too worried about catching COVID." "Sorry", he said. "No exceptions."
I tell these two stories, not only to vent my frustration, but also because they don't align comfortably with the promise Jesus gives us – "ask and you will receive".
I asked! I received nothing!
I wish I could say that these are the only prayers I haven't seen answered lately. I pray each day for my friends, for my family, for my country and for various places of turmoil around the world. On the whole, things don't seem to be getting any better. The war in the Ukraine continues, Syria is still in trouble, my country is still divided, our brother, Julian, is still in prison, and many of those I love continue to suffer.
What gives? You get the impression from Jesus' words that praying is like using a vending machine. You put the prayer in, turn the handle, and out comes your answer. It almost never seems to work like that.
Of course, I have taken Jesus' words out of context. This great promise – "ask, and it will be given you" – comes at the end of a story about a man banging on his neighbour's door, asking for bread. The man needs to provide food for a traveller, and given the cultural importance of hospitality, if he doesn't feed his guest, it will disgrace his whole community. The neighbour is in bed and doesn't want to get up, so the guy just keeps banging away on the door. Eventually, he gets his bread.
So … what do we do when our prayers aren't being answered? We keep banging away! It's not a comforting image of God, lying in bed, pulling the pillow over his head, trying to ignore our pleas. Even so, we get the point. When prayers aren't being answered, keep going. Eventually … the answer comes.
Does that mean that if I pray hard enough, I'll eventually end up on Million Dollar Island? I don't know, and I probably should be more concerned about seeing wars end and my friends healed. Even so, the promise is there – that we will eventually get whatever it is that we are asking for. We just need to cultivate that one supreme spiritual quality – stubbornness.
Our Sunday Eucharist
We had another great Sunday Eucharist last week, where I was joined by our dear brothers, Rob Gilland and Sam Madden. This week I'm back in the bush and expect to be joined by bother Doug Pyeatt (from the USA) and John Crawley (from Canberra), along with a host of Binacrombi locals. Do join us at midday this Sunday through any of the usual channels:
Much to give thanks for
Last Sunday I attended a Muslim youth conference put on by the Shia community where I received a lovely award. It reads, "Presented to Father Dave Smith, Anglican Priest, on 17th July 2022 – Faithful friend of the Shia Community". What more could one ask for. I am deeply thankful.😊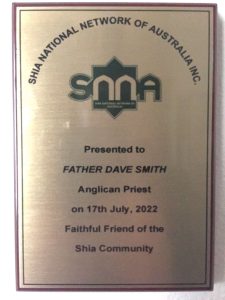 I am also deeply thankful for all my Patreon subscribers without whom my work would not be able to continue. If you haven't signed up yet but can contribute, please choose one of the following options at the Patreon site.
Middleweight Division ($10/month) where you get access to the member site, along with the videos and other resources.
Heavyweight Division ($100/month) which includes individual coaching, along with software subscriptions to both Buzzious and Streamout, allowing you both to publish an unlimited number of quality blogs and to livestream.
Super-Heavyweight division ($400/month) includes all of the above plus me training with you one-on-one – at The Fight Lab and at Binacrombi Bush Camp
Please continue to pray for me as I pray for you. Be stubborn! Our prayers will surely be answered (eventually).
Your brother in the Good Fight,

www.fatherdave.org
www.fighting-fathers.com
www.holytrinity.org.au
www.binacrombi.com.au
www.israelandpalestine.org
www.prayersforsyria.com
www.dulwichhillgym.com
www.boxersforpeace.com
www.warriorweekends.com
Preacher, Pugilist, Activist, Father of four