"Jerusalem, Jerusalem, the city that kills the prophets and stones those who are sent to it! How often have I desired to gather your children together as a hen gathers her brood under her wings, and you were not willing!" (Luke 13:34)
Hi Fighter,
We begin today with Jesus grieving for His people – more specifically, for the citizens of God's Holy City, Jerusalem, which Jesus describes as a place of death!
I've only been to Jerusalem once – in 2004, when my friend, Mordechai Vanunu, was being released from prison – but my experience of the city was no better. I arrived the day after the assassination of Hamas leader, Sheikh Ahmed Yassin, whose wheelchair had been targeted by a helicopter gunship. The tension on the streets was palpable.
A couple of days later I was almost killed myself in a riot outside the prison where my friend was released. I remember one of the locals saying to me, "do you know that bit in the Bible where the spirit of God ups and leaves Jerusalem?" I said, "Yes, it's in Ezekiel". He said, "It's a lot like that here."
How could God's Holy City ever become a place of death? This was the city where God had 'made His name to dwell' (Deuteronomy 12:11). It was full of pious and prayerful people in Jesus' day, just as it is now. How can such terrible things happen in such a place? The simple answer is, it's complicated. It's always complicated.
This is not the way our media construct reality, of course. On the contrary, our media reduce everything to blacks and whites. The nations that we consider enemies are always ruled by dictators who are completely irrational. The comparison to Adolf Hitler – the 20th century's archetypal evil madman – is made again and again. Saddam Husain was Adolf Hitler. So was Muammar Gaddafi, Bashar Al Assad and Kim Jong-un. More recently, Vladimir Putin earned the label.
In truth, I think Hollywood supplies our media with its basic war narrative. If you've seen any of those great global crisis movies produced in the last ten years or so, the basic plot is always the same:
The world is under attack (starting with the USA)
Our enemies are completely mindless and evil (zombies, aliens, etc.)
Since there is no point in dialogue, the only answer is to call in the marines.
One of the wisest aphorisms I've ever been given is this: Every complex problem always has a simple answer, and it's always the wrong answer.
When I look at the terrible violence taking place in the Ukraine, it is a complex problem with no simple solution. The international community needs to knuckle down to the difficult work of peace-making. Vilifying the Russians and denigrating Vladimir Putin as a reckless gambler doesn't help. Of course, lionizing Putin and acquitting the Russians doesn't help either. There are lots of simple answers being offered to this complex problem and, so far as I can see, they are all wrong answers.
If you're ever tempted to think of the world in blacks and whites, recall Jesus praying for the Holy City. How could the place where God made his name to dwell ever become a place of violence and death? The answer is not going to be simple. Life is complex and peace-making is not easy. We need to do the hard work.
Father Dave's Old School Boxing Academy
I must insert a word of celebration here. Our boxing academy is still going, and we have had some great training sessions together lately. Last Tuesday one of my old students from many years ago came back to us – Kath – who I started training when she was 14. She's now 38. She brought her lovely daughter to training with her. She is 14 and the spitting image of her mum at that age. What a great night that was.😊
The only problem we have is that Tuesday nights at 6.30 pm is the only weekly training time we have fixed at this stage. When I'm in Sydney for the weekend I can do a Saturday session but I'm at Binacrombi at least every other week. I'll keep you up-to-date on our schedule but if you're in the area and free next Tuesday night, I'd love to see you at The Fight Lab.
Our Sunday Eucharist
I'm back at Binacrombi this weekend and am expecting to have a number of you joining me in the bush. For those who can't make it, we'll be broadcasting our Sunday Eucharist at the usual time of 12 noon.
I was on my own again last Sunday but I'm pleased to announce that for this coming Eucharist I hope to be partnered by two wonderful men – our old friend, Doug Pyeatt, and a new brother, Robert Gilland.
Robert is an amazing soul with a background in Bible translation for Wycliffe Bible Translators. He speaks a multitude of languages and is currently doing some study at an Anglican seminary in Queensland. I am very much looking forward to having Robert (and Doug) with us this Sunday. Join us via the usual channels:
All support is appreciated
If you're able to support me via my Patreon page, be assured that every dollar is deeply appreciated. In truth, I can't get far without you, though I do believe that I'm now in a good position to give you something of value in return for your support.
Middleweight Division ($10/month) where you get access to the member site, along with the videos and other resources.
Heavyweight Division ($100/month) which includes individual coaching, along with software subscriptions to both Buzzious and Streamout, allowing you both to publish an unlimited number of quality blogs and to livestream.
Super-Heavyweight division ($400/month) includes all of the above plus me training with you one-on-one – at The Fight Lab and at Binacrombi Bush Camp
For those who are formal supporters, please start to make use of the new member site at www.fightingfathers.com. The site is now fully functional and I've been posting lots of articles and videos there, particularly ones offering perspectives on the complicated situation in the Ukraine. Please add articles and videos that you've found helpful, and if you have trouble accessing the site, just let me know.
That's all for today. Time for me to head to the bush!
Your brother in the Good Fight,


www.fatherdave.org
www.fighting-fathers.com
www.holytrinity.org.au
www.binacrombi.com.au
www.israelandpalestine.org
www.prayersforsyria.com
www.dulwichhillgym.com
www.boxersforpeace.com
www.warriorweekends.com
P.S. I'll be speaking at a meeting of the Australia-Iran Friendship Association this Sunday night for any who want to join us. I have no idea what I'll be talking about as yet but would love to have you with us. Details below. 🙂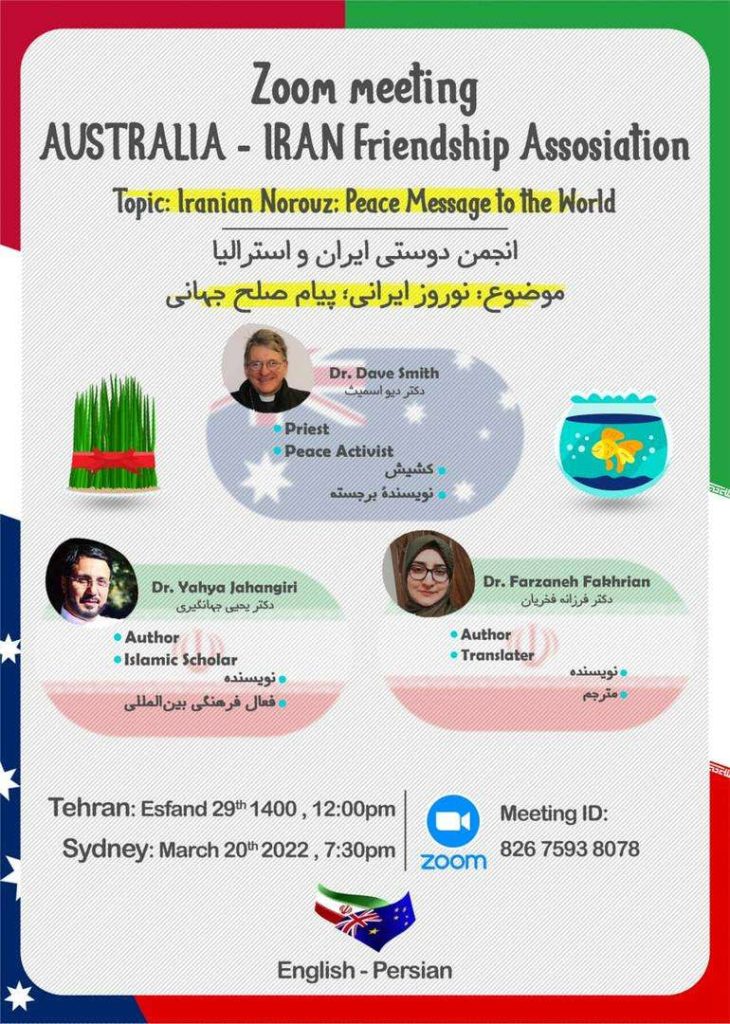 Preacher, Pugilist, Activist, Father of four