"For forty days [Jesus] was tempted by the devil. He ate nothing at all during those days, and when they were over, he was famished.." (Luke 4:2)
Hi Fighter,
We are in Lent 2022 – the 40 days that lead up to Easter.
Those who follow the church's prescribed weekly Bible readings (known as 'the lectionary') know that the first Sunday in Lent always features the story of Jesus being tempted in the wilderness. This year we get Saint Luke's version, but the story in each of the first three Gospels is substantially the same. Jesus wanders through the wilderness, eating nothing and struggling with His human appetites – not only for food, but also for power and for freedom from responsibility.
Over the centuries, Christians have taken this story of Jesus' wilderness wandering as an invitation to enter our own wilderness and to spend time reflecting on the things that tempt us to wander from God's path. We hence use Lent as a time to develop our self-discipline so that we, like Jesus, can win our battles with the devil. I can certainly see the value in this sort of discipline but as I read the Gospel story again, it occurs to me that Jesus' journey through the wilderness might have been passed on to us more as a source of encouragement than as an example.
In the greater Biblical story, the wilderness is not just a good place for sorting yourself out. It's the space that separates slavery from freedom. For the Israelites, under Moses, entering into the wilderness was their break with from slavery. A lifetime of bondage lay behind them. A land flowing with milk and honey lay ahead. Yes, it took those people 40 years to complete that pilgrimage through the desert. Even so, this wilderness is our archetypal road to salvation!
Jesus followed that same path from slavery to freedom. He makes the journey in 40 days rather than 40 years, and He completes it without incident. I think we are meant to see Jesus here as the 'pioneer and perfecter of our faith' (Hebrews 12:2). Jesus is not simply leaving us an example of how to complete life's painful journey. Rather, Jesus is clearing for us the path to freedom!
Let's indeed continue to use this Lent as a time for sober reflection and for giving things up, but let us keep an eye on the bigger picture too. We are not simply journeying into the wilderness. We are journeying through the wilderness, from slavery to freedom. Freedom is our destination – freedom, joy, love and peace – and Jesus moves ahead of us, making our path straight!
Spreading misinformation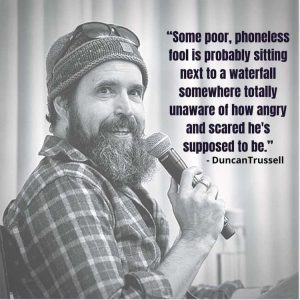 I had the privilege of catching up with my friend, John Shipton, this week. John is, amongst other things, Julian Assange's dad, so I was able to get an update on Julian's situation which I'm keen to share. Accordingly, I did a quick video interview with John where he updated us on his son, and also offered his thoughts on the Ukrainian situation and on COVID. I uploaded the interview to YouTube last night but, unfortunately, by morning, the Ministry of Truth had removed it.
I thought at first it was because John mentioned the discovery of biolabs in the Ukraine. That wasn't the problem. Such an allegation might have had you banned a week ago but nobody is disputing the existence of these labs any more and so this is now a permitted area of discourse. No. The issue was COVID-related. I'll leave you to work out where exactly John's reflections crossed the red-line of acceptable speech. The interview is now featured below, but don't ask me how I got it there. 😉
..
You'll also find this interview in the 'Building a Better World' section of our new members site – fightingfathers.com. I've actually uploaded a whole series of videos to fightingfathers.com recently, chiefly about the Ukraine. I don't pretend that my selection isn't biased, of course, but you can correct that by posting your own videos – from YouTube, from Rumble, or from any other video site. You can also share articles or just post your own thoughts.
Please visit the site, check out the material I've posted and add your own. Let's build a Big-Brother-Free online community where we can pool our energy and wisdom. Just use your Patreon credentials to sign in to the site or, if you're not one of my Patreon patrons, contact me and I'll organise a username and password for you.
Our Sunday Eucharist
What a gift it was to have my dear brothers, Dave Baldwin and Doug Pyeatt, join me for last Sunday's Eucharist. I'm not sure who I'll have with me this weekend but we'll be streaming at the usual time (Sunday at noon) from the usual places:
If you're able to support me via my Patreon page, be assured that I'm almost back to full speed and am keen for more clients:
Middleweight Division ($10/month) where you get access to the member site, along with the videos and other resources.
Heavyweight Division ($100/month) which includes individual coaching, along with software subscriptions to both Buzzious and Streamout, allowing you both to publish an unlimited number of quality blogs and to livestream.
Super-Heavyweight division ($400/month) includes all of the above plus me training with you one-on-one – at The Fight Lab and at Binacrombi Bush Camp
May the Lord bless and strengthen you for the work to which you have been called.
Your brother in the Good Fight,


www.fatherdave.org
www.fighting-fathers.com
www.holytrinity.org.au
www.binacrombi.com.au
www.israelandpalestine.org
www.prayersforsyria.com
www.dulwichhillgym.com
www.boxersforpeace.com
www.warriorweekends.com