(Last Updated On: August 20, 2022)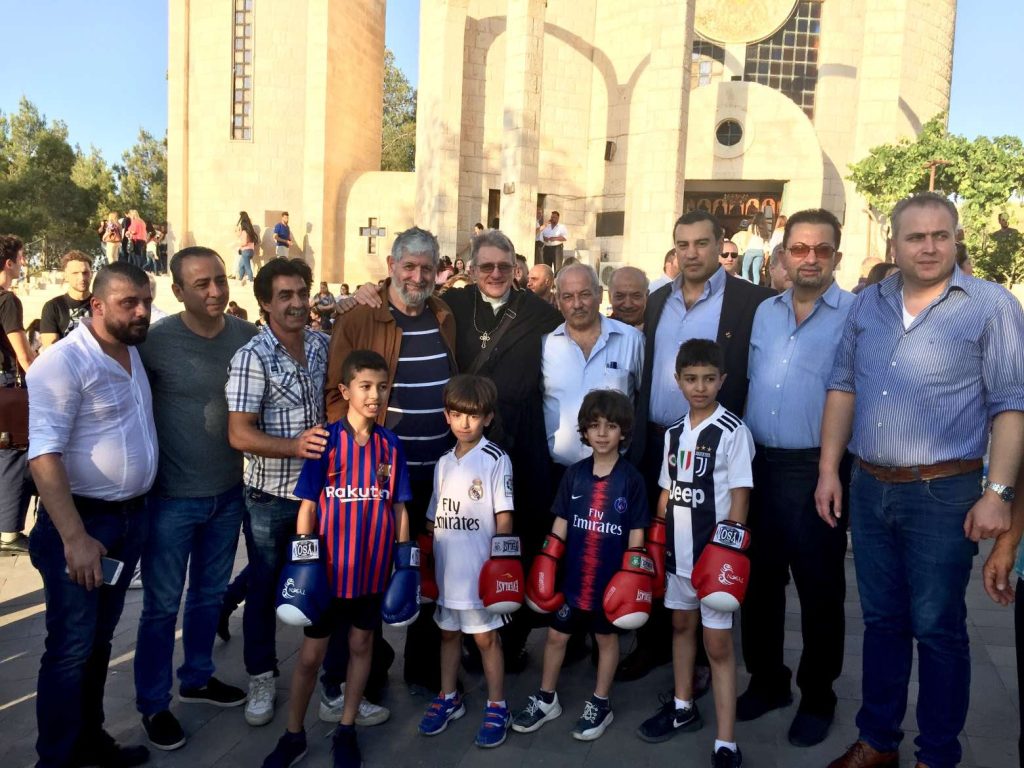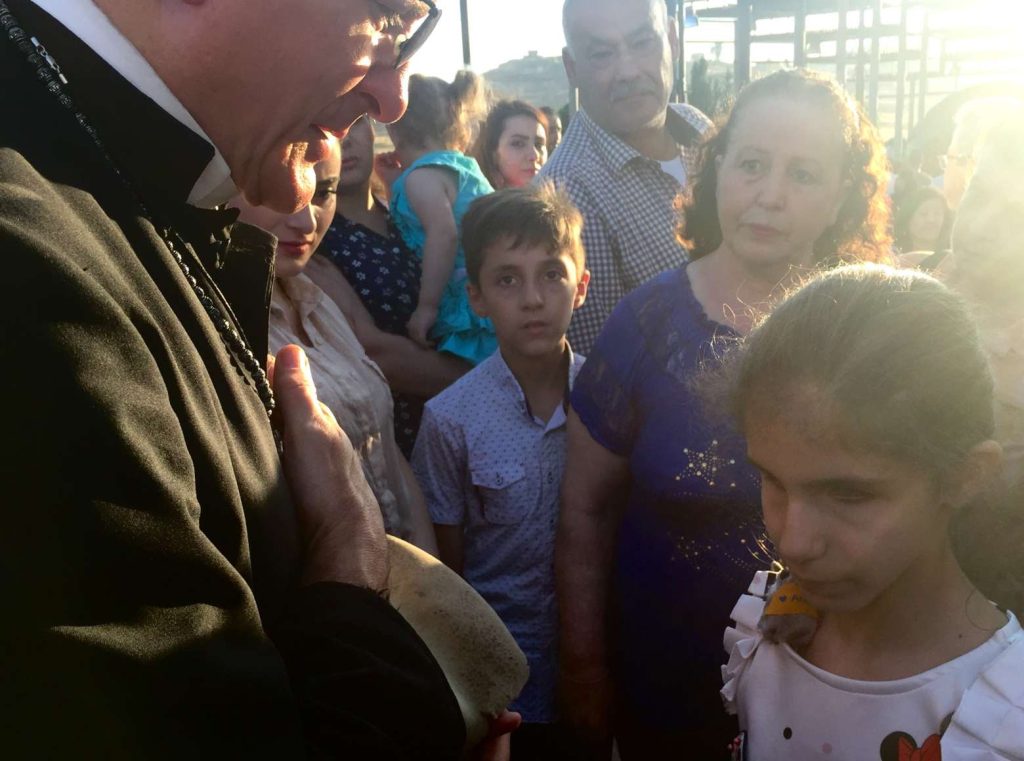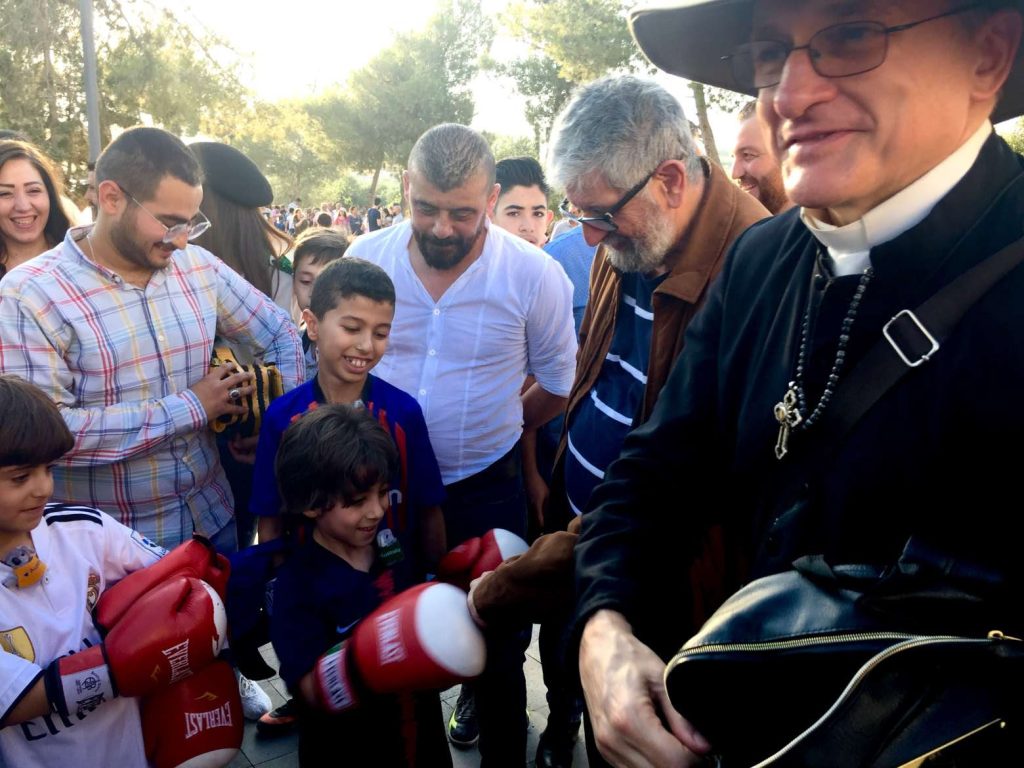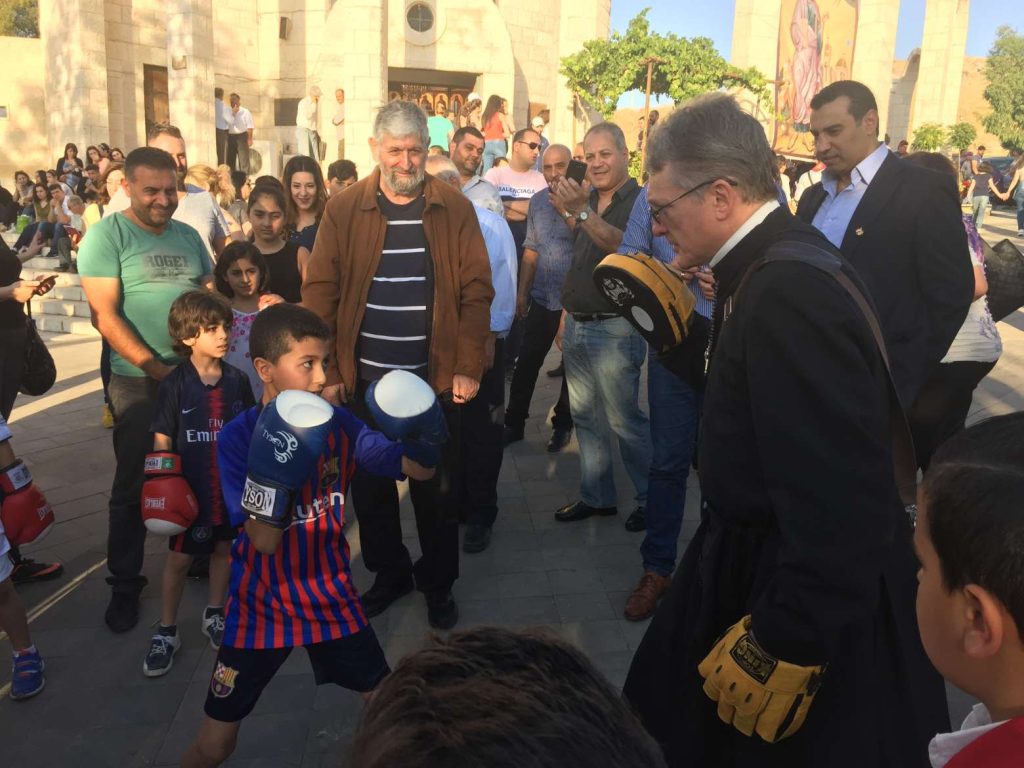 "And just then there appeared a woman with a spirit that had crippled her for eighteen years. She was bent over and was quite unable to stand up straight. When Jesus saw her, he called her over and said, "Woman, you are set free from your ailment." When he laid his hands on her, immediately she stood up straight and began praising God. But the leader of the synagogue, indignant because Jesus had cured on the sabbath, kept saying to the crowd, "There are six days on which work ought to be done; come on those days and be cured, and not on the sabbath day."(Luke 13:11-14)
Hi Fighter,
I can't read this story from the life of Jesus without being reminded of an experience I had in Syria in 2019.
Our Boxers for Peace team had been invited to take part in a church service, being held in the town of Jodidi, which is said to be the place where Saint Paul fell off his horse while on the road to Damascus. We were running a little late and the service had already started when we arrived, so it was no surprise that none of the priests were there to greet us. What was a surprise was the group that was there to greet us – a line-up of young boys, all wearing boxing gloves!
The boys were of Primary School age, standing in a line at the town gate. The men who were with them had hand-mitts and other boxing gear. There was no ambiguity about their expectations. Despite the fact that I was wearing a cassock and hardly dressed for boxing training, I immediately donned a pair of mitts and started doing pad work with the lads.
We must have provided quite a distraction to the church service as we soon had a crowd around us. Between rounds with the boys, a woman asked me whether I would pray for her baby. Naturally, I obliged, but then found I had a growing group around me, all asking for prayer for their children. Then I heard someone say, "bring out the blind girl. Let him pray for her." I started to get nervous.
The blind girl could have been no more than 12 years old. She was being led by the hand. I prayed for the dear girl, and then her parents asked me, "can she be healed?" I didn't know what to say, and then I remembered that I had Dr Lou Lewis with me (the boxing doctor). He was a part of our team. I called Dr Lou over and he did a quick examination of the girl. He told her parents, "She has cataracts. These can be removed". The parents were ecstatic, and then Dr Lou was swamped with more petitioners.
It was very reminiscent of a New Testament scene, with me doing the praying (and pad work) and Lou was doing the healing. Then a member of the clergy turned up!
I was about to referee a bout between two of my young boxers when I felt a tap on my shoulder. I spun around to find a young Orthodox priest, complete with clerical robes. He asked me what I was doing. I told him that I was about to referee a boxing match. He said, "you can't do that!" "Why not?" I asked. He said, "because you are abouna" (which is Arabic for priest) "and because the church service is still going".
I was stunned. I took a moment to reflect. I went back to refereeing the match.
There were really only two groups of people that Jesus ever took issue with – the very rich and the very religious – and it was the religious people who eventually did Him in. For some reason, we religious folk have a nasty history of getting our priorities mixed up by focusing on what is sacred rather than what is loving.
"There are six days on which work ought to be done; come on those days and be cured, and not on the sabbath day". So says the religious leader (Luke 13:14). This woman had lived with her deformity for eighteen years. Surely, she could live with it for another few days. Jesus didn't work that way. He saw an opportunity for love and life and healing. He took it, "and the entire crowd rejoiced" (Luke 13:17).
"I desire mercy, not sacrifice". I think it's the only quote from the Torah that Jesus is recorded as giving twice in the same Gospel. It's from the prophet, Hosea (6:6), and Jesus quotes it in both Matthew 9:13 and 12:7. I suspect that He quoted it plenty more times that aren't recorded. This was always the issue between Jesus and his clerical peers. From their perspective, Jesus just wasn't very religious!
I look at my own branch of the church at the moment (the Anglican Church in the Diocese of Sydney). We are in the process of dividing ourselves off from the rest of the Anglican world over the issue of whether to allow a blessing to be said over same-sex unions. Meanwhile, I look at the carnage that has taken place across this country over the last two years – lockdowns, suicides, misery and death – and our church seems to have been ominously silent!
When religion goes bad it becomes toxic. "Religion that God our Father accepts as pure and faultless is this", says the Apostle James, "to look after orphans and widows in their distress and to keep oneself from being polluted by the world." (James 1:27)
The Sunday Eucharist
We were back at Binacrombi last weekend, and it was a tough time (more on that below). Even so, we had a wonderful Sunday Eucharist, which I led in partnership with two of my favourite clerics – Rev. Joy Steele-Perkins and Father Ola Joyce – both of whom were with me in the bush. Highlights are in the video below.
We have some very special guests with us over the next two Sundays:
This week we have the National Director of the United Australia Party, Craig Kelly, joining us, along with Elvis Sinosic – the King of Rock and Rumble.
If you don't know Elvis, he's one of Australia's most famous mixed martial arts fighters, and was one of the first Australians to compete in the UFC. You can see Elvis' fighter profile here. Elvis was also the United Australia Party candidate for Blaxland at the lastFederal election. You can see him looking far more respectable as a politician here.
You'll have to forgive me if the line-up looks overly political. Elvis is an old friend, and both are men of faith with a sincere love of their country and of their fellow human beings, which, as our reading today suggests, may be the essence of true religion.
We have an equally controversial crew for the following Sunday. Activist and journalist, Joel Jammal, will be with us again, accompanied by Graham Hood.
If you don't know 'Hoody', he is the former Qantas pilot who took a stand over the issue of mandatory vaccination, and he's become a bit of an icon in the freedom movement. Indeed, our sister Diane, who will be leading prayers for us this Sunday, is part of a 'Hoodys Heroes' chapter in Queensland!
Graham is a devout man of faith, and part of the Seventh Day Adventist branch of the church. You can read more about him here, and about 'Hoodys Heroes' here.
What's on this week?
Sunday: Join us for our Eucharist at midday through:
Tuesday: Boxing @The Fight Lab, starting at 6.30 pm
Thursday: Boxing @The Fight Lab, starting at 6.30 pm
All Hands on Deck at Binacrombi
We're in a transition period at our bush camp, Binacrombi, and I need your help.
Our beloved caretaker, Bob, is heading into hospital next week for cancer surgery. Many of us had prayed that we wouldn't reach this stage, but here we are. We will continue to pray for Bob and support him as best we can. We also need to look to the future of Binacrombi, and that's where I need your wisdom and support.
My vision for Binacrombi is to establish a prayerful community down there. Indeed, we've been looking at setting up a joint Christian-Muslim faith community, which would allow us to continue to offer support and hospitality to people who need us, while the commercial side of the camp would fund the community and keep the place functional. I was hoping to get that going this year, but that may have been overly optimistic. For the short term, we are going to need more volunteers to help manage the place on weekends and keep the wheels turning.
Are you able to help? Perhaps you've been feeling a strange pull on your heart, telling you that it's time to move into the bush and devote your life to prayer and boxing training? Or perhaps you have a free weekend each month when you could come down and pitch in? If neither of those apply to you, could you please keep Binacrombi in your prayers? We've seen 20 years of joy and healing and family fun down there (along with a lot of chaos and pain). I don't think we've completed our mission there yet. All prayers and support are appreciated.
Of course, we also continue to need financial support, which you can give through a Patreon subscription. If you haven't signed up yet but do want to contribute, please choose one of the following options at the Patreon site.
Middleweight Division ($10/month) where you get access to the member site, along with the videos and other resources.
Heavyweight Division ($100/month) which includes individual coaching, along with software subscriptions to both Buzzious and Streamout, allowing you both to publish an unlimited number of quality blogs and to livestream.
Super-Heavyweight division ($400/month) includes all of the above plus me training with you one-on-one – at The Fight Lab and at Binacrombi Bush Camp
In closing, let me ask you to continue to pray for our dear brother, Julian Assange.
According to Sydney Ciminal Laywers, a senate probe has revealed that Australian Prime Minister, Anthony Albanese, has not taken any initiative to secure Julian's release. We continue to pray and hope that the PM will man up. In the meantime, a number of us are meeting outside his office in Marrickville every Thursday between 11 am and 12.30 pm. You are very welcome to join us.
May God bless and strengthen you for the work to which you have been called.
Your brother in the Good Fight,

www.fatherdave.org
www.fighting-fathers.com
www.holytrinity.org.au
www.binacrombi.com.au
www.israelandpalestine.org
www.prayersforsyria.com
www.dulwichhillgym.com
www.boxersforpeace.com
www.warriorweekends.com
Preacher, Pugilist, Activist, Father of four