(Last Updated On: September 11, 2015)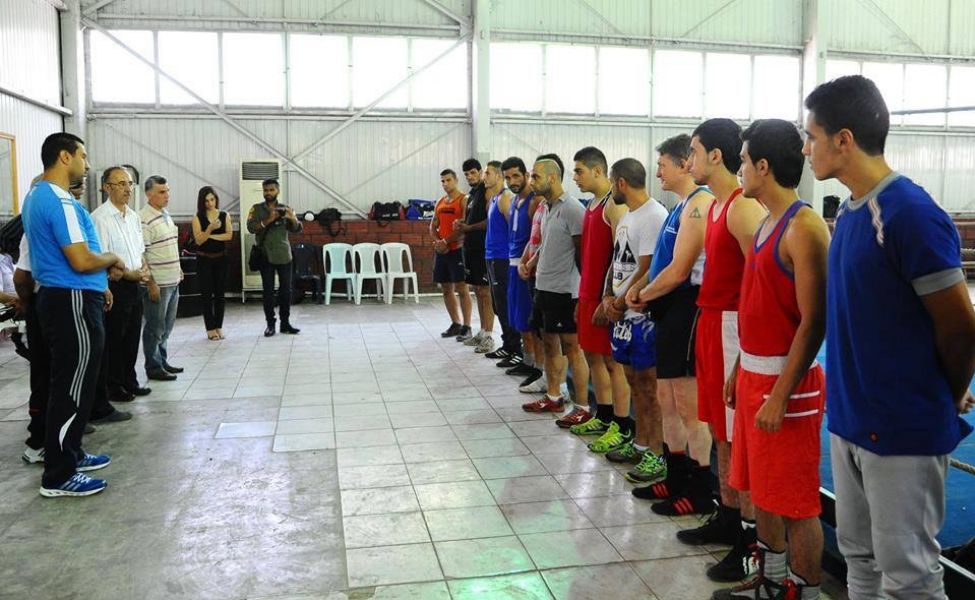 Training with the Syrian Olympic Boxing Team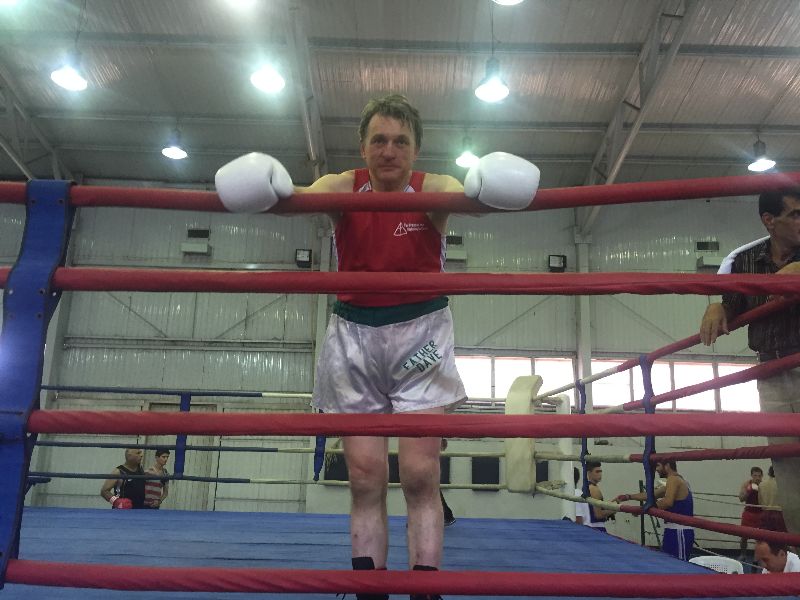 Training with the Syrian Olympic Boxing Team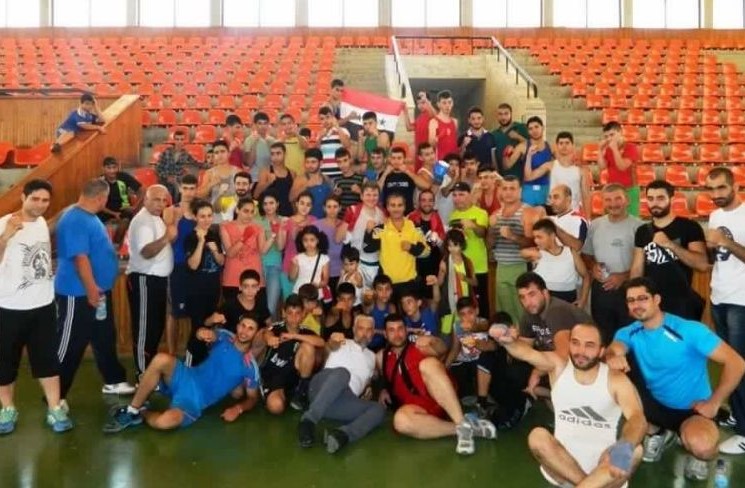 A big day at Lattakia stadium!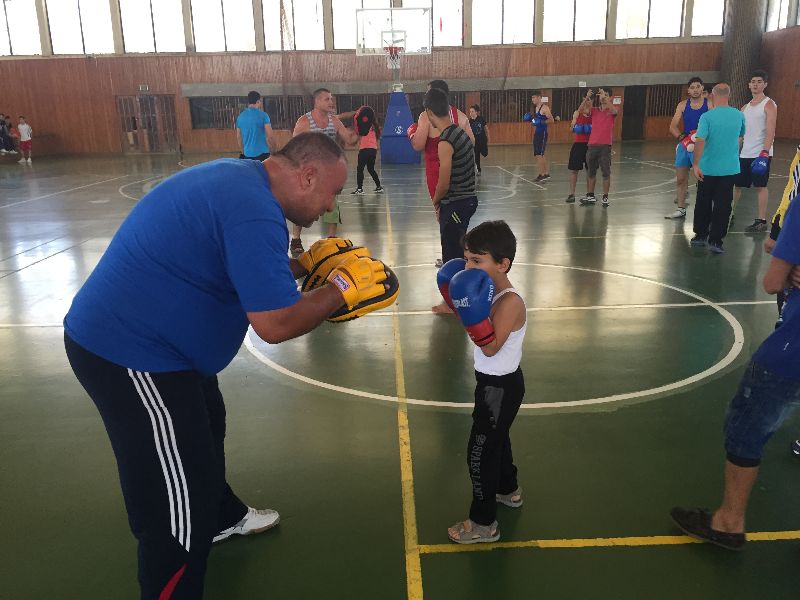 Lots of the kids who trained with us were living in UNICEF tents that ringed the stadium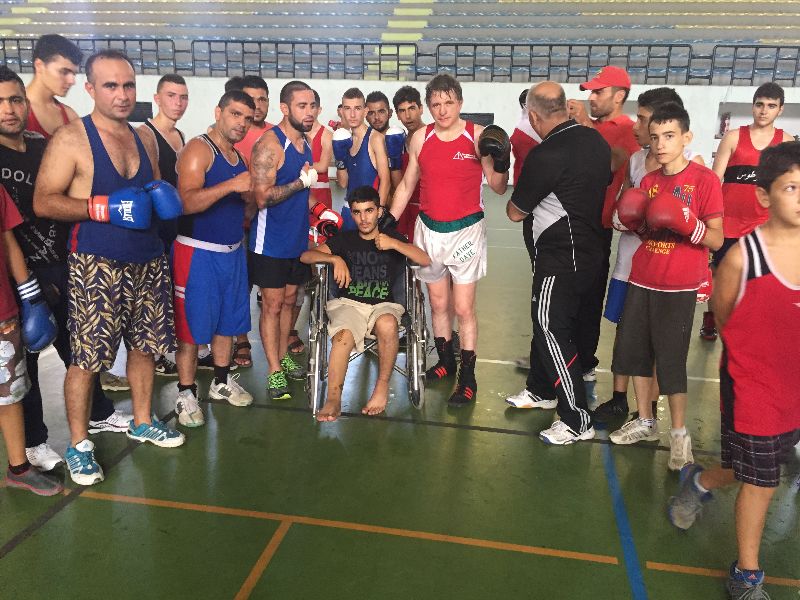 Training with the young people of Tartous!
Singing and dancing is very much a part of the culture!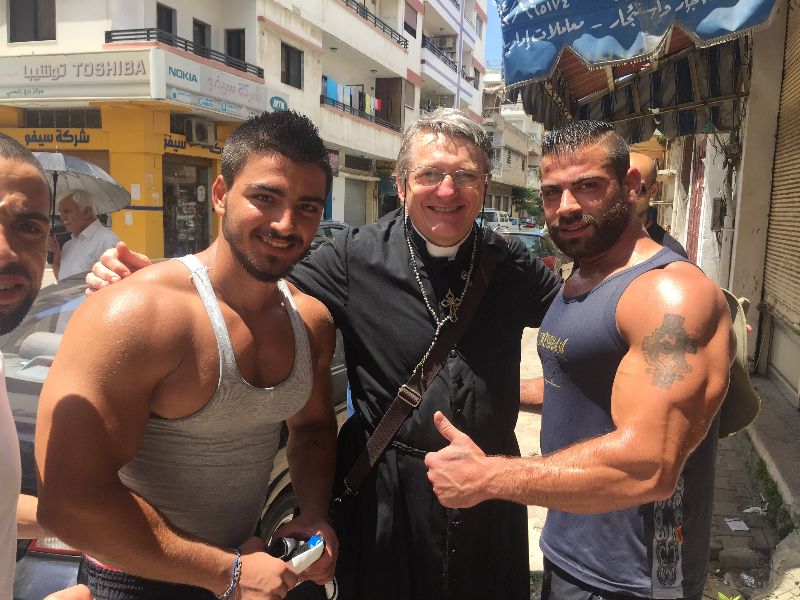 At the gym in Tartous - boys will be boys!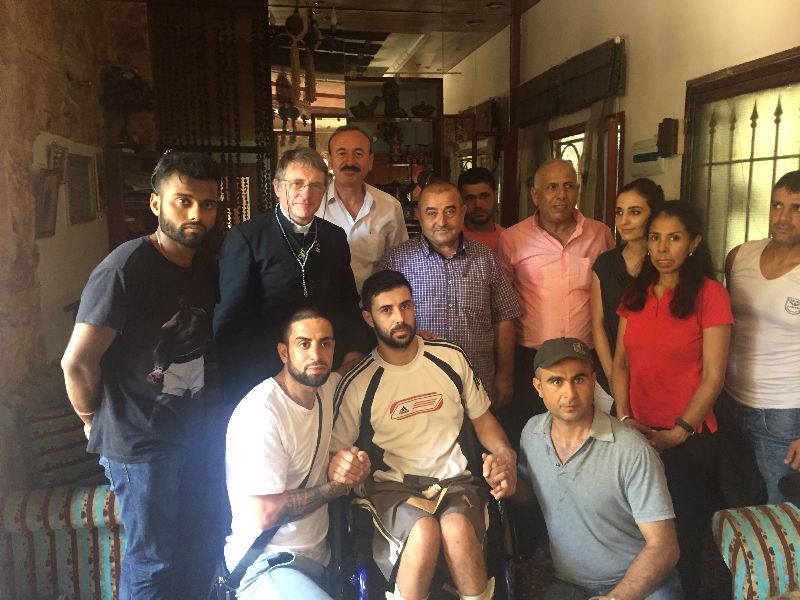 with one of the young disabled veterans of Tartous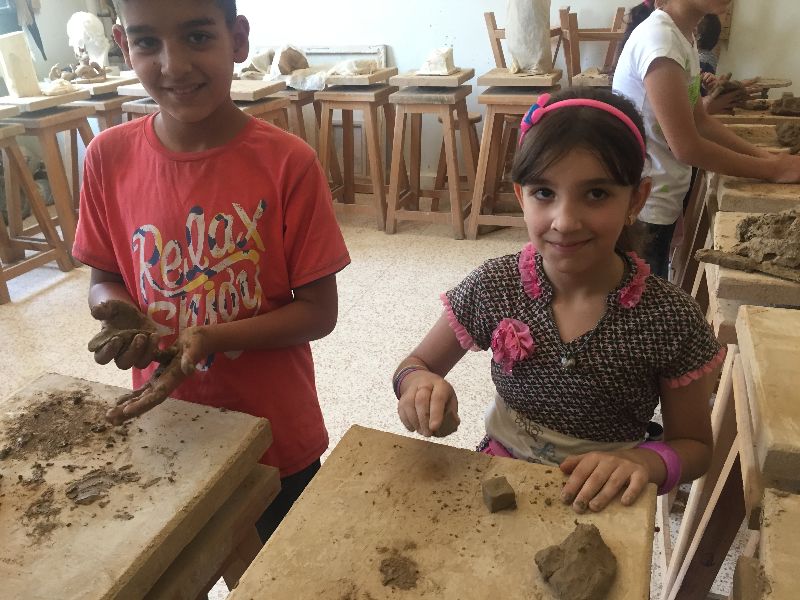 The art school in Damascus is full of kids!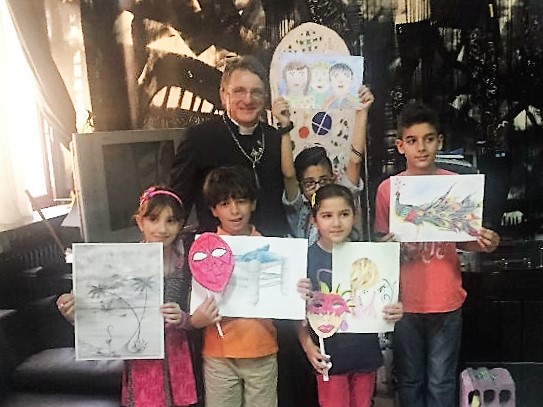 The kids insisted on giving us some of their artworks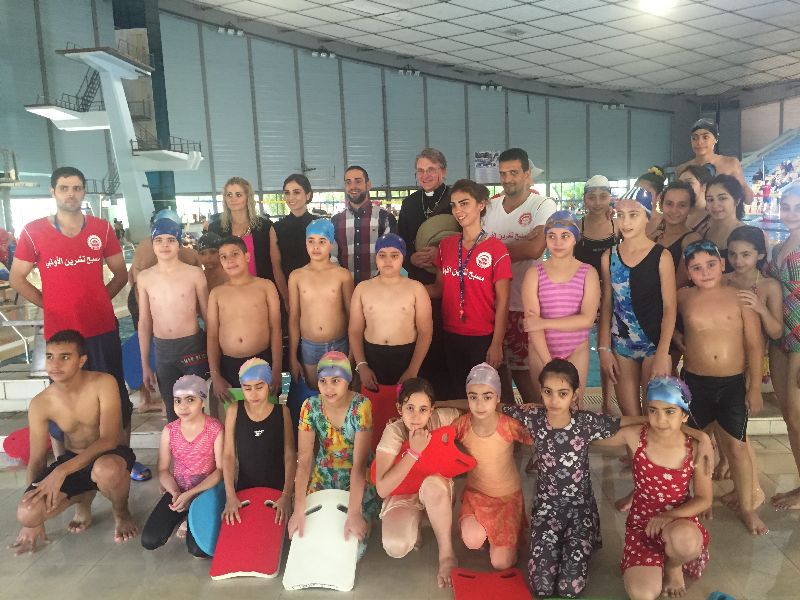 Damascus swimming centre where 1000+ kids get lessons each week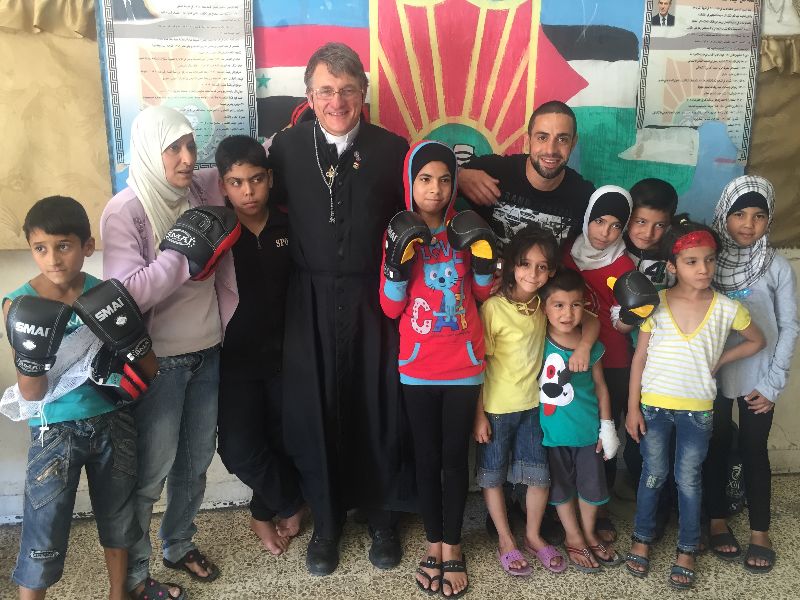 Back with the kids of Yarmouk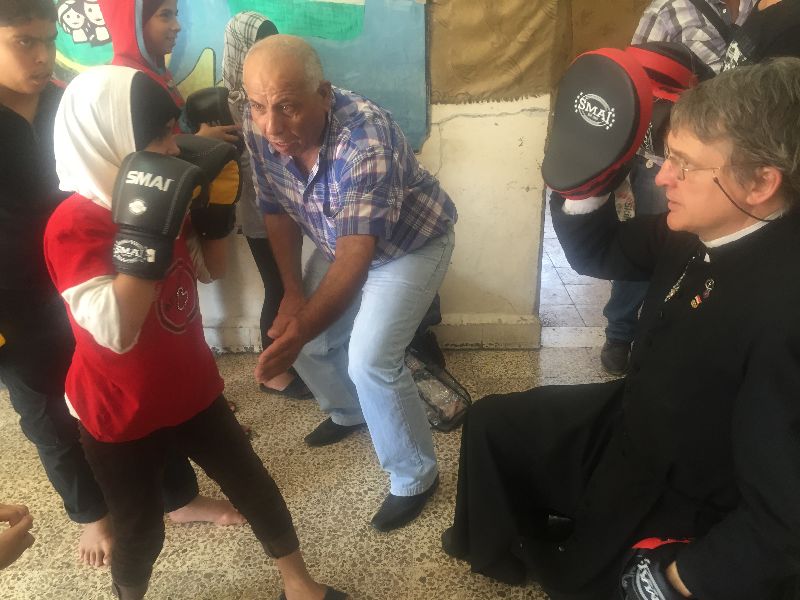 Working the pads with the kids of Yarmouk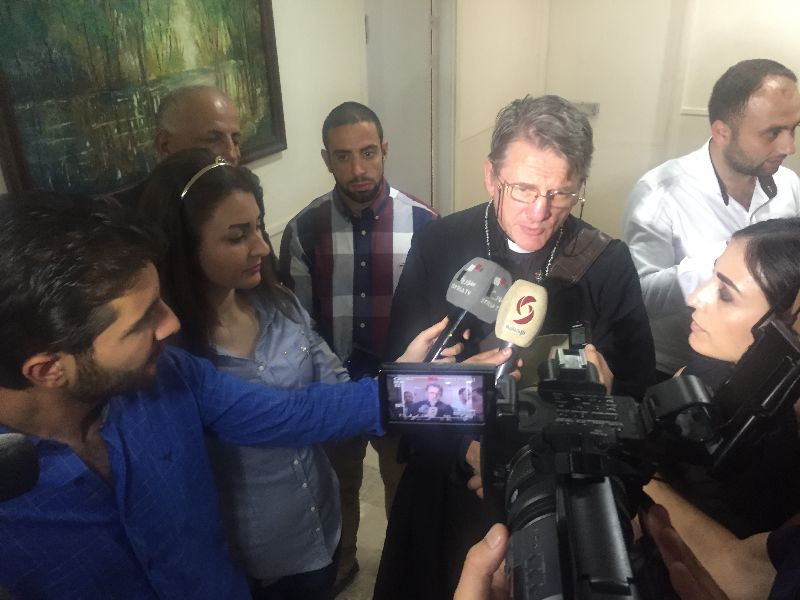 we did lots of media interviews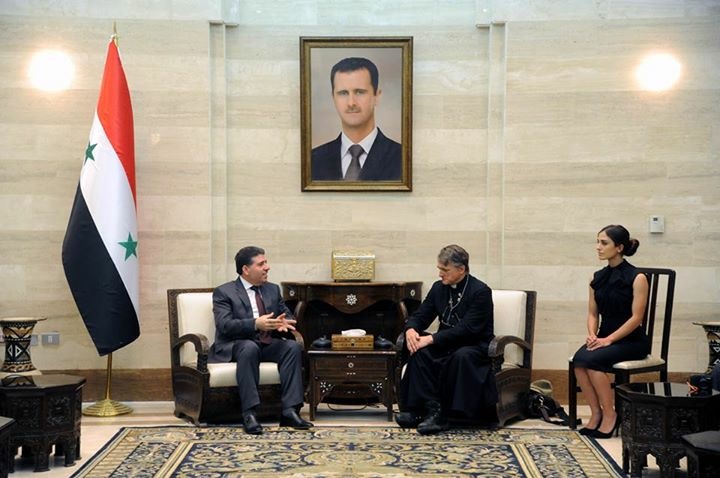 with Syrian Prime Minister, Wael Nader al-Halqi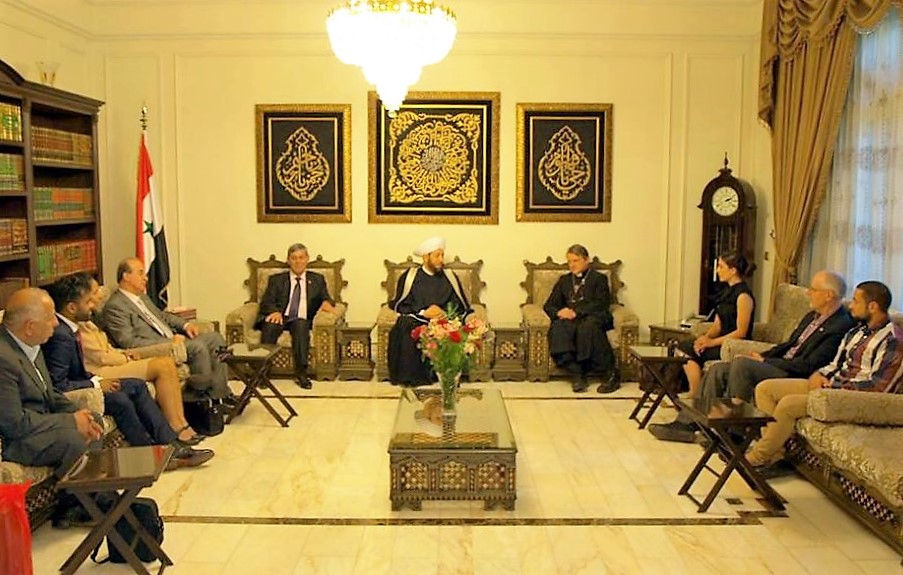 back with my beloved Mufti - Dr Hassoun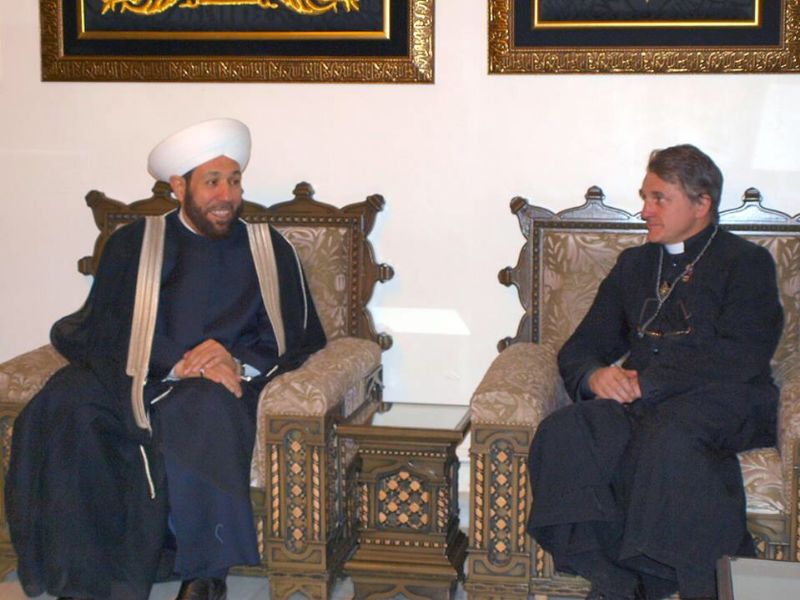 the Mufti is one of the most beautiful men I have ever met
Hi Fighter,
I apologise for the increasing gaps in communication. In truth, I simply have more to do than I can handle. There will be an appeal for help in the latter half of this missive. If you want to avoid hearing me grovel just quit after the sermon. 😉
This is the first chance I've had to share with you some of the photographic highlights of our last trip to Syria in late July. What a beautiful time it was, and what beautiful people! Once again the experience was one of hospitality and grace (mixed in with plenty of boxing). I came back full of hope for for the country and its people, though the subsequent moves being made by the US, NATO and my own country (Australia) to escalate the violence do bring me to tears.
Sometimes I don't know which is worse – the way the West imposes its agenda on Syria at the cost of the lives of millions of people, or that it does so under the banner of humanitarian aid! In truth, these are days of shame for all of us who are a part of the ungodly coalition intent on destroying Syria, and it could backfire horribly. Australia has always been the 'lucky country' but by God we are pushing our luck at the moment!
I am regularly being asked what is going to happen next with Syria. I am no prophet, of course, but for the sake of those who would like my take on the subject, the future of Syria seems to be being determined by foreign governments, each of whom have their own agenda. It is a complex situation but I offer the following pointers:
Qatar wants a change of government so that it can pipe gas through Syria into Europe. Their agenda is straightforward.
Saudi Arabia and Israel are more interested in weakening Iran which threatens to overtake both countries economically (nb. the threat is economic, not existential). Syria is Iran's main ally in the region (the only other being Hezbollah in Lebanon) and so destroying Syria will significantly weaken Iran.
Turkey's militancy is being driven less by Iran than by the agenda of the Muslim Brotherhood (though Turkish President Erdogan seems to also have a personal issue with Syrian President Assad).
The US is trying to back its allies in the region (Israel, the Saudis, Turkey, etc.) and are also interested in weakening Iran. Mr Obama is also still dealing with the embarrassment resulting from the fact that he told President Assad to stand down four years ago and he still hasn't done as he was told!
These are the chief factors that have led to the war of foreign aggression against Syria. Let's be clear about this: It is not a civil war and I doubt if it ever was. Certainly there aren't many Syrians left on the rebel side now. We spoke to a young man in Tartous last month who was in a wheelchair. He'd been shot through the spine while fighting at Dier Yasir. We asked him 'who were you facing there?' He said 'Libyans, British and French'. We said 'no Syrians?' He laughed.
So, given the foreign interests of this coalition of violence, why hasn't Syria as we know it been wiped off the map? Here are some of the balancing factors:
Iran doesn't want to lose its main ally in the region and hence has been giving financial and military support to the Syrian government.
Russia gives support too as it wants to maintain its military presence in the region (though its naval base at Tartous).
The uprising against Saudi hegemony in Yemen is forcing the Saudis to fight a battle on two fronts.
And so the future of Syria seems to depend on the wheelings and dealings of these foreign players, and a number of factors could tip the balance either way.
On the one hand:
Iran could strike a deal with the US such that it would withdraw support from Syria in exchange for the lifting of all sanctions. This now seems unlikely.
Russia might abandon Syria in order to buy time for the looming conflict with NATO in the Ukraine. This looks less likely now than it did a month ago.
Israel might attack Lebanon (as it has been threatening to do) which will lead to the recall of all Hezbollah forces from Syria, thus weakening the Syrian Army.
On the other hand:
Yemen may continue to resist the murderous Saudi onslaught (which is almost not being reported on anywhere) and may prove to be the end of the house of Saud. If this happens ISIS will shrivel up and die very quickly without funding.
If the US does lift economic sanctions on Iran, the Saudis (and even the Israelis) may decide to cut their losses and work for economic cooperation rather than for the subjugation of their Persian neighbours. If this happens, once again, ISIS will shrivel up and die overnight.
As I said, it's a complex picture, and the above analysis also leaves two vital factors out of the equation:
The extraordinary resilience of the Syrian people
The mysterious workings of Almighty God
Personally I am full of hope, as my faith is in God and in the Syrian people. Having said that, I won't be surprised if God's will is accomplished through the human agency of Iran, Russia, Hassan Nasrallah, and the people of Yemen.
Forgive me if I've bored you with the above analysis but I find that a lot of people are confused as to what is really going on and I thought it would be good to put it on paper.
If, on the other hand, you'd like to explore these matters with me further (and you're in Sydney) I'll be speaking at three different Syria forums over the next week:
Sunday 13th – No Australian War on Syria Rally – from 11am at Sydney Town Hall. I'll be addressing the rally at around 12.30
Thursday 17th – The Geopolitics of the Syrian Crisis – 6.30pm at Sydney Uni. I'll speak alongside Dr Tim Anderson and others who were on our recent trip.
Friday 18th – Updates from the Axis of Resistance – 6.30pm at Coronation Hall, Arncliffe. This will be our team debrief with our supporters.
If you're able to attend any of these events, the links above will take you to their respective Facebook Events Pages where you can get more info. And if you can't make it, just keep track of what's being published on my Syria blog: www.prayersforsyria.com
Sermon Time
From violence to sex – this missive has everything! 😉
Yes, my featured sermon for this missive is on the Song of Songs – certainly the most raunchy piece of literature in the entire Bible and also one of the most controversial.
The book is controversial for two reasons:
It is entirely about sex and romance
It doesn't mention God at all!
What is this book doing in the Bible? That's a question that a lot of believers have asked over the last few thousand years. Even so, some of us believe that this little book may have a lot to teach us about love and life and even about God!

(for the written version of this sermon, click here, and for the audio-only, here)
I warned you earlier that this post would include an appeal for help. Here it is:
…. HELP! 🙁
The problem is that I have more work than I am able to handle at the moment, including five speaking engagements in the next seven days, and beyond that I can see a giant tidal wave coming towards me associated with the completion of our new Youth and Community Centre and the 100-year anniversary of our church building!
Highlights include:
October 4-6: I fight for the Australian Masters (ie. old bastards) Boxing Title
October 16: Book-launch of A Church for our Times' celebrating our 100-years!
October 23-25: A big Warrior Weekend of fight-training and prayer at Binacrombi
October 29: 'Friends of Sabeel, Australia' Annual General Meeting
Mid-November: work should be completed on our new hall complex
late-November: re-starting Trinity's Youth Drop-in Centre
November 22: Jubilate Singers (our community choir) fundraiser concert
November 29: Fight-Night fundraiser in the new hall
December 5: Anniversary dinner to mark my 25th year in Dulwich Hill
December 6: special Centenary service followed by the official hall opening
December 25: Christmas
You are invited to all of the above events, including the Friends of Sabeel, Australia AGM (which is a Christian group focused on Palestinian human rights). Moreover, you are invited to help me survive this cavalcade of events, especially the re-starting of the Youth Drop-in Centre and the Fight-night fundraiser.
The good news is that we are offering a paid part-time position for a new youth worker. Just email me if you want the details. The not-so-good news is that I'm going to need voluntary helpers too, at least for the short term. And I don't just need volunteer youth workers, but also web assistants, events coordinators, and just about anybody who thinks they can help me balance this intimidating schedule!
Email me if you're interested in the paid position or a voluntary position, or a voluntary position that might turn into a paid position. Either way, I'm keen to hear from you.
Till next time, may the Lord bless you and strengthen you for the work for which you have been called.
Your brother in the Good Fight,
Dave
www.fatherdave.org
www.fighting-fathers.com
www.holytrinity.org.au
www.binacrombi.com.au
www.israelandpalestine.org
www.prayersforsyria.com
www.zerocostwebsite.net
www.dulwichhillgym.com
www.warriorweekends.com
www.boxersforpeace.com
www.how2changetheworld.com
P.S. Support the work of the Fighting Fathers by joining our online community atwww.fighting-fathers.com. It only costs you $10/month and the first month is free.
Preacher, Pugilist, Activist, Father of four