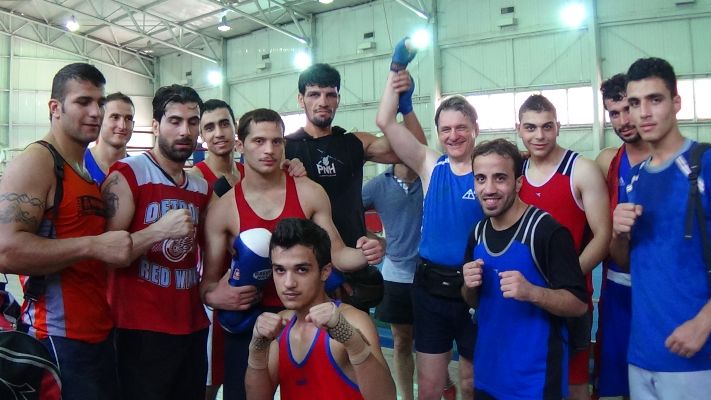 Hi Fighter,
I'm currently in New Delhi, slowly making my way back home after completing our latest 'Boxers for Peace' mission in Syria. Unfortunately, in order to get the cheapest tickets, I had to opt for a 12 hour wait between flights in Dubai and a seven-hour wait here.  Even so, nothing can dampen my spirits after the week I've had.
Nothing went as I expected, and yet it was fantastic!
The boxing match I'd been hoping for with Ben Ali did not materialise. Even so, Jacob Najjar (my fellow boxer for peace) and I were certainly kept busy. Indeed, we must have boxed more than a hundred different people over the last week, amongst whom were some great fighters and many champion human beings! Moreover, our support team – Issa (the national boxing coach) and his boys – were simply excellent! It was a very humbling experience to be so well looked after.
We boxed with the Syrian Olympic team in Damascus
We travelled north to Lattakia and had more than 200 kids show up to train with us, many of whom were displaced persons living in UNICEF-provided tents that ringed the stadium.
We headed south to Tartous and helped open a new boxing gym (and did some more boxing while we were there).
We made it back to the refuge on the outskirts of Yarmouk where in April I'd been told that while the children there were clothed and sheltered, they had no pillows. I promised to do something about that when I returned and, thanks to contributions made by friends in Sydney, I kept that promise! We also distributed soccer balls to the kids as well as boxing gloves and mitts, all courtesy of our friends as SMAI.
Apart from all the boxing, we also visited other sports complexes, schools and hospitals, and we met with numerous officials, including the Minister for Health, the Minister of Information and the Prime minister. Most enjoyable for me though was catching up again with my much-loved Mufti – Dr Hassoun   More on that another time.
Indeed, I won't say more here as I really need time to process it all.  God was in it! I'm sure of that. And if nothing else it's given us an excellent framework for pursuing a bigger and better 'Boxers for Peace' program in 2016. I do sense that we are starting to make a difference and that much good can yet come of this.
It will take me a while to process all the photos so for now I can only offer you the two promotional videos that I put together on my iPhone.

click either image to watch the video
I'll get back to you after I've had a little rest. Thank you for all your prayers and for the financial support that made it all happen.
Your brother in the Good Fight,
Dave
www.fatherdave.org
www.fighting-fathers.com
www.holytrinity.org.au
www.binacrombi.com.au
www.israelandpalestine.org
www.prayersforsyria.com
www.zerocostwebsite.net
www.dulwichhillgym.com
www.warriorweekends.com
www.boxersforpeace.com
www.how2changetheworld.com
P.S. Support the work of the Fighting Fathers by joining our online community at www.fighting-fathers.com. It only costs you $10/month and the first month is free.
Preacher, Pugilist, Activist, Father of four