Hi Fighter,
I hope you've been travelling well since last we touched base. It's been a period of highs and lows for me.
In terms of what's been happening in our little hamlet of Dulwich Hill, it's been almost all highs. In terms of what I've seen going on in other parts of the world (such as Syria) it's been frankly heart-breaking.
Let me share the highs first:
The rebirth of the Youth Centre!
We had a magnificent afternoon at the Salvo's centre in Dulwich Hill last week, celebrating the re-opening of our beloved Youth Centre and Fight Club in their new venue!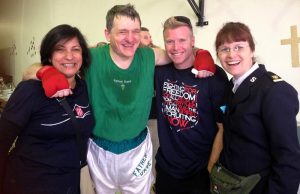 It's a real win-win situation! 

The Salvo's recreation hall and lounge area provide a magnificent space for both sporting activities and informal gatherings for our young people. In truth, it is a better space than we were ever been able to provide in the old church hall!
Having combined forces, we now also have (potentially) twice the person-power to drive the project forward. It's just a pity that it took an arsonist to burn down our old Youth Centre before we were forced to see the many advantages of working together!
Admittedly, we are a bit thin on the ground at present with regards to staff and volunteers. I'm trusting that this will all be resolved over the next couple of weeks, but if you're in the area and you have some time to volunteer just let me know!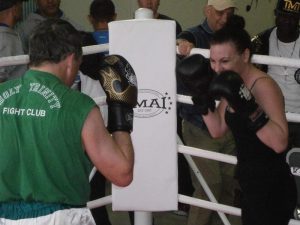 And if you can't join us in person, please consider 'liking' the Facebook page that the Salvo's set up for our new venture.
Tears for Syria
I said when I came back from Syria that I felt I left a part of my heart in Damascus. It is still there. I still see the faces of so many of the people I met there and I wonder if they are OK.
One person I have kept contact with is Ghinwa Maia. She was translator for our delegation while we were in Damascus and is a sweet young girl, about the same age as my eldest daughter. That's Ghinwa on the right, below, with her sister, Rima, on the left.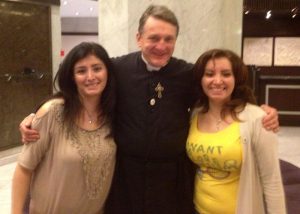 I've had some lengthy text conversations with Ghinwa over the last few days where she has been telling me about massacres taking place in Alawite villages in area of Latakia. Ghinwa is an Alawite.
Let me share with you some excerpts from our conversation. Note that English is not her first language:
Ghinwa: The situation is very bad now in Latakia province. 7 Alawite villages were massacred. We know about the killing of 136 villagers all killed on sectarian bases. A friend of mind lost 21 member of his relatives.

Dave: If you can think of some way we can hep from here please tell me.

Ghinwa: I don't really know. But perhaps you could help spreading the news about what is happening here! A friend of mine is going to document the witnesses of those who ran away or perhaps injured … Maybe I'll be able to get this info and translate them. Send them to you. I will keep in touch if I would still be alive.
That was a week ago. Yesterday I received this:
 Ghinwa: All of my friends who were documenting the name and the events of massacres in Latakia against Alawites are now being threatened to be killed by FSA and Al Nusra terrorists … On TV we are shown something different. It is only a propaganda. They're trying to say that Alawites are not being killed or displaced. The truth is being hidden by mass media. .. This is sick… My sister now is very ill … I guess a part of her illness is caused by sadness … we are afraid.

Al Nusra promised to kill every Alawite and of settling those who came from Idleb and Aleppo instead of displaced Alawites. I have never been sectarian but what is happening here makes everyone think of sectarianism. I translated a report today from Al Jazeera International channel. They described Alawite vilages as being 'settlements' as if this land has never been a land of those Syrian people. I mean Alawites .. and even before Islam. Those who know the history of Syria, they know that Alwaites and Christians are the original people of Syrian and those Muslims came later on.

Dave: Have courage, my friend. All will be well. I am praying for you and for your sister. Please send my love to her. Are you happy for me to share what you are telling me with my online subscribers? I would like to share what you have said in my weekly email to my friends and supporters.

Ghinwa: Of course, Father, you could share all information with your subscribers.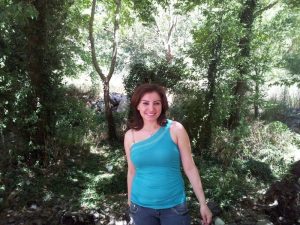 Please join me in praying for this courageous girl and for her family. I would also like to give you the opportunity to talk to her about their crisis – perhaps as soon as this weekend.
I have asked Ghinwa whether she would be willing to do a conference-call with members of our Fighting Fathers online community. We haven't done one of these for a while now but the pattern is:
I give you a phone number in the USA and a time.
You dial that number at that time and enter the access code I give you.
I do a brief interview with Ghinwa and then throw open the lines for discussion.
We'll try to record the whole conversation for those who can't participate in the call but, if we can make it work, it would be really great if we could have a good number join us live.
Anyway, nothing is confirmed at this stage. Getting a conference call to work from Damascus may prove no easy feat. Even so, if we can make it happen I'll be emailing all subscribers before the end of the week with details.
Please note that it will be a Fighting Fathers members-only call. That should screen out any trouble-makers. If you're not a financial member of fighting-fathers.com you'll be able to listen to the recording afterwards but you won't be able to participate live.
Stay tuned and keep praying!
The Rich Idiot
The struggles of Ghinwa and the people of Syria do help us put our own struggles in proper perspective, I think. If the worst problem we have is our mortgage, we're doing pretty well really.
This was certainly Jesus' perspective – "one's life does not consist in the abundance of possessions" (Luke 12:15). Jesus' words to His followers about money-matters are as clear as they are unpopular.
This sermon on 'The Rich Idiot' of Luke 12 isn't the most brilliant or insightful I've ever given and yet I was surprised at how many people were apparently challenged and helped by it. Let me know how it affects you.

[imaioVideo v=1]
If you can't view the above video, click here.
And before I let you go today, I want to take a moment to welcome back to Oz one of our long-time members, Fighting Father Mike, who has spent most of the year in Gaza.
Mike has been working on Gaza's Ark, and if you want to know all about that work you'll find the Ark's website here.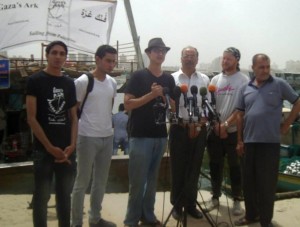 In short, Gaza's Ark is sort of like the flip-side of the Freedom Flotillas, where the idea was to sail boats into Gaza from ports around the world in order to break the Israeli siege. In this case the idea is to sail a boat out of Gaza, filled with Gaza-made goods that can be traded in ports around the world to help support the struggling people of Gaza.
It's a brilliant concept and I'd encourage you to make a financial contribution via their site. If you can't do that, at least consider 'liking' their Facebook page.
OK …
That's more than enough from me for this week, but if you're free this Sunday afternoon and in the area do consider joining us at the Croatian Club where a couple of our boys will be fighting, including the ever-popular Fighting Father Mungo!
In a bizarre twist, Mungo will be fighting the man I made I professional boxing debut against  back in 1996, then known as 'Jimmy Pat'! It's a long story, but if you want to see the latest chapter unfold you'll need to be there on Sunday!
Fighting Fathers members can send words of encouragement to Mungo through the member site. If you'd like to see 'Jimmy Pat' in action, the archive of the last round of our 1996 fight is here.
I'll hope to see you ringside on Sunday!
Until then I remain …
Your brother in the Good Fight,
Dave
www.fatherdave.org
www.fighting-fathers.com
www.zerocostwebsite.net
www.prayersforsyria.com
www.israelandpalestine.org
www.how2changetheworld.com
P.S. And as I'm apt to remind you, if you'd like to support our work, the best way is to become a financial member at fighting-fathers.com. It only costs you $10/month but it makes all the difference at this end!
Preacher, Pugilist, Activist, Father of four