(Last Updated On: January 20, 2023)
"For it has been reported to me by Chloe's people that there are quarrels among you, my brothers and sisters. What I mean is that each of you says, "I belong to Paul," or "I belong to Apollos," or "I belong to Cephas," or "I belong to Christ." Has Christ been divided? Was Paul crucified for you? Or were you baptized in the name of Paul?" (1 Corinthians 1:11-13)
Greetings, Fighter,
This exasperated report from the Apostle Paul suggests that no sooner had the church of Corinth been formed than it started fragmenting into rival tribes. That shouldn't surprise us. Tribalism has always been the great curse of the church.
I'm sure you've heard the joke: Once I saw this guy on a bridge about to jump. I said, "Don't do it!" He said, "Nobody loves me." I said, "God loves you. Do you believe in God?" He said, "Yes." I said, "Are you a Christian or a Jew?" He said, "A Christian." I said, "Me, too! Protestant or Catholic?" He said, "Protestant." I said, "Me, too! What franchise?" He said, "Baptist." I said, "Me, too! Northern Baptist or Southern Baptist?" He said, "Northern Baptist." I said, "Die, heretic!" And I pushed him over.
This an abbreviated form of the joke. The full version (which you can see here) gets even more specific about the religious identity of the two characters, recognising that the more particular someone is about their religious tribal identity, the more intense their rivalry with neighbouring tribes, most especially with their closest neighbours.
It's not immediately obvious why this should be the case, but someone explained it to me this way: If you view salvation as a narrow path of truth, with an abyss on each side for those who fall into error, the people who threaten you most are those who appear to be on the narrow path with you but who are actually slipping off. It is they who are most likely to get a hold of you and pull you down into the abyss with them.
That's why there's been such a terrible history of Catholics persecuting Protestants and Protestants persecuting Catholics, and Catholics and Protestants persecuting Baptists, than there ever has been of Christians persecuting another religious group. The problem begins this view of salvation as a narrow path of truth. When we become convinced that it's only those who get God right who are saved. all those who get God wrong are damned, and those who get God slightly (but critically) wrong are the most damned of all. They should have known better!
I was with a group of Sunni Muslims once who saw their mission as one of correcting other Muslims as to where they were in error. They told me that there were really two groups of Muslims – those who understood the Qur'an correctly (as they did) and the rest. This sounded familiar. In response I said that I saw two kinds of people within both Christianity and Islam – those who focus on God and those that focus on us. When we focus on ourselves, we become obsessed with getting things right. When we focus on God, we put our hope in the love and grace of God.
"Bismillahir Rahmanir Raheem. Isn't that how the Qur'an begins almost every chapter?", I asked them, "with a focus on the mercy of God?" The Arabic translates as "In the Name of God the Merciful, the Compassionate". Our discussion ended shortly after that.
There's nothing wrong with owning your tribe. Indeed, it's good for us to be aware of where we've come from – ethnically, religiously, politically and socially. Problems begin when we start thinking that our tribe is superior to all the others. From a religious perspective, I sincerely believe that the solution to this is to follow the example of the saints of old, most obviously the Apostle Paul, by focusing on God and the Gospel, rather than on ourselves.
"For the message about the cross is foolishness to those who are perishing, but to us who are being saved it is the power of God." (1 Corinthians 1:18)
Our Sunday Eucharist
A big thank you to Sam Madden for joining me on the The Sunday Eucharist last Sunday. Thank you too to Sam's four-legged friend, Becka, who also joined us (ever so briefly) at the end. I've included her cameo appearance in the reply below.
We have some exciting developments taking place with our Sunday Eucharist over the next few weeks. Indeed, prepare for two major changes:
Firstly, I'm changing the format of the Ministry of the Word section of our service. We've been having up to three live guests each week, doing the readings and prayers with me. We'll soon be incorporating a pre-recorded guest each week, focusing on either the first or second reading. This will allow us to include people who can't join us live due their time-zone, or because they are busy on Sundays.
In the coming weeks, you can expect guest spots from:
Rev. Stephen Sizer (from London)
Father Ola Joyce (now in Sweden)
Joel Jammal (journalist and freedom fighter)
I have a few more guests in the pipeline too. Stay tuned. 🙂
The other thing I'm working on is getting musicians to lead us in song at the beginning of our time together each week.
We've been wonderfully served thus far with music by both Father Ola and Kamini. I'm hoping we can find a few more musicians. I've asked my brother, Rob, who is a professional guitarist. I don't know a lot of musicians, so I'm keen to hear from any volunteers. I'm hoping for more contributions from Kamini and Father Ola too.
As to this Sunday, David Baldwin and Sam Madden have both graciously offered to join me. Our first pre-recorded guest spot won't begin for another two Sundays, so we still have room for a third volunteer this week. Let me know if you're keen.
I'll be broadcasting this Sunday from my hotel room in Melbourne where I'm on a week's holiday with Joy, Joy's brother, Patrick, and Patrick's partner, Julie (see pics). Joy did suggest that I take a Sunday off, but I figured that the beauty of our virtual worship is that we share in the Eucharist together no matter where we are.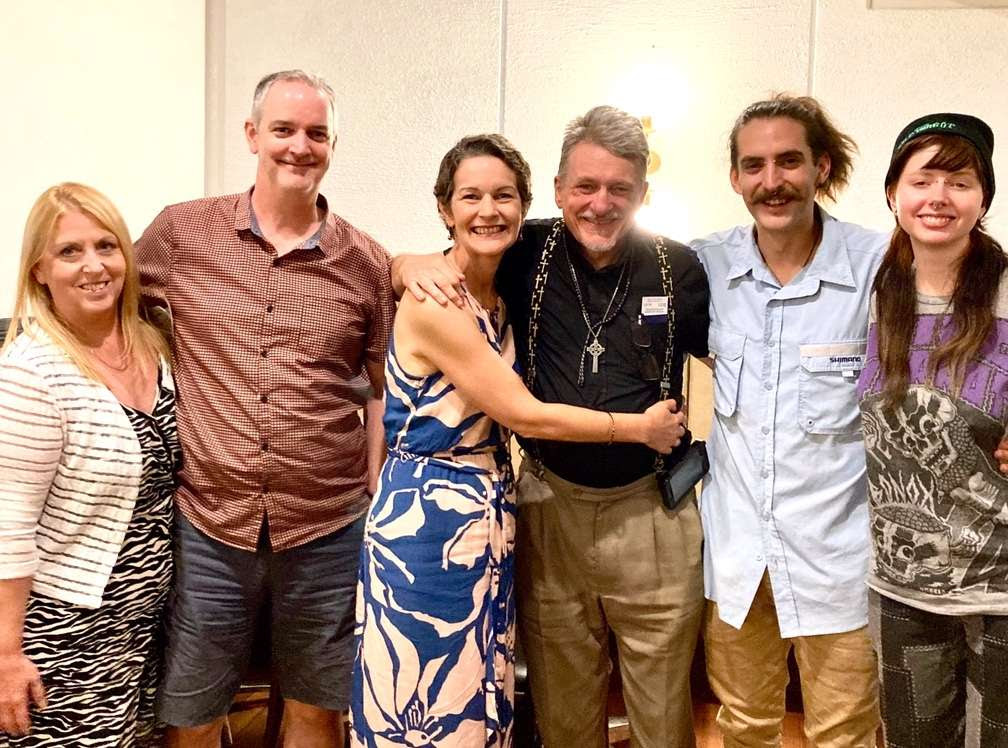 I'll mention too that while I am in Melbourne, I'm planning on catching up with my dear friend, John Shipton, and I'll try to do a brief interview with him about where we're up to with his son, Julian Assange. I'm also hoping to pay a visit to our old mate, Father Bob Maguire, who is currently in hospital. If he's up to it, I'll do a quick video interview with him too, and I'll play both interviews before we get started on Sunday. That's another good reason to tune in!😊
My trip to Iran has been cancelled (or, at least, delayed), so I'm scheduled to be back at Binacrombi for the last weekend of January (27 to 29) and I'd love to have as many of you guys as possible join me for another dynamic weekend of running, praying, boxing and celebrating. What more could one ask for?
Let me work your corner
Let me say a big thank you to those who signed up this week to our Heavyweight and Super Heavyweight divisions. Thank you, Lee. Thank you, Karyn. Thank you, Muugi. Thank you, Batgerel. Thank you, Bronwyn. It's great to have you all aboard. Thank you for helping us stay alive and thrive in 2023.
Of course, we will still benefit greatly from more subscribers, so when you're ready, please go to Patreon.com and sign up to any of the following divisions:
Middleweight – $10/month (community mentoring)
Enrol in the Fighting Fit training program
Access member-only training videos
Engage in the members-only forum (see below)
Super-Middleweight $50/month (remote mentoring)
All of the above +
One-on-one mentoring via email, phone, or Skype
Heavyweight – $100/month (in-person mentoring)
All of the above +
Unlimited training at Father Dave's Old School Boxing Academy
Superheavyweight – $200/month (intensive in-person mentoring)
Every dollar helps keep the wheels of Fighting Fathers Ministries turning – the websites, the newsletters, the broadcasts, the boxing club and the bush camp. Sign up at Patreon.com.
What's on?
A big thank you to Rob Elmasri for keeping the boxing team punching while I'm away. I'll be back at my post next week, finishing with the big weekend at Binacrombi
Let me conclude today with another appeal for help with the new member site at www.fightingfathers.com.
Our web-designer, Muhammad Abdullah, tells me that he has completed work on the site. I still haven't tested it properly myself. I need a few volunteers to explore the site with me, come up with ideas as to how we can best put it to work, and see what improvements might still need to be made.
Are you interested? If you're supporting Fighting Fathers Ministries at any level through Patreon.com, you can login with your Patreon username and password.
Let me know what you think. Email me or call me. Help me build this site into a space where we can support each other, share ideas, and discuss things that we are passionate about without fear of censorship.
Ok. That's all from me for now. I'll get back to holidaying with loved ones, catching up with old friends, and spending time with my dear daughter, Imogen, who moved down here two years ago, along with her partner, Hamish. What a wonderful opportunity! I do feel very blessed.
May the Lord bless and strengthen you for the work to which you have been called.
Your brother in the Good Fight,

www.fatherdave.org
www.fighting-fathers.com
www.holytrinity.org.au
www.binacrombi.com.au
www.israelandpalestine.org
www.prayersforsyria.com
www.dulwichhillgym.com
www.boxersforpeace.com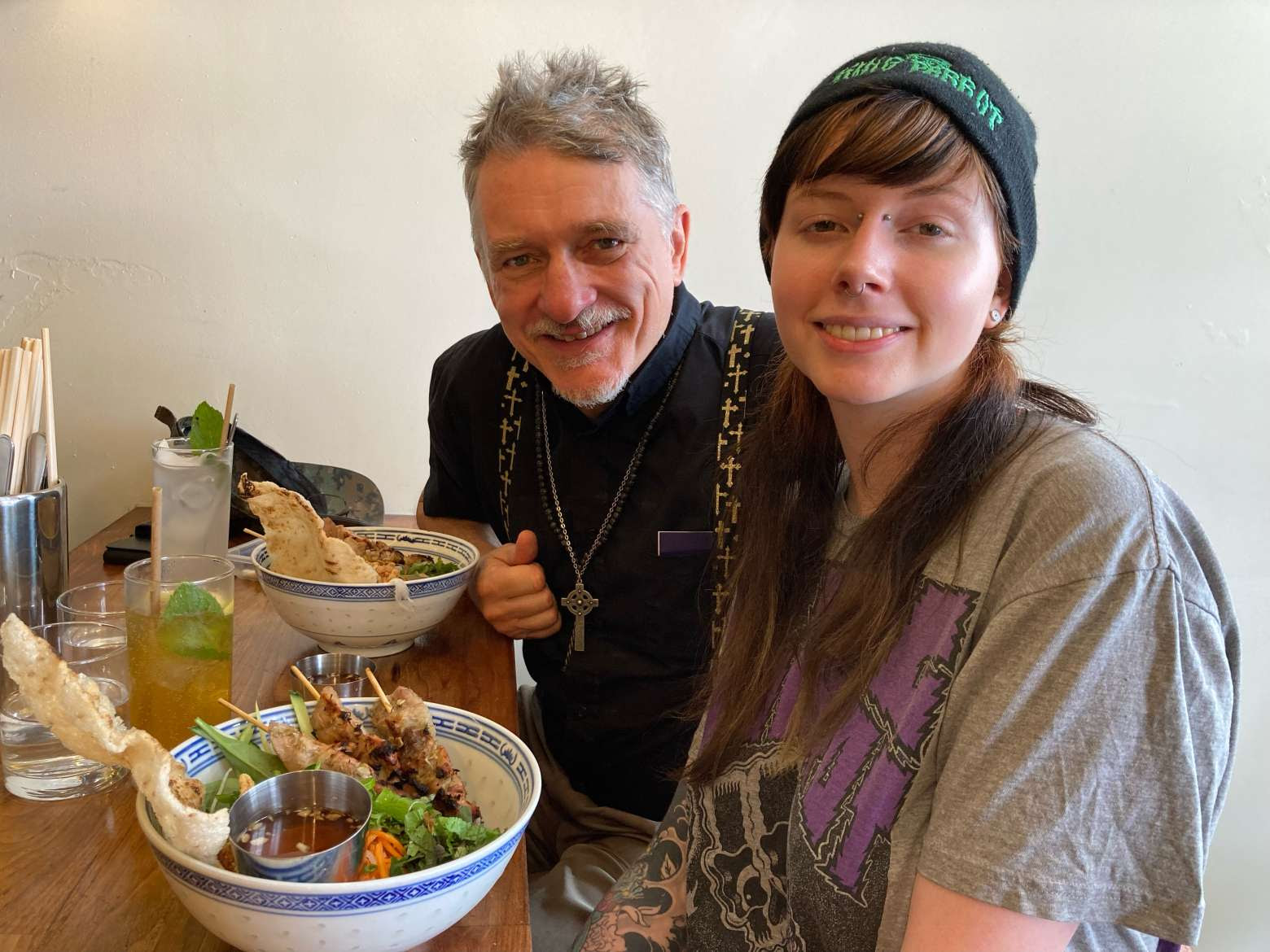 Preacher, Pugilist, Activist, Father of four