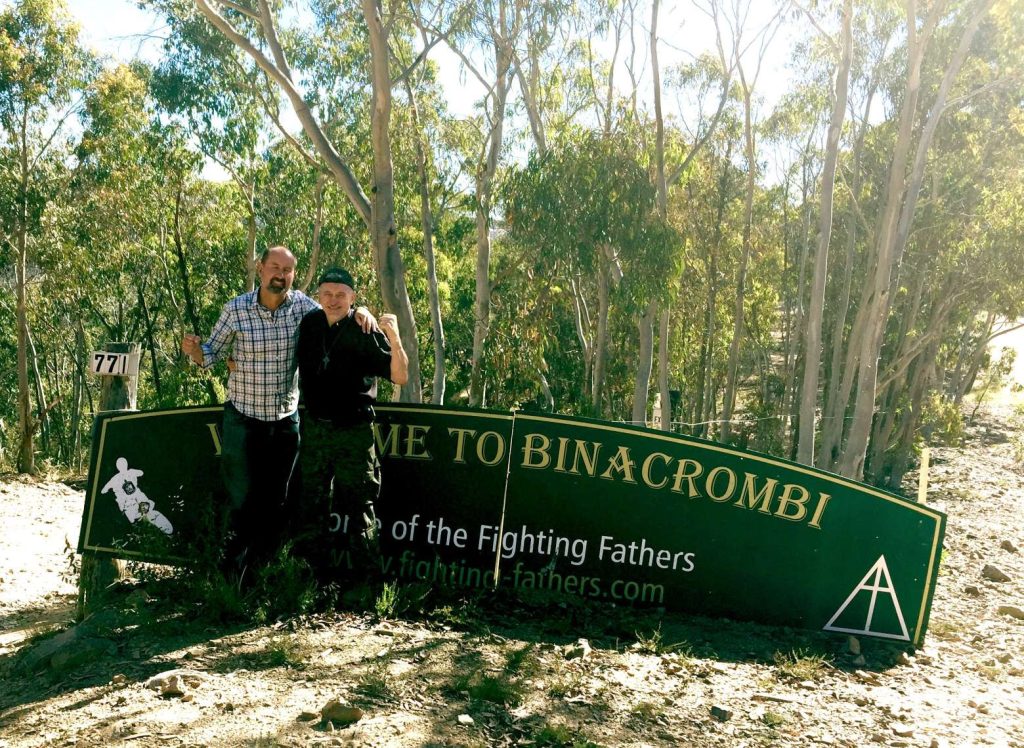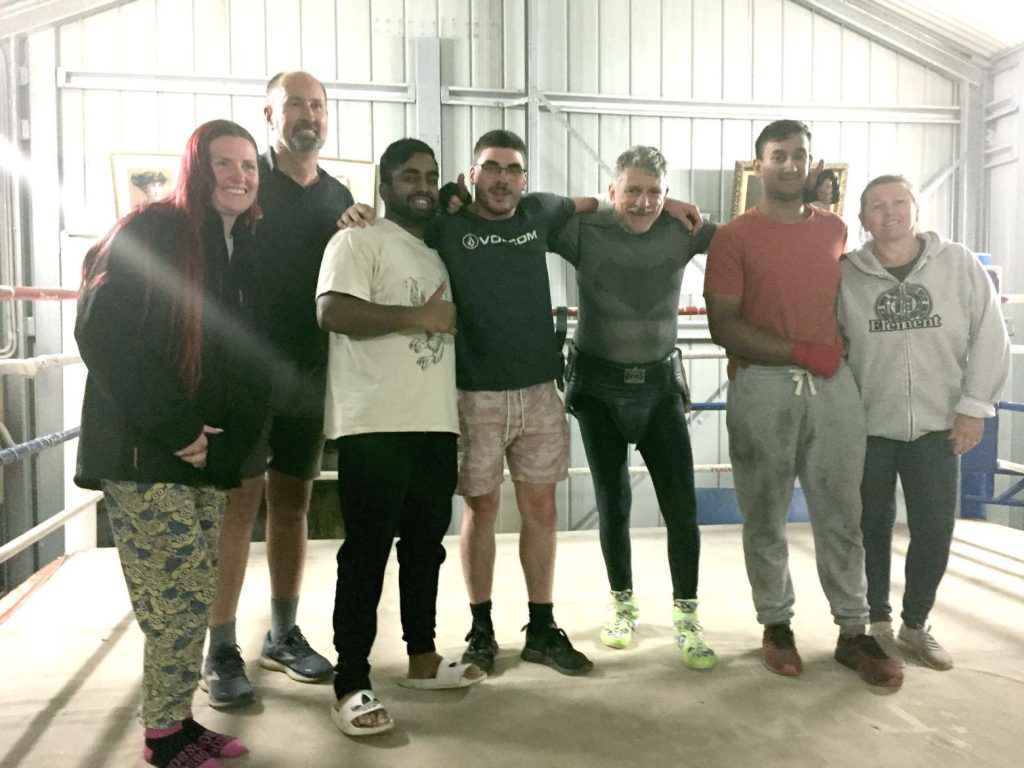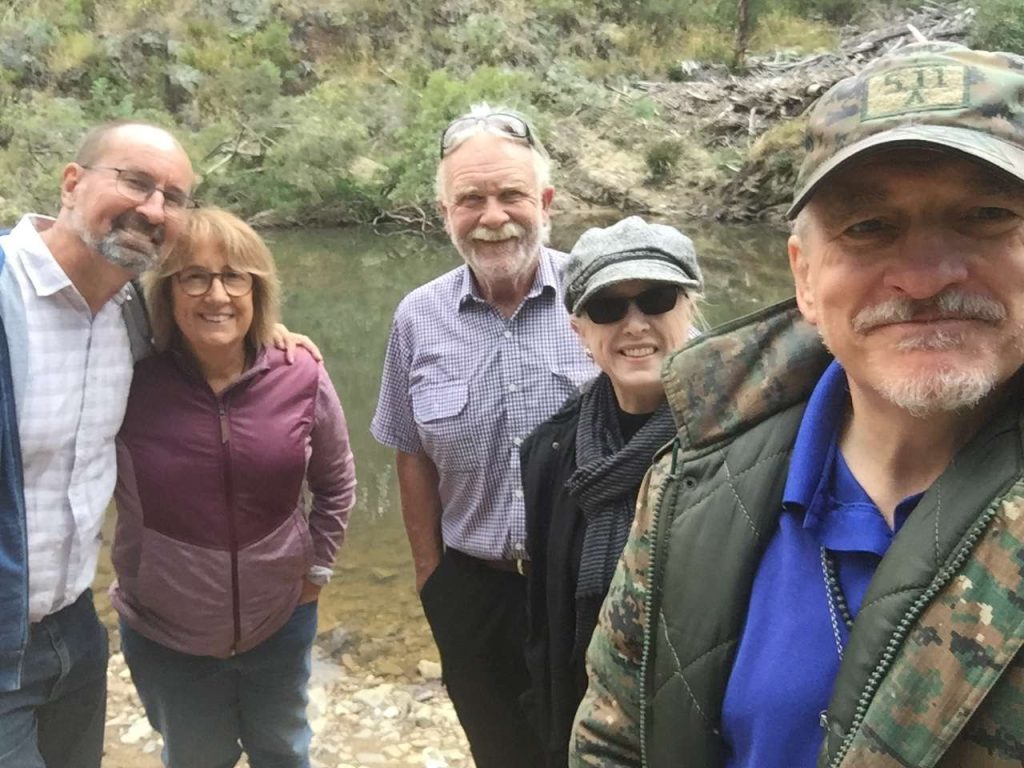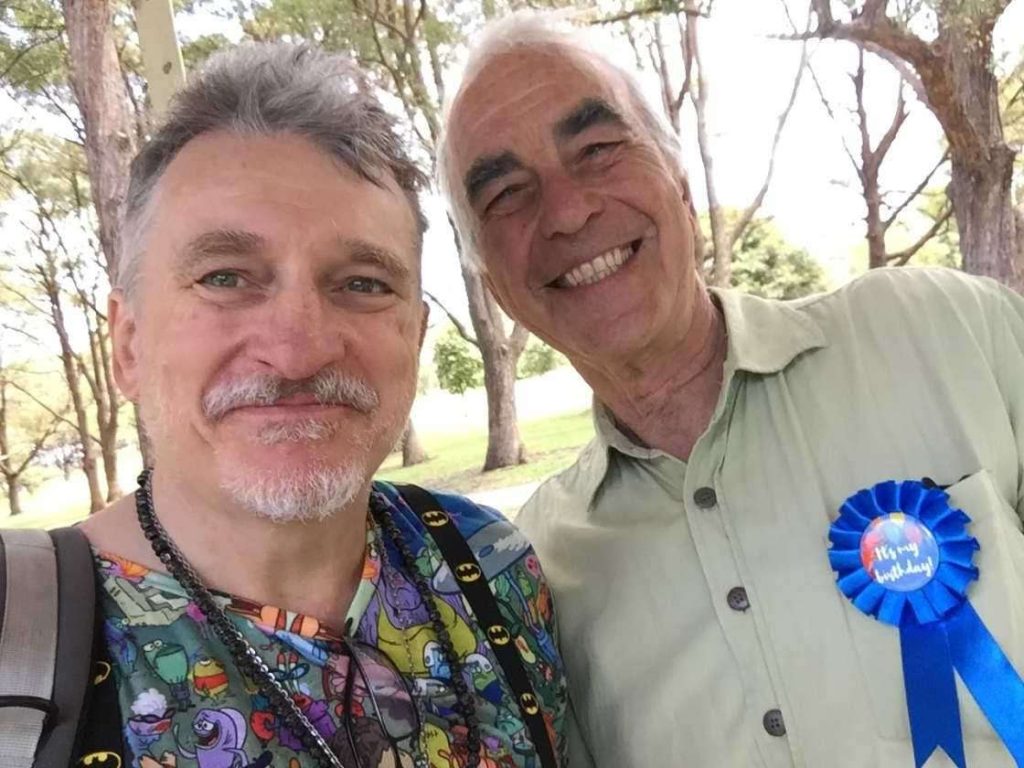 The next day he saw Jesus coming toward him and declared, "Here is the Lamb of God who takes away the sin of the world!"" (John 1:29)
January 14, 2023
Greetings, Fighter,
Forgive me for starting today with this declaration from John the Baptist – one that is likely to alienate all but the most deeply religious.
If you're still reading, thank you. If you find John's description of Jesus confusing, take heart. Most religious folk don't have a clue what he was talking about either! The important thing is that John's followers did understand him. Indeed, many who heard John refer to Jesus as the "the lamb of God" immediately stopped following John and started following Jesus. They knew exactly what John meant. Do we?
The New Testament can be difficult to understand. It's written in a language that was shaped by the history of the people of first century Judea – a people suffering under a brutal Roman military occupation, and you need to have some knowledge of that context in order to understand the way people talked about Jesus.
For instance, when people in the Gospel stories referred to Jesus as the 'Son of God', they were using the language of Psalm two – "I will proclaim the Lord's decree: He said to me, "You are my son; today I have become your father."(Psalm 2:7)
That was King David speaking, referring to himself as 'God's son' – appointed to subdue all who threatened God's people, Israel. 'Son of God' subsequently became a common way of referring to the king, making both 'Son of God' and 'Son of David' highly politicised titles that could get you crucified in Roman-occupied Judea.
'Lamb of God' is a more obscure term, though if you're familiar with the Torah, you know that the Hebrew people did sacrifice animals in the belief that this would take away their sins. It's all outlined in the book of Leviticus. The only problem with that link is that the sin offerings referred to in Leviticus always required a bull to be sacrificed and never a lamb.
The only sacrificial lamb we find in the Torah is in the story of the Exodus (see the Book of Exodus, chapter 12). The lamb was sacrificed just before God's people, who were then slaves in Egypt, began their journey to freedom, and the blood of the lamb protected their children from the angel of death. The lamb of God was thus the starting point of the peoples' march to national liberation.
I'll stop the Biblical analysis at this point as it's probably getting a bit much. If you want to explore this further, take a look at my January 2020 sermon on this passage. Suffice it here to say that the reason John's followers started flocking to Jesus wasn't simply because they all felt guilty and wanted their sins forgiven. They wanted freedom from Rome and Jesus looked like the one most likely to give it to them.
I suspect that this is what John the Baptist was hoping for too. Indeed, I think it was what every God-fearing Jew in first-century Judea was hoping and praying for. They were waiting for another Exodus – for a return to freedom.
Jesus didn't meet all the expectations of the people of first-century Judea. He did not end the Roman occupation (not in the way they were expecting, at any rate). At the same time though, Jesus never rejected any of the politically-charged titles people gave Him – lamb of God, son of God, son of David. Perhaps John the Baptist and his peers were on to something after all? Perhaps we need to broaden our appreciation of Jesus Christ, the liberator.
The Binacrombi Bush Bash
We had some excellent bouts last Saturday night at the Binacrombi Bush Bash. I encountered a classy opponent in my new best mate, Clayton Pestona, and then had the opportunity of fighting my oldest best mate, Andrew Madry!
You've met Andrew many times on our Sunday Eucharist but might not recognise him here as he's wearing a head-gear. He's the big guy who was the last of the five I fought that night. As teenagers, we enjoyed swimming at the pool together. Who would have thought that 50 years later we'd be stoushing it out in the boxing ring?!

Our Sunday Eucharist
Yes, I had my old mate, Andrew, with me at Binacrombi last weekend, along with his partner, Lena, and two other good friends – Lee and John. Andrew and Lena shared in the readings and discussion at the Eucharist, along with our good friend from Washington State, USA, Doug. The team engaged in some intense discussion on both climate change and male pattern baldness, as wells on the texts for the Sunday of the Epiphany. It's definitely worth catching the recording of our banter (below).

I don't expect to be back at Binacrombi for the next three weekends' time. January 27 to 29 will be my next stint, and I'd love it if as many of you as possible could join me then. It will be another dynamic weekend of boxing, bush-walking, and brotherly love. Let me know if you're interested and I'll pencil you in.😊
As to this coming Sunday, I'll be in Sydney and I don't have anybody lined up at this stage to join me in doing the readings or prayers. Let me know if you're keen.
Let me work your corner.
If you've made a New Year's resolution to improve both your fitness and your prayer-life, now is the time to put me to work in your corner. I've had a handful of new souls join me in the boxing academy recently, which is great. I'm keen to take on more budding physical and spiritual athletes, for both in-person and remote mentoring.
One of the interesting proposals that came out of our discussions at Binacrombi last weekend was the suggestion that subscribers in the 'super-heavyweight division' (see below) should not only get a free weekend's accommodation at Binacrombi each month but should also get a reserved spot in one of our cabins should they need to get out of the city altogether. Depending on how things develop this year, nationally and globally, it may be that some of us will feel the need to go bush for an extended period. We have ten cabins at Binacrombi that could be reserved for our key supporters in case of emergency.
When you're ready, please sign up at Patreon.com to either:
Middleweight – $10/month (community mentoring)
Enrol in the Fighting Fit training program
Access member-only training videos
Engage in the members-only forum (see below)
Super-Middleweight $50/month (remote mentoring)
All of the above +
One-on-one mentoring via email, phone, or Skype
Heavyweight – $100/month (in-person mentoring)
All of the above +
Unlimited training at Father Dave's Old School Boxing Academy
Superheavyweight – $200/month (intensive in-person mentoring)
Every dollar helps keep the wheels of 
Fighting Fathers Ministries
 turning – the 
websites
, the 
newsletters
, the 
broadcasts
, the 
boxing club
 and the 
bush camp
. Please sign up at 
Patreon.com.
The New Member Site
One of the key benefits I've been looking to offer to all of our subscribers is a user-friendly member-site with a dedicated forum where we can discuss the things that we are passionate about without fear of censorship. I'm hoping that I've finally got this right with the new site at www.fightingfathers.com
I've had an excellent web-designer, Muhammad Abdullah, working on this for some weeks now. He contacted me this morning to tell me that it's ready to go. I wasn't going to mention anything until I had worked out exactly how the site operates but it occurs to me that some of you might be willing to pitch in and help me both understand it and develop it.
The two things I asked for in this new site were a dedicated members-only forum and the option to sign in using your Patreon.com user-name and password. It seems though that Muhammad has added a lot of extra bells and whistles, and I'd be grateful if some of you good people could help me master the new site. Hopefully, together, we can build it into a hub of communal wisdom that will play a significant role in nurturing all members of the Fighting Fathers community.
What's on this week?
Joy and I are taking a holiday over the next week and plan to drive the length of the Great Ocean Road in Victoria, accompanied by Joy's brother and sister-in-law. Robert Elmasri has graciously agreed to take the boxing classes while I'm gone, and this despite him having his appendix surgically removed last week! God bless you, Rob. Please team … hold back on giving him any body shots!
Two things in closing today:
Firstly, thank you for your prayers regarding my scheduled trip to Iran. Having organised everything for my visa, the team in Shiraz have now asked me to hold off on finalising my arrangements. It seems (not surprisingly) that they have some issues there at the moment.
Finally, I'm excited to share that our friends, Lena and Andrew Madry, are organising a "Down the Rabbit Hole Ball" as a fundraiser for Fighting Fathers Ministries!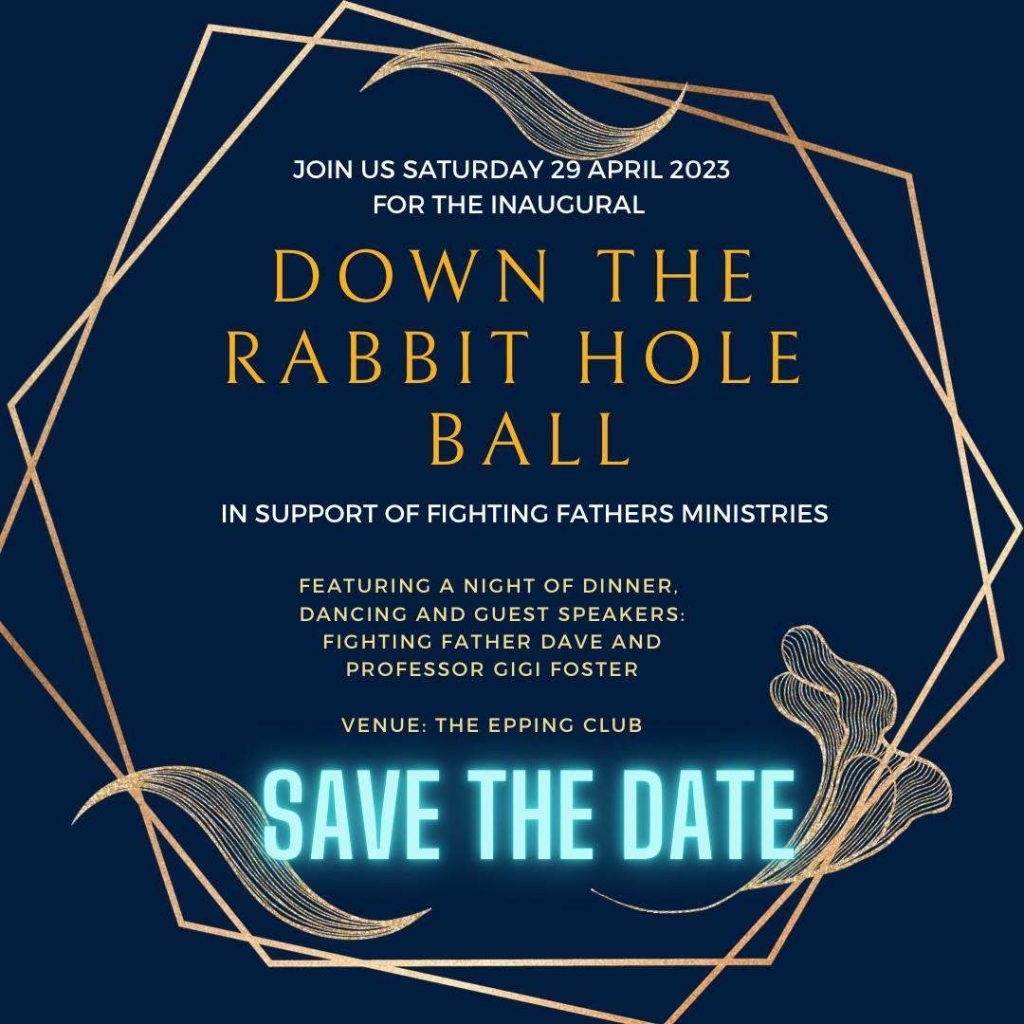 I am deeply grateful for this. As you know, we are in serious need of funds. This could give us the boost we need, not only to survive but to further develop our work.
The scheduled date is Saturday, April 29, and the venue is the Epping Club. You'll see the poster below, mentioning that Professor Gigi Foster has agreed to join us as a guest speaker! Feel free to share this. I'm hoping that as many of our Fighting Fathers community as possible will be able to join us on the night.
May God Almighty bless you and strengthen you for the work to which you have been called.
Your brother in the Good Fight,

www.fatherdave.org
www.fighting-fathers.com
www.holytrinity.org.au
www.binacrombi.com.au
www.israelandpalestine.org
www.prayersforsyria.com
www.dulwichhillgym.com
www.boxersforpeace.com
www.warriorweekends.com
Preacher, Pugilist, Activist, Father of four