(Last Updated On: March 4, 2023)
"The wind blows where it wills, and you hear the sound of it, but you do not know whence it comes or whither it goes; so it is with everyone who is born of the Spirit." (John 3:8)
Hi Fighter,
We've arrived at one of my favourite parts of the Bible – the third chapter of John's Gospel. It's a favourite for a lot of people. Many of us were brought up with John 3:16 as a 
'memory verse'
, and that was a long time before pro wrestler, 
Stone Cold Steve Austin
, put a new twist on the text back in the 90's (more on that 
here
).

"For God so loved the world that He gave His only begotten Son …" (John 3:16). That's the verse that many see as the summation of the Christian message – a word of hope in a dark world. Even so, it's not this proclamation of hope that grabs me but the accompanying proclamation of mystery in John 3:8 – "The wind blows where it will … so it is with everyone who is born of the spirit".
There is a curious interplay of words and images here. In the original Greek text, the word used for wind, breath and spirit is the same word – 'pneuma' – and so it's hard to follow exactly what Jesus is saying. That seems to be the point. It is hard to follow exactly what God is doing. The Spirit of God moves like the wind. You don't know where it's come from or where it's going to blow next, but you can't mistake it when it's blowing. For me, that pretty much sums up my spiritual life.
I was brought up in a conservative Protestant Christian household where we were suspicious of anybody who wasn't Evangelical and straight. Then I went to University and mixed with Christian people from a variety of denominational backgrounds and realised that the spirit of God was at work in them too. Some years later, I became good friends with a gay Christian man and sensed the presence of the spirit of God at work in him. Years later I became friends with Sheikh Mansour Leghaei, and I still remember saying to him over coffee, "I was brought up to believe that this isn't possible, but I sense the presence of the Spirit of God with us." I probably should not have been surprised by his response – "me too".
One of my most memorable experiences of the Spirit of God was in 2013 at the very end of my first trip to Syria. We had spent a long two weeks in Lebanon and Syria – visiting hospitals, refugee camps, and so many scenes of human struggle. In as much as attending a meeting with the Grand Mufti of Syria was a privilege, it was one I felt I could do without. I was exhausted, and I felt that I'd met more than enough clerics and politicians over those two weeks to last a lifetime. Then I met the Mufti – Dr Hassoun – ad he talked to us about the murder of his son, and how he had prayed for forgiveness for those who had killed him, and I felt an overwhelming sense of the presence of the Spirit of God in the man, and I began to cry.
I appreciate that we can't base our faith and understanding on experiences like this. At the same time though, it is sobering to remember that the only sin Jesus ever spoke of as unforgiveable was the failure to acknowledge the presence of the Spirit of God (Mark 3:28–29). The Spirit of God is like the wind. We don't understand how it works. We don't know where it has come from or where it's going next, but we can't mistake that Spirit when we are caught up in its storm!
Lord God, open our eyes to the movement of your spirit. Let that Spirit blow afresh on us and through us. Move us to the heart of your storm. 
Our Bush Bash and Sunday Eucharist
It was a relatively quiet time out at 
Binacrombi
 last weekend, apart from one poor soul who ran his bike into a tree and broke his leg (God bless you, Josh). The 
Binacrombi
 Bush Bash generated zero injuries by contrast. Perhaps that was because I only had one serious opponent, and he was a gentleman.
The Sunday Eucharist was another fantastic experience for me. Thank you to Andrew, Sam, and Father Elias for your wonderful contributions.
If you weren't able to join us, do watch the video replay of our Bible Banter below. This was the first time we've had Father Elias share with us since he returned to the Netherlands some years ago. I think you'll find his presentation to be quite stunning. Elias evidently has great skills in video recording and editing, but it's his wisdom that comes through most strongly. Indeed, the wind blows where it wills, and it continues to blow very powerfully through this amazing Dutch monk.
This Sunday should be another inspiring one. Our Muslim brother, Tom, joins us once again to share his thoughts on the Torah reading. We'll also have David Baldwin, Rev. Dr Stephen Sizer, and my brother, Rev. Dr Rob Smith with us. Stephen will be sharing on Paul's letter to the Romans, chapter 4, my brother will be leading us in song, and David will be leading us in prayer. I can't wait!
Join us this Sunday at midday via www.thesundayeucharist.com or via your favourite social media site: Facebook , YouTube, Twitter or LinkedIn.
Let me work your corner
A big thank you, once again, to all those who support 
Fighting Fathers Ministries 
through 
Patreon.com
.
 It is you guys who keep us going with your financial support and your prayers. We are still not quite meeting our monthly costs, so if you can afford to support us financially, please go to 
Patreon.com
 and sign up to either:
Middleweight – $10/month (community mentoring)
Enrol in the Fighting Fit training program
Access member-only training videos
Engage in the members-only forum (see below)
Super-Middleweight $50/month (remote mentoring)
All of the above +
One-on-one mentoring via email, phone, or Skype
Heavyweight – $100/month (in-person mentoring)
All of the above +
Unlimited training at Father Dave's Old School Boxing Academy
Superheavyweight – $200/month (intensive in-person mentoring)
Every dollar helps keep the wheels turning – the 
websites
, the 
newsletters
, the 
broadcasts
, the 
boxing club
 and the 
bush camp
. Sign up at 
Patreon.com.
What's coming up?
Tickets to the 
Down the Rabbit Hole
Ball are now available 
from 
Trybooking.com
.
The proceeds from this event all go to Fighting Fathers Ministries.. I'm hoping that this will give our work a new lease of life. I want to again thank Andrew and Lena Madry and their team for organising this. A big thank you too to Greg Avarkos for putting together the promotional video that you'll see below. Please share it widely.
I'm going to close off here as I'm actually on a few days' break at one my favourite places in the world – Surfer's Paradise on Queensland's Gold Coast. This is my birthday present from Joy. I can see the beach from my hotel window, and Joy is out there somewhere, swimming. I'm going to head out and join her.Keep praying for me as I do for you.
Your brother in the Good Fight
Dave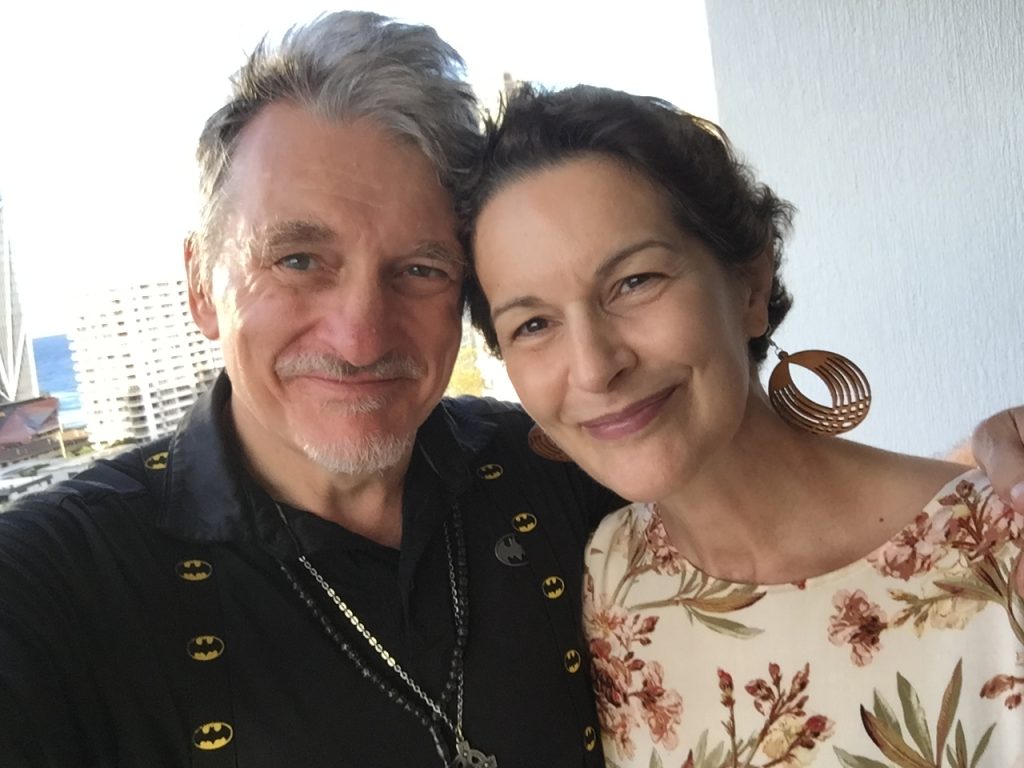 Preacher, Pugilist, Activist, Father of four