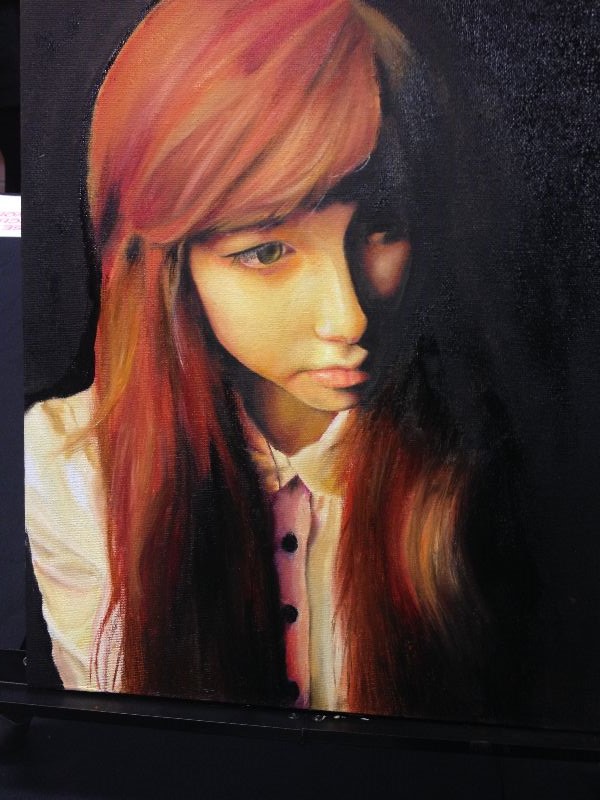 Imogen wins a school prize for the best self-portrait!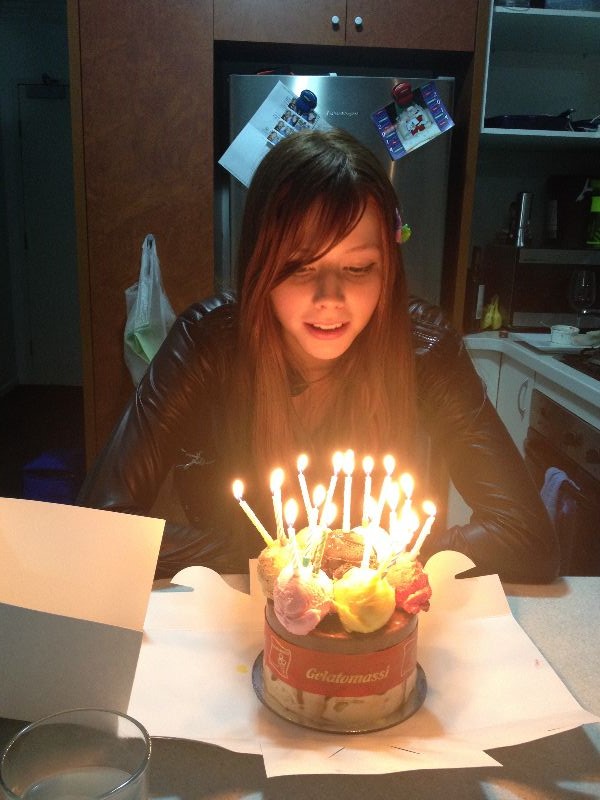 Imogen turns 17!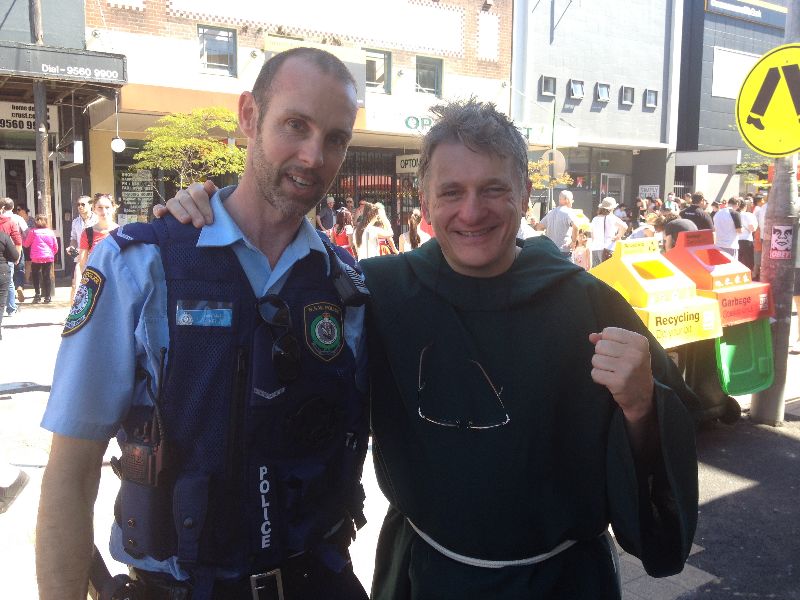 with Fighting Father Craig (the boxing cop) at the Dulwich Hill Street Fair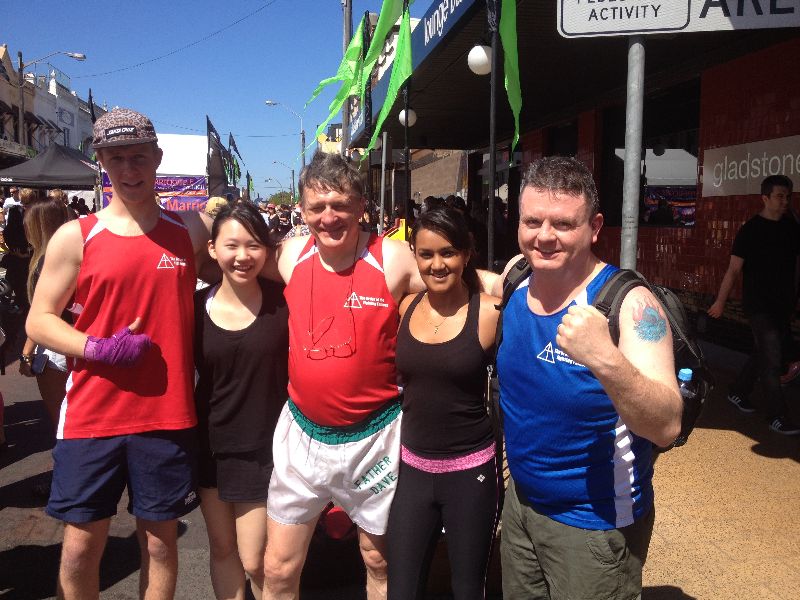 Our boxing team performs at the 2014 Dulwich Hill Street Fair!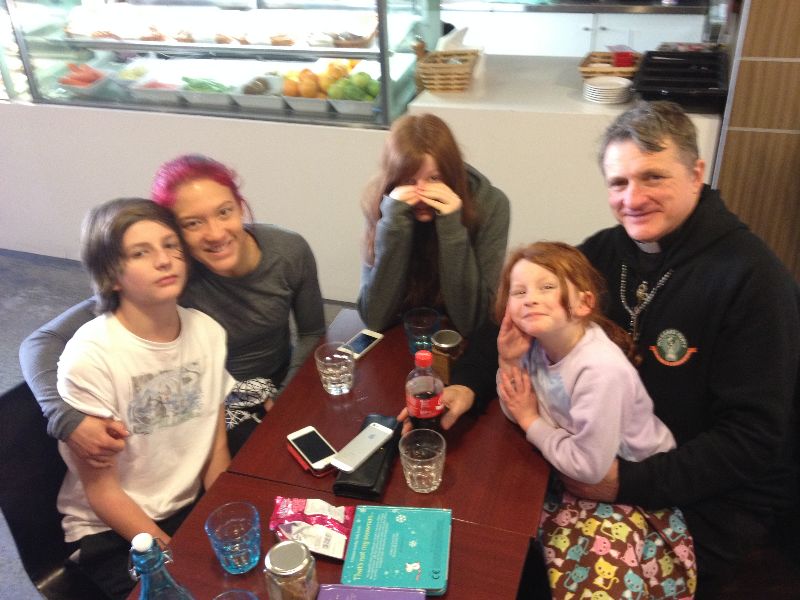 A happy Father's Day 2014! 🙂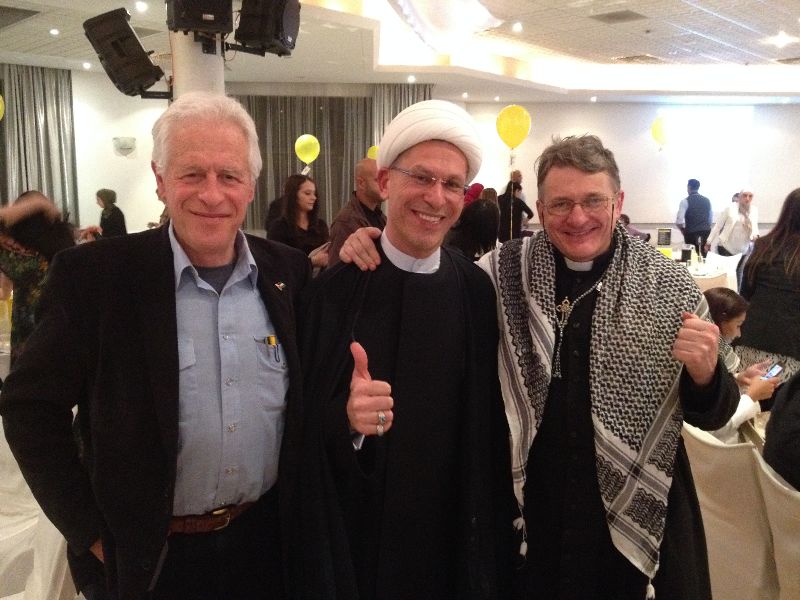 With Peter Slezak (Independant Australian Jewish Voices) and Sheikh Jehad at the 'One Yellow Balloon' Gaza fundraiser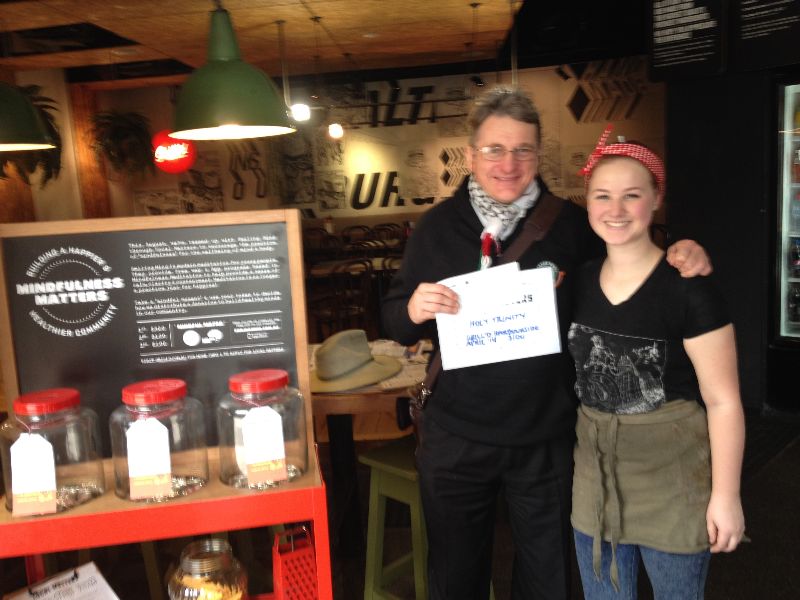 Thank you Grill'd Harbourside for supporting our Youth Centre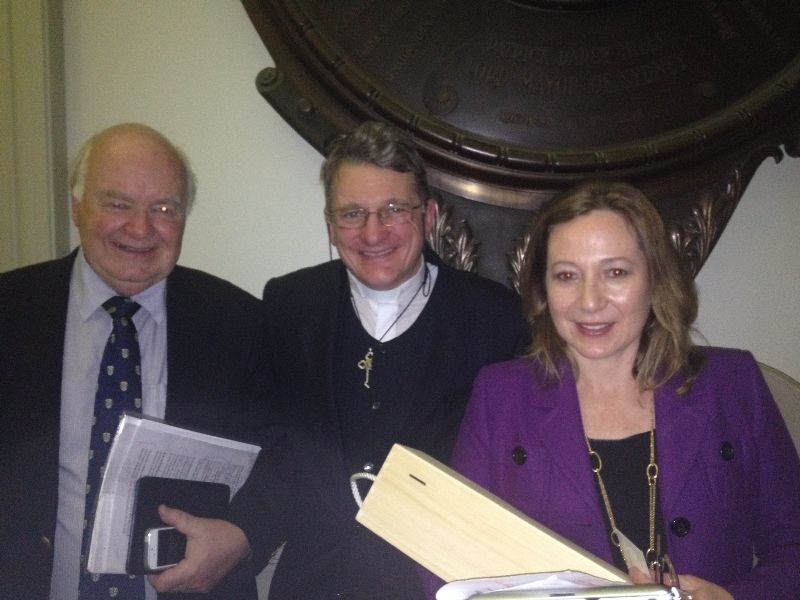 with John Lennox and Jane Hutcheon at the annual Smith Lecture
Hi Fighter,
Shalom! Salam! Peace!
It's what we're all yearning for at the moment as the world's remaining super-power plunges us all into another major war!
Will this turn out to be the third world war? Will this be earth's final war? Will the Lord return before this one is done?
All these questions come to mind, and many more, but the most urgent question that needs to be answered is 'what can we do to stop this war?'
Perhaps the answer is nothing but I haven't given up yet. Indeed, I'm hoping that my sermon below might stimulate your thinking on that subject and that between us we'll come up with a few ideas! I'm also hoping that the events I'm planning over the next few weeks might contribute something to the effort for peace.
Specifically, I've organised two get-togethers over the next two weeks with our friends from our local Islamic centre. This might not seem like much when it comes to stopping a world war but I do believe that it is the growing sectarianism and the widening divide between (and within) faith communities that is fuelling the fire that provides the pretext for global violence. This one small chance to help build a bridge across that divide!
Friday, September 19 (this coming Friday) we will be getting together at the Imam Husain Islamic Centre (6 Lang Road, Earlwood) for the screening of a half-hour documentary concerning the deportation of Sheikh Mansour Leghaei.
For those who don't remember, I was very much involved in trying to prevent the deportation of my dear friend Mansour in 2010 and I archived the details of our struggle on www.savethesheikh.com. I'd forgotten though until recently that an Iranian film-crew had followed us around during the closing months of that campaign. Then the producer came to see me when I was in Tehran earlier this year and presented me with a copy of the documentary!
The screening is scheduled for 8pm, with a light supper to follow. 🙂
Sunday, September 28, we will be screening a second documentary – "Forbidden Pilgrimage" – in the Holy Trinity Church building (corner of Herbert and Seaview Streets, Dulwich Hill) beginning at 2pm.
"Forbidden Pilgrimage" is a documentary about the persecution of Christians in Palestine and Israel and is the work of Palestinian filmmaker Ahmad Damen.
Even though it focuses on the Palestinian Christian community, our Islamic sisters and brothers are keen to join us. I'm hoping that we might be able to get some of the Palestinian Christian community involved in this event as well! Afternoon tea will precede the movie and (hopefully) a live video linkup with Mr Damen will follow it! 🙂
There is a saying in Arabic that translates something like "How can you be my enemy if we have broken bread together?" Will you come and break bread (and enjoy a couple of great movies) with your Islamic neighbours this month? Who knows? It could be the beginning of something world-changing! 🙂
Let us know you're coming via our Facebook Events page. You might also like to share the jpeg invitation below with your friends (ie. save the image and pass it on). 🙂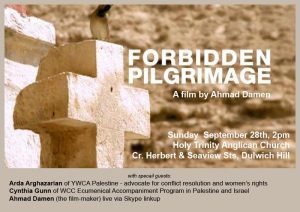 Sermon Time
As I hinted above, this week's sermon is overtly political. Indeed, it's probably the most openly political sermon I have every given. It's entitled "9/11, World War III, and Jesus' teaching on Forgiveness!"
I make no apologies for preaching on world events. I think it was Karl Barth who encouraged us to take the Bible in one hand and the newspaper in the other. If now is not the time to bring spiritual truth to bear on world events, then when?
Do me a favour and leave your comments on this one (in the comments section at the end). Perhaps together we can come up with some creative strategies for helping to contain this latest outbreak of global violence even if we can't prevent it entirely.


Before I let you go today I have one more event for you to add to your calendar!
It has been a long time in coming but after twelve years of thrashing around in the bush have almost completed construction of a dedicated place of prayer at Binacrombi! With a bit more work from our bulldozer we should be done!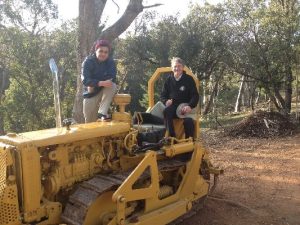 The date tentatively being put aside for the launching of our chapel is Sunday, November 9th. At this stage I don't expect to have a bishop there to officially consecrate the building but I am hoping to bring together all available Fighting Fathers to join me in prayer on that day as we consecrate ourselves for the work ahead!
My hope is that we will integrate this consecration service into a weekend retreat that combines intense fitness training with monastic prayer and silence – a special blend that is somewhat unique to the culture of the Fighting Fathers.
Let me know if you'd like to join us. There will be a cost associated with the weekend but I'll make sure it's within everybody's price range. And I promise that we'll tailor the expectations on physical exercise to suit all of those who are willing to join us. 😉
I'll be in contact again soon.
Until then I remain …
Your brother in the Good Fight,
Dave
www.fatherdave.org
www.fighting-fathers.com
www.holytrinity.org.au
www.binacrombi.com.au
www.israelandpalestine.org
www.prayersforsyria.com
www.zerocostwebsite.net
www.dulwichhillgym.com
www.warriorweekends.com
www.how2changetheworld.com
P.S. Support the work of the Fighting Fathers by joining our online community at  www.fighting-fathers.com. It only costs you $10/month and the first month is free.
Preacher, Pugilist, Activist, Father of four