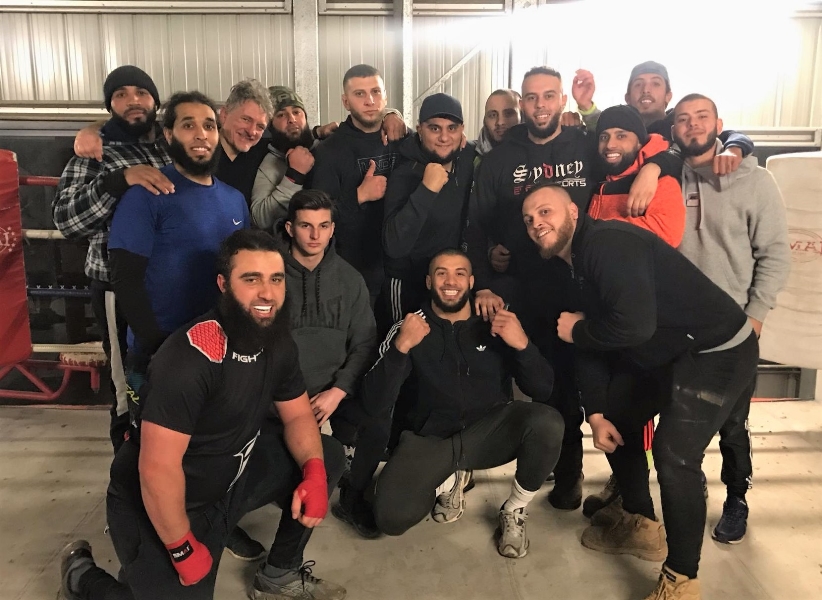 Hi Fighter,
It's midnight on a Saturday night as I start this missive. I'm in the middle of the Australian bush. It is cold and damp. If you did an inventory of lifeforms within a 50km radius, you'd find a thousand kangaroos and wombats for every human being. My friend, Mike, has just arrived after a long and difficult drive. True to the tradition of the monasteries of old, we've provided him with some hearty food (in the form of leftover snags from tonight's barbie).
For me it's been a weekend of broken expectations. We were fully booked a few days ago, which would have been a nice financial windfall for Binacrombi. Unfortunately, all but two groups pulled out at the last minute due to dire predictions of rain and snow and flood (none of which came to pass).
We had a visit from the bishop of Canberra scheduled for today too, but he had to cancel as well. I'd also anticipated having a strong team of boxers here with me this weekend, and indeed they were here in force when I arrived yesterday. Unfortunately, Nathan, their leader, had to suddenly return home, and most of the team left with him.
My immediate response to all this was to feel deflated – why do things like this always happen to me? Of course, these are each only minor setbacks really, and, more importantly, I know they help me develop my capacity for stupidity and stubbornness.
Stupidity and stubbornness – they are our greatest assets in life. Being willing to try things that our peers think are stupid, and then sticking with them long after everybody else thinks we should have given up – these are the essential qualities we need if we are going to make a difference.
We may be tempted to give noble descriptions to these qualities – courage, initiative, perseverance, etc. Forget all that. Let's just call them what they are – stupidity and stubbornness. Thanks be to God, I've always shown a strong capacity for both, and weekends like this help me to become even stubborner and more stupid. Yes – even though the formula failed this week, just as it did last week, I'll get up and try exactly the same thing next week, anticipating a better result.
To be honest, things worked out great last week, even though almost all bookings were cancelled and my boxing team didn't come through. I ended up sparring with some of the guests – a group of young Lebanese men who were enjoying a boys weekend in our dormitory.
I really didn't know what to expect. I had promised to put on a good boxing show for them, and when I apologised and told them that no one had shown up to box me, I was impressed to see how many of them volunteered to put on the gloves and make sure the show went ahead. I found out later that one of the boys was a former Golden Gloves champion.  That night turned out to be quite an intense experience, and one I won't soon forget. Even so, we are all the best of mates now – a band of brothers.
It always works like this – week after week.  It's part of the magic of boxing. You go to war on each other, and afterwards there's a bond between you that is as hard to break as it is to describe. I believe we're touching something deep in the collective male subconscious. Whatever it is, it's helping me build up Binacrombi as a community, one bloody nose at a time.
I'll include the video of this weekend's 'punch and pray' sessions below. I find we're currently getting around 60 people joining us for the livestream each week for each event – the boxing on Saturday night and the Eucharist on Sunday morning. There's not a lot of overlap though.  Most of the boxing fans don't join me for prayers in the morning, and vica versa. I'm hoping though that gradually the two groups will become one, and if that doesn't happen right away, I'm stubborn enough to keep trying until it does, or at least until I'm too old or too punch-drunk to keep them both happening.

If you want to tune into the Binacrombi Bush Bash, it's on every Saturday that I can find an opponent – streaming live from the Binacrombi Facebook page from about 6 pm. If you want to join me for Sunday's Bush Eucharist, it streams from the Father Dave Facebook page at noon the following day. If you're there for both, I'll be impressed. If you can go one step further and make an offertory by way of a paid subscription to www.fighting-fathers.com I'll be grateful for that as well.
Not much more to add this week. I'm hoping to confirm a date for the launch of my new book – Christians and Muslims can be friends – in the next few days. I've been busy preparing for the launch and am really hoping that we'll change the planet through this book (at least a little bit).
Of course, it's hard to do much to change the world when we're living with recurring lockdowns and can be arrested for protesting. I heard of another two friends lost to suicide this week, as the Director of the US Centre for Disease Control, Robert Redfield, admitted publicly that the lockdowns are currently killing twice as many people as the virus.
When will this lockdown madness end? My friends tell me that there's nothing I can do about it. I'm too stupid to accept that, and if I can come up with a good resistance strategy, I'll stick at it with all the stubbornness I can muster until I'm either locked up or something gives.
Sorry. I didn't want to end on a negative note. If you want to be part of the resistance and help me scheme, join me at Binacrombi one weekend soon. The virus hasn't worked out how to find us there yet, and neither have the lockdown merchants or the thought-police. There we can pray, fight, talk, and speak our truths to each other without fear of censor. Apart from trusted friends, it's only roos and wombats who can hear you, and none of them would dare turn us in to the authorities!
I'll hope to see you soon.
Your brother in the Good Fight,
Dave
www.fatherdave.org
www.fighting-fathers.com
www.holytrinity.org.au
www.binacrombi.com.au
www.israelandpalestine.org
www.prayersforsyria.com
www.dulwichhillgym.com
www.boxersforpeace.com
www.warriorweekends.com
Preacher, Pugilist, Activist, Father of four