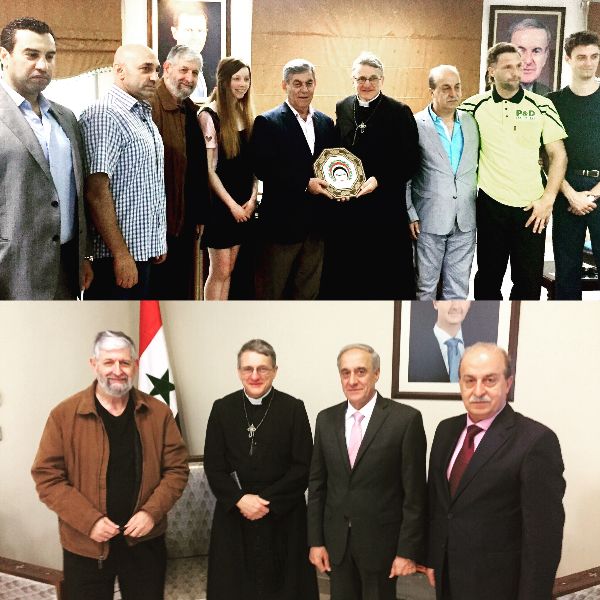 Meeting with the Ministers of Sport and Foreign Affairs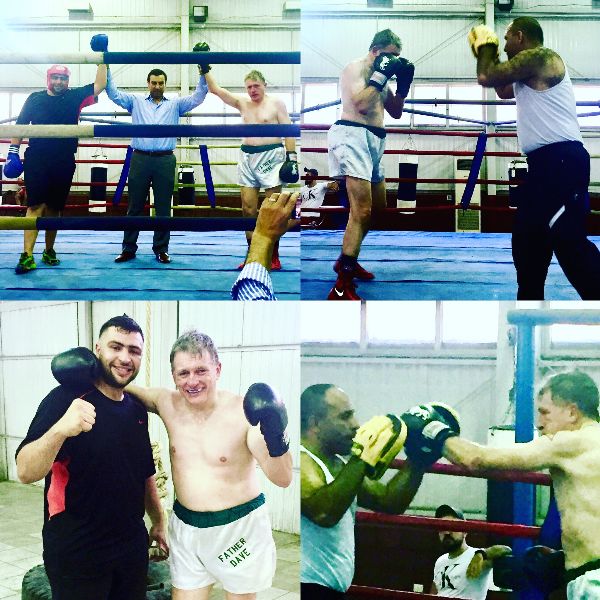 Boxing with the boys of the Syrian Olympic sqad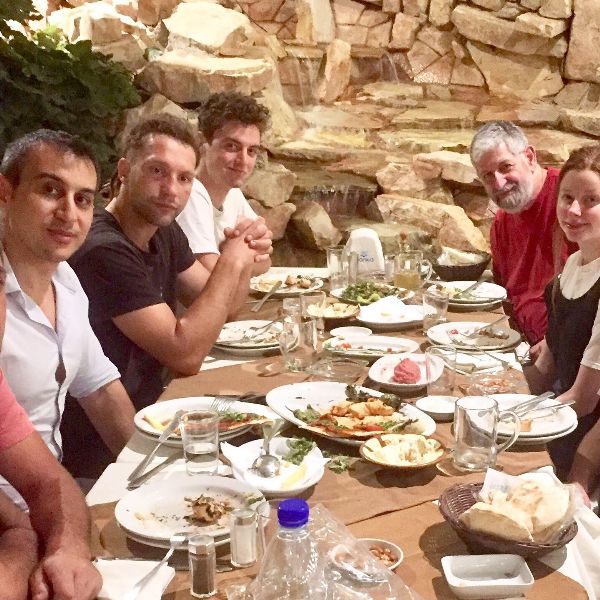 a great night out with our best mate Chris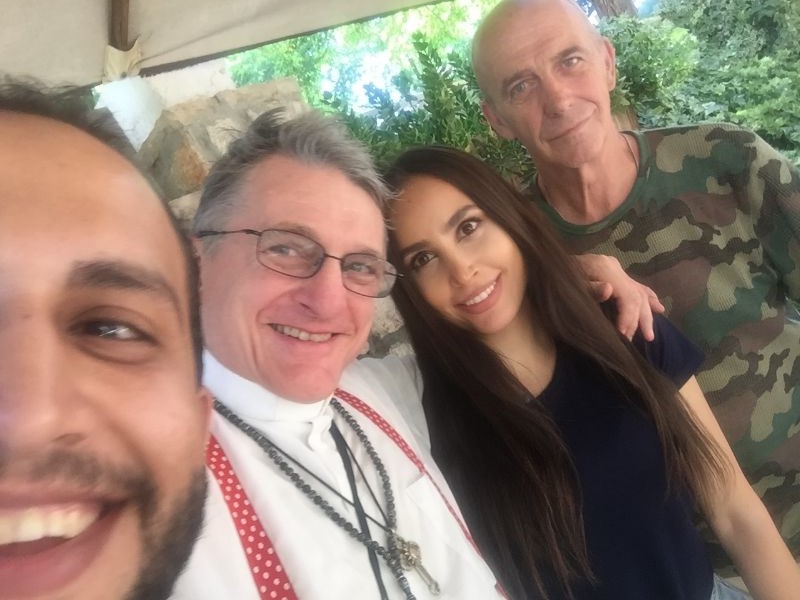 with Hanny and Sally from Attaa children's charity, and my best mate, Tom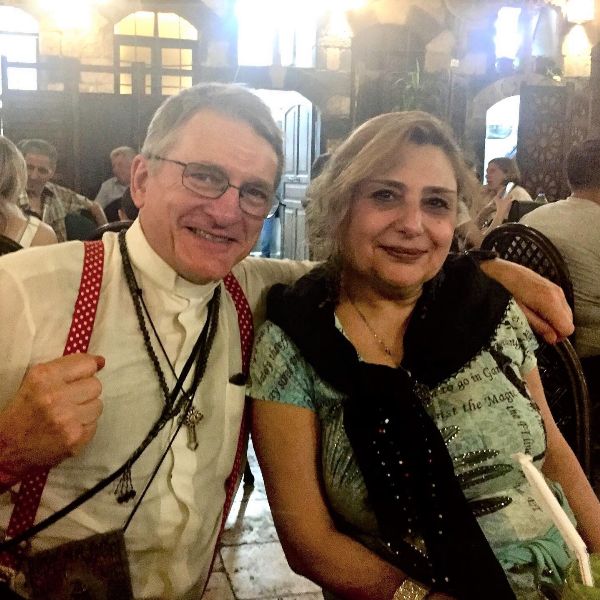 with journalist and great Syrian patriot, Nana Lancaster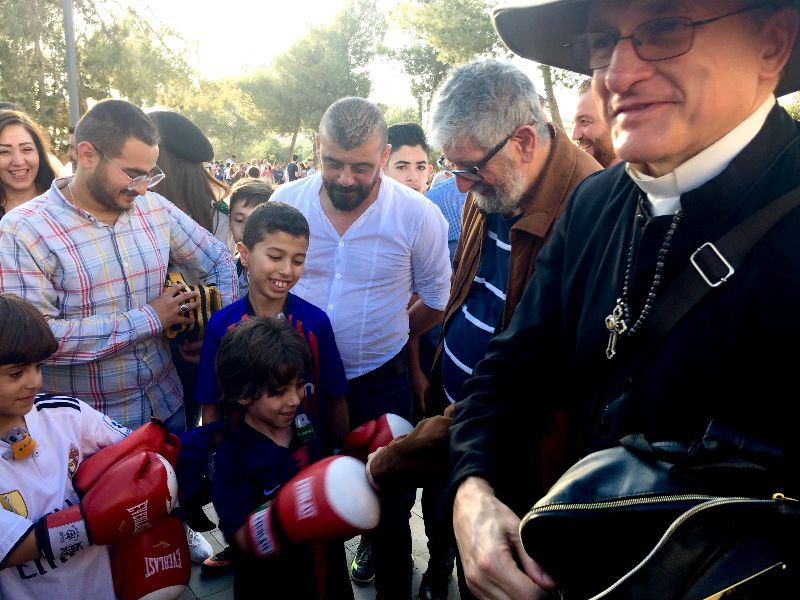 in Jodidi - the place where St Paul fell off his horse and met Jesus!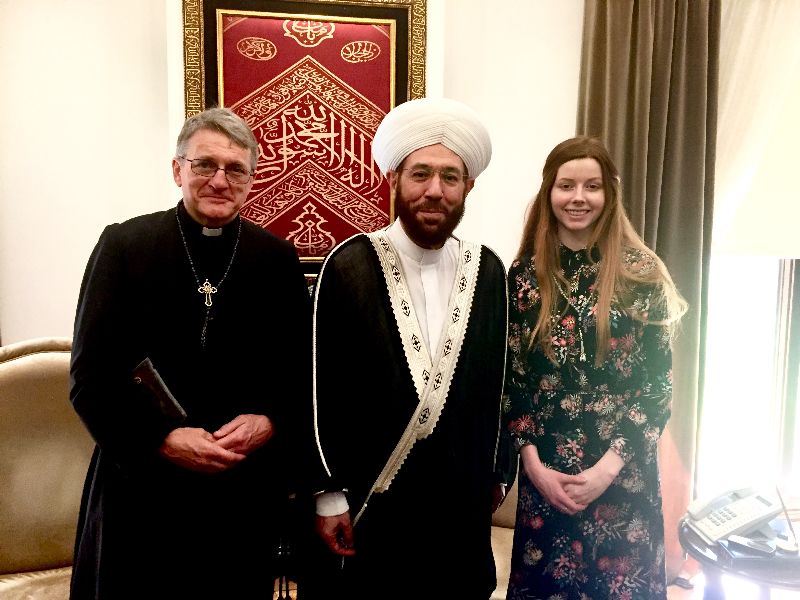 touching base with the Mufti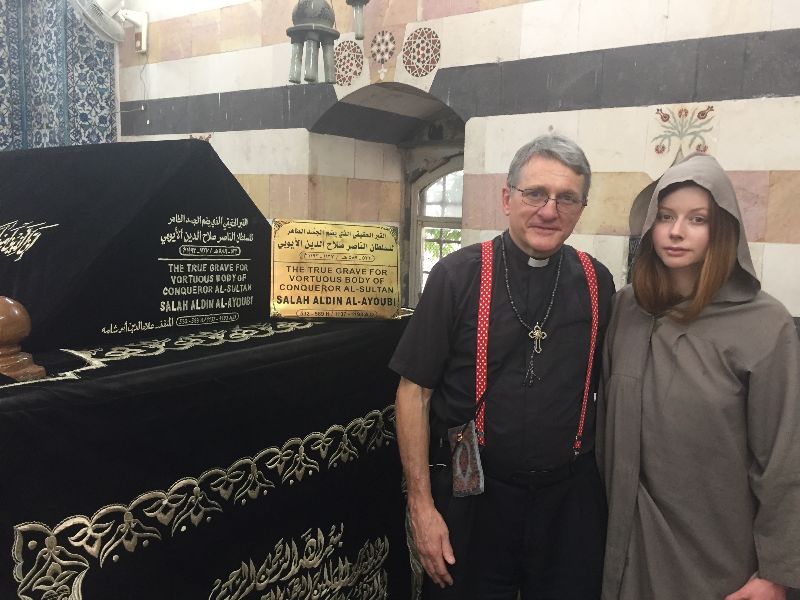 at the tomb of the great Salah Al Din (Saladin)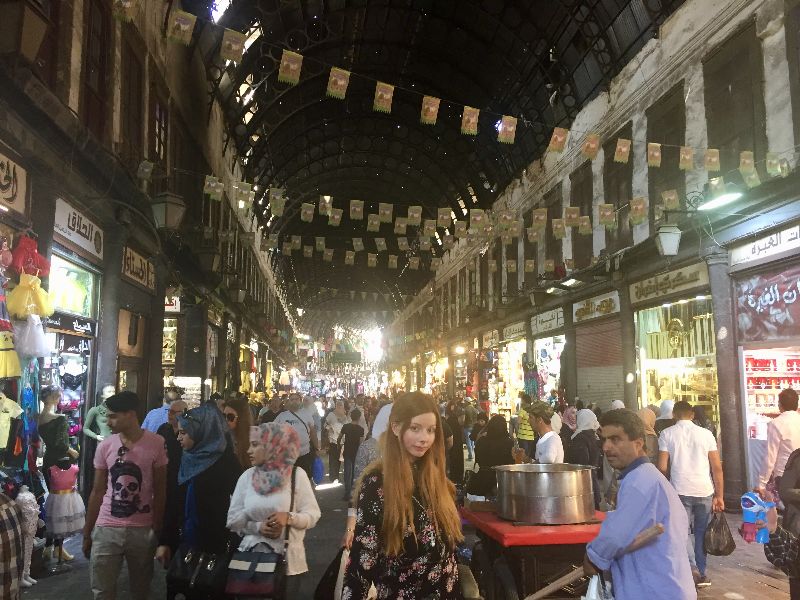 wandering the streets of the old city of Damascus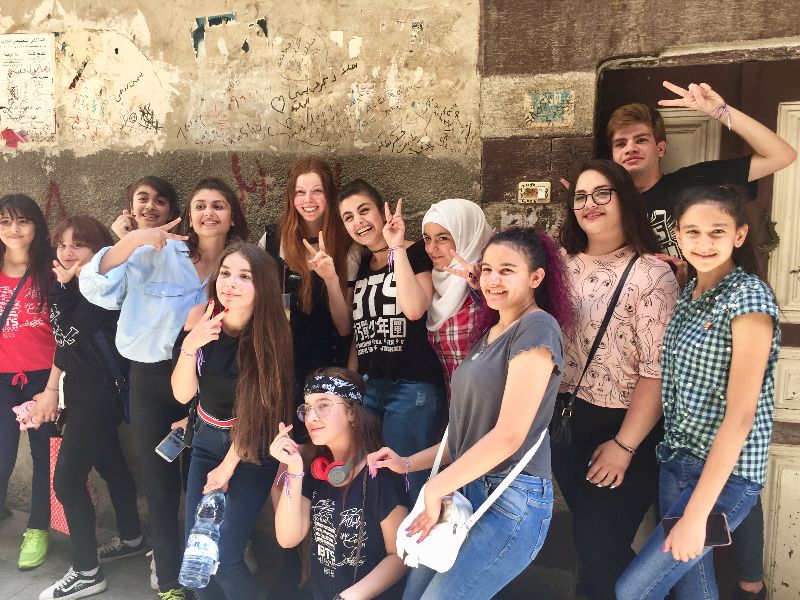 Imogen was a big hit with the local kids!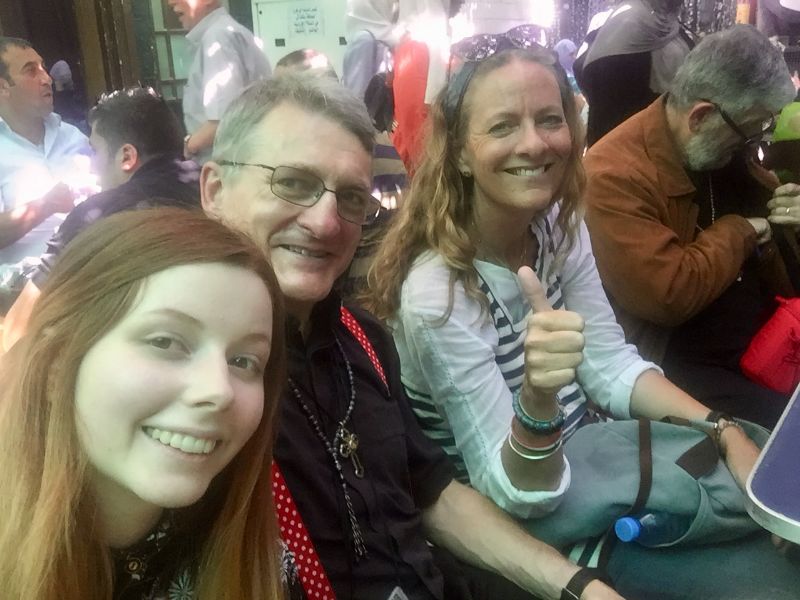 catching up with Vanessa Beeley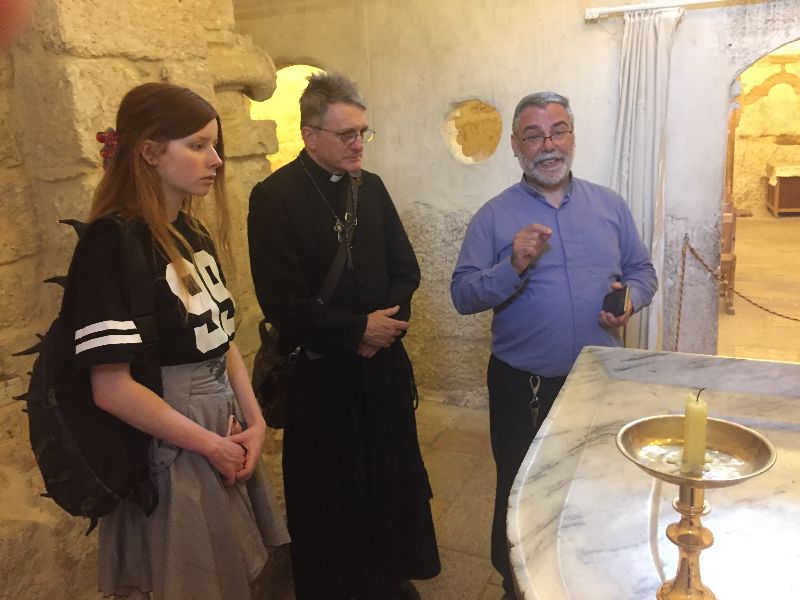 in Maaloula with Father Toufic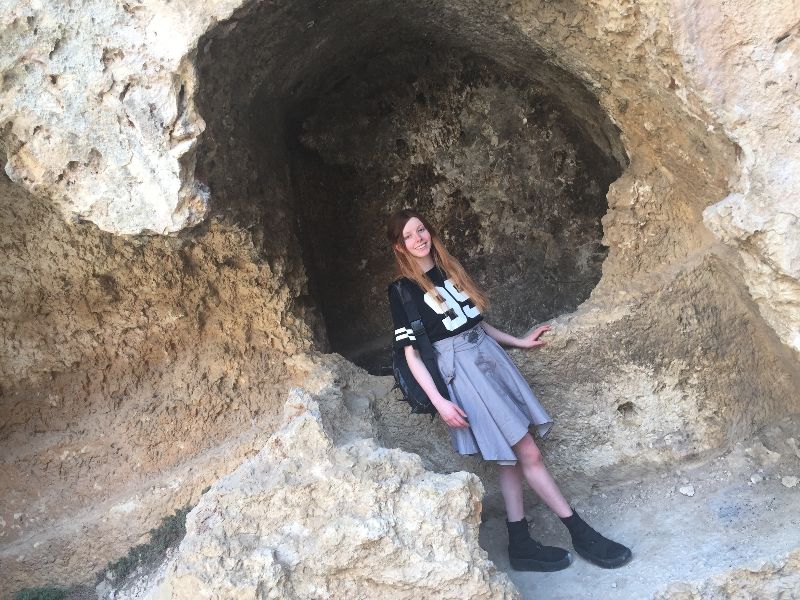 the ancient caves of Maaloula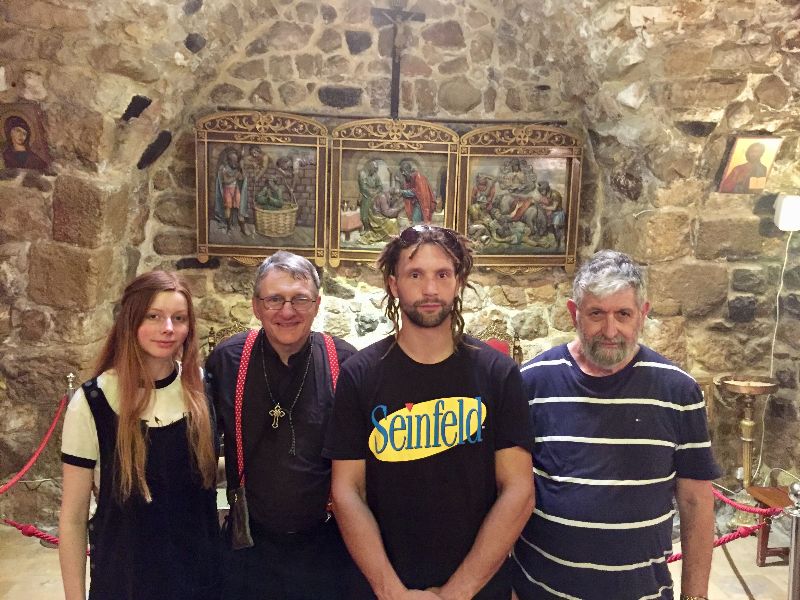 in the house of Saint Ananias, where Saint Paul was baptised
in the wonderful art school in Damascus, receiving gifts from the children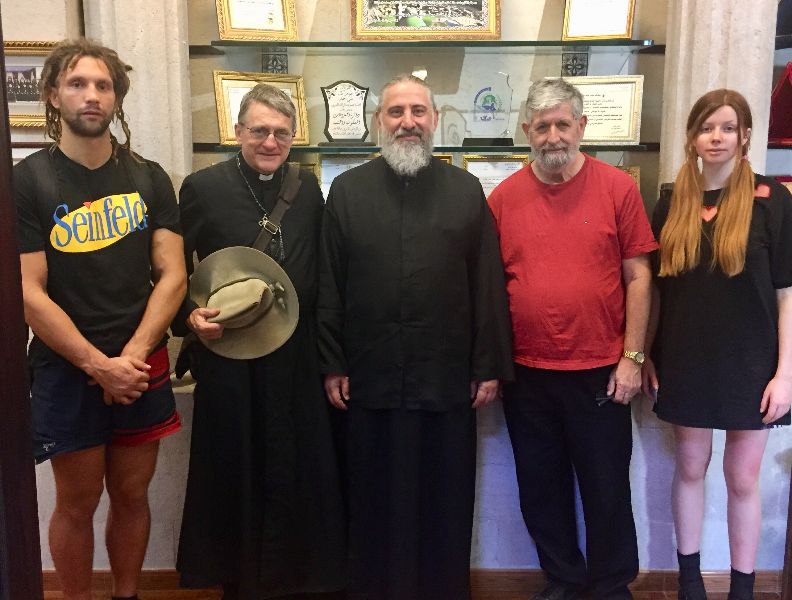 with Father Alexi of Gopa Derd - the largest faith-based aid agency in Syria

Hi Fighter,
Dave here – back from Syria and finally ready to debrief the experience.
It was my eighth trip to Syria in the last six years, and it's been remarkable to see how the country and the people have evolved over that time. Back in 2013, I'd look out from my hotel room in Damascus at night and see the glow of mortar fire encircling the city. Now the talk is all about rebuilding, or at least about the hope of rebuilding. The horrible sanctions we've placed on the country make rebuilding difficult in the extreme.
Of course, there is still fighting in Idlib, and those who have a vested interest in keeping the conflagration going seem to be doing all they can to slow the progress of the Syrian Arab Army (SAA) as they attempt to clear out the remnants of Al Qaeda and ISIS. There is also a fear amongst many in Damascus that an American war with Iran is about to begin, which could mean the beginning of a whole new battlefront in Syria. I trust that none of that will happen though. Despite the rhetoric, I'm trusting that the Americans are not stupid enough to start another war they could not possibly win.
Back to our trip. It was intense and stressful for me in many ways, but wonderful too, and I believe all our team – Dr Lou Lewis, Mike Lekkas, Henri King, my daughter, Imogen, and me – all gained a lot from the experience.
Happily, we were able to achieve my two primary objectives:
To establish a sister-church relationship with St George's church in Maaloula.
To meet with the Mufti and ask him if he would write a forward for my about-to-be-published book, "Christians and Muslims can be friends".
We had a wonderful time in the ancient Christian village of Maaloula, which is one of only two places in the world where Aramaic (the language of Jesus) is still spoken. We were able to give Father Toufic some money that we had raised and commit to praying for one another as churches. I'm trusting that this will be a long and mutually enriching relationship. If you'd like to see the video of my interview with Father Toufic, it's part of the video archive of the trip that I've posted on www.prayersforsyria.com.
As to our meeting with the Mufti, it was wonderful to see that he is still in robust health, and I hope to have that forward from him within the next couple of weeks.
Let me share with you just one other story from our visit. It happened when we visited the village of Jodidi, which is on the road to Damascus, and is supposed to be the place where Saint Paul fell of his horse and met Jesus.
I'd been told that we had been invited there to be a part of some special Christian festival and service, but when we arrived the service was well underway, taking place on the outskirts of the village, whereas, waiting for us in the centre of the village, was a troop of young boys wearing boxing gloves!
I held the pads for a stream of enthusiastic young lads, after which parents brought out their children and asked me to pray for them. I was deeply touched by this but became concerned when people started murmuring "bring out the blind girl so that he can pray for her". I started to wonder whether I was getting in over my head!
A young girl, about ten years old, was led out to me. She had apparently been blind since birth. She seemed a lovely young girl and I prayed for her. The parents then asked me whether she could be healed!
I wasn't sure what to say at first but then remembered that I had Dr Lou Lewis in my group. I called him over. Lou gave her a quick examination and took a picture of the girl's eyes with his phone camera. He then told the parents, "She has cataracts. These can be healed with a simple operation." The parents were flabbergasted! After this people started lining up to see Dr Lou. I could hear one man asking Lou about his skin condition and Lou saying, "that's called 'eczema' and can be cured with a cortisol cream".
The whole scene was starting to look like something out the Gospels, where Jesus would go into a village, praying for people and healing them. I was doing the praying and Dr Lou was doing the healing! And then the scene was made complete by the appearance of a Pharisee!
Another group of boys had come and asked me if I would referee their boxing match. I said, "of course", but then I felt someone tapping me on the shoulder. I looked around and saw a young priest, fully dressed in liturgical garb. He asked me what I was doing. I told him. He said, "you can't do that!" I said, "why not?" He said, "because you are a priest, and because the service is still going". He then moved on.
Indeed, the service was still going on about 200 meters away from where we were but we were not interfering. I thought "what would Jesus do?" and I went ahead and refereed a few boxing matches. 🙂
I'll resist telling any more stories about the wonderful places we visited and the wonderful people we met. Syria is a beautiful place with so many wonderful people. Hopefully the pictures above and the videos I've posted on prayersforsyria.com will give you a glimpse of that beauty.
Keep praying for the people of Syria. Pray especially that the sanctions imposed by the US and supported by Europe and Australia will be lifted. Sanctions are designed to weaken the government by making life impossible for ordinary Syrians. In other words, they are a form of warfare against the civilian population. They need to end.
Pray for Syria, thank you for your support in helping us get there again, and try to come with us next time – probably around the same time next year.
Sermon Time
I'm adding my sermon on the Parable of the Good Samaritan below (Luke 10:25-37). You may have heard me speak on this before. Even so, it's so relevant to the issue of prejudice against other races and religions. I had to include it here today.
In closing, I must report the sad news too that my darling daughter, Imogen, didn't make it through to the final selection for Miss World, Australia. I was personally flabbergasted that the judges could overlook her. She took it in her stride, saying "I'm not a pageant girl." The shame of all this is that this pageant might have given Imogen a platform to raise funds for Syria.
Our friends in Gopa Derd (the Greek Orthodox aid agency in Syria) have started a fantastic program supporting women who have been victims of violence. This includes not only cases of domestic violence, but victims of sex-slavery and similar atrocities committed by terrorist groups. Tragically, this has been very widespread.
Expect to see us come up with some alternative strategies to raise money for this worthy cause over the coming months. Stay tuned!
Yours in the Good Fight,
Dave
www.fatherdave.org
www.fighting-fathers.com
www.holytrinity.org.au
www.binacrombi.com.au
www.israelandpalestine.org
www.prayersforsyria.com
www.dulwichhillgym.com
www.boxersforpeace.com
www.warriorweekends.com
Preacher, Pugilist, Activist, Father of four