(Last Updated On: August 26, 2023)
"Now when Jesus came into the district of Caesarea Philippi, he asked his disciples, "Who do people say that the Son of Man is?" And they said, "Some say John the Baptist, but others Elijah, and still others Jeremiah or one of the prophets." He said to them, "But who do you say that I am?" Simon Peter answered, "You are the Messiah, the Son of the living God."." (Matthew 16:13-16)
Greetings, Fighter.
We've been journeying through the Gospel of Matthew for some time. This week is the mid-point of our journey. It's not exactly the middle in terms of chapters and verses (Matthew has 28 chapters) but it's the turning point of the narrative. Up to this point in the story, nobody has been quite sure what to make of Jesus. The disciples, along with everybody else, have been quietly asking each other, "who is this guy?" (Matthew 6:27). At this point though, Jesus brings the question into the open.
"Who do people say that the Son of Man is?" (Matthew 16: 13). It's curious how Jesus refers to Himself in the third person, using the ambiguous term, "Son of Man". The term in the original Greek can just mean 'man' or 'human one' but it could also be an allusion to the mysterious 'Son of Man' referred to by the prophet, Daniel (in Daniel 7:13), who is an end-times figure. Most likely, Jesus was being deliberately ambiguous. He seemed determined to allow other people to make up their own minds about Him.
"Some say John the Baptist, but others Elijah, and still others Jeremiah or one of the prophets" (Matthew 16:14).. This was the dominant narrative at the time. It hasn't changed much over 2000 years. Jesus is still seen as a 'one of the prophets', most obviously by our Muslim brothers and sister. Others see Jesus as a great moral teacher and/or religious visionary. Peter's response though – "You are the Messiah, the Son of the living God" – takes us in a whole different direction.
The title, "Messiah" (or "Christ" in Greek) designates someone as a saviour or liberator. Similarly, designating someone as 'Son of God' did not mean they were not human. It was a reference to their authority. Like 'Son of David', 'Son of God', was a title given to Israel's king, as seen in Psalm 2: "I have installed my King on Zion, upon my holy mountain." I will proclaim the decree spoken to me by the Lord: "You are my Son; today I have become your Father." (Psalm 2:6-7)
Peter did not declare Jesus to be a messenger or teacher, nor as someone who was supernatural (though all of those may be true). Peter declared Jesus to be someone with power, and as someone who was going to use that power to liberate people.
The significance of the 'power' dynamic is made all the more obvious by the context in which this dialogue takes place. It happens as they arrive in "the district of Caesarea Philippi" (Matthew 16:13) – an area that was named after two of history's most powerful conquerors (Julius Caesar and Philip of Macedon). Herod the Great had been given control of that area by Caesar Augustus in 20 BC, and Herod had built three temples there to honour Augustus, including the great Temple of Pan, which was excavated in the 1980's.
It is against this backdrop of imperial power that Peter makes his declaration about Jesus – 'You are the Messiah. You are the Son of the Living God. You are the one with Power. You are the one who is going to shape the future of human history.' To an outsider looking on, Peter's words would have seemed either deluded or comic.
"On this rock I will build my church", said Jesus, in response to Peter's declaration (Matthew 16:18). Apparently, while doing excavation work on the Temple of Pan, they discovered a church that had been built of top of those rocks! I'm pretty sure Jesus was referring to Peter, rather than to the Temple of Pan, when He spoke those words, though the temple may have been visible in the background when He said it.
The point is that power is a paradox. We think we know where real power lies because The Empire is always telling us how powerful it is. It proclaims its greatness through money, monuments, and mandates. Real power is not always so obvious, and we may have been given more of it than we realise!
"I will give you the keys of the kingdom of heaven, and whatever you bind on earth will be bound in heaven, and whatever you loose on earth will be loosed in heaven." (Matthew 16:19)
Our Sunday Eucharist
We had another wonderful Sunday Eucharist last weekend, though we couldn't locate Father Ola, Happily, he contacted me yesterday to say that he'd just returned from a two-week Confirmation camp where he'd been looking after 35 teenagers in a remote location without Internet access! Evidently, they take their Confirmations a lot more seriously in Sweden than we do here in Oz!
While we missed Ola's wisdom, we were blessed with an unanticipated visit from Andrew Logan, who had just returned to Sydney from Canada, armed with tales of his adventures on Gigi's Island!
We dealt with an unusually difficult set of readings last Sunday. I felt that the team struggled with great integrity. Do listen to the Bible Banter below if you missed Sunday's broadcast, and share your own wisdom by way of comments.
This coming Sunday I look forward to having Andrew and Doug with me on the panel, with Father Elias joining us from the Netherlands via his pre-recorded wisdom on Romans 12. Join us from around 11.45 via thesundayeucharist.com or via Facebook , YouTube, Twitter or LinkedIn. or Streamyard.

Let me work your corner
I can only continue to do what I do through the support you give Fighting Fathers Ministries. Your prayers and your financial contributions are what keep me going. Yes, things have been very tight lately, but I do believe that God will get me through these current struggles.
If you'd like to help with a one-off donation, click here.
For a monthly contribution, please sign up at Patreon.com to either:
Middleweight – $10/month (community mentoring)
Enrol in the Fighting Fit training program
Access member-only training videos
Engage in the members-only forum (see below)
Super-Middleweight $50/month (remote mentoring)
All of the above +
One-on-one mentoring via email, phone, or Skype
Heavyweight – $100/month (in-person mentoring)
All of the above +
Unlimited training with Father Dave's Old School Boxing Academy
Superheavyweight – $200/month (intensive in-person mentoring)
Every dollar helps keep the wheels turning – the websites, the newsletters, the broadcasts, the boxing club and the bush camp. Sign up at Patreon.com.
What's On?
Let me close today by again thanking all of you who pray for me regularly and who support me financially. There are currently twenty-seven of you who make monthly contributions via Patreon.com, and most of you ask for nothing in return.
In truth, I would really like to give back more to those of you who have given so much to me. If that's you, please do consider taking me on in an active coaching capacity if you are not doing so already. Call or email me and let me know how I can best support you. If you don't have my contact details, they are here.
And please put in a special prayer for our boxing club this week. The spiritual battle has been fierce lately. It's been difficult to get the team to Kensington. Numbers this week were small. We may well have other options offered us in the next few days but I'm asking all our regulars to make an effort over this coming week so that we can see for sure whether Legend's Gym is ever going to be viable for us.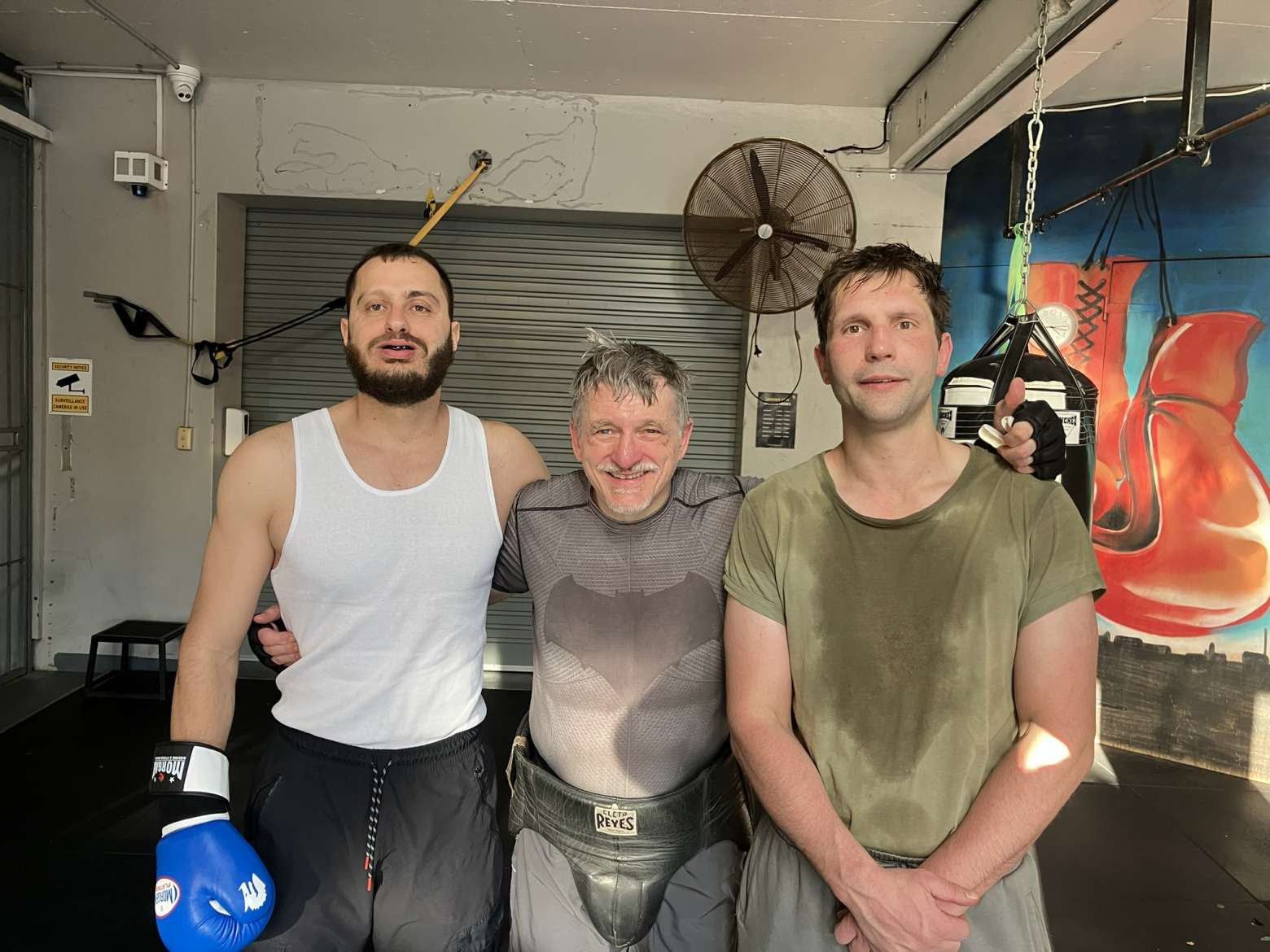 Finally, I did publish a couple of articles this week that I'd like to commend to you:
May the Lord bless and strengthen you for the work to which you have been called.
Your brother in the Good Fight,

www.fatherdave.org
www.fighting-fathers.com
www.holytrinity.org.au
www.binacrombi.com.au
www.israelandpalestine.org
www.prayersforsyria.com
www.dulwichhillgym.com
www.boxersforpeace.com
P.S. The tattoo pics posted below are of body-art done by my darling daughter, Imogen, at the Green Lotus Tattoo Fundraiser for Julian Assange last weekend.
It is great to see people of various talents from across this country give their support to Julian. Lord Jesus, be his liberator! #bringhimhome
Preacher, Pugilist, Activist, Father of four