Hi Fighter,
It's Father Dave back with you and I must tell you that I've had a very full and exciting week,  climaxing in the fourth birthday of my youngest daughter, Francesca, last Saturday!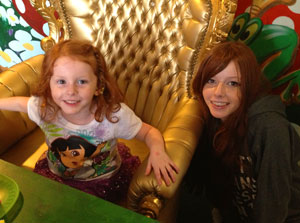 Having been blessed with four children, I've been through the whole turning 4 experience a few times now, and yet the wondrous joy of it all still confronts me afresh.
I remember when Veronica was that age and how she told me one night that she thought she'd grown up enough and was quite happy to stop where she was. I thought it was a great idea too at the time.
For better for for worse though it never works like that. Time like an ever-rolling stream presses forward and there's no going back. Even so, every time a new child joins us we get the opportunity to relive the wonders of childhood all over again through them! 

It's not nearly as exciting, but we did give birth to a new website this week too!
Thank you to everyone who shared their feedback and suggestions regarding the homepage video for the site. In accordance with your advice, we're sticking with the smaller video option. And if you have no idea what I'm talking about , just visit the site: www.zerocostwebsite.net.
The idea behind the site (in case you can't guess) is that we build a website for you at zero cost. Naturally you have to pay for a domain name and for a hosting package, but the nuts and bolts construction of the site will be done by us at no charge.
My vision is that this process will eventually result in a lot more people joining our online community at www.fighting-fathers.com. That's the hope.  Even so, you are welcome to take up the offer whether you intend to join our online community or not. Take note though that this offer is for personal sites only and naturally we will not build hate sites, porn sites, etc. Got it? Great! Go and claim your free site!
We do also have a system in place for building business sites with no up-front cost but you'll need to contact me directly if you want to find out more about that.
Heading to Syria!
The other big news for me is that the Syria trip is back on!
I can't share the exact dates or details at this stage but I will say that it's all scheduled to take place within the next month!
The proposed program involves spending time with the 'Mussalaha' ('reconciliation') teams on the ground in Damascus and elsewhere in Syria. We'll also be visiting Syrian and Palestinian refugee camps and meeting with church and community leaders both in Damascus and in Beirut.
Fighting Father Denning is planning on coming with me and will document the visit on video.  We'll be keeping you up to date through this missive and other email contact as we go (depending on Internet access of course).
I'm delighted to add that the visiting delegation is going to be led by Maread Maguire (who won the Nobel Peace Prize in 1976 for her reconciliation work in Northern Ireland). She's a personal hero of mine and a woman I have always wanted to meet. 

I give thanks to God that we've been invited to be a part of this exciting mission and I ask you to support us with your prayers – both for our safety and that we might make a meaningful contribution to the cause of peace for the suffering people of Syria.
The Amazing Boot Camp Video!
There's no sermon video for you this week (as I didn't preach last Sunday) but I've got something far more exciting for you – Denning's 3-minute documentary video of our first 'Fighting Fathers' Warrior Weekend'.
The only thing that concerns me with this video is that Denning has used a musical backing track that we don't have copyright to. If anyone knows how we can pay someone the appropriate copyright fee (if we need to) I'd be grateful for the advice. Either way, enjoy the video and I hope it inspires you to join us for the next camp!
If you can't view this video, click here.
In conclusion today, let me point you to another inspiring video – this one of a short speech given to the 'Oxford Union' by Ben Griffin – a former SAS soldier and now a spokesman for 'Veterans for Peace'. His topic is 'I will not fight for Queen and Country!'
The video is on the Fighting Fathers' Member Site but you don't need to be a member to access this one. Even so, while you're there, why not sign up and keep the work of the Fighting Fathers going. It's only $10/month.
I'll see you next week.
Until then, I remain …
Your brother in the Good Fight,
Dave
www.fatherdave.org
www.fighting-fathers.com
www.israelandpalestine.org
www.how2changetheworld.com
Preacher, Pugilist, Activist, Father of four