"When John heard in prison what the Messiah was doing, he sent word by his disciples and said to him, "Are you the one who is to come, or are we to wait for another?" (Matthew 11:2-3)
December 9th, 2022
Greetings, Fighter,
I remember when I was in seminary, in the early 80's, we had a visit from an African American preacher who spoke on these verses from the Gospel of Matthew. I still remember his words: "the Baptist has doubts", he said, "and if the Baptist has doubts, we've all got a problem".
I've often reflected on those words since. Indeed, no one knew Jesus better than John the Baptist. John was Jesus' cousin. He was the one who baptised Jesus. John was the one who identified Jesus as the "lamb of God who takes away the sin of the world" (John 1:29), and he spoke of himself as the one who was 'preparing the way' for Jesus (Mark 1:1-8). If indeed John reached a point where he questioned everything – where he wondered whether he might have been completely wrong about Jesus – then this should concern us. Indeed, we've all got a problem.
Of course, John was in prison, and prison does strange things to your mind. My friend, Mordechai Vanunu spent 18 years in prison in Israel (including 11.5 in solitary confinement). He put it bluntly – "prison does not make a man more religious". John didn't spend as much time in prison as Morde, but he was there long enough for it to take a toll on him. Was John simply depressed? I think it was more than that.
Last week we heard John berating the unrepentant and speaking of the one who was to come: "After me comes one who is more powerful than I, whose sandals I am not worthy to carry. He will baptize you with the Holy Spirit and fire. His winnowing fork is in his hand, and he will clear his threshing floor, gathering his wheat into the barn and burning up the chaff with unquenchable fire." (Matthew 3:11-12)
Indeed, John was referring to Jesus, and yet the description barely fits. Jesus was certainly powerful, in a sense that He had the power to heal people, but I can't think of anyone whom Jesus 'baptised with fire', let alone anyone whom He burned with unquenchable flames! My guess is that John the Baptist, like all his contemporaries, was waiting for God's chosen Messiah to free their people from the Roman occupation. They were expecting a military leader. Jesus was not that Messiah.
I find it strangely comforting to think that someone as spiritual and as insightful as John the Baptist could get things so wrong. It makes me feel less stupid. Moreover, I can understand why John and his contemporaries looked on Jesus in the way they did. They were expecting Jesus to solve their problems. Of course they were. Why else would God send Jesus if not to solve problems? Yet Jesus did not understand Himself the same way John understood Him, and when it came to solving problems, Jesus seemed to have different ideas as to what the major problems were.
It's Christmas time and I find myself praying for healing in my family and for an end to my financial struggles. I was praying for the same things last Christmas. Is it possible that God isn't as concerned about these problems as I am – that God different priorities for me? It's an unsettling thought. I was looking for a God who feels the same way as I do about my family and my finances. "Are you the one who is to come, or are we to wait for another?" (Matthew 11:3)
The positive ending to this story is that John is affirmed by Jesus – "among those born of women no one has arisen greater than John the Baptist" (Matthew 11:11). John may not have understood Jesus, but Jesus understood John, and loved him.
Christmas Giving
You'll forgive me if, once again, I appeal to you to make a Christmas gift to Fighting Fathers Ministries to help cover the costs of our work. We need about a dozen more Patreon.com subscribers in the Heavyweight ($100/month) or Superheavyweight ($200/month) divisions to cover our ongoing monthly costs.
Between now and Christmas, I'm offering a copy of each of my books to all who sign up. Just let me know your address and I'll mail you a personalised copy of each book, or I can send them to friends as a Christmas gift if you prefer. My books are:
You can read more about my first book via the Amazon link above. You'll get more insight into my second book from the website, ChristiansandMuslims.com, which includes reviews and lots of excerpts.
Please sign up via Patreon.com if you can and let me know your mailing address::
Middleweight (community mentoring)
Access to our member site
Weekly email newsletters
Weekly worship services
Access to the Fighting Fit training videos
Access to the Fighting Fathers' physical and spiritual fitness program
Heavyweight (remote mentoring)
All of the above +
Development and monitoring of personalised training plan
Weekly mentoring via email, phone or Skyp
Superheavyweight (in-person mentoring)All of the above +
Unlimited access to Father Dave's Fight Club training sessions
Mentoring via email, phone, Skype or in person.
Discounted training weekends at Binacrombi Bush Camp
Our Sunday Eucharist
Last Sunday's Eucharist was a bit of a battle from the Binacrombi end. My friend, Dave Calandra, and I were broadcasting from the bush but our screen kept going blank, and others said they couldn't hear us properly. Happily, it all looks fine on the recording!😊
Thank you to Andrew, Kamini and Robert for sharing so many wonderful insights. Unfortunately, I got so carried away that we went on for the best part of an hour. I'm going to use my round-timer this Sunday to limit us to half an hour max. We didn't lose anyone last Sunday but I know that many of us have other appointments so it's only right to set a limit.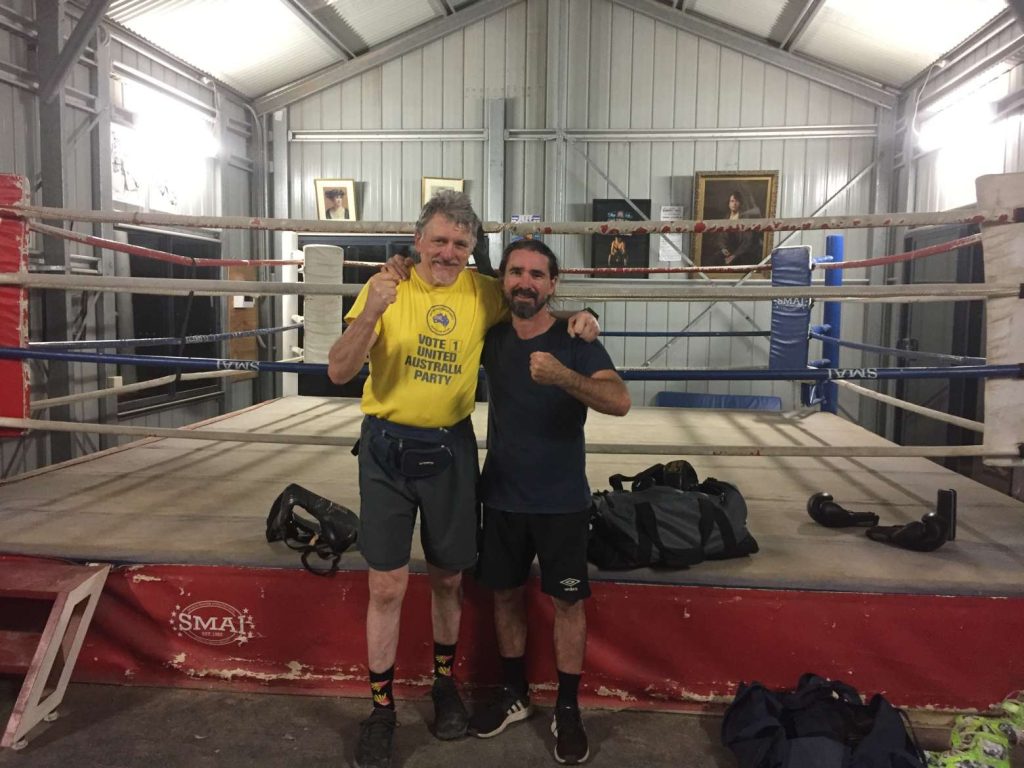 We have something special this coming Sunday. Kamini is opening with a Christmas Carol. I believe it will be "God rest you, merry gentlemen". I'm hoping that a couple of others might have the courage to come forward and similarly share a carol over the following two Sundays. Let me know.
We'll also have Dave and Doug rounding out the panel this weekend, so it's definitely a Sunday to look forward to. Join us at www.thesundayeucharist.com from around 11.45 am, or access us via your favourite social media site (Facebook , YouTube, Twitter or LinkedIn).

What's on this week?
Saturday, December 12 – Julian Assange rally – 11 am @the PM's office in Marrickville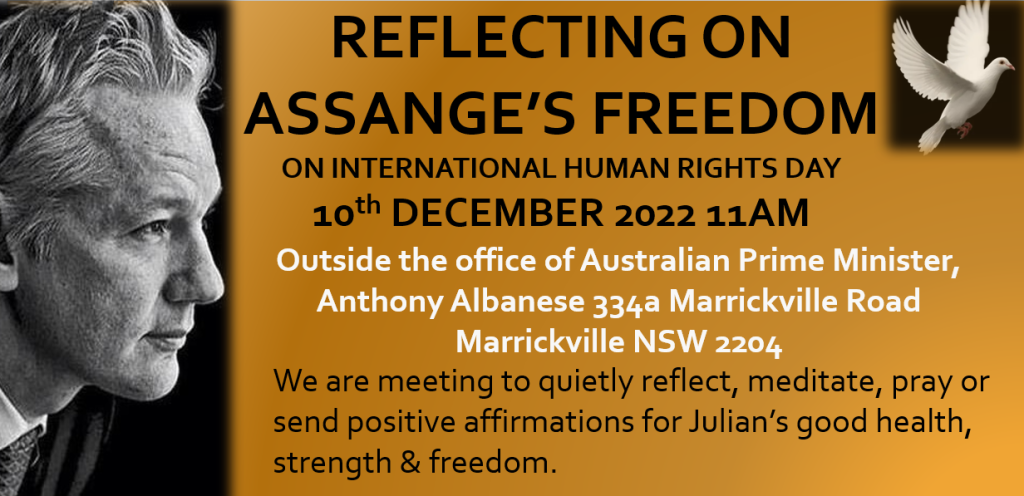 Sunday, December 11 – The Sunday Eucharist at midday
Tuesday, December 13 – Boxing from 6.30 pm @The Fight Lab
Thursday, December 15 – Boxing from 6.30 pm @The Fight Lab
December 16 to 18 – @Binacrombi. Let me know if you'd like to join me
Before I let you go today, can I encourage you to pray for the people of Syria this Christmas. I know that Syria has gone off most peoples' radar for the moment with the Ukraine taking the centre stage for global conflicts. Even so, the UN estimates that more than 90% of the population in Syria is food insecure, due almost entirely to the sanctions imposed by the U.S.
The sanctions claim to permit humanitarian aid but create almost insurmountable obstacles to doing so. My friend, Fadi (who is in Aleppo) tells me there is simply no fuel left, which means that not only can nobody drive their vehicles. As winter sets in, they can't heat their homes either.
One organisation that is overcoming these obstacles and getting help to families inside Syria is the Syria Support Movement. I know some of those involved in this work and have met them in Syria. You can read some of their achievements on their website and, if you're up to it, make a contribution to their essential ongoing work.
May the Lord bless and strengthen you for the work to which you have been called
Your brother in the Good Fight,

www.fatherdave.org
www.fighting-fathers.com
www.holytrinity.org.au
www.binacrombi.com.au
www.israelandpalestine.org
www.prayersforsyria.com
www.dulwichhillgym.com
www.boxersforpeace.com
www.warriorweekends.com
Preacher, Pugilist, Activist, Father of four