Hi Fighter,
I'm beginning this missive from a small room in a monastery on the outskirts of Canberra.
Yes, I'm in the nation's capital today and tomorrow, accompanying Mother Agnes as she appeals to Australian political leaders not to fuel the fire in Syria.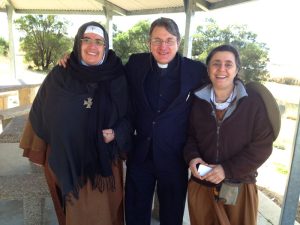 I don't know how closely you've been following developments in Syria over the last few days and weeks but things are certainly hotting up!
The key developments are:
The Syrian Army won a major victory at al-Qusayr.

The Assad government thus seems to be winning the war.
The US has therefore decided to channel more weapons to the rebels!
This is the long and short of it, though the US is not admitting that they are acting out of a desire to see their side win. Rather, US officials are saying that the evidence for Syrian Weapons of Mass Destruction all of a sudden looks a lot more credible!
To my mind, FSA+USA=WWIII
In other words, Obama's decision to give military support to the 'Free Syrian Army' (FSA) is a choice for World War III!
My reasoning is straight forward:
By arming the FSA Obama is ensuring that the war will continue

As the war continues, so does both the death toll and the refugee crisis
The refugee crisis, if it expands any further, will destroy Lebanon
Further death and displacement will likewise destroy Syria
Iran will not allow its only two allies to go down without a fight
Iran, Syria and Lebanon will therefore have to declare war on the US and Israel and whoever joins them.
The rest of the world will inevitably get drawn in to what will become a battle between East and West – Muslim vs. Christian.
Anyway, for all of the above reasons I am down in Canberra with Mother Agnes and we're chatting cordially with political heavies from all sides of politics.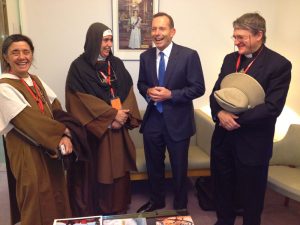 From here we head back to Sydney and have a big fundraiser dinner. If you haven't heard the details about that, you can download the flyer here.
On Sunday (June 23) we'll be having Mother Agnes join us for prayer and worship at Holy Trinity and we'd love to have you join us.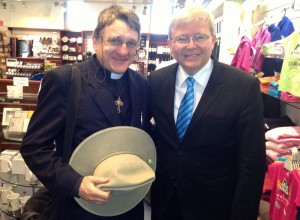 One serendipitous moment yesterday happened when I was slumped on a bench in the foyer of Parliament House. I was only half-awake when someone approached me and thrust out his hand, saying "Kevin". It was former Aussie PM, Kevin Rudd!

I want to thank everybody for their suggestions regarding which of the three domain names I should use to set up my new Syria site (www.syria.net.co, www.newsinsyria.com or www.syriaupdate.com).
For better or worse, I decided to drop all three domain names and go for one that targeted the religious community – www.prayersforsyria.com.
Please take some time to look over some of the articles, press releases and videos on my new site.  I'd particularly like to draw your attention to:
Of course, the fact that I have chosen a different domain name from the three I originally purchased means that the others are available for anyone who wants to build their own Syria website. Just go to ZeroCostWebsite.net, sort out a hosting package and get back to me. I'll be happy to contribute one of the above-mentioned domain names if you can put it to good use.
Big changes at Binacrombi
The other big news for us at Fighting Fathers Ministries at the moment is that we are losing our beloved caretaker family from Binacrombi Bush Camp.
Geoff and Laura and the boys will be relocating to New Zealand at the end of July, and while we wish them well in their new life, Binacrombi will be mourning their loss.
My plan, for the short term at least, is to try and run Binacrombi without a full-time caretaker family on site. Instead I am hoping that we can have teams of people go down on weekends and open up the place for our clients.
Let me know if you're interested in being a part of a team. The pay will not be huge but if you're looking for challenge and adventure, this is the place to find it!
A first aid certificate and a basic level of mechanical expertise is requisite for anybody who would like to lead one of the teams.
Farewell to Jim
It is a month for sad farewells. Last week we also had to say goodbye to our beloved webmaster, Fighting Father Jim.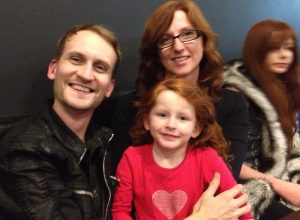 Jim is relocating to Melbourne with his partner, Kiko, from where he will be continuing his creative work. He wish him every blessing and strength for the future.
The other sad farewell we have made this week is to the shell of our beloved Youth Centre – now bulldozed to the ground with so many memories buried beneath it!
Rather than show you scenes of the demolition, let me instead offer you this picture of students from Petersham Public School, gathered on the street in front of our old hall.
Petersham Public raised over $500 towards our reconstruction through a cake stall.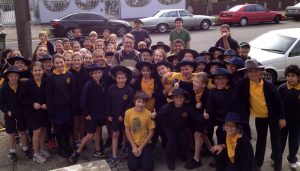 Similar thanks go to so many friends in the community who have contributed towards our rebuilding. Let me mention by name:
Dulwich Hill Public School ($700)
Petersham Preschool (who sold mulch from their garden to raise $274)
St Paul of the Cross Catholic Church ($500)
Jack Wardana and his group of 'poppers' ($845)
For those who don't know what 'popping' is, it's a type of rap dancing, and 'Popping Jack' was using our church hall to teach a lot of our local young people to 'pop' before the fire. I'm thinking we should have a dedicated popping room when we eventually rebuild.
Mussalaha for Syria!
Let me conclude today with Fighting Father Denning's teaser clip of his upcoming documentary on our trip to Syria. 'Mussalaha' (for those who might have forgotten) means 'reconciliation' in Arabic, and our trip to Syria was as a part of a Mussalaha delegation.

[imaioVideo v=1]
If you can't view this video, click here.
Please pray for mussalaha for Syria and pray for the work of Mother Agnes. And please join us at Holy Trinity this Sunday if you're in the area. I'm hoping that we'll have many members of the Syrian community come along to meet Mother Agnes and that it will be a truly multicultural worship experience.
We start at 9.15am (or shortly thereafter 
).
Until then I remain …
Your brother in the Good Fight,
Dave
www.fatherdave.org
www.fighting-fathers.com
www.zerocostwebsite.net
www.prayersforsyria.com
www.israelandpalestine.org
www.how2changetheworld.com
P.S. And as I'm apt to remind you, if you'd like to support our work, the best way is to become a financial member at fighting-fathers.com. It only costs you $10/month but it makes all the difference at this end!
Preacher, Pugilist, Activist, Father of four