G'day Fighter,
Father Dave here after a fantastic week where I got to meet two of my heroes! 

Yes, there they are below: Dr Chandra Muzaffar and George Galloway!
| | |
| --- | --- |
| Dr Chandra Muzaffar | George Galloway |
I met up with Chandra last Tuesday in his offices in Kuala Lumper.
Denning and I were there as a part of Mother Agnes' team – giving her whatever support we could as she spoke about the Syrian crisis to Malaysian politicians and a slew of foreign ambassadors.
Dr Muzaffar had organised a forum of over 100 people to come and dialogue with Mother Agnes and it was a magnificent event! 

| | |
| --- | --- |
| Malaysian Department of Foreign Affairs | with the he JUST team in Kuala Lumper |
We got back on the Thursday and George Galloway's meeting at the Town Hall happened that same night!
For those who missed the event, you really missed out! It was more like a rock concert than a political gathering.
George evidently has an enormous fan-base in Sydney, most especially amongst Shi'ite Muslims. The fact that we managed to fill the Sydney Town Hall when the meeting was only organised 6 days earlier, with (almost) everyone there paying at least $30/ticket, was an outstanding testimony to George's profile and popularity.
On Friday morning I was deeply privileged to have George drop by for coffee. I invited about a dozen local activists to come and join us. We had a fantastic time!
| | |
| --- | --- |
| Ange with George Galloway and Gayatri | walking the streets of Dulwich Hill! |
I feel I've had a week of unparalleled learning as I've tried to suck up every word or wisdom and insight that has been shared with me from each of these great men.
I'll record only one insight from each of them here, though I can think of many.
The first was Dr Chandra Muzaffar telling me about the work of his organisation, JUST (The International Movement for a Just World).
Chandra has been running JUST now for more than 20 years now and its focus is solely on issues of global hegemony. This seems to me to be potentially the most frustrating and unrewarding work that anybody could choose to devote their life to. How could you ever be sure that you were seeing results for your efforts? 

Even so, Chandra told me emphatically "We endorse no political party of ideology. We simply critique global power structures with spiritual values and shared wisdom"
That statement impressed me deeply. Here was a man who was happy to forego short-term results for the sake of maintaining the integrity of his mission!
The other most memorable statement for me was from George.  I asked him (in the interview that's featured below) how he, as a politician, managed to always speak from the heart. Every politician I know tailors what they say to fit in with what they think their voters and/or sponsors want to hear. George's answer was as simple as it was profound. "I have no power so there is nothing they can take from me".
On reflection I realised that the wisdom of both these men was as one, and the message to me was clear: Maintain your integrity above all else! Don't look for short-term results but stick to what you know to be true! Amen!
Other News
I'll try to be brief but let me throw a few other things your way today:
Last week I mentioned that I was looking to sell off some websites that I can't manage any more. A few people have expressed interest. The sites (and there are around 20 of them) are in the areas of drug addiction, child custody and speed reading. If others are interested, contact me soon before I make any final decisions.
We are looking to finalise our teams to manage weekends at our bush camp, Binacrombi. A goodly number of people have responded and we're currently organising training for the teams. Get back to me ASAP if you're interested.
We are planning to re-open our Youth Centre very soon in an exciting joint venture with the Salvation Army. Unfortunately we've had to push back the launch date to August 4th. Never mind. All the greater opportunity to plan a truly dynamic celebration! Let me know if you'd like to contribute. 
Our friends at Bourke Street Bakery are putting on a fundraiser for us on Saturday, July 27th. You can see the flyer with all the details here. In truth, I am deeply grateful to these good people and I know that they will put on a wonderful feast. Please consider joining us if you are able.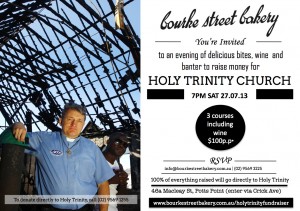 And now for the videos …
As I said, it was a very special week for me, getting to meet two of my heroes. In truth, I fear I'm running out of heroes to meet! There's still Julian Assange, of course, but apart from him and Johnny Rotten, Ive just about exhausted my list of heroes that I haven't yet met! 
I'll let the great men now speak for themselves. Please leave your comments at the end of the blog post.

[imaioVideo v=1]
If you can't view this video, click here
[imaioVideo v=2]
If you can't view this video, click here
In conclusion …
That's enough for this week.
I'll leave you with a  closing picture of my son, Soren, showing off a praying mantis that he found in our back yard last Sunday.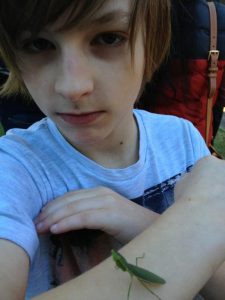 I'll look forward to engaging with you again next week if I don't hear from you before then.
Until then I remain …
Your brother in the Good Fight,
Dave
www.fatherdave.org
www.fighting-fathers.com
www.zerocostwebsite.net
www.prayersforsyria.com
www.israelandpalestine.org
www.how2changetheworld.com
P.S. And as I'm apt to remind you, if you'd like to support our work, the best way is to become a financial member at fighting-fathers.com. It only costs you $10/month but it makes all the difference at this end!
Preacher, Pugilist, Activist, Father of four