"Then Peter and the other disciple set out and went toward the tomb. The two were running together, but the other disciple outran Peter and reached the tomb first. He bent down to look in and saw the linen wrappings lying there, but he did not go in. Then Simon Peter came, following him, and went into the tomb. He saw the linen wrappings lying there, and the cloth that had been on Jesus' head, not lying with the linen wrappings but rolled up in a place by itself. Then the other disciple, who reached the tomb first, also went in, and he saw and believed; for as yet they did not understand the scripture, that he must rise from the dead. Then the disciples returned to their homes." (John 20:3-10)
Hi Fighter,
Father Dave here, wishing you all a Happy Easter. For Christians, this is our most vital celebration of the year. The resurrection of Jesus is the starting point of our faith. As Saint Paul says, "if Christ has not been raised, then our preaching is in vain and your faith is in vain." Everything hinges on the resurrection.
Given the centrality of this great event, it's shocking how little the Bible actually tells us about it. Indeed, there is no description of the resurrection itself recorded in the New Testament. We know that Jesus died, was buried, and that three days later people saw Him walking around again, but we have no account of exactly how Jesus was resurrected nor when exactly it happened in that three-day period. Indeed, so far as the Gospel accounts go, it's not even clear why it happened!
John's account (displayed above) is typical. We get lots of detail as to what the disciples were doing when they came to the empty tomb, and a fair degree of detail as to what they found there. They key part of the story though concerns what they didn't find – namely, the body of Jesus. They don't find Jesus and they have no idea what has happened. At the end of the story, they go home, confused.
As the story continues, people do meet Jesus. Mary is the first, then the other disciples, but the meetings are sporadic, unexpected, and they don't exactly remove the confusion. Jesus is elusive. He doesn't quite look the same. We are told that He tries to explain everything to His disciples (Luke 24:27) but either those disciples chose not to pass on the explanation to us, or they still didn't really understand what Jesus was talking about (which I think is far more likely).
The bottom line is that the death and resurrection of Jesus leave us with a lot of questions. Our ecclesiastical traditions do their best to tie up the loose ends, but when it comes down to the basics of what we believe, embodied in our creeds, the church has always stuck with the raw historical facts:
That Jesus was born of the virgin, Mary
suffered under Pontius Pilate
was crucified, died, and was buried
and on the third day, He rose again
The Apostles themselves went on to interpret these raw facts in the light of their existing Scriptures, looking at Jesus' death and resurrection through the lens of the exodus, the exile, and the promise of restoration. Even so, the church's central testimony has continued to be this raw declaration of the facts, suggesting that there is always room for fresh interpretation.
What does the resurrection of Jesus mean to me? What does His resurrection mean to us? How does the resurrection of Jesus impact 21st century people, living in the Ukraine, in Syria, in Palestine and in Sydney? Christ is Risen! He is Risen Indeed, but as to the how, when and why … we're still working on it.
The Bush Bash
I was back in the bush last weekend, and I had no shortage of volunteers to wanting to jump in the ring with me. I took on six different opponents, doing as many rounds with each of them as they were able.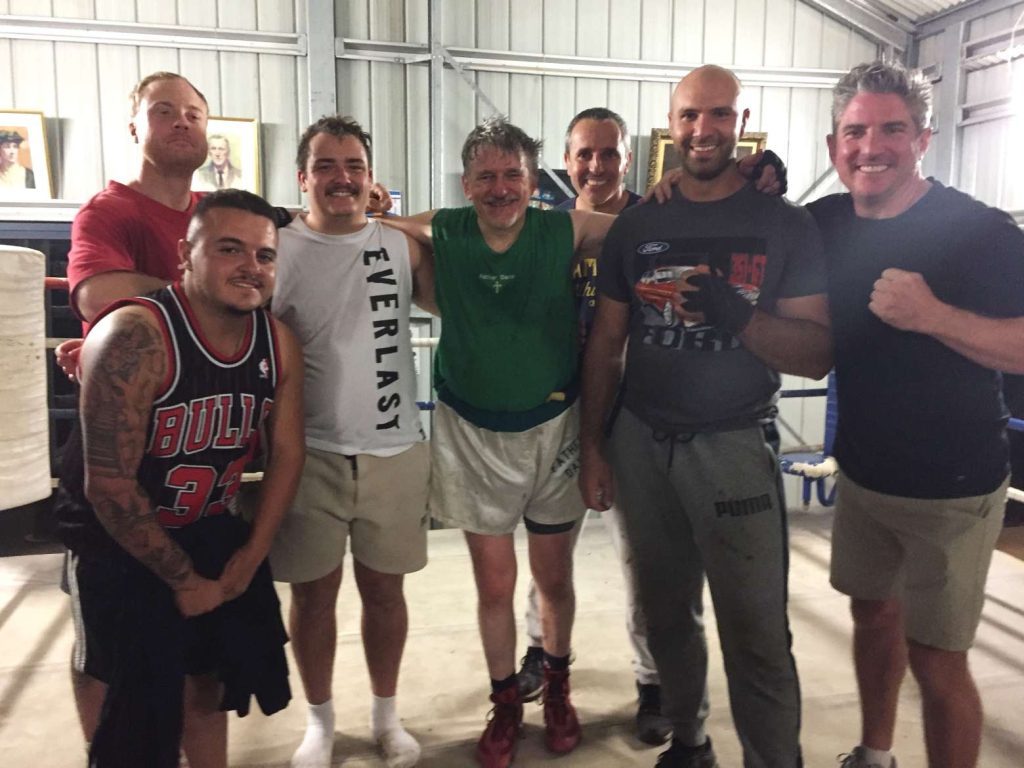 I haven't edited out much of the footage this time as I'm hoping that management from the Combat Sports Authority (CSA) might take a look at it. My registration as a professional fighter is up for renewal and the CSA seems to be making it as difficult as possible for me to continue.
I appreciate that at 60, I'm Australian oldest pro boxer ever, with the previous holder of the OBE (Oldest Bastard 'Ere) being Dexter 'Dingo' Dunworth, who retired at 52. Even so, I think I'm fitter now than I've ever been in my adult life. The recent tests I did with the cardio specialist seem to verify that.
In truth, my fitness is a mystery to me. There is nothing special about my body. Indeed, I was partially crippled in my youth by a bone-marrow problem in my right leg and took the 'no sport' option for most of my schooldays. Why now, at 60, am I able to fight faster, harder and longer than people half my age?
It could be the training routines I've developed. It could be the breathing exercises, the supplements I take, or perhaps it's just a miracle of God's grace. I raise this because I want to pass on to you guys whatever it is that I am doing right. I'm just not sure what it is. If it's a miracle, of course, that may be hard to pass on.
In terms of my training routines, breathing techniques, and supplements, I'm sure I can pass that on to any of you who are interested. Much of it is already contained in the 8-part video series I put together that can be accessed from the member site. You can also take me on as your trainer through Patreon, and I'll do my best to privately tailor a program for you.
Our Sunday Eucharist
It was great to have Robert and Doug with me again for last Sunday's Eucharist. Indeed, we do have an excellent team of readers and scholars joining us each Sunday. My only concern now is that I think we would benefit from a greater gender balance. As things stand, I have no female readers or scholars rostered in for any of our coming Sundays. 🙁
Of course, it could be argued that I don't have any black, gay or disabled people joining me, which also makes our presentation unbalanced. I guess I'm just more conscious of the maleness of our Sunday services because I've been used to having female colleagues alongside me for all of my adult life. So … this is a callout to all the wonderful women who read this newsletter and who join us for the Sunday Eucharist. Please consider putting your hand up and sharing your wisdom with us.
As to this Sunday, I currently have no assistants confirmed, though Joy has said that she would love to join us if she is feeling strong enough. Please continue to keep her in your prayers. Whoever it is, we will meet as usual at midday on Sunday via:
Trial by Combat
Preparations for the Federal Election are heating up and we've now had the official 'ballot draw' where a person in a blindfold picks out random numbers to determine the order that names will appear on the ballot paper.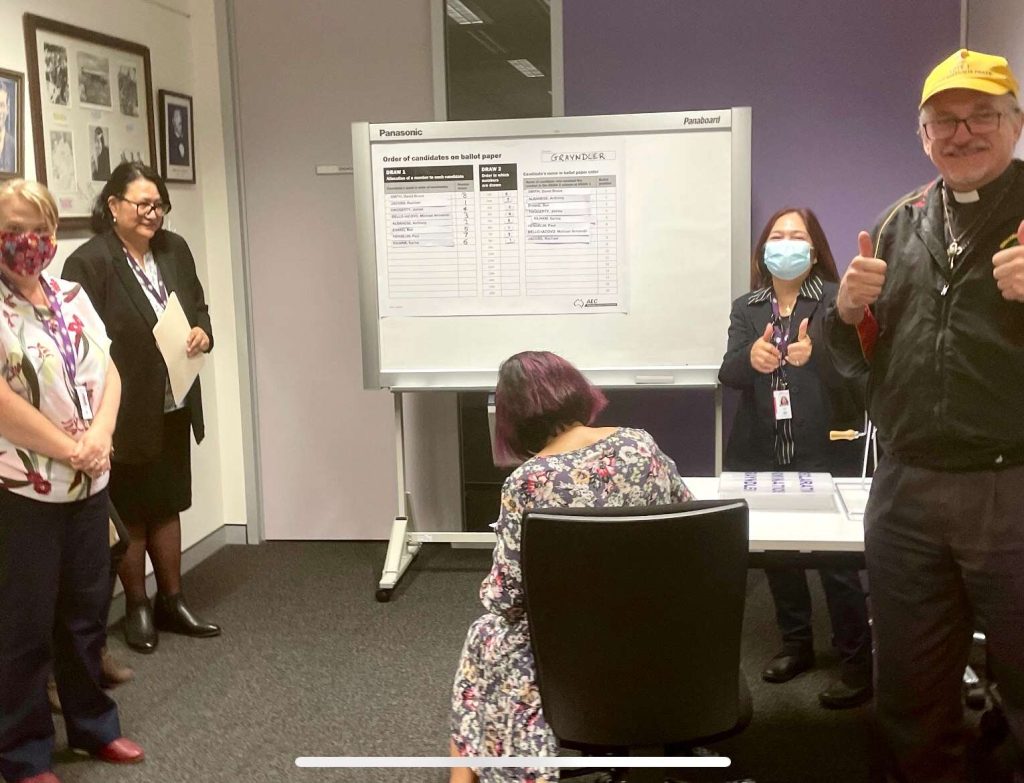 I attended the draw and admit that I did say a little prayer as the balls went round. As you'll see from the result (pictured below), my prayers were answered. Perhaps I should try this with Lotto next? 😉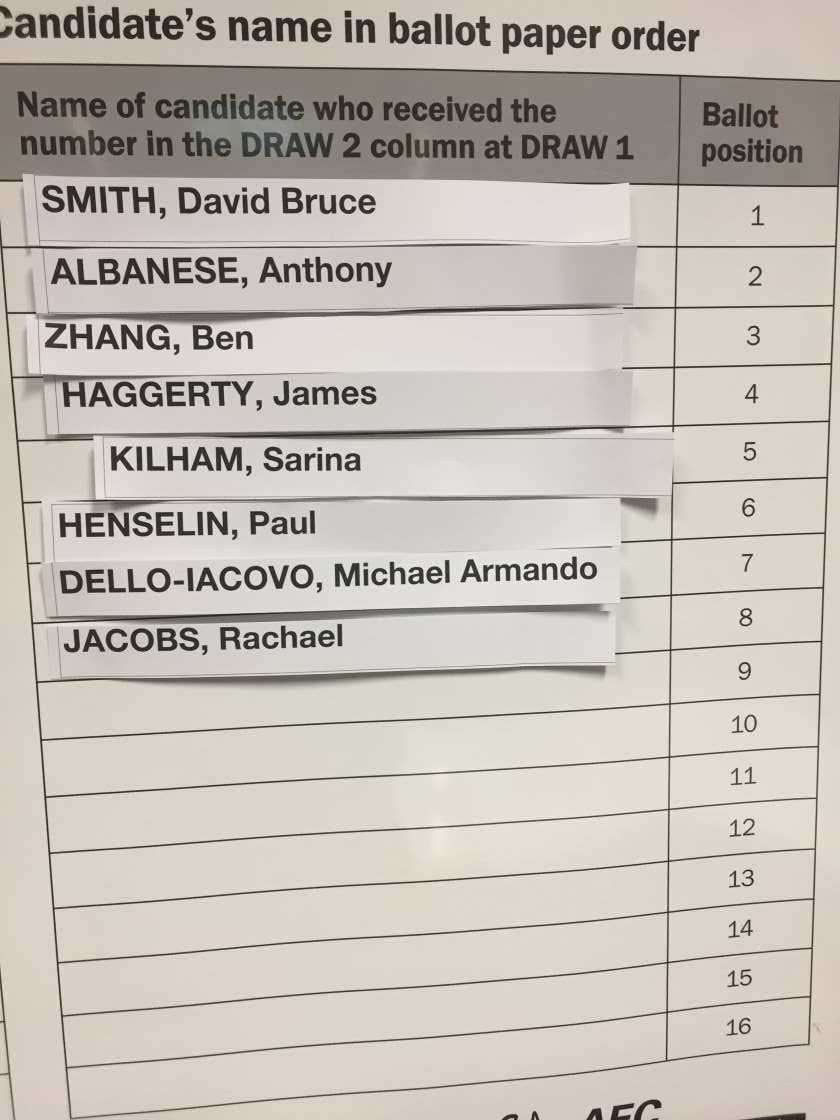 It's odd going up against Anthony Albanese. 'Albo' is an old friend. His name appears on the back cover of my recent book, "Christians and Muslims can be friends", alongside his written endorsement. I mean no disrespect to the man. I just think his party wants to take this country in the wrong direction. Mind you, I think the current government is worse!
I did text Anthony and suggest that we sort this out through 'trial by combat' – the boxing ring rather than the ballot box. It would save a lot of time and money, and I told him I'd be happy for him to land the first punch. He did give me a love heart in response to the text but I don't think he really wants to take up my offer. It's a shame. I think we could make enough on the pay-per-views to repay the national debt!😉
Support the work
Every dollar I receive from you via Patreon is deeply appreciated. It funds our ministry activities and it supports Fran and myself as well. Please give what you can and I will do my best to support you in return.
Middleweight Division ($10/month) where you get access to the member site, along with the videos and other resources.
Heavyweight Division ($100/month) which includes individual coaching, along with software subscriptions to both Buzzious and Streamout, allowing you both to publish an unlimited number of quality blogs and to livestream.
Super-Heavyweight division ($400/month) includes all of the above plus me training with you one-on-one – at The Fight Lab and at Binacrombi Bush Camp
Please continue to keep both Joy, myself, and our families in your prayers this week. You'll see from the pic below you'll see that we've just celebrated my son, Soren's, 20th birthday. Indeed, I have much to be thankful for.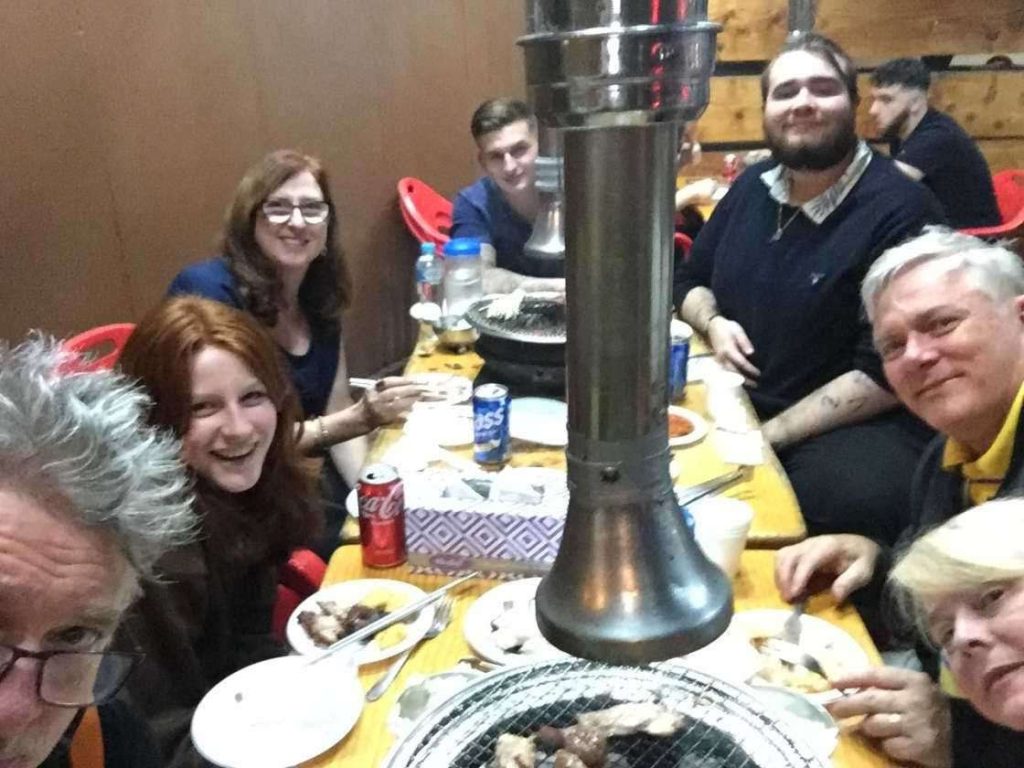 Your brother in the Good Fight,

www.fatherdave.org
www.fighting-fathers.com
www.holytrinity.org.au
www.binacrombi.com.au
www.israelandpalestine.org
www.prayersforsyria.com
www.dulwichhillgym.com
www.boxersforpeace.com
www.warriorweekends.com
P.S. Next Friday (the last Friday in Ramadan) is also Al Quds Day, where we remember the plight of the Palestinian people. Please consider sharing the Al Quds Day video that I participated in, and that is also posted below.
Preacher, Pugilist, Activist, Father of four