(Last Updated On: May 11, 2017)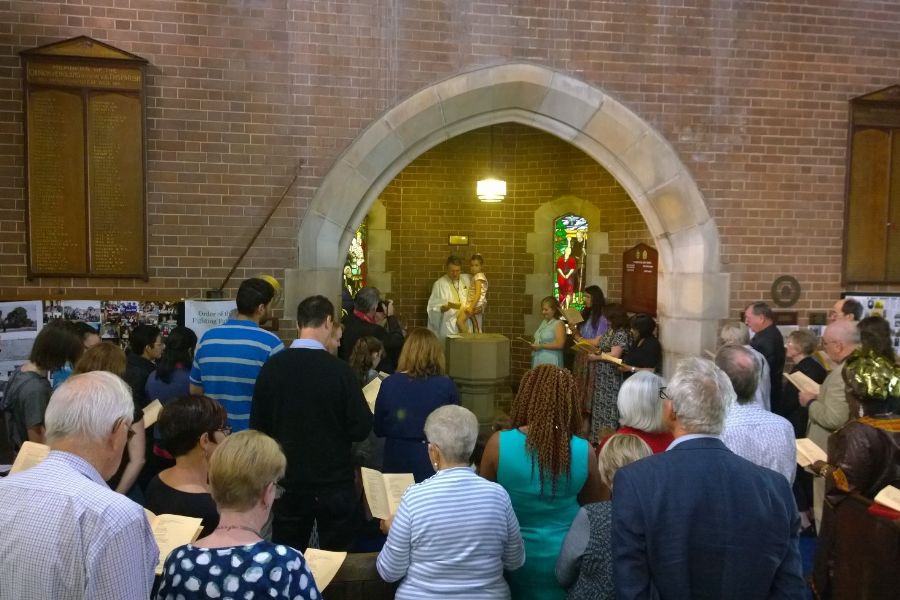 Baptisms on Easter Day! 🙂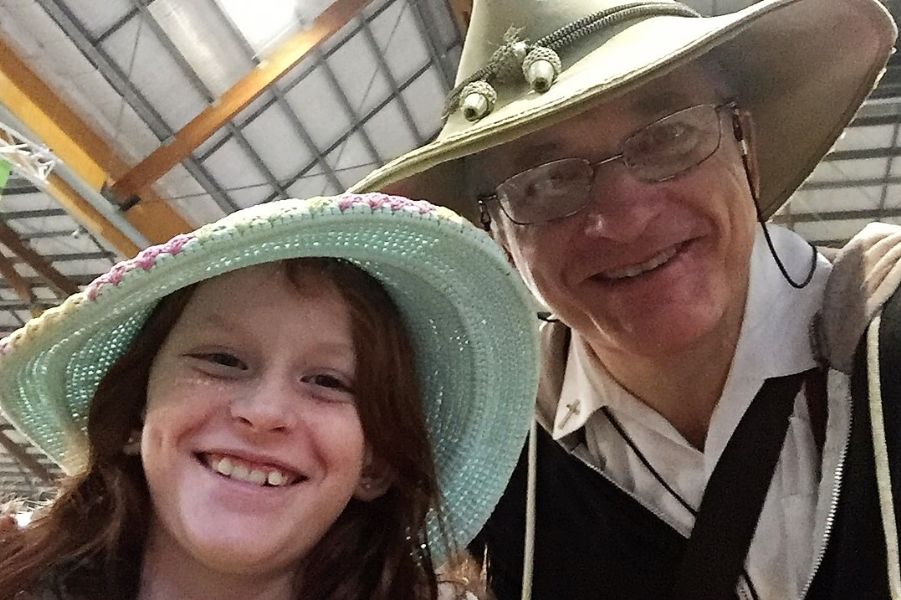 With Fran at the Easter Show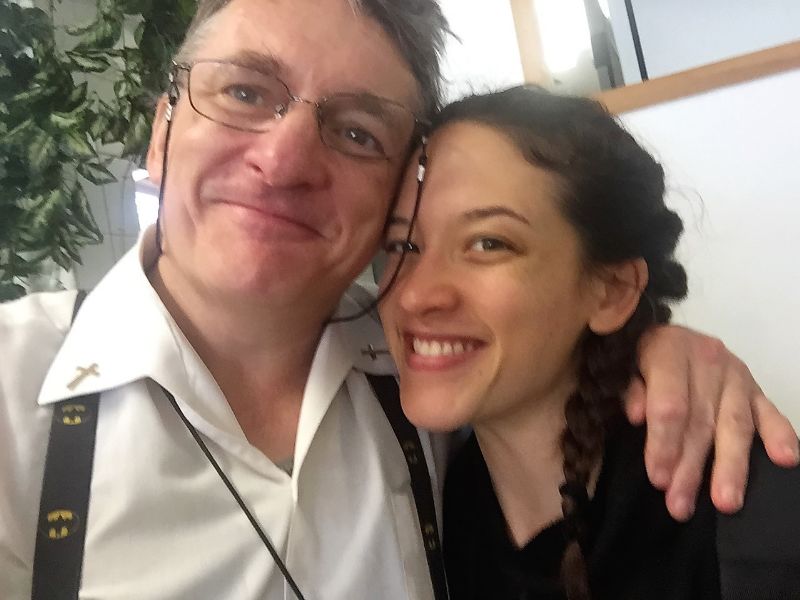 with my beloved Veronica 🙂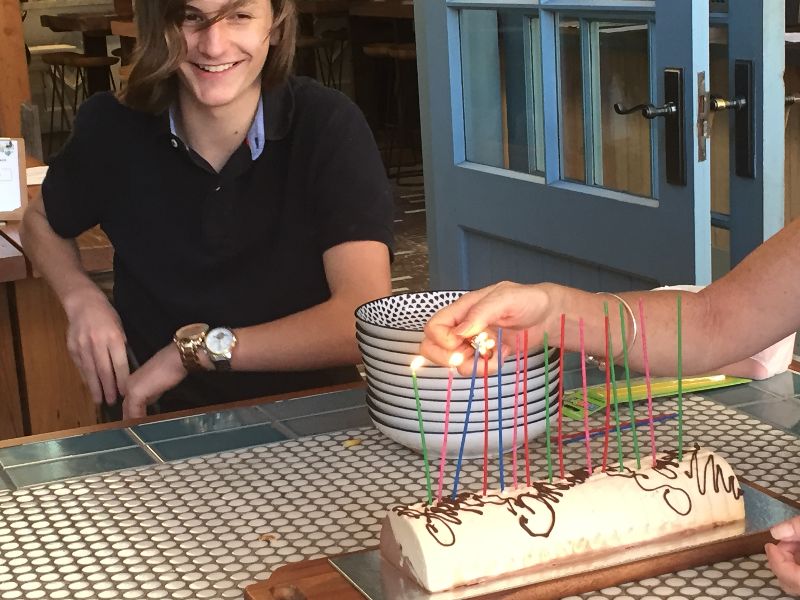 Soren turns 15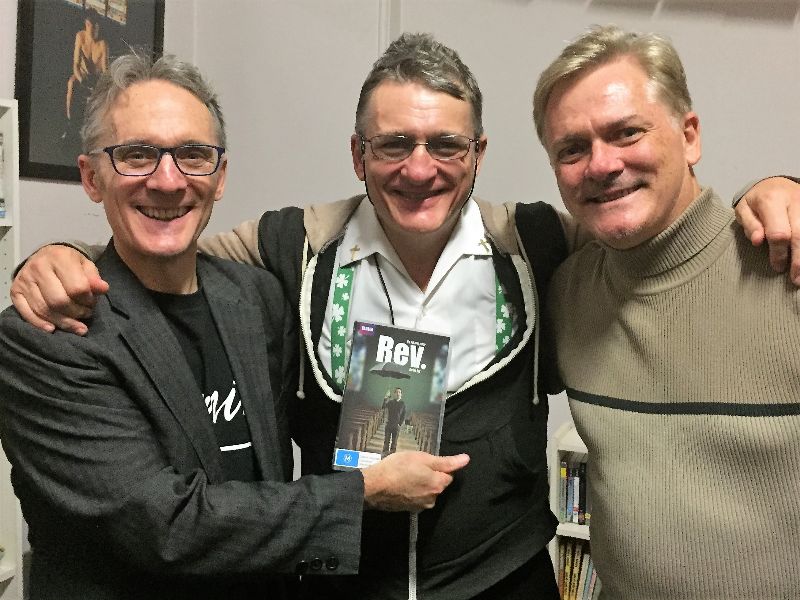 Celebrating my birthday with my brothers 🙂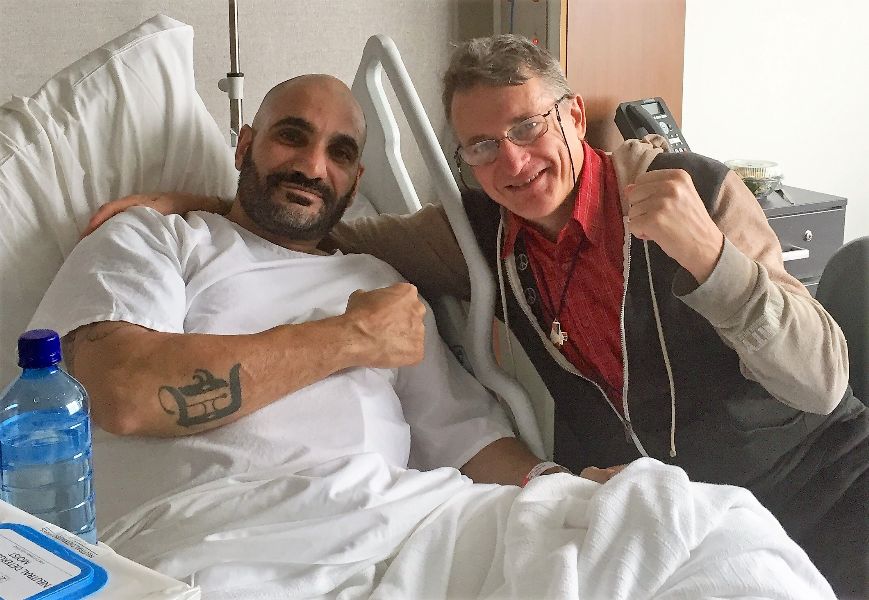 Get well, Danny!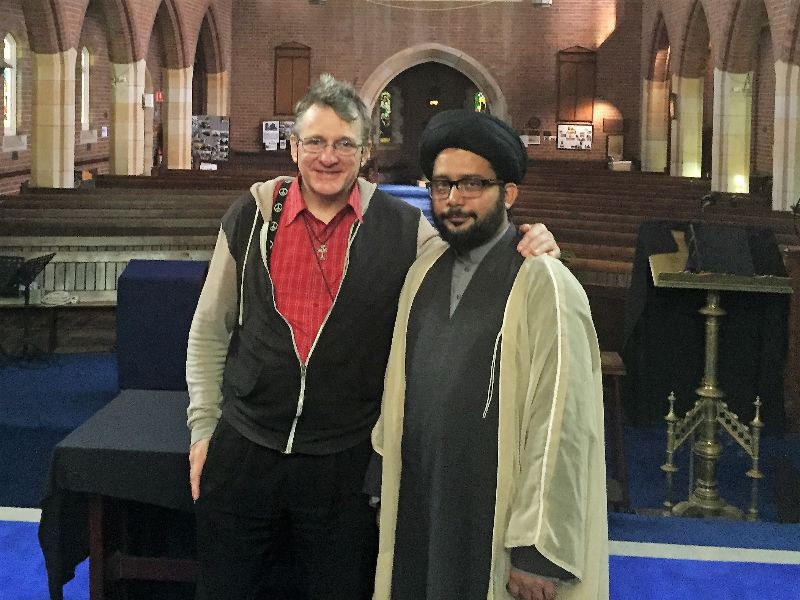 showing off our church to Syed Shoaib Naqvi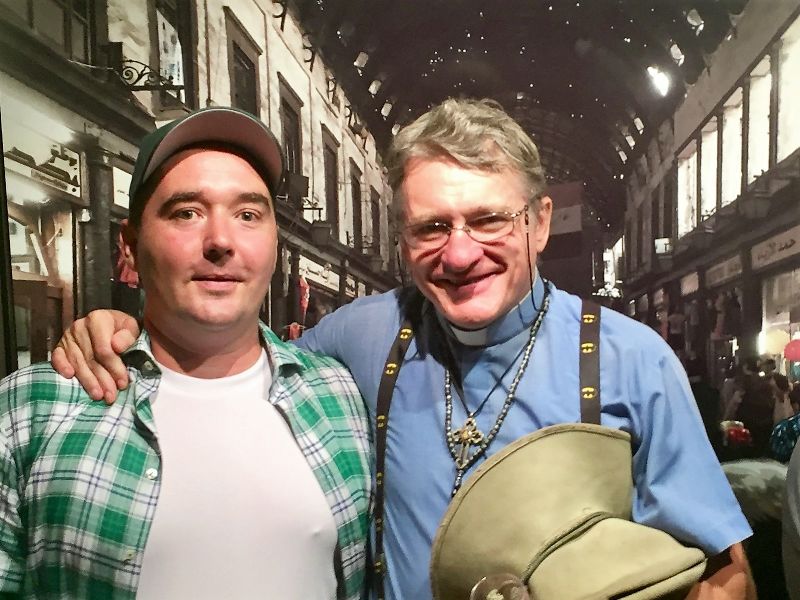 with Luke Cornish at his 'Road to Damascus' exhibition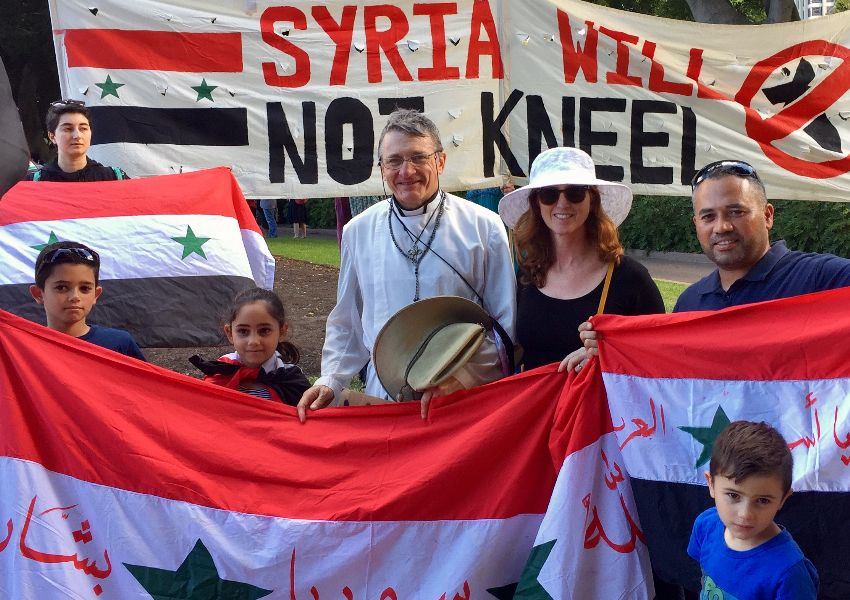 Hands Off Syria!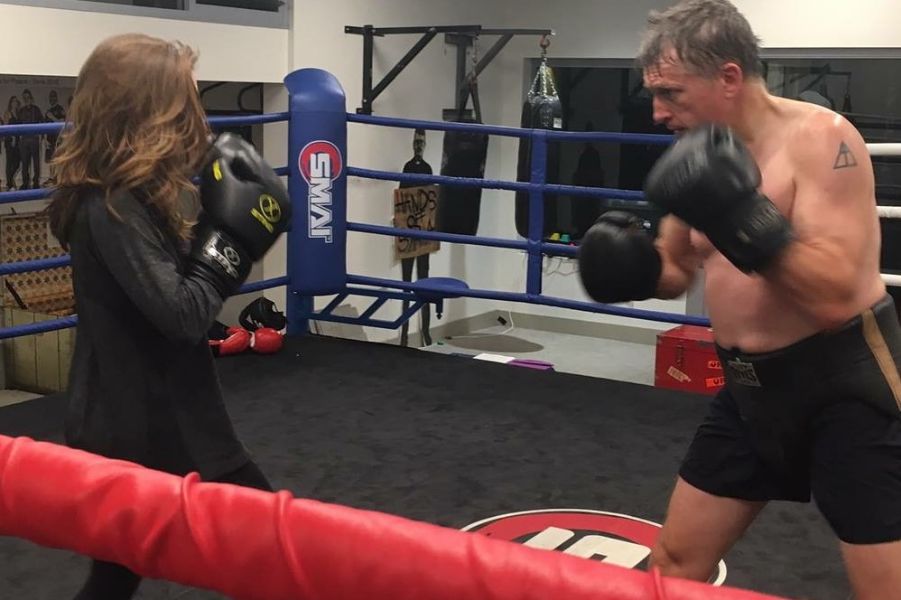 Pick on someone your own size! 😉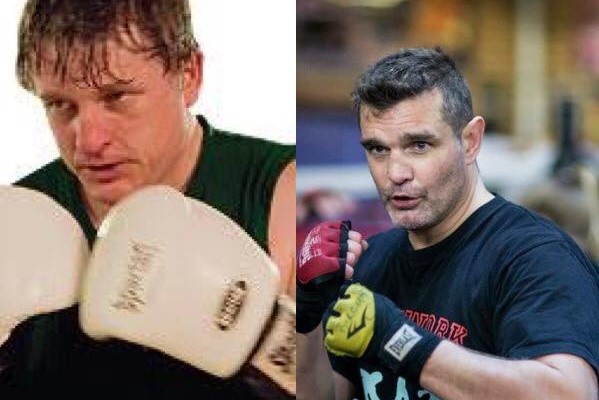 The match that has got to happen!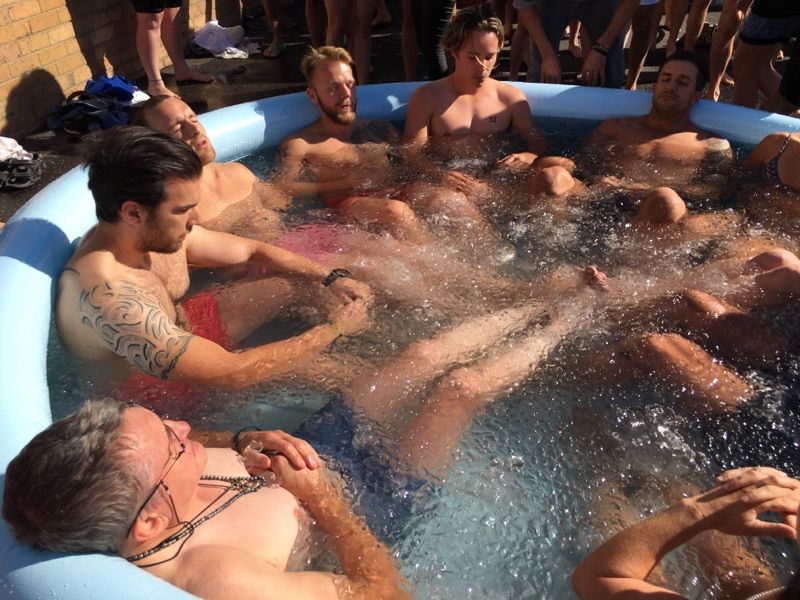 Cooling off in an ice-bath at the Wim Hof seminar in Melbourne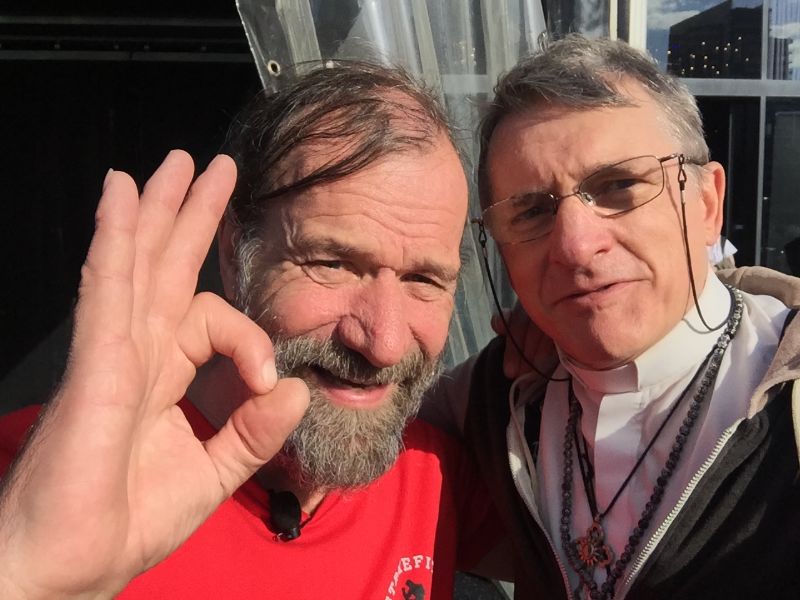 with the amazing Wim Hof!
Hi Fighter,
It's Father Dave, writing to you from the middle of the Australian bush! No, I'm not retreating from the Good Fight but I am retreating from the Big Smoke for a while.
I am on long-service leave, and will be spending most of my weekends up to the end of May at Binacrombi – our remote prayer-space, dirt-bike farm and boxing-training facility.
I'm hoping that these five weeks will be a rejuvenating time, though they are not a holiday. I've got three goals I want to achieve over my time away from the parish:
Get Binacrombi functioning on a renewed basis
Finish the book I'm working on – "Christians and Muslims can be friends"
Get fully fit for my next fight.
As for the fight, I don't have a date fixed yet, but I'll be letting you know as soon as something is confirmed.
As for the book, I won't say more about that here either, except that I'll be looking for your help to spread it around once I get it published. In the meantime, you might like to help me come up with a better title.
As for Binacrombi, do you have a weekend spare before the end of May when you can come and join me?
I'm planning another Warrior Weekend for May 19 to 21 (and I'll say more on that below) but I'd be happy to see you on any of the other weekends too. If I'm left here by myself, with only the kangaroos to keep me company, I may get a bit jumpy! 😉
OK … It's not really the lack of company that I'm concerned about, but I am looking for good people who will help run weekends out here. Binacrombi has developed enormously over the last few years under the tireless and dedicated management of Fighting Father Tez. Even so, Tez is not as young as he used to be, and it's time for a few more of us to step up and give him a hand.
Perhaps you've always seen yourself as a farm-manager or as a fighting monk, or perhaps you'd just like to help develop the ministry of the Fighting Fathers? Here is your opportunity! Join me down here at some point in the next month and we'll train you in the ways of Binacrombi. You might then consider coming back once every couple of months, to be an ongoing part of the team.
In truth, even if you only want to come and help me pray for Syria in the chapel here, I'd be very glad to see you. Call me or email me and let me know when you'd like to come. All my details are on www.fatherdave.org (the non-mobile version). Mind you, the obvious weekend to join us is May 19 to 21 – the date of our next …
Warrior Weekend
Yes, it's happening again. From Friday evening (May 19) to Sunday afternoon (May 21) we will be giving you another opportunity to Train like a Trojan and Pray like a Monk at our remote bush training facility, Binacrombi.
The workouts will be fitness-focused and won't be restricted to boxing training. Even so, you'll get plenty of chances to show your prowess in the ring if you so desire, so bring your gloves and your mouthguard.
The prayer sessions are not compulsory, of course (and neither are the workouts), but those who are willing will meet for prayer and meditation according to the traditional Benedictine schedule – at 6am, 9am, noon, 3pm and 6pm. There will be separate prayer spaces allocated for Christian and for Muslim prayers.
We already have some young people from the Muhammadi Welfare Association joining us for the camp, and I'm hoping that our friends from Fighting for Autism will  join us too. These camps not only offer participants great personal benefits in terms of physical and spiritual fitness but are also wonderful opportunities for social integration. 🙂
The prices for the weekend have not changed:
$200 for the rich
$100 for the poor
Free for the destitute
These fees cover accommodation, training, and all meals (excluding the BYO Saturday night BBQ). If you feel you fit into the 'destitute' category, let me know and we will organise sponsorship for you.
The flyer for this camp is here. Right-click and choose 'save target as' to download it.  The flyer includes a form that you can sign and forward to me.
Sermon of the month
Easter is the time of year when Christians remember how God confronts evil in our world. It was therefore an extraordinary time for Donald Trump to drop the 'Mother of all Bombs' on Afghanistan, and yet that happened on Good Friday (Australian time)!
This seems to be the only way the powerful in our world know how to deal with evil. They drops bombs on it and hope it will go away. In this case, the Mother of all Bombs was dropped on (what is perceived to be) the Mother of all Evils (Al Qaeda). The result was that 36 people died, which was apparently considered a success.
It is the unambiguous teaching of the New Testament that evil cannot ultimately be stopped by other forms of evil. The Easter story tells us about a God who confronts evil in a different way altogether – through suffering and death and resurrection!


(forgive me for the poor quality of this video. The written version of this sermon is here)
Becoming the Ice-Man
Before I let you go today, I want to explain the picture that appears at the top – the one of me and a group of men in an ice-bath!
Yes, it was ice! Perhaps you didn't look too closely at the pic and thought I was enjoying a relaxing session in the pool with my mates. Take a closer look and you'll see that the water was thick with ice-cubes. It wasn't relaxing! 🙁
The reason for this bizarre behaviour is that I'm doing a ten-week course put together by a bizarre man, Wim Hof, otherwise known as 'the Ice Man'! There's a picture of me and Wim up the top too. 🙂
The ice-man has been able to perform some amazing physical feats, considered impossible before Wim did them. He climbed Mount Everest in his swimsuit and  broke the world record for swimming under the ice. He then ran a marathon through the Sahara Desert without taking any water! And he's a couple of years older then me!
Wim's training method combines breathing techniques with stretching and 'cold therapy', which means cold showers and ice-baths, and by the time I make my next blog post, I should have reached the end of his 10-week course. I want to share my progress with you.
I'm hoping that Wim's techniques will give me an edge in the boxing ring, and at my age I need every edge I can get. And if you do decide to join me on the camp, be aware that I'll be integrating some cold therapy into our training routine (though, of course, it is not compulsory for anybody except me).
That's plenty for today. I'll hope to see you at the camp. 🙂
Your brother in the Good Fight,
Dave
www.fatherdave.org
www.fighting-fathers.com
www.holytrinity.org.au
www.binacrombi.com.au
www.israelandpalestine.org
www.prayersforsyria.com
www.dulwichhillgym.com
www.warriorweekends.com
Preacher, Pugilist, Activist, Father of four