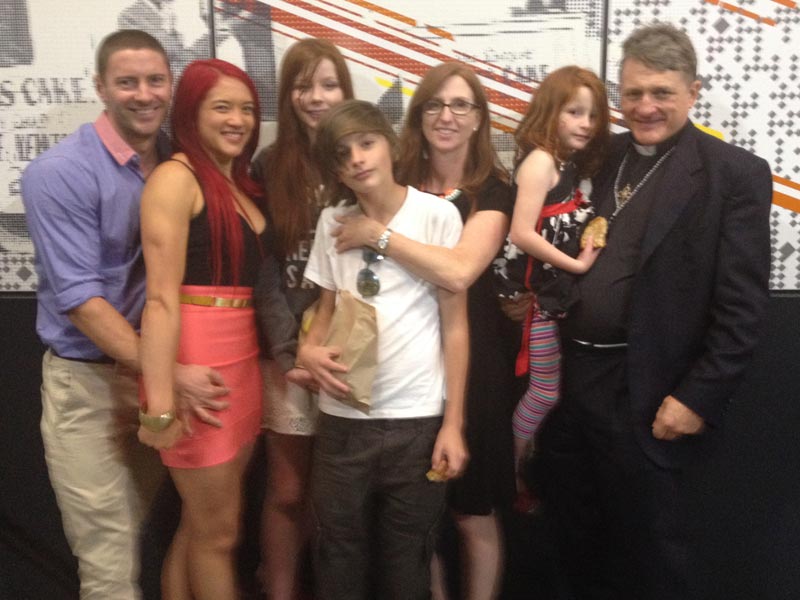 my darling daughter Veronica turns 25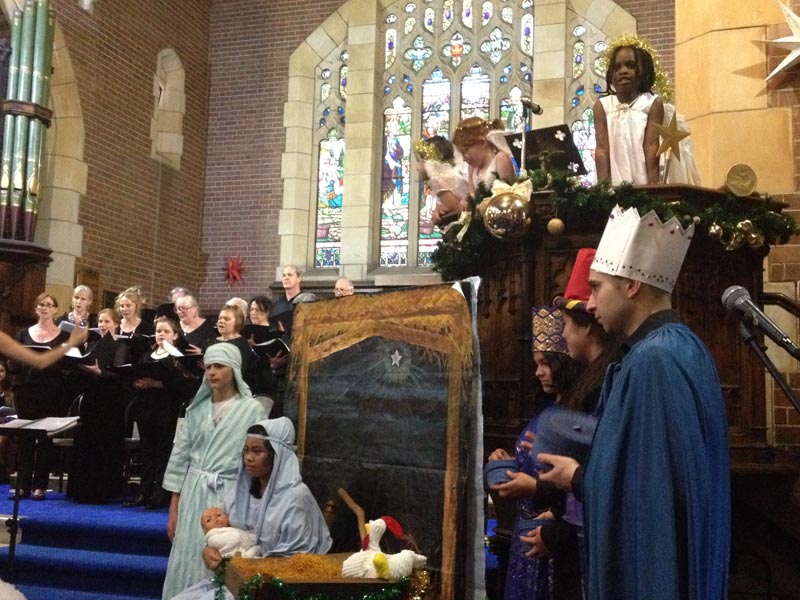 Holy Trinity's wonderful community Christmas Concert!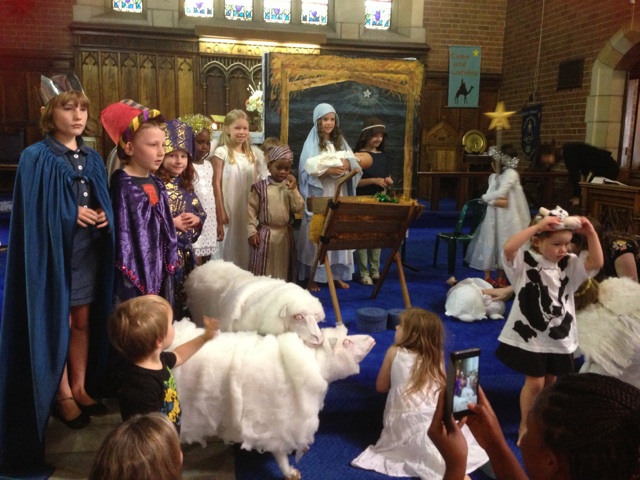 Our Sunday School Christmas pageant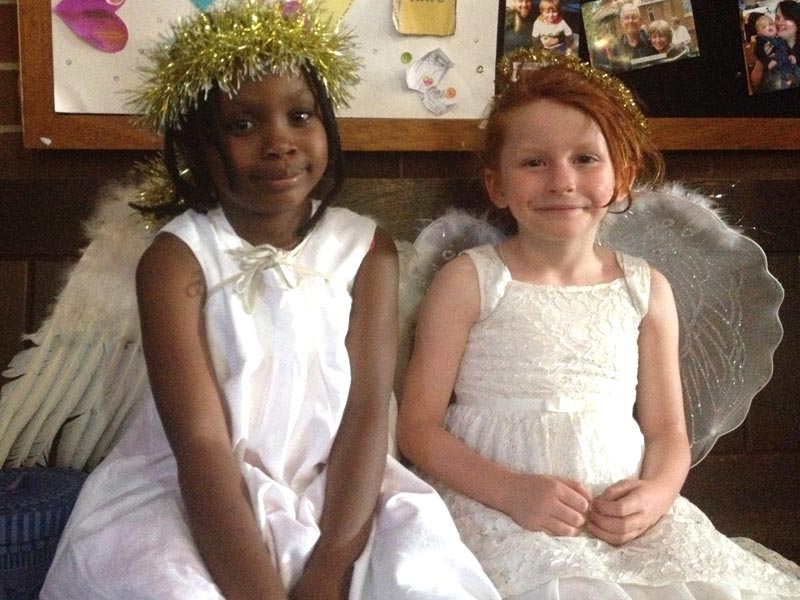 Angels from the realms of glory!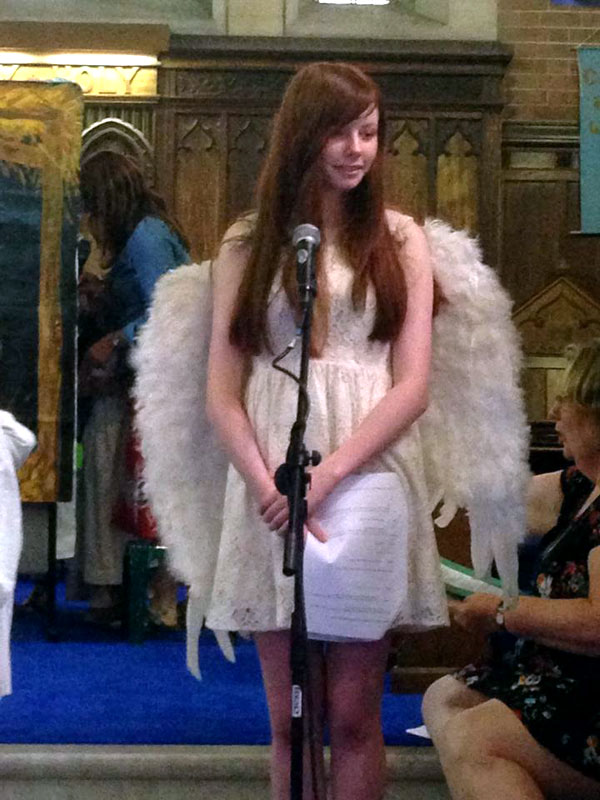 another wonderful angel! 🙂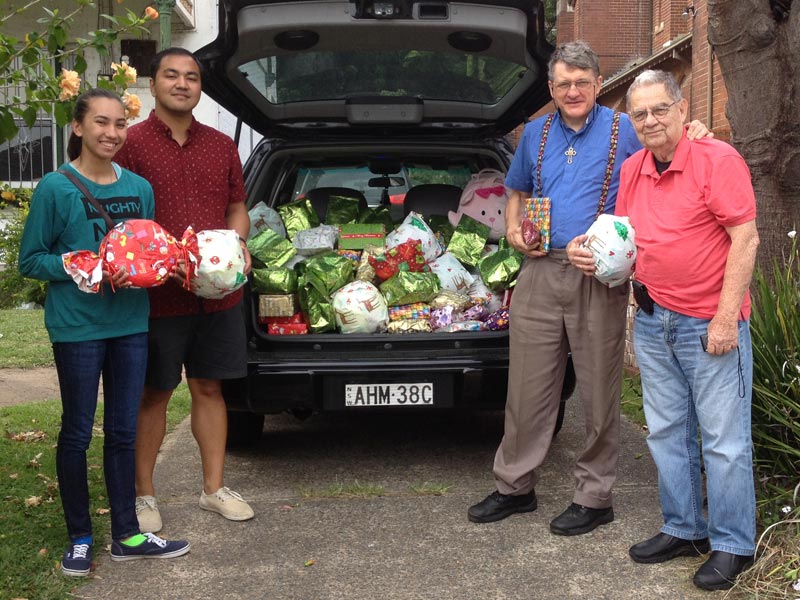 with my friend Jaime and his family, gathering Christmas gifts for distribution. 🙂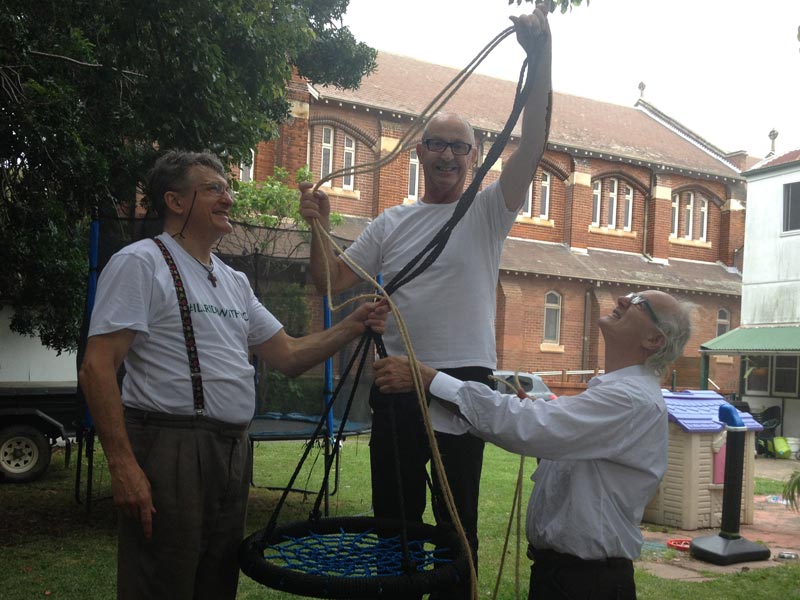 Doing the 'dad thing' on Christmas Day and erecting a swing for the kids with my mates Don and John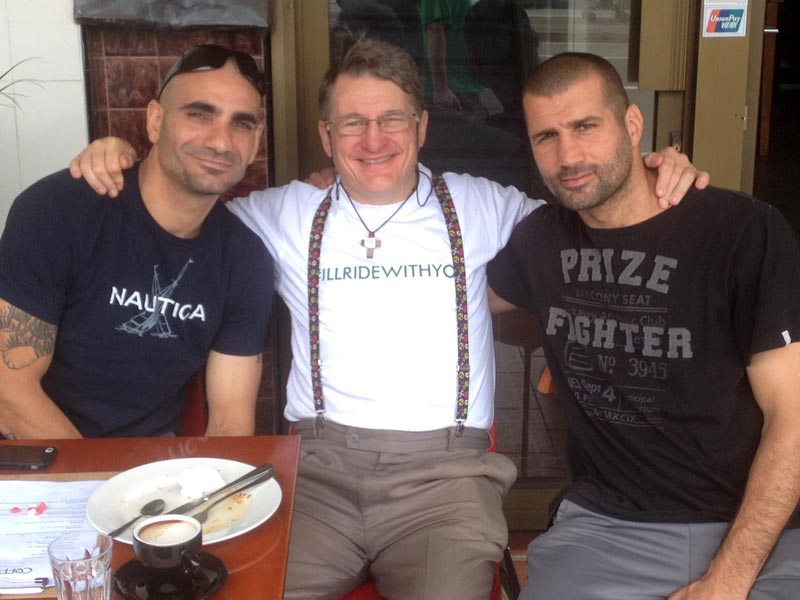 Breakfast with friends - Danny and Nader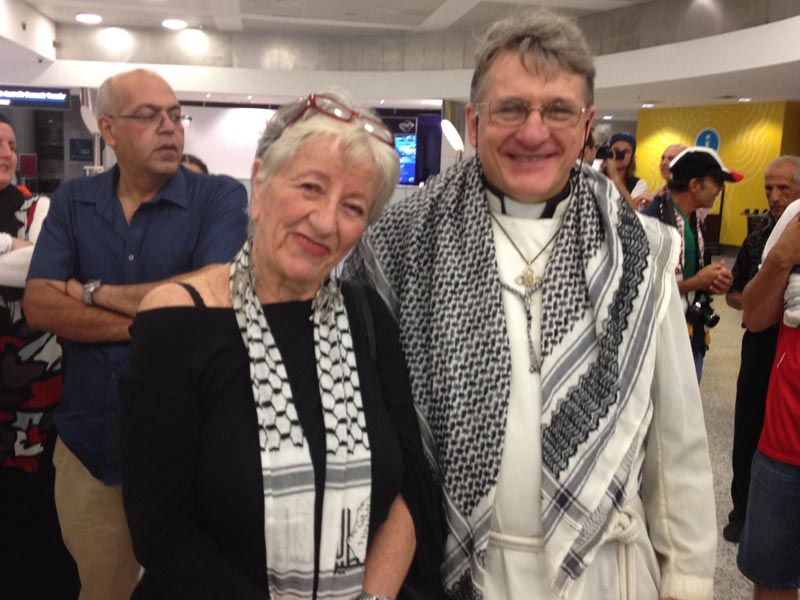 New Years Eve - at the airport with Vivienne from Jews Against the Occupation, waiting for the arrival of the Palestinian soccer team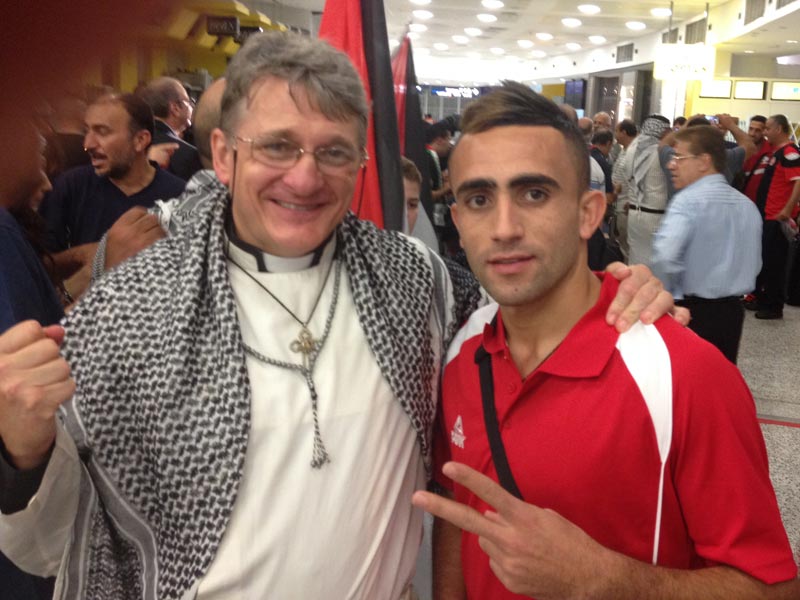 New Years Eve - at the airport, welcoming the Palestinian soccer team!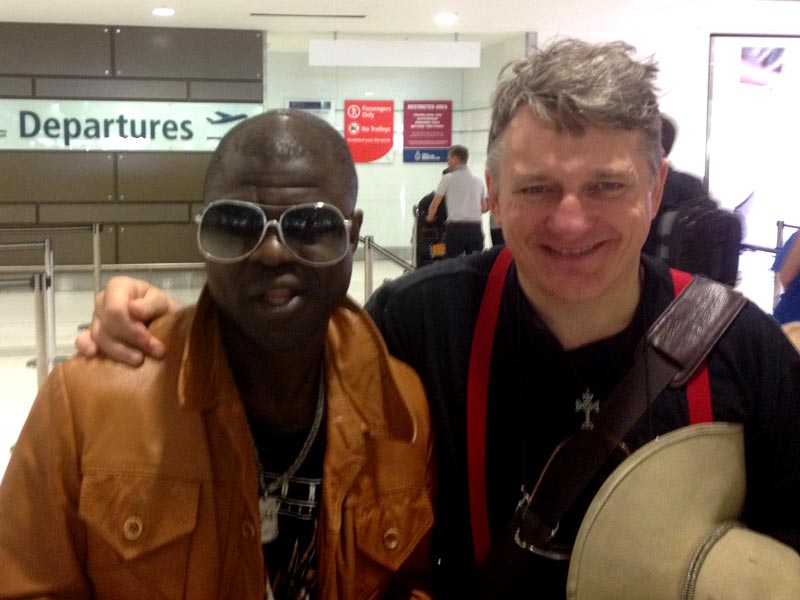 New Year's Day - Sol travels to the USA in search of a title shot!
Hi Fighter,
It's Father Dave back with you. Christmas is past (exhausting yet wonderful as ever) and it's time for us to go bush! 🙂
Our bush weekend away at Binacrombi  is just around the corner – January 16th to 18th – and you are invited!
It will be a physical and spiritual fitness weekend where you'll be challenged to train like a Trojan and pray like a monk! Having said that, there will also be a low-impact alternative for those who can't manage the intensity. The low-impact options include bush-walking, caving, and swimming in the Binacrombi billabong.
On the Sunday we will formally dedicate our new Binacrombi chapel as a place of prayer for all people. We will also be dedicating the twelve founding fathers or our Order of the Fighting Fathers to their ongoing work of 'Fighting for things worth fighting for'.
I currently have about 20 adults and 10 kids confirmed for the weekend. I have cabin accommodation for double that number so there's plenty of room for YOU if you'd like to join us.
The cost is just $100/person for the weekend with subsidies (of up to 100%) available for kids. The donation covers your accommodation and training. It's BYO food and drink, but cooking facilities and fridges are provided. Let me know ASAP if you'd like to come and if you need extra motivation, take a look at one of last year's camps on www.warriorweekends.com 🙂
Who's Afraid of Islamic State?
That was the title of my sermon on December 21st. It might seem like a very odd topic for the Sunday before Christmas but it was the first Sunday after the so-called 'Sydney Siege', where a gunman took hostages in a coffee shop in the centre of Sydney and three people (two hostages and the gunman) were killed.
The impact of this event on Sydney-siders was extraordinary. Indeed, as tragic as the death of these poor persons was, the massive outpouring of grief and the intense response from all levels of government put it on the level of a national catastrophe! This event scratched the surface of the Sydney psyche and uncovered the deep level of fear that lies across our city!
The link between this tragic event and the angel's announcement to the virgin Mary that she's about to fall pregnant might not be immediately obvious. To my reckoning though the two events are deeply linked by two F-words. See if you can guess what those words are and then click the play button to see if you're right. 😉


New Year's Resolutions
This time of year always gives us a unique chance to reflect on the year that's been and to set goals for the year ahead. I've got in the habit of being very public about my yearly goals as I find it motivates me to achieve them.
You may remember that this time last year I set five goals for the year:
Found a monastic Order
Win a world boxing title
Help end the war in Syria
Help establish a state of Palestine
Help each of my kids get through their years at school.
I think I did an OK job with the most important of those goals – ie. the last one – but I'll need to rededicate myself to that this year
As to the first, well … no, we haven't actually set up a monastery yet but we are dedicating our Binacrombi chapel next week and we'll have 12 characters dressed in monastic smocks there at the ceremony. We also have an excellent senior Abbot (Fighting Father Terry) who has been saturating the Binacrombi hills with prayer over the last 12 months, so I think we have come a long way towards fulfilling that goal. :
As to the boxing title, well … I didn't win a world title but I did pick up another Australian one, knocking down Barry Hancock in Adelaide last October – a man with more than 70 amateur and pro fights to his name – and that has left me with a lot of confidence. Moreover, Hancock was 10 years my junior. My problem at the moment is that I can't find anyone my own age who will take me on
As to Palestine, I poured myself into that work as prayerfully and as passionately as possible. Even so, things continue to degenerate. Perhaps, by the Grace of God, 2015 will be the year of breakthrough.
As to Syria, I was part of a very successful peace mission in April 2014, and I used that time to check out whether my idea of taking a boxing team to Damascus would be plausible and useful (see www.boxersforpeace.com). It seems it is both, and so we're gearing up for a bigger and better 'Boxers for Peace' mission this year!
And so I give thanks to God for what I was able to do in the year that has past and I'm ready to set some new goals for 2015, though this year my goals will invariably be shaped by some big things that are happening in the parish:
Our new Youth and Community Centre should be completed this year
This year marks the 100th anniversary since the foundation of our church building
This year also marks 25 years since I arrived at Holy Trinity Dulwich Hill!
And so I find myself with a longer list of goals for 2015:
Re-ignite our youth and community work as we launch our new facility!
Grow and develop the church community to meet the new challenges
Stage the first 'Australia v Syria Friendship Olympics' in Damascus
Do what I can to bring freedom to the people of Palestine.
Continue to pursue that world boxing title.
Help my kids get through their years at school (which will be a tough one for Imogen especially this year as she's in her final year of high school)
Am I over-reaching myself? Most likely, especially as it seems I will have less assistance this year than in years previous and finances are looking very tight. Even so, last year's goals were a crazy leap of faith but I'm not dissatisfied with what we accomplished in 2014. May God give me grace and strength for the year ahead!
Would you like to share your goals/resolutions for 2015? I'd love to hear them. Jot them down in the comments section at the bottom of the page.
I'll hope to see you at our bush weekend. Just call Marco on the Binacrombi bookings number (1800 620 706) to let us know you're coming.
Until then I remain …
Your brother in the Good Fight,
Dave
www.fatherdave.org
www.fighting-fathers.com
www.holytrinity.org.au
www.binacrombi.com.au
www.israelandpalestine.org
www.prayersforsyria.com
www.zerocostwebsite.net
www.dulwichhillgym.com
www.warriorweekends.com
www.how2changetheworld.com
P.S. Support the work of the Fighting Fathers by joining our online community at  www.fighting-fathers.com. It only costs you $10/month and the first month is free.
Preacher, Pugilist, Activist, Father of four