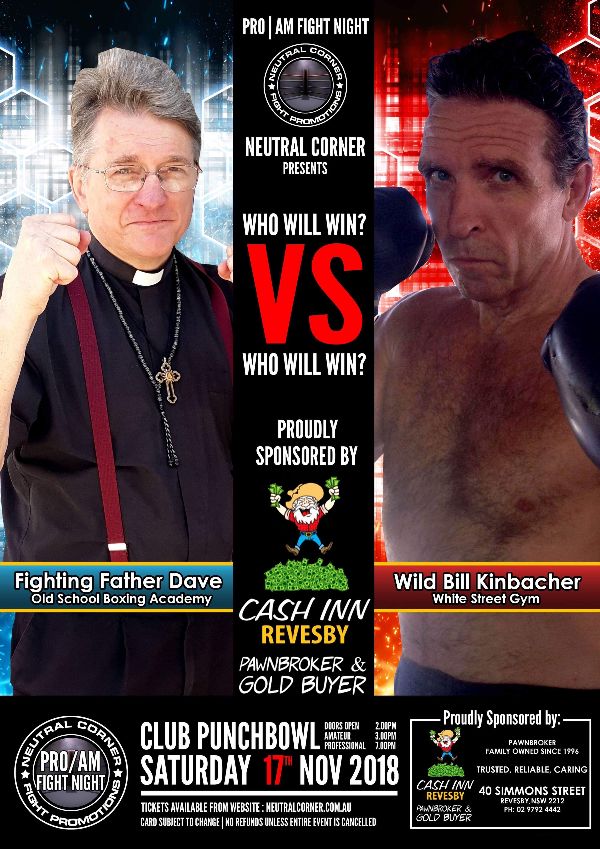 Greetings, Fighter!
Yes, it's on! All the 'I's have been dotted and all the 'T's have been crossed. We have climbed the requisite mountain of paperwork and overcome all the obstacles designed to prevent people our age from letting loose on each other in the ring!
Fighting Father Dave vs. Wild Bill Kinbacher
17th November, 2018, starting at 7 pm
Club Punchbowl (921 Punchbowl Road, Punchbowl)
It should be a huge night. 7 pm is the starting time of the pro fights, and there's over a dozen of those, but there's just as many amateur fights too, starting at 3 pm, and I'm pretty sure your ticket gets you access to everything. Most importantly, of course, it gets you ringside to watch Billy and I stoush it out.
To say that this is an important fight for me is an understatement. I haven't been able to fight in over a year, having had three fights cancelled on me. The last two cancellations were due to the brain haemorrhage I suffered last year while preparing for one of those fights. Even though I fully recovered, it hasn't been easy to get a match. This is a big opportunity for me. If I do badly, it will be my last fight in this country – I promise you. If I do well, I'm hoping it will open the door to a few more.
The immediate goal, as always, is to raise funds. We are looking to take another Boxers for Peace team back to Syria straight after Christmas, and I'm really hoping that we'll make an impact for good with this one. Funds will help us get there, and any excess funds we raise will be distributed while we are there. The other thing I need to raise funds for is to publish my "Christians and Muslims can be friends" book, which will cost me around $10,000. I hope to launch that not long after returning from Syria.
In other words, this fight is part of the bigger fight, and I'm proud to say that my opponent, Billy, has his eye on the greater fight too. He's a terrific bloke who has spent much of the last 20 years working with at-risk young people as he's punched his way around the Favelas of Venezuela. It will be his professional debut though in this country and I'm trusting that my experience with ringcraft will prove superior to his raw strength and courage on the night. Either way, we'll both raise some funds for causes we believe in, and I'm trusting that we'll still be friends after the fight. 🙂
If you'd like to come and see the fight, you can purchase tickets via Paypal below. Make sure you include your mailing address as I'll be posting the tickets to you.
There are four options with the tickets:
A regular ticket is $60
A regular ticket + a $20 donation is $80
A ringside-table ticket (including food and drink) is $220 (sold out)
A ringside-table+ $20 donation is $240 (sold out)
What do you get for the $20 donation to Fighting Fathers Ministries I hear you ask? Apart from the satisfaction you get from knowing that you're supporting the work, you get a guaranteed selfie with me after the fight (providing I'm upright). 😉
If you have any trouble getting the Paypal system to work, email me and we'll work something out. I do look forward to seeing you on the night. 🙂
Yours in the Good Fight,
Dave
www.fatherdave.org
www.fighting-fathers.com
www.holytrinity.org.au
www.binacrombi.com.au
www.israelandpalestine.org
www.prayersforsyria.com
www.dulwichhillgym.com
www.boxersforpeace.com
www.warriorweekends.com
P.S. If you'd like a higher-resolution image of the poster for printing, it's here
Preacher, Pugilist, Activist, Father of four