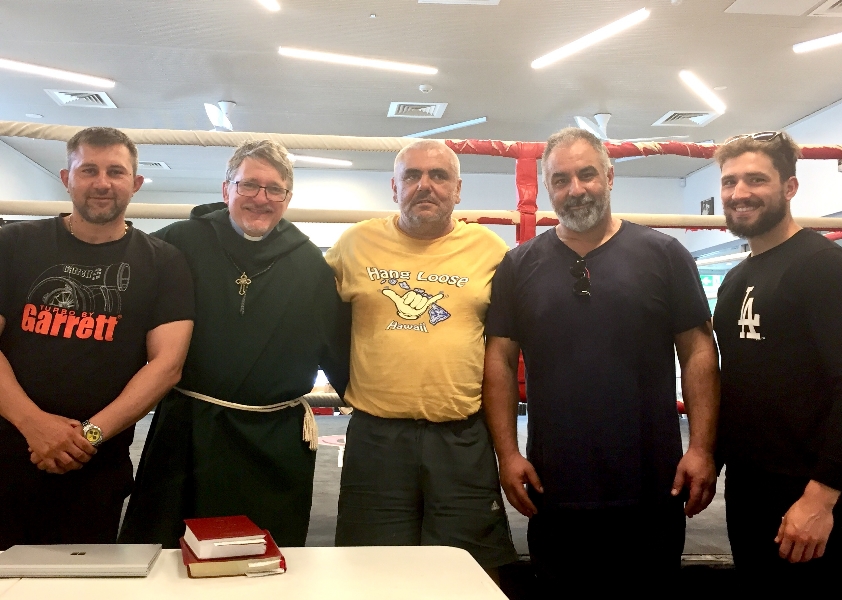 Final prayers at the gym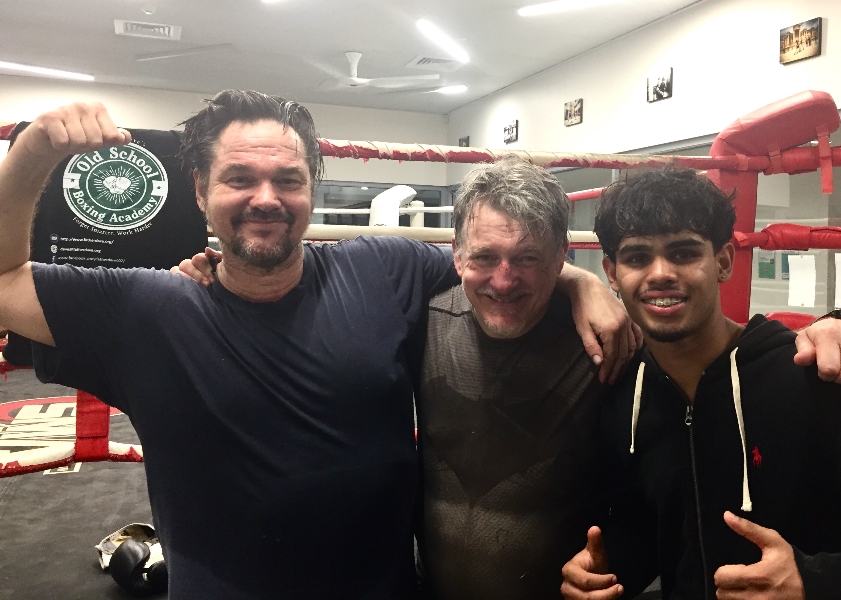 Our final training session at the gym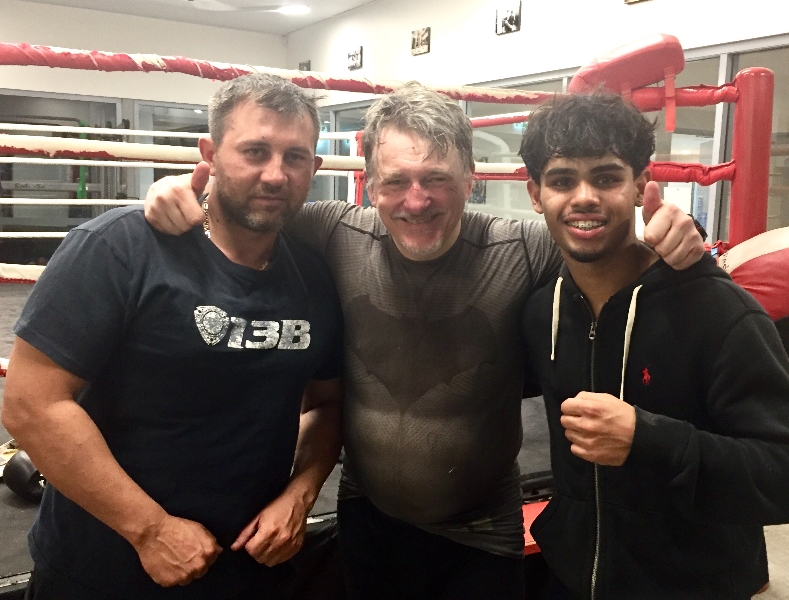 Our final training session at the gym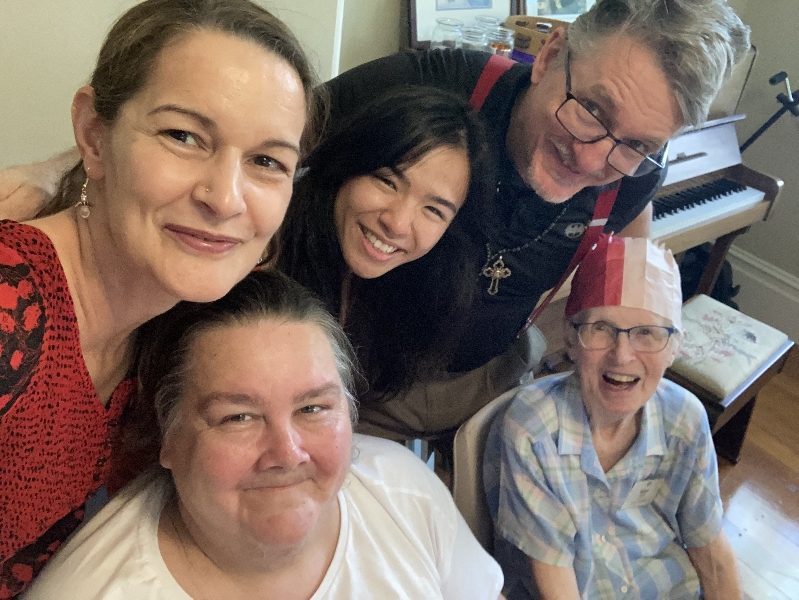 Christmas lunch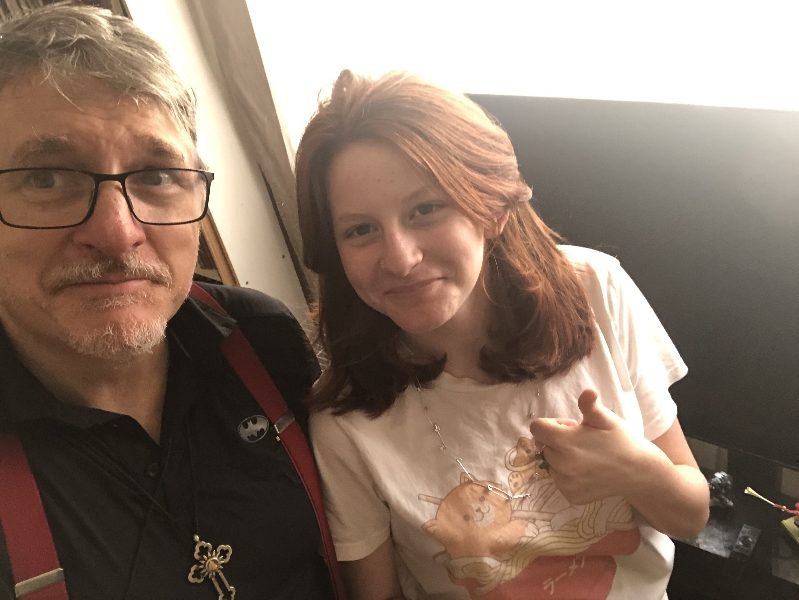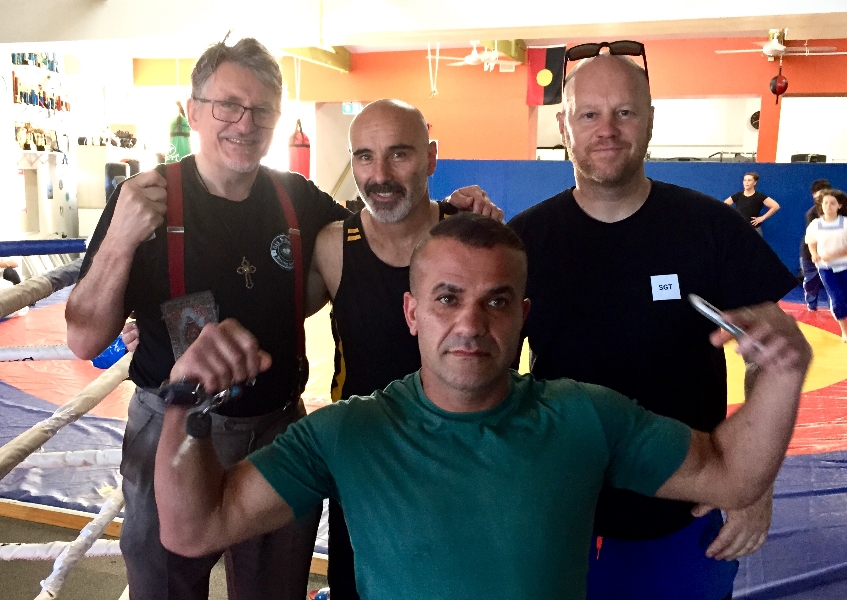 New beginnings
He said to them, "Why were you searching for me? Did you not know that I must be in my Father's house?" (Luke 2:49)
Hi Fighter,
It's been a big week.
Christmas was once my favourite time of the year – a time of joy and celebration. It was always hard work, but always lots of fun too. In recent years I have come to dread Christmas, and in the process, I have come to understand more clearly why suicides in this country always peak during Yuletide.
In our culture, Christmas is fundamentally a time of family, which makes it something you look forward to if you have a functional family. If you have no family, or if your family has disowned you, Christmas is inevitably the loneliest time of year.
The church marks the first Sunday after Christmas as the "Feast of the Holy Family", which sounds like a further slap in the face for those whose families look anything but holy. Even so, our Gospel text for the day suggests that Jesus' earthly family may not have been as functional as we might have first assumed!
Luke, chapter two, tells the story of the twelve-year-old Jesus, and how His parents – Mary and Joseph – lost him while on holiday in Jerusalem! When they eventually found Him in the temple, Jesus made no apology for wandering off but said, "I must be in my Father's house" – suggesting that there were already strains between the boy, Jesus, and His parental home.
"Christian children all must be
Mild, obedient, good as he." 
So closes the third verse of the old Christmas carol, "Once in Royal David's City", and yet, in the only reliable story we have of Jesus as a child, He seems to be none of these things! There were tensions in the family home of Jesus, and those tensions didn't go away as He got older.
The next time we meet the family in the Gospels, Jesus is an adult. His mother and brothers are trying to connect with Him, but Jesus disowns them, saying, "Who are My mother and My brothers?" Looking at those seated in a circle around Him, He said, "Here are My mother and My brothers!" (Mark 3:33-34)
We see some sort of resolution in the relationship between Jesus and His mother in the dialogue that takes place at the foot of the cross as Jesus is dying (John 19) but this really only further illustrates the pain and the passion that seemed to characterise what was an intense and difficult relationship.
The bottom line is that the fifth verse of "Once in Royal David's City" gives us a far more accurate (and seasonally appropriate) depiction of Jesus:
"And He feeleth for our sadness,
And He shareth in our gladness."
Sunday Eucharist
We celebrated a very special Eucharist last Sunday. I was seated ringside at our gym in Dulwich Hill, having shown up that morning to deliver to the church the community petition to save our boxing gym.  As it was, nobody was there to collect our petition. Nobody was there for church at all!
I don't know whether the church was trying to avoid us or whether they figured there wouldn't be enough people attending that Sunday to make it worthwhile (it being the day after Christmas). I hope it was the latter. Either way, I left the petition on the desk in the church office and then the eight of us who had come sat on the side of the boxing ring and prayed together.
In some ways our small gathering was a wonderful reflection of the gym's thirty-one years of ministry in that place. A half of us were boxers. Most of us were Christians of one sort or another, but we had two Muslim friends in our number too. In truth, we were an odd collection, but we came together beautifully in prayer, and in celebrating what the boxing gym has done for us and our community over the last generation.
I'm going to be at Binacrombi for New Years and I'm expecting many friends to be there too to celebrate. Even so, Joy will be with me and she is undergoing cancer treatment at the moment, so I may be doing a little more social-distancing than usual. I'm sure I can count on our friends to work with us to keep her COVID safe.
If you'd like to become a financial supporter and haven't yet, please visit my Patreon page and choose from the following:
Middleweight Division($10/month) where you get access to the member site, along with the videos and other resources.
Heavyweight Division($100/month) which includes individual coaching, along with software subscriptions to both Buzzious and Streamout, allowing you both to publish an unlimited number of quality blogs and to livestream.
Super-Heavyweight division($400/month) includes all of the above plus me working with you in person – in the gym and at Binacrombi Bush Camp
Of course, you may be wondering how I can offer to work with you in the gym when we have just been evicted from our gym. The good news is that my oldest friend, Kon Pappy, has offered to take us in at The Fight Lab, where we will be meeting from next week.
The fine details have not yet been worked through, but I am confident in the character and generosity of my friend, Kon, and I am deeply grateful for this opportunity to work with him again. We will try to keep the training times the same to begin with (Tuesdays, Thursdays and Sundays) as well as the fee structure (that hasn't changed in 31 years) -$10 for the rich, $5 for the poor & free for the destitute.
It's a new year, and a time to renew our hope for better days. Please pray for me and for Joy as we traverse some difficult days ahead.
May the Lord bless and strengthen you for the work to which you have been called.
Your brother in the Good Fight,


www.fatherdave.org
www.fighting-fathers.com
www.holytrinity.org.au
www.binacrombi.com.au
www.israelandpalestine.org
www.prayersforsyria.com
www.dulwichhillgym.com
www.boxersforpeace.com
www.warriorweekends.com
Preacher, Pugilist, Activist, Father of four