Hi Fighter,
It's Father Dave back with you again, and I must confess that I'm feeling a little tired and overwhelmed this week.
I'm anxious about the Boot Camp.
As you'll remember, our Boot Camp is scheduled for two weekends' time – March 22 to 24.  We are pouring a great deal of time and energy (and money) into this event and I am determined to make it the greatest bush adventure that our young people have ever experienced!
We still have spare cabin accommodation if you'd like to join us at Binacrombi. The details are all on this poster.  Get back to me ASAP if you want to join us.
I'm unsure about the trip to Syria
I only got off the phone from speaking to Mother Agnes about an hour ago. She's in Beirut at the moment but is about to head back into Syria.
It seems that our Mussalaha ('reconciliation') visit is back on and scheduled for next month. Our visit is apparently being merged with a larger peace conference, attracting hundreds of delegates from around the world!
I am unsure as to whether I should be going. My original intention was solely to support the work of Mother Agnes. It seems now that the project has taken on broader political dimensions that I don't fully understand. Please pray for wisdom for Denning and myself, and feel free to hit me back with your thoughts.
 I'm confused about Wikileaks
I've met again with John (Julian Assange's dad) and this time we met up with another old friend of mine, Jamal Doud – a Palestinian Muslim man who has more insight into the situation in the Middle East than any other human being I know.
I had been thinking that Jamal was going to be the Wikileaks candidate for our area and that I'd be supporting him. That suited me fine. I appreciate though that Jamal is a fighter who leads with his chin (as we say in the game) and so is not a natural politician. The problem is that I'm not a politician either (God forbid!). Of course, Julian Assange isn't a politician either and that's what makes the Wikileaks Party so attractive!
I'm not sure where this is all going but there's talk at this stage of me heading over to London to meet up with Julian and give him a few boxing lessons. I think that would be a great way to develop our relationship.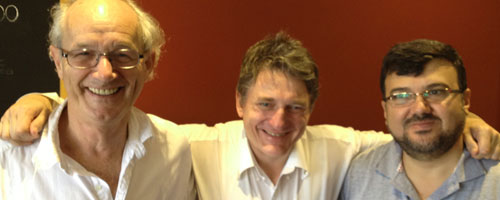 I'm excited about Friday's Fight Night
Four of our team will be fighting this Friday night at the Randwick Labor Club (135 Alison Road) and I am expecting big things from them.
Reza Sazesh – our strongest amateur – will be having his sixth fight and I'm expecting a strong win.
Fighting Father Caine Pennell – Pastor of the Church of the Nazarene in Enmore and senior youth worker at Trinitys Youth Centre – will be having his third fight. Again, I'm expecting a strong win.
Asher Caroll is only 16 years old but has been boxing with us for more than a year. He'll be making his debut.
Rampaging Kath Briggs (pictured below) will be having her third fight. Kath had her first fight with us when she was only 13. She's now in her 30's and is  a hot tip for the Australian Commonwealth Games team (nb. Kath is the larger of the two fighters pictured).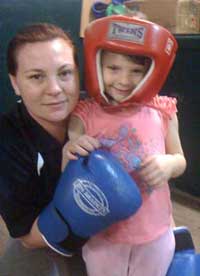 The action starts at 7pm if you can join us. Proceeds from the night go to Hope Street Baptist Church's 'Urban Compassion Project' – a worthy cause indeed!
Dueling Preachers!
It's a bizarre coincidence that Sunday's Gospel reading centered around a story Jesus told that began "a man had two sons" (Luke 15:11).
My dad actually had three sons, but two of them have preached at Holy Trinity Dulwich Hill in the last two weeks and I thought I'd put us side by side in a sort of 'preach off'.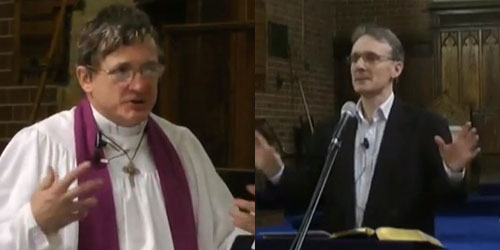 My brother Rob preached two weeks ago on Luke 13:1-8. I preached last Sunday on the three parables in Luke 15. You'll find both sermons below.
Rob's style is very different to mine. Rob is also an Anglican priest but he dresses differently, speaks differently and has a different slant on things altogether.  I'll be keen to get your feedback on the dueling preachers. Leave your comments below please.
For those who don't know, I must mention too that Rob is an amazing musician and has had more hits in the music world than I've had in the boxing ring! You can hear some sample of Rob's music on his website.

[imaioVideo v=1]
If you can't view the video above, click here.
Please be warned that there is one and a half minutes of video missing from my sermon below.  It's right at the beginning. Don't bother adjusting your controls. It won't help. 


[imaioVideo v=2]
If you can't view the video above, click here.
That's plenty from me for this week.
Let me conclude by encouraging you again to participate in our online members' forum.
There's been plenty more provocative discussion over the last week on the topic of religion vs. science. I've also put out a challenge to discuss one of my favourite philosophical papers on the subject of science and language. Unfortunately I don't seem to be capturing anybody's imagination yet. 
Be reminded that it is a members-only forum, and yes, membership will cost you $10/month BUT, as I've mentioned before:
This means that the forum has NO SPAM on it!
Your $10/month is what keeps this work going
May the Lord bless and strengthen you for the work to which you have been called
Your brother in the Good Fight,
Dave
www.fatherdave.org
www.fighting-fathers.com
www.israelandpalestine.org
www.how2changetheworld.com
Preacher, Pugilist, Activist, Father of four