On entering the house, they saw the child with Mary, his mother; and they knelt down and paid him homage. Then, opening their treasure chests, they offered him gifts of gold, frankincense, and myrrh. (Matthew 2:11)
Hi Fighter,
Do you recognise the story? Yes, it's the saga of the three wise men, visiting the infant Jesus. We celebrated that event last week in the feast of the Epiphany.
As a child growing up in a Christian household, this was always my favourite part of the Christmas narrative, probably because it involved presents. Of course, I used to wonder how Jesus felt about the gold, Frankenstein and myrrh (especially Frankenstein). I figured Jesus had probably been hoping for a puppy. Even so, it was a great story, and these three kings were always the most interesting figures in the little nativity set we used to have on display in our family home every Yuletide.
When I got older I discovered that most of what I'd assumed about Epiphany was wrong. For one thing, the three kings almost certainly weren't kings and there may not have been three of them. Moreover, these people were never in the nativity scene with the shepherds and the baby in the manger. They likely arrived at Jesus' home a couple of years later. Even so, while I was sorry to lose my childhood image of these characters, what I discovered about them in later life more than made up for any disappointment.
Jesus' exotic visitors, detailed in the Gospel of Matthew, chapter two, were 'magi' (from which we get the word 'magician'). They were court magicians, a bit like Merlin in the court of King Arthur. Ancient Near Eastern courts had multiple magi attending the king, giving sagely advice and consulting the stars on matters of importance. What strikes me about these unexpected guests in Jesus' home is that they aren't just foreigners from another country. They represent an entirely different religion, with practises that Jesus' people rejected entirely as pagan and superstitious.
"Those who divide the heavens, who gaze at the stars, who at the new moons predict what shall befall you. Behold, they are like stubble," says the Lord. The fire consumes them; they cannot deliver themselves from the power of the flame." (Isaiah 47:13‑14)
"Thus says the LORD: "Learn not the way of the nations, nor be dismayed at the signs of the heavens because the nations are dismayed at them, for the customs of these peoples are false." (Jeremiah: 10:2‑3)
The Biblical narrative as a whole has little respect for stargazing magicians. It doesn't see these people as fellow-travellers on the road to salvation. It sees them as pagan idolaters who don't have a clue! Even so, these astrologers find their way into the Nativity scene every Christmas, and moreover, they are there because they are invited, and they received their invitation by looking in the stars!
Epiphany for me is the feast of inclusiveness. If there's room for these magicians at Christmas, there should be room for everyone. Church people like me (especially those of us with clerical collars) tend to think of God and Jesus as being our property. We are the only ones with real access to Jesus. We are the gatekeepers who decide who gets into the holy huddle. Then we spin around and see that there are all sorts of people with Jesus – people from all countries and all ages and all faiths – even a group of astrologers. They are all there and they are all invited!
Happy Epiphany, fighter. May the spirit of inclusiveness that led the magi to Jesus via their star, lead you to open your heart to all of God's children in all their diversity.
My Big Announcement
I think it's time to make public that I've put my hand up to represent then the United Australia Party (UAP) in my area at the next Federal election.
This is likely to come as a shock to some people, especially as those who know me know that I am a strong believer in the separation of church and state. Religion and politics have often proven to be a very toxic mix, so what the …?
Firstly, let me say that I don't think the problem is with mixing religion and politics as such. The problem has always been when religious institutions assume political power. All power tends to corrupt and (as Lord Acton so aptly put it) "absolute power corrupts absolutely". When the church has wielded supreme executive power, the result has regularly been disastrous. That doesn't mean religious people shouldn't be involved in trying to influence where our community is going. It just means that we (like everybody else) need to be wary of the corrupting influence of power.
Secondly, I have to be honest and say that I don't expect to win my political battle. As the UAP representative for Grayndler, I'll be taking on my old mate, Anthony Albanese, who is the Federal leader of the opposition and who is expecting to be Australia's next Prime Minister. Of course, if the issue could be decided in the ring, I'd have an excellent chance, but the ballot-box is another matter.
This leads me to my third point ,which is that some fights are worth taking, whether or not you expect to win . My last fight with Bill Kinbacher, for instance, was certainly one of the best fights I've ever fought. I didn't win (even if I thought I did) but that doesn't mean the stoush wasn't worthwhile. Likewise, with this battle. My focus won't be on winning but on raising awareness and support for key UAP policies, such as:
No Mandatory Vaccinations
No Domestic Vaccine Passports
End lockdowns
As you know, I am passionate about these issues, and, you might say, it has nothing to do with politics. My distain for lockdowns is rooted in the damage I've seen them do to vulnerable people, and I abhor vaccine passports because of the way they divide our community, just as I abhor mandatory vaccination because I believe individuals have a sacred right to make decisions about their own bodies
When I say that my passion on these matters has nothing to do with politics, I guess I mean that it has nothing to do with party politics. I'm not promoting these policies because I'm a member of the UAP. On the contrary, I joined the UAP because the party stand for these things that I'm passionate about.
Anyway … I want to make it very clear that I do NOT expect all my friends who live in my area to vote for me. On the contrary, I'd be appalled if you voted for me just because you were my friend. If you feel the same way I do about these issues, I expect you'll vote for the UAP or a party with similar policies at the next Federal election (which I think will be in May). If you don't feel the same way I do on these issues, I love you anyway. 🙂
The New Member Site!
I am hoping that our new member site will become an arena of vibrant discussion on matters affecting our community such as those I've mentioned above. It will also hopefully become a place where we can respectfully debate on a variety of matters, including religion, politics and sport!
I don't think anyone took up my invitation last week to sign in to the new member site which is in BETA testing stage at the moment. Go to  www.fightingfathers.com and use your Patreon username and password to sign in. If you don't have a Patreon username and password, you can either go to Patreon.com and get one, or you can send me an email request and I'll sort our a username and password for you.
As I said last week, the goal of our member site will be to give you a forum where you can post your ideas and your videos without fear of being censored for not supporting the official narrative. I might not agree with your views, but I am fully committed to giving you a space where you can express them.
Our Sunday Eucharist
Last Sunday was a solo broadcast. While I appreciate that some of our regulars prefer it that way, I'm still committed to building a Sunday team. Give me a few weeks to get properly organised, and please let me know if you'd like to be involved.
I'll be broadcasting from Sydney again this Sunday. Tune in at midday to join us via:
And don't forget that if you're joining us through the Facebook Page,  make sure that you subscribe by clicking the bell icon during the live stream.
Support the work
If you're not a financial supporter yet and you can afford to be, you'll find the usual three options on the Patreon page:
Middleweight Division ($10/month) where you get access to the member site, along with the videos and other resources.
Heavyweight Division ($100/month) which includes individual coaching, along with software subscriptions to both Buzzious and Streamout, allowing you both to publish an unlimited number of quality blogs and to livestream.
Super-Heavyweight division ($400/month) includes all of the above plus me working with you in person – at The Fight Lab and at Binacrombi Bush Camp
Rally for the Children
I'm especially glad to be in Sydney this weekend, having been invited to open in prayer at Sydney's #Reclaim the Line rally this Saturday.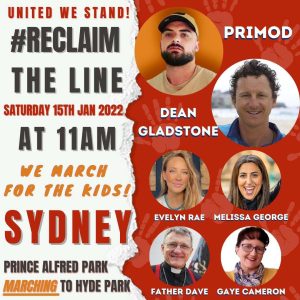 The focus of the rally is on opposition to mandatory vaccination for children. This is something that I think we should all oppose, as the risk of damage from COVID-19 to children is minimal, whereas the risk of a negative vaccine reaction seems to be greater. Details are on the poster (pasted below). I'll hope to see you there.
That's it for today. Please keep praying for Joy who was hit hard by her cancer treatment this week. These are tough times.
Your brother in the Good Fight,


www.fatherdave.org
www.fighting-fathers.com
www.holytrinity.org.au
www.binacrombi.com.au
www.israelandpalestine.org
www.prayersforsyria.com
www.dulwichhillgym.com
www.boxersforpeace.com
www.warriorweekends.com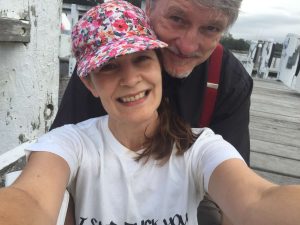 Preacher, Pugilist, Activist, Father of four