"Very truly, I tell you, when you were young, you used to fasten your own belt and to go wherever you wished. But when you grow old, you will stretch out your hands, and someone else will fasten a belt around you and take you where you do not wish to go." (He said this to indicate the kind of death by which he would glorify God.) After this he said to him, "Follow me." (John 21:18-19)
Hi Fighter,
We begin this week with the rather chilling final words of Jesus to his friend and disciple, Peter. Jesus' last words to Peter are much the same as His first words to him – "Follow me!" Even so, a lot has happened in between these two invitations, and the Peter who agrees to follow Jesus a second time has a much clearer understanding of what he's getting himself into.
The glimpse Jesus gives Peter of his future, should he follow, is actually quite brutal: "when you were young, you used to fasten your own belt and to go wherever you wished. But when you grow old, you will stretch out your hands, and someone else will fasten a belt around you and take you where you do not wish to go."
I'm happy to say that I've never seen someone put to death. Jesus gives us a chilling image. The condemned man has his hands tied together and is being dragged towards the place of execution. I find it sickening. The Gospel writer describes it as 'glorious' (John 21:19)! It's hard to know how Peter himself reacted, except that we know he didn't shirk his responsibility this time.
He knew the cost. He took the job. He paid the price.
The great Catholic writer and priest, Henri Nouwen, saw this prophecy about Peter as being archetypal for spiritual growth. When we are young, we go our own way and do as we please. As we mature, we allow God to lead us into those places where we do not want to go. This resonates powerfully with me, even though I know it runs contrary to most religious wisdom.
Religion is supposed to make life better, isn't it? Don't most evangelists sell religion to us as a cure-all for the ills of this life? Jesus will heal us of our diseases, give us peace of mind, help us straighten out our families, and maybe even give us a bigger bank balance! Those who sell religion to us like this always leave out the bit about being dragged off to a painful death.
Of course, these words are spoken to Peter and not to everybody. We don't all need to be martyred exactly as he was. Even so, Nouwen's take – that growing in Jesus means being led to places we do not want to visit – squares entirely with my experience. I did not ask to be where I am right now. I was a lot more comfortable when I had a regular wage, a stable family life, and a recognised position in the community. I've been dragged away from all of that stability and led to a place where I did not want to go. Even so, I see now that it is the place where I need to be.
Prevailing wisdom says that we've 'made it' in life when we arrive at the place where we always wanted to be. 'Making it' as a disciple seems to take us the opposite way. We end up where God wants us to be, even if we never wanted to go there!
Our Sunday Eucharist
Last Sunday was a very special day. I had the privilege of being joined once again by two of my favourite activists and political commentators, Joel Jammal, and Mack Marchegiani. Tune into our opening discussion if you want to hear about upcoming marches and other actions leading up to the Australian Federal election.
This Sunday we'll have another two wonderful men – David Baldwin and Tom Toby – which means that we'll get an interfaith perspective on the Scriptures this week. Tom is a Shia Muslim.
I'll mention now too that the following week is also being planned as an interfaith event. I'm hoping to have John Safran and Father Bob with me for that week. I believe John will be the first practicing Jew to join us for our Sunday Eucharist!😊
We go live on Sunday at around 11.45 am for our preamble. We start our liturgy at midday. Tune in via:
Thank you for your support
Every dollar I receive from the Fighting Fathers community is deeply appreciated. Please sign up via my via Patreon page if you're able to support my family and my work. I do my best to give something in return.
Middleweight Division ($10/month) where you get access to the member site, along with the videos and other resources.
Heavyweight Division ($100/month) which includes individual coaching, along with software subscriptions to both Buzzious and Streamout, allowing you both to publish an unlimited number of quality blogs and to livestream.
Super-Heavyweight division ($400/month) includes all of the above plus me training with you one-on-one – at The Fight Lab and at Binacrombi Bush Camp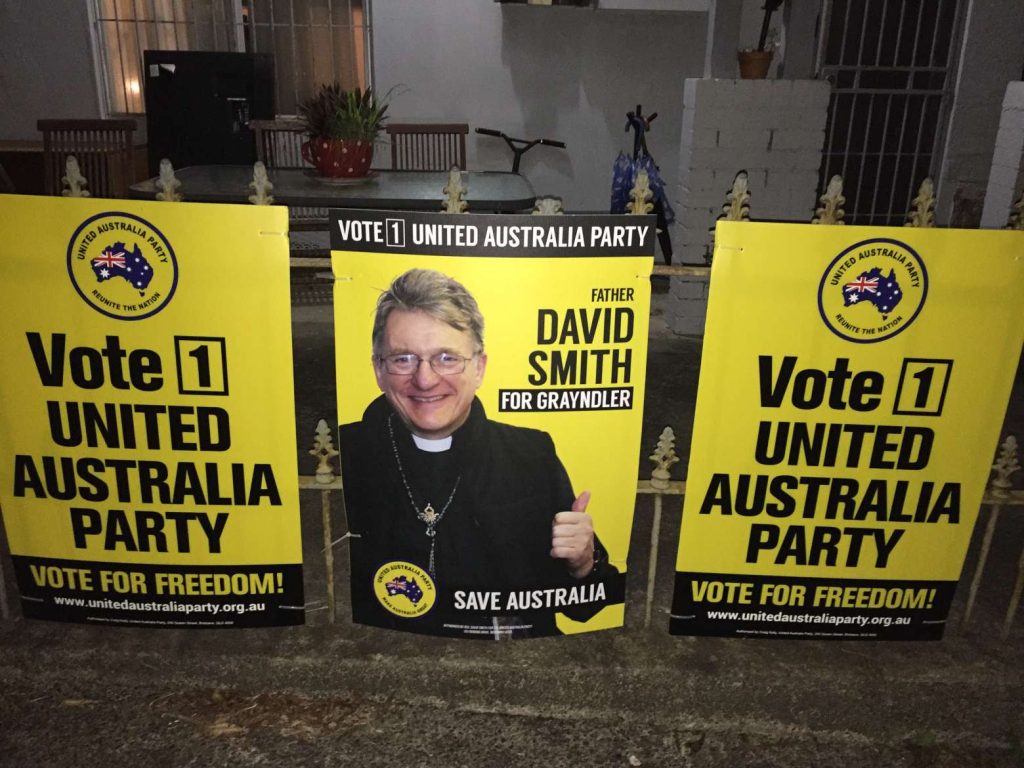 Please keep both Joy and myself in your prayers over the coming days and weeks. Joy is in her final weeks of chemotherapy. I'm in the final weeks before the election.
I pray that we'll both have good reasons to celebrate come the end of this month.
May the Lord bless and strengthen you for he first to which you have been called.
Your brother in the Good Fight,

www.fatherdave.org
www.fighting-fathers.com
www.holytrinity.org.au
www.binacrombi.com.au
www.israelandpalestine.org
www.prayersforsyria.com
www.dulwichhillgym.com
www.boxersforpeace.com
www.warriorweekends.com
Preacher, Pugilist, Activist, Father of four