Hi Fighter,
It's been a while since I've been in contact and I'm sorry about that. Life just seems to get overwhelming at times, and with the new school year, the re-opening of our Youth Centre, and the revving up of activities here in the church I have been finding myself under an avalanche of responsibilities over the last few weeks.
I'm back in serious training mode too. I've re-established a disciplined running program and I'm working a lot harder at my boxing training. I'm happy to say that I've lost just under 5 kilos since Christmas too, though this means that I've still got 5 to go before I hit my ideal fighting weight. Even so, I'm on track and in good shape. I'll be ready for a fight when one comes on offer.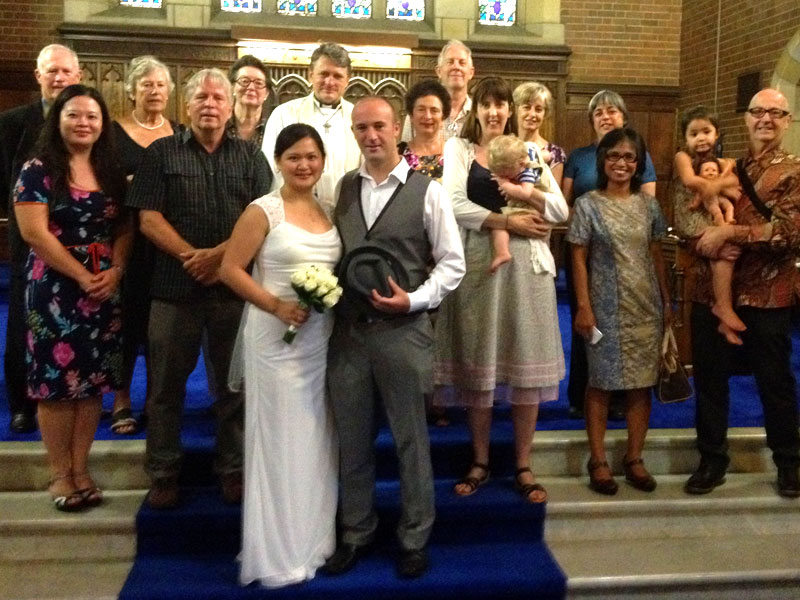 Felicia and Michael have a Dulwich Hill wedding!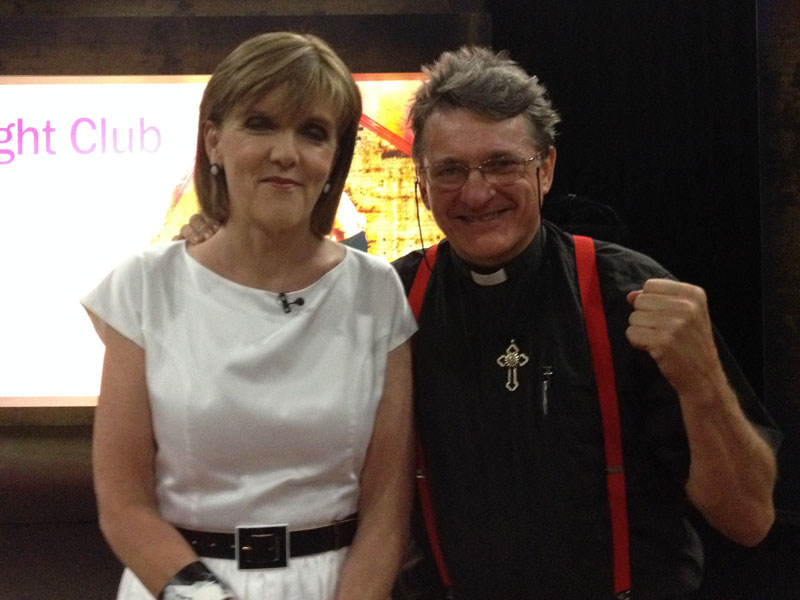 with Jennie Brockie on SBS 'Insight'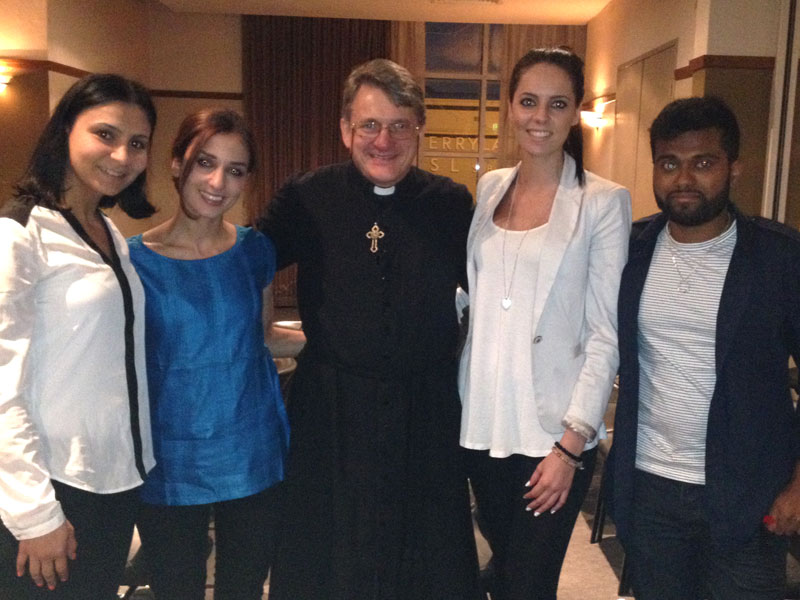 with the 'Hands Off Syria' chicks (+1)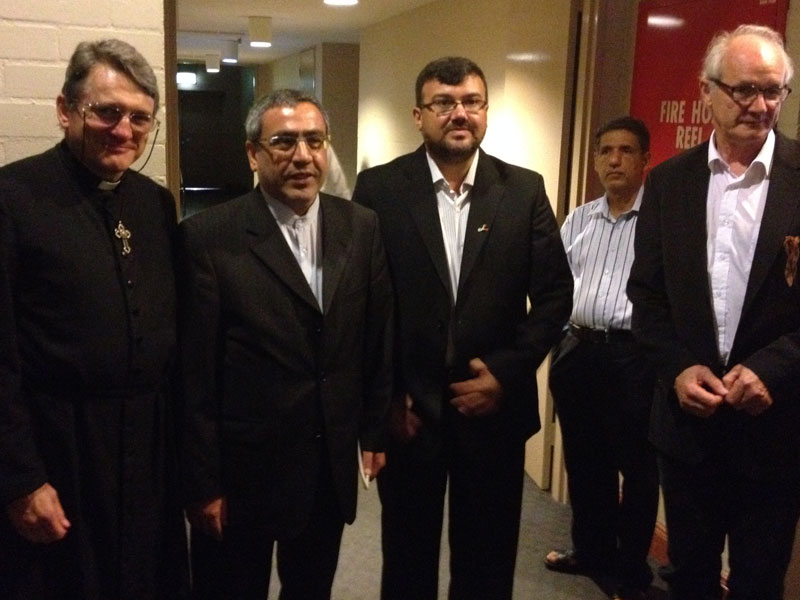 with the Iranian Ambassador on the 35th anniversary of the Revolution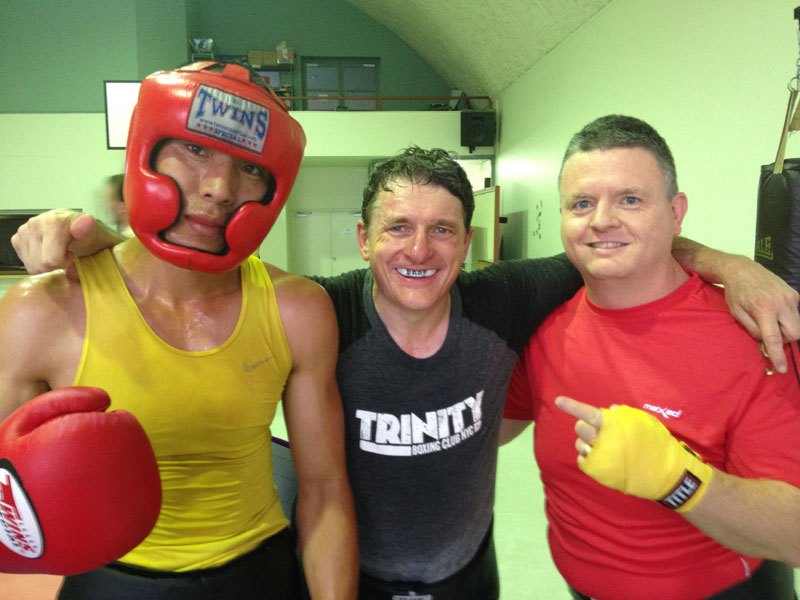 some great sparring with Chinese middleweight sensation, Rock!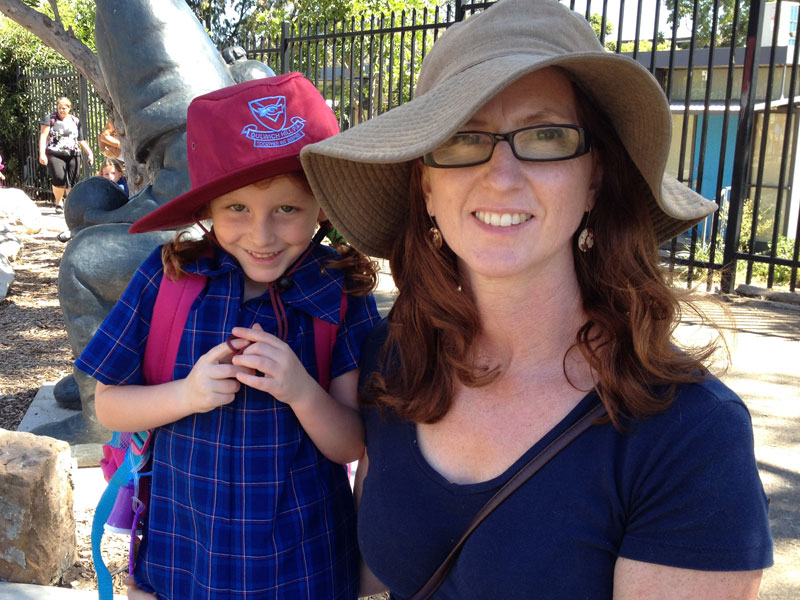 Francesca has her first day at Big School!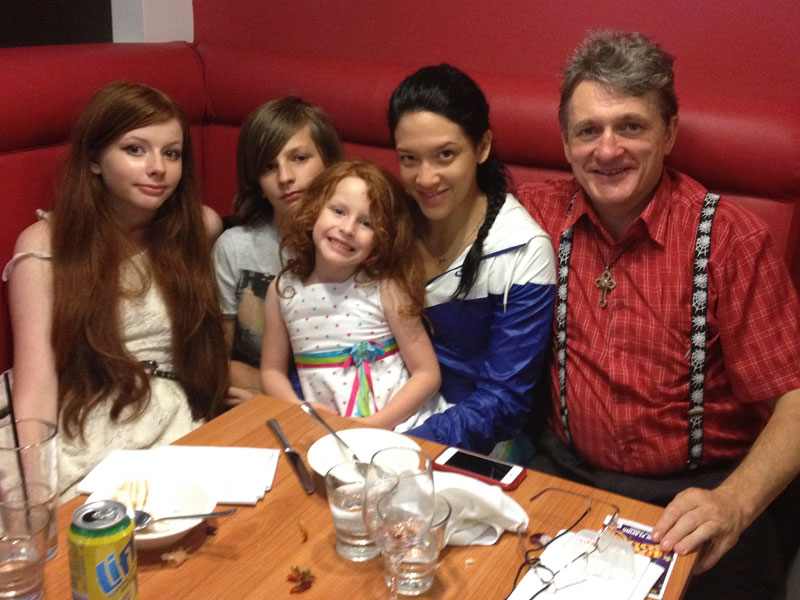 I turn 52 and enjoy dinner with my children! 🙂
Moreover, the preparations for the
2014 Pilgrimage of Peace to Syria
are in full swing now as we'll be leaving in a little over a month! It seems that I'll be taking a crew of eight sturdy lads and lasses with me (seven lads and one lass to be precise) and that we'll be reaching Damascus via Tehran, participating in a peace conference there, and then possibly heading on to London and Dublin for a few days after our time in Syria!
I can't give you the details at this stage – partly for security reasons and partly because the details are still being worked out – but I can tell you that I'll be going into fundraising mode over the next month in preparation for the mission.
Our plan is to purchase medical equipment in Tehran and use a chartered flight to get these medicines and equipment directly into Damascus. Apparently it works out a lot easier and cheaper to get the staff in Iran rather than in Oz and then try to get it from Australia to Iran first.
There are massive shortages of medicines and medical equipment in Damascus, of course, and not just emergency first-aid-type medicines either but regular medicines for sorts of diseases we are all familiar with. Apparently there's a terrible shortage of drugs for cancer treatment and heart disease, and of course there's a dire need for polio vaccine! Anyway, I'll be leaving the specifics to the experts but I do hope that we'll be able to take with us more than a token amount of aid.
I'd love to talk to you more about our hopes for this Syria mission but I won't take up space here. Instead please accept my invitation to join us for our special 2014 Pilgrimage of Peace to Syria Campaign Launch THIS COMING SUNDAY!
Yes, I know it's short notice and I'm sorry about that. Even so, if you're in the vicinity of Dulwich Hill this weekend we would love to have you!  We'll be meeting in the church building of Holy Trinity Dulwich Hill and starting with a halal afternoon tea at 3.30pm (yes, I'm hoping that plenty of Muslim friends will join us too). Your official invitation is here.
You'll notice from the invitation that the event includes a private screening of the short (20-minute) documentary movie that Fighting Father Denning made of our last trip to Syria. The film has not been publicly screened anywhere at this stage, chiefly because it's been submitted to various film festivals that insist that you don't have any public screenings before they assess your work. This will in fact be the first private screening of the movie and so it is by invitation only and numbers are limited. Even so, you are invited and you can bring your invitation as proof!
I should add that the film has already received an 'Award of Excellence' in the Canada International Film Festival (see here and look for 'Wasted').  Well done, Denning!
Sermon Time
I want to share with you my sermon of last week on Jesus' Sermon on the Mount. The section I'm focusing on includes one of the most inspiring exhortations Jesus ever gave alongside one of the most disturbing statements He ever made!
The inspiring bit is the exhortation to "love your enemies" (Matthew 5:44). The disturbing bit is the statement that "he who lusts after a woman has already committed adultery with her in his heart" (Matthew 5:28). They both occur in the same section of the Sermon on the Mount – side by side!
It occurred to me in my preparations for this sermon that the two are actually deeply related and inextricably linked! How on earth could that be true, you ask? You'll have to click and listen. 



[imaioVideo v=1]
if you can't view this video click here.
Before I let you go today, fighter, I must tell you that I've turned another year older since we last spoke. You might have noticed from the pics above that I had a lovely dinner with all of my children to celebrate turning 52 last week. It was lovely! 
If you forgot my birthday that's OK. I'm hopeless at remembering birthdays too and I'm lucky to have people to remind me of my own. Even so, you are welcome to buy me a drink if you like or, if you really want to make my day, consider joining our Fighting Fathers Online Community and supporting our work. It's only $10/month but makes all the difference at this end.
I'll try to be in touch again soon.
Until then, I remain …
Your brother in the Good Fight,
Dave
www.fatherdave.org
www.fighting-fathers.com
www.holytrinity.org.au
www.binacrombi.com.au
www.israelandpalestine.org
www.prayersforsyria.com
www.zerocostwebsite.net
www.dulwichhillgym.com
www.warriorweekends.com
www.how2changetheworld.com
P.S. If you missed my appearance on ABC's "Insight" program last Monday night, you can see a replay of the episode here.
Preacher, Pugilist, Activist, Father of four