"Every valley shall be filled, and every mountain and hill shall be made low, and the crooked shall be made straight, and the rough ways made smooth; and all flesh shall see the salvation of God.". (Luke 3:5-6)
Hi Fighter,
I always know that Christmas is coming when my favourite Yuletide figure – John the Baptist – strides on to the Ecclesiastical stage, courtesy of the lectionary. John will be going full throttle in the Gospel reading this coming Sunday, but he made a quiet entry during our last Eucharist, 'preparing the way of the Lord', and prophesying that 'every mountain would be made low and every crooked path made straight'.
When I first read those words, I envisaged John building some sort of landing strip in the desert upon which God would make a spectacular arrival like some celestial space shuttle. Since then, I've come to understand the historical context a little better, and I now recognise now that I had the imagery upside-down. The highway that John envisages is not built for God but for God's people. It's a road back from exile for the people of Israel. It's the way back home for all those whose lives and livelihoods were taken from them by foreign armies.
For those who don't the history, the bulk of the kingdom of Israel was conquered by the Assyrians in 721 B.C., and the remaining southern kingdom of Judah was destroyed by the Babylonians in 587 B.C. Six centuries later, the Israelites were still living under a military occupation, this time courtesy of the Roman Empire. Even so, the imagery of the great march to freedom was just as pertinent to first century Jews as it was to their forebears. The day would come, they believed, when their community would be restored and, instead of experiencing cruelty and oppression, they would once more live as free people under a just and compassionate ruler.
As I see my country continue its descent into totalitarianism, these Biblical images of justice and freedom resonate with me ever more deeply. If you have any doubts as to where this country is heading, listen to the story of Hayley Hodgson who has just been released from detention at Howard Springs Covid Camp outside Darwin – a new centre in the Northern Territory designed to house up to 2,000 regional Covid cases. Hayley was detained for 14 days without trial, as she hadn't committed any crime (beyond annoying a few police officers) and she didn't have COVID. You can hear her tell her story here.
I've said before that perhaps it will take someone setting themselves on fire before people really take notice. That's how the 'Arab Spring' was supposedly started – with a man in Tunisia setting himself on fire because he just couldn't take it any longer. Well … now it's happened here too. A Melbourne woman has apparently doused herself in petrol and set herself on fire. She had a sign in her car that read, "NO ONE CARES, MANDATES ARE KILLING US". May God have mercy on her.
Apparently, Victorian Premier, Dan Andrews, had been warned that 10% of all suicides in his state were now reactions to lockdowns. Does he care? Even if he acknowledges this, will it make any difference? Personally, I have very little faith in the Prime Minister or any of the Premiers of our states. Even so, I still have faith in God, who has a history of bringing down the mighty from their thrones and lifting up the lowly (Luke 1:52).
Mountains will be lowered, valleys lifted up, and crooked paths made straight. Sooner or later, I do believe that all flesh will see our salvation (and I'm praying for sooner rather than later).
The Fight for the Fight Club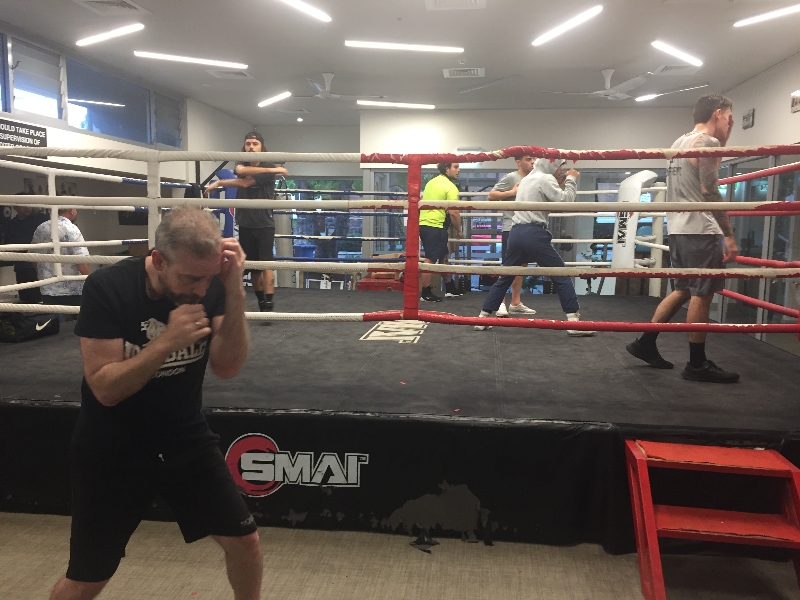 Two weeks ago I shared with you the painful dilemma facing our boxing club. The church is evicting us after more than more than 31 years of consistent service to the community. Indeed, we've been told to have all our property removed by December 28th – a nasty Christmas present indeed!
When I last shared this with you, I had resigned myself to throwing in the towel. Since that time though there has been a strong outcry from the community, and I'm recognising that, while we are definitely on the ropes, we are not yet on the canvas!
I spent some hours yesterday with a team from A Current Affair (ACA) – Australia's most popular TV current affairs program. You may remember that they covered my personal eviction from the church last year, for which I was personally very grateful (and which you can see here). They are now equally keen to cover our boxing club's crisis. Perhaps there is still hope?
I don't think there's much chance that the church will have any change of heart and suddenly decide to support our work. They have refused to give us any extension of time or even to meet with us. Even so, no church can ignore the wishes of their community entirely, and if our club garners enough support, who knows?
I am personally not going to write any petition or lead any protest, but if others in the community decide to take such initiatives (which is what seems to be happening), I'm not going to go out of my way to stop them either. I'll let you know what develops.
Sunday's Eucharist
We had a spectacular, if somewhat lengthy, session last Sunday, thanks to my two guests – Mack and Stoive – both of whom had plenty of wisdom to share. Both men are seasoned spiritual warriors who are currently playing prominent roles in the 'Pushback' movement. It was a pleasure to have them with me.
Mack read to us from the little-known book of Malachi (3:1-4) – a prophecy that was given to the people of Israel after their return from exile, late in the 5th century B.C. We can assume that the lectionary has given us this reading because Malachi's mention of 'the messenger who prepares the way' (3:1) seems to anticipate John the Baptist, and yet we cannot doubt that when Malachi gave this prophecy, he was speaking of one of God's messengers from his own time, perhaps of himself.
Stoive gave us the second reading from Paul's letter to the Philippians (1:3-11). This was a letter Paul wrote from prison. Indeed, he may have been chained to a Roman soldier as he wrote. Even so, the word 'joy' turns up in this letter more times than in any of Paul's other writings. The Apostle seemed to have a great way of seeing the light shining in the darkness.
As mentioned, our Gospel reading (Luke 3:1-6) introduced us once again to John the Baptiser, and it did it in a way that demonstrates Luke's (the Gospel writer's) sense of humour.
"In the fifteenth year of the reign of Emperor Tiberius, when Pontius Pilate was governor of Judea, and Herod was ruler of Galilee, and his brother Philip ruler of the region of Ituraea and Trachonitis, and Lysanias ruler of Abilene, during the high priesthood of Annas and Caiaphas, the word of God came to John son of Zechariah in the wilderness." (Luke 3:1-2).
This long list of names means little to us now but, at the time, these emperors and priests were powerful figures who had the attention of the whole world and whose names appeared in the daily headlines. Amongst these towering figures, whom does God chose to call into action? Some unknown guy named John who was living as a hermit in the desert.
God has a history of appointing the most unlikely people to the most significant jobs. Look around today and you'll see the same pattern. We don't need to wait for our Presidents and Prime Ministers and Archbishops to get on board with the Divine agenda. God is raising up new recruits all the time from places we would never have anticipated!
We'll be broadcasting live again this Sunday. Tune in to join us at midday via either:
If you are joining us through the Father Dave Facebook Page, please make sure that you subscribe to my videos and don't simply follow the page. In order to subscribe (and receive notifications) you need to click the bell icon during the live stream.
More Battles ahead
A few more things before I let you go: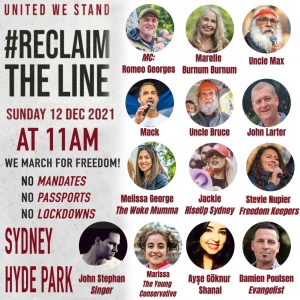 Firstly, there's another 'Reclaim the Line' rally taking place in Hyde Park this Sunday, December 12th. This one is being organised by Mack (who did the first reading for us). I'll also be saying a few words and giving a closing prayer, so if you can join us, you'll be amongst friends. Click the poster if you're having trouble reading it. 😊
Secondly, it seems that I lost my appeal to have my $1,000 fine overturned, dating back to September 12th when I tried to lead some prayers in Bankstown. I received an email today, saying that, at the time, I had 'no reasonable excuse to be away from my place of residence'. Given that my place of residence was not in an 'area of concern', I didn't think that was relevant, but what do I know? If any of you guys can give me advice, I'd be grateful.
Finally, if you're not a financial supporter yet and you can afford to be, you'll find the usual three options on the Patreon page:
Middleweight Division ($10/month) where you get access to the member site, along with the videos and other resources.
Heavyweight Division ($100/month) which includes individual coaching, along with software subscriptions to both Buzzious and Streamout, allowing you both to publish an unlimited number of quality blogs and to livestream.
Super-Heavyweight division ($400/month) includes all of the above plus me working with you in person – in the gym and at Binacrombi Bush Camp
If you're in one of these heavier divisions, joining me at Binacrombi over the coming weekends won't cost you anything. If you're not, we'll accept a donation anyway.
I'll hope to see you on Sunday at midday for our weekly Eucharist.  Until then, may God bless you and strengthen you for the work to which you have been called.
Your brother in the Good Fight,


www.fatherdave.org
www.fighting-fathers.com
www.holytrinity.org.au
www.binacrombi.com.au
www.israelandpalestine.org
www.prayersforsyria.com
www.dulwichhillgym.com
www.boxersforpeace.com
www.warriorweekends.com
Preacher, Pugilist, Activist, Father of four