"Fight the good fight of the faith" (1 Timothy 6:12)
Dave's diary – September 22nd, 2022.
I was expecting a quieter day in what has been a tumultuous week. I attended the funeral of a friend yesterday. I have the funeral of another friend tomorrow, and I'm presiding at tomorrow's event. Perhaps I'm just at that age? No longer are my friends getting married or having children. They are retiring or dying. Perhaps, but both these friends were only in their forties. That seems so young.
The only thing I had scheduled today was an interview with visiting Iranian academic, Dr Yahya Jahangiri. He wanted to talk to me about the Australian church's perspective on Imam Husain and Prophet Muhammad. I figured it would be a short interview, giving me plenty of time for a relaxing lunch with Joy, who had just returned from a brief holiday with her children.
Then I received a call from the guy who had agreed to be onsite at Binacrombi for the day – both to clean the cabins and to welcome guests as they arrived for the weekend. He said the dirt road in was in terrible condition and that he had abandoned the trip. I tried to persuade him to try an alternate route but he was already heading home and was not going to change his mind. Not only would guests be arriving soon but I had a gas delivery scheduled. What do I do now?
I initiated a series of phone calls and text messages, trying to see if there was someone else who could take over at the last minute. Meanwhile, Dr Jahangiri and his team had arrived. I hoped that the problem would somehow resolve itself during the interview. It didn't. I concluded my time with the good doctor and jumped into the car, ready for a five-hour drive into the bush.
Graciously, my friend Scott joined me. My plan was to drop Scott at Binacrombi, make sure the gas, water and electrical systems were all working, and then turn around and head back to Sydney, leaving Scott in charge and leaving me to prepare for Friday's funeral (after which I would head back to Binacrombi again).
We pulled into Binacrombi at about 6.30 pm. It was already dark. We got the generator going, turned on the lights, and found two young women who had been sitting in their cabin in the dark! The women were less concerned about the power though than they were about one of their men who was apparently lost! His bike had apparently broken down some distance away, though no one was sure exactly where. What they were sure about was that he had no phone and no torch!
We set out on foot, shouting his name into the dark while trying to work out where the breakdown had occurred. We eventually accepted that we needed both a vehicle and a map, and so headed back. To cut a long story short, we found the missing young man (see pic), after which I packed my vehicle with rubbish and fuel canteens and headed off again. I was exhausted but had to contend with a deer and with multiple kangaroos on the road out, and then I hit a wombat!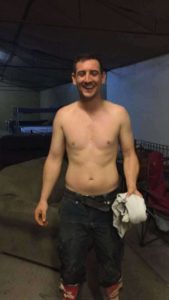 I know that wombats can destroy the undercarriage of your car, and I hit this guy hard. I kept control of the car but immediately heard a scraping and grinding noise coming from the right rear wheel. I was on a dirt road in the middle of nowhere, with no phone reception. It was raining and dark. I pulled over and found (thanks be to God) that it was only my skirting board that had been knocked loose from its moorings and was scraping along the ground. I managed a temporary fix that stopped the scraping until I got home at around 2 am.
"Fight the good fight of the faith", says Saint Paul (in 1 Timothy 6:12), but I get so tired of fighting. The sympathetic nervous system is programmed with an option for flight as well as fight. Wouldn't it be okay if, one of these days, instead of trying to confront the chaos and overcome it, I just ran away?
I'm a fighter, and it's not the size or power of my opponents that bothers me. It's the fact that the fight never seems to end. We barely even get to sit down between rounds! Some rounds you win and some you lose. Either way, you end up bleeding
Discipline! It's not sexy, it's not fun, and it's not even particularly spiritual. Even so, as my friend and martial-arts mentor, Kon Pappy, always reminds me, it's the virtue upon which all the other virtues are based. How do we get it? Every boxer and martial artists know the answer to that one. We keep fighting. Discipline grows through the experience of battle, so … we fight on.
Moving forward
You'll forgive me for being brief with this week's newsletter, but I've had very little sleep and am about to head off to take my friend's funeral, followed by the long drive back to Binacrombi. Hopefully, the band-aids holding my car together will hold.😉
You'll find the Bible Banter from last Sunday's Eucharist below, along with my opening prayer at last weekend's Freedom Rally. I've also added at bottom a pic of my son with his new bike. I couldn't resist framing it alongside a pic of myself at his age.
If you can join us this Sunday, our Eucharist will begin shortly before midday, and you can connect through any of the usual channels:
Boxing should also be happening @The Fight Lab on both Tuesday and Thursday nights, starting at 6.30 pm
If you are able to support me and our work, please do so through my Patreon page. All contributions are deeply appreciated.
Your brother in the Good Fight,

www.fatherdave.org
www.fighting-fathers.com
www.holytrinity.org.au
www.binacrombi.com.au
www.israelandpalestine.org
www.prayersforsyria.com
www.dulwichhillgym.com
www.boxersforpeace.com
www.warriorweekends.com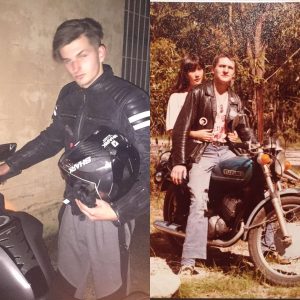 Preacher, Pugilist, Activist, Father of four