"So Naaman came with his horses and chariots, and halted at the entrance of Elisha's house. Elisha sent a messenger to him, saying, "Go, wash in the Jordan seven times, and your flesh shall be restored and you shall be clean." But Naaman became angry and went away, saying, "I thought that for me he would surely come out, and stand and call on the name of the LORD his God, and would wave his hand over the spot, and cure the leprosy!" (2 Kings 5:9-11)
Hi Fighter,
I trust that I'm not losing too many of you by starting off these weekly newsletters with stories about the prophets of old. They are ripping yarns, but they are more than that too. As Robert Bly said, animals pass down their wisdom through instinct. Human beings pass down their wisdom through stories.
Last week we read that when the mantle was passed from Elijah to Elisha, the apprentice was to receive a 'double share' of the spirit of his master (2 Kings 2:9). In the stories that follow, we don't see Elisha having twice the impact his master had. Even so, the story of the healing of Naaman the Syrian has to be one of the most memorable of all the stories of the prophets, and it exemplifies not only the power of Elisha, but also the conflicting cultures of the main characters.
The two key figures in the story are Elisha, the prophet of God, and Naaman, the commander of the armies of Aram. Naaman is a great man by worldly standards. He has wealth to spare, servants to wait on him, and he commands an army. Even so, he has leprosy – a skin disease for which there was no known cure – and he is helpless in its grip. Elisha, the prophet of God, doesn't have wealth or power (in any worldly sense) and, as the story makes clear, he doesn't want any. He doesn't work for money and he can't be bought, but he is the solution to Naaman's problem.
The story climaxes in the verses quoted above where the powerful military commander arrives at the gate of the prophet with great pomp and ceremony, only to be greeted by some lowly assistant who passes on a message from the prophet – "go and wash in the Jordan seven times and you'll be fine".
Predictably, Naaman feels humiliated by Elisha's treatment. He expected the famous prophet to come and perform some elaborate ritual over him, reflecting Naaman's importance and the solemnity of the occasion. At the very least, he expected to be treated with respect. Elisha, it seemed, couldn't even be bothered to meet him!
It takes the little people of Naaman's own entourage to talk sense to their master, pointing out that if the prophet had required some mighty deed of him, he would have done it without hesitating. How much more so then, when the prophet asks him to do something simple (even if somewhat demeaning).
I love this story. It's a story of a clash of cultures that is as relevant today as it was thousands of years ago. Who has the real power in this story? It's not the man with the money and servants and the army behind him. It's the crusty old prophet who has nothing behind him apart from his integrity!
If you read the full account of the story in 2 Kings 5, you'll meet the supporting cast as well – men like Joram, King of Israel, and Gehazi, the servant of Elisha. Both of these men feel the pull between the two cultures – struggling with their desires for power and wealth (respectively). They are both men of faith, and yet they both fail.
It is not easy to take on the culture of the Kingdom of God. It is not easy for those of us with money and power to come to terms with our own mortality. It is not easy to say 'no' to the distractions of wealth when it is on offer. Elisha models complete distain for all the trappings of worldly success. Perhaps that's what it meant for him to have a double share of his mater's spirit?
Our Sunday Eucharist
Last Sunday was a special time. We are a small but faithful group who meet each Sunday at midday, and it's been encouraging to see the numbers slowly grow – both of those who attend the Eucharist itself and of those who meet for the catch-up via Skype afterwards.
We had the privilege of having Rev. Joy Steele-Perkins join us for the Gospel reading last Sunday, and she made an invaluable contribution to the discussion which you can replay below.
I'll be back at Binacrombi this week, and I'm hoping to have a good crew with me. Do join us this Sunday at midday please, via either:
Fighting Fathers' activities this week:
July 1 to 3 – a weekend of prayer and training at Binacrombi
(and also the 159th anniversary of the Battle of Gettysburg)
Sunday, July 3rd, our Bush Eucharist at midday (see above)
Tuesday, July 5th – Boxing from 6.30 pm @The Fight Lab
Thursday, July 7th – Boxing from 6.30 pm @The Fight Lab
This Sunday is also Julian Assange's 51st birthday, and there are various events taking place around the country and around the world, sending out the message that it's time to Bring Him Home. You can find details about the rally in Canberra here.
Thanks for your support
Once again I want to thank all my Patreon subscribers without whom my work would not be able to continue. If you haven't signed up yet but would like to contribute, please choose one of the following options at the Patreon site.
Middleweight Division ($10/month) where you get access to the member site, along with the videos and other resources.
Heavyweight Division ($100/month) which includes individual coaching, along with software subscriptions to both Buzzious and Streamout, allowing you both to publish an unlimited number of quality blogs and to livestream.
Super-Heavyweight division ($400/month) includes all of the above plus me training with you one-on-one – at The Fight Lab and at Binacrombi Bush Camp
Two things before closing today:
Firstly, I have a special request to anyone living in or near Wollongong. My friend, Fighting Father Olaf, has recently arrived in the country from Sweden, along with his wife, Jesse, and their young son, Eli. Some may remember that I had the privilege of marrying these two on Lord Howe Island a couple of years ago, before the arrival of Eli, and before Olaf was ordained by the Church of Sweden.
The young family are going to be staying in Oz for at least six months and they are looking for accommodation in the Wollongong area. If you have any ideas, please let me know and I'll connect you to Olaf.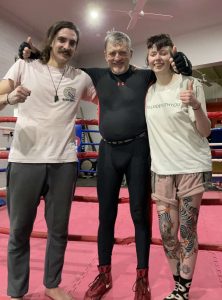 Secondly, and finally, I must share with you the very special 'meet the son-in-law' experience I had last week.
It was lovely to have my darling daughter, Imogen, up from Melbourne with us last week, and this time she brought her partner, Hamish, with her. This was the first time I'd met Hamish, who is a lovely. Moreover, I had an experience that is relatively rare in such encounters. I was able to meet him in the boxing ring.
Imogen recorded some of our sparring and I've included a snippet below. Hamish isn't a trained boxer but he was a national Judo champion in New Zealand and his skills as a pugilist were obvious. This made it especially gratifying when I landed a short left hook to his tummy that stopped the bout. 😉
May the Lord bless and strengthen you for the work to which you have been called
Your brother in the Good Fight,

www.fatherdave.org
www.fighting-fathers.com
www.holytrinity.org.au
www.binacrombi.com.au
www.israelandpalestine.org
www.prayersforsyria.com
www.dulwichhillgym.com
www.boxersforpeace.com
www.warriorweekends.com
Preacher, Pugilist, Activist, Father of four