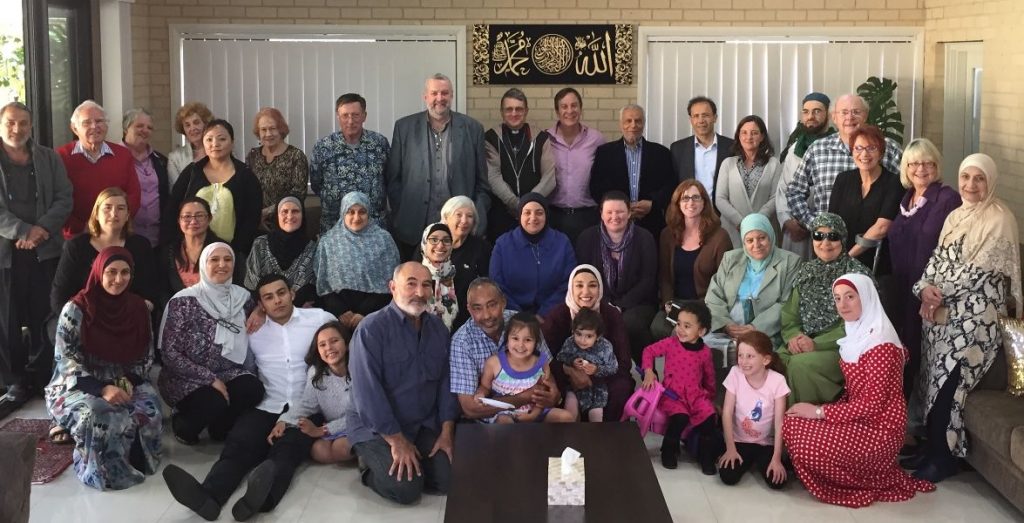 October 22 - lunch with the Grand Mufti of Australia and friends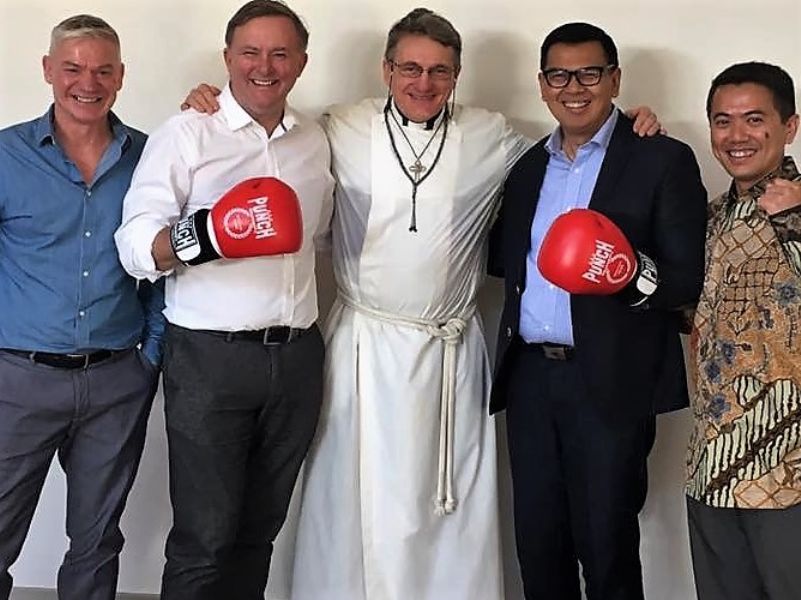 October 23 - Founding the Australian Indonesian Boxing Club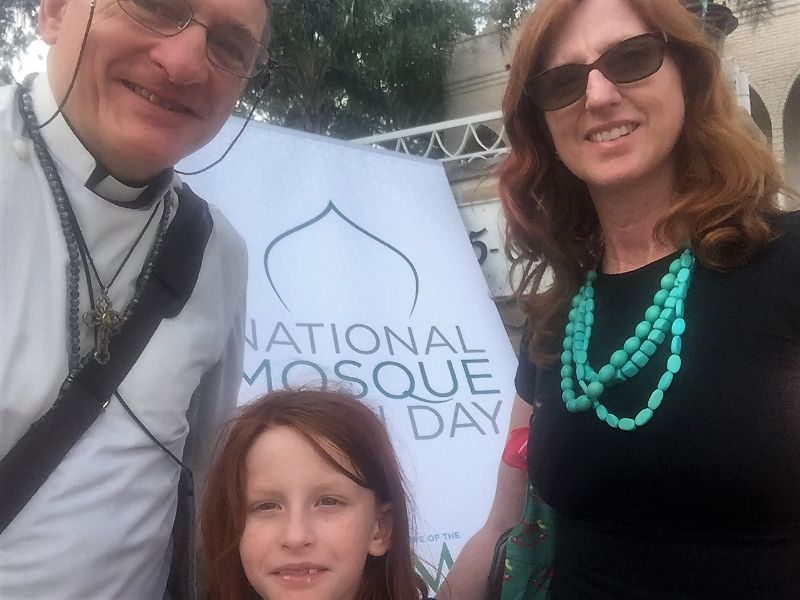 October 29 - at National Mosque Open Day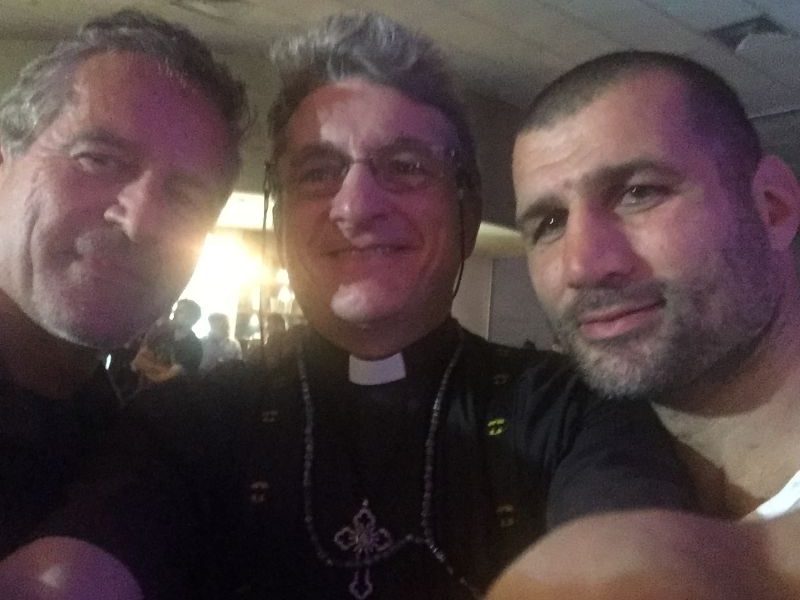 October 30 - I called out Mark Bouris (L) for a fight (but he hasn't responded)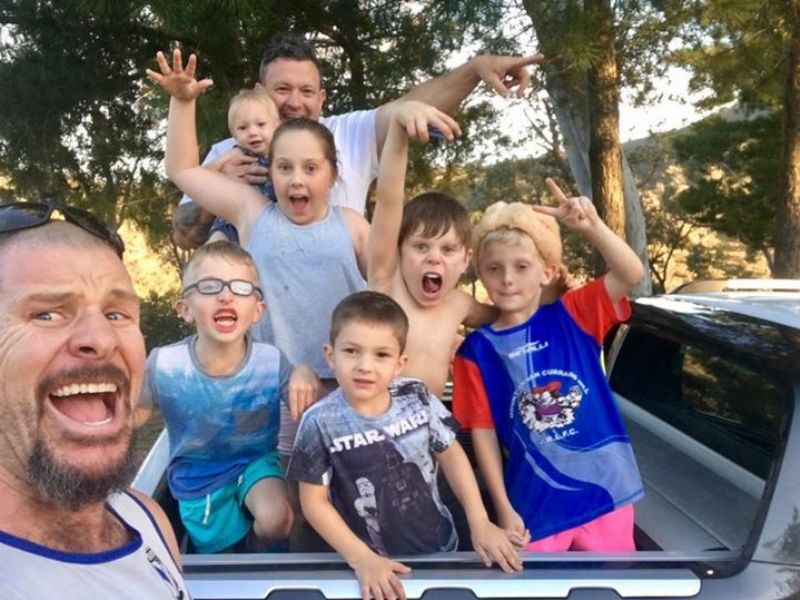 November 4 to 6 - a great Warrior Weekend with the guys from Fighting for Autism!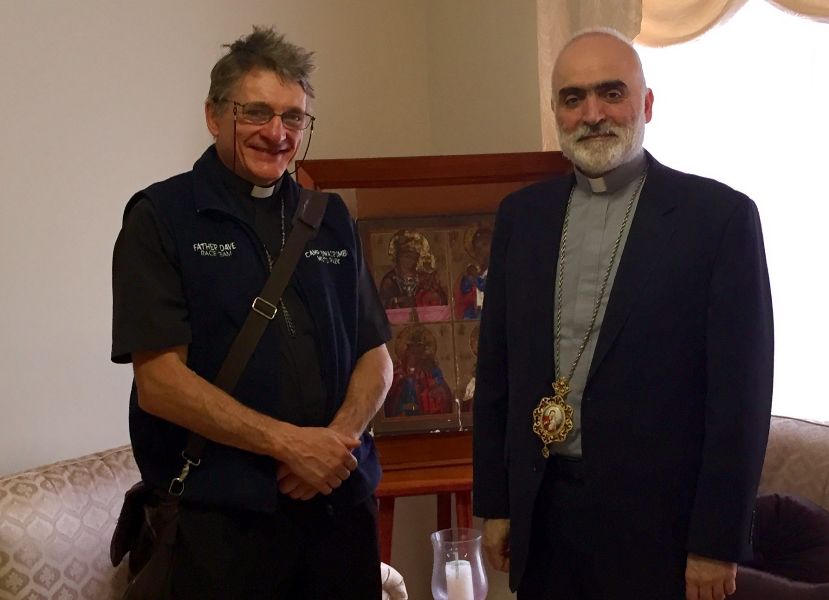 November 17 - meeting with Bishop Rabbat (Melkite) and praying for Syria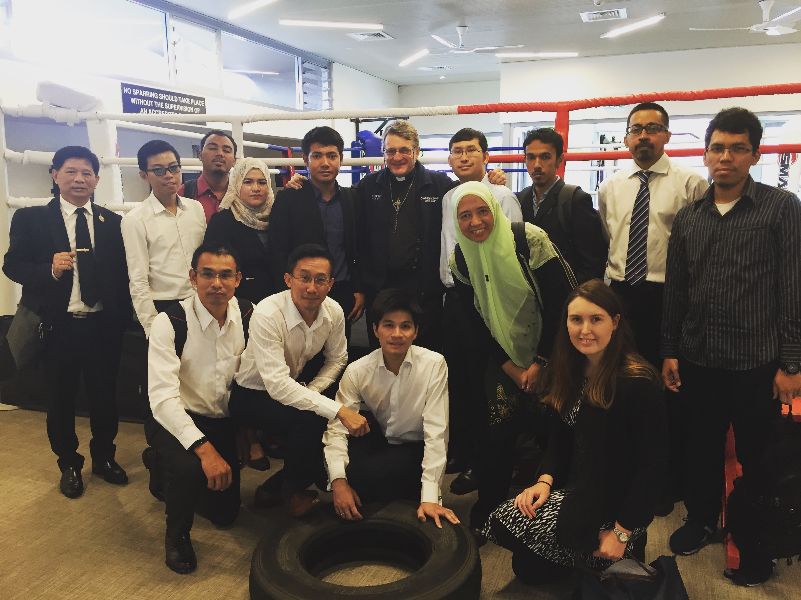 November 17 - hosting NGO leaders from Thailand and talking boxing!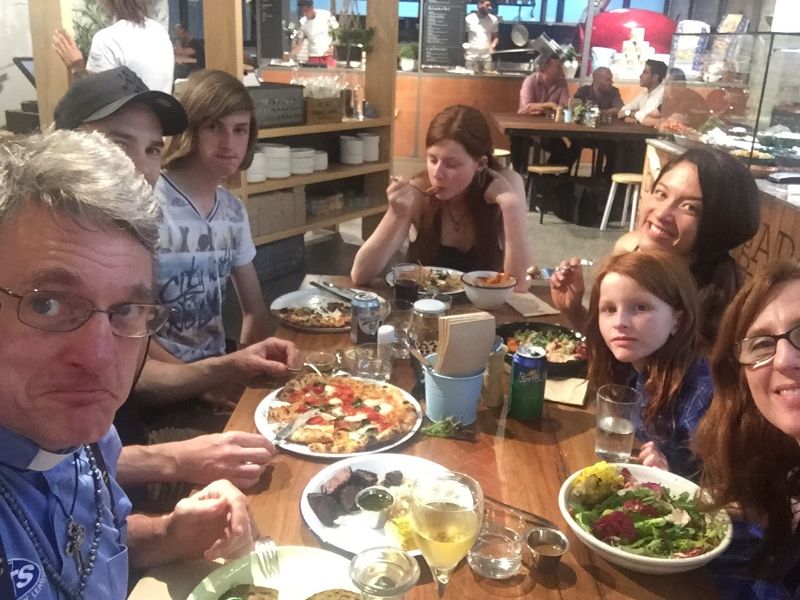 November 18 - a great night out with the family 🙂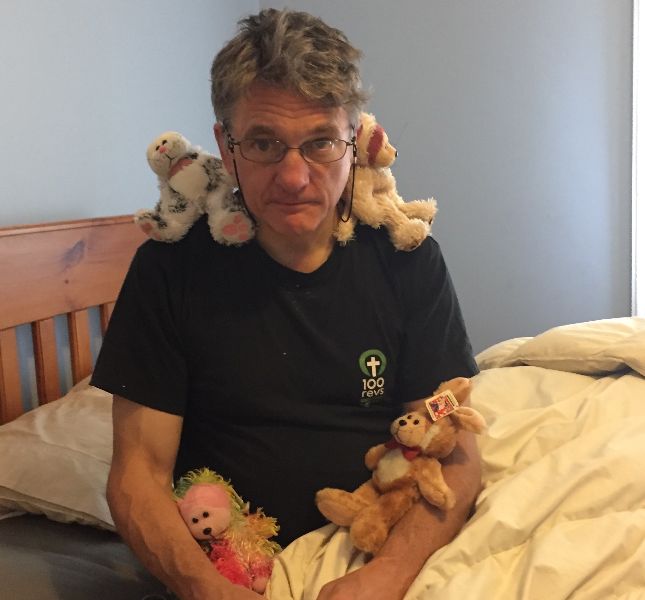 November 26 - acting as display case for my dear Fran's bear collection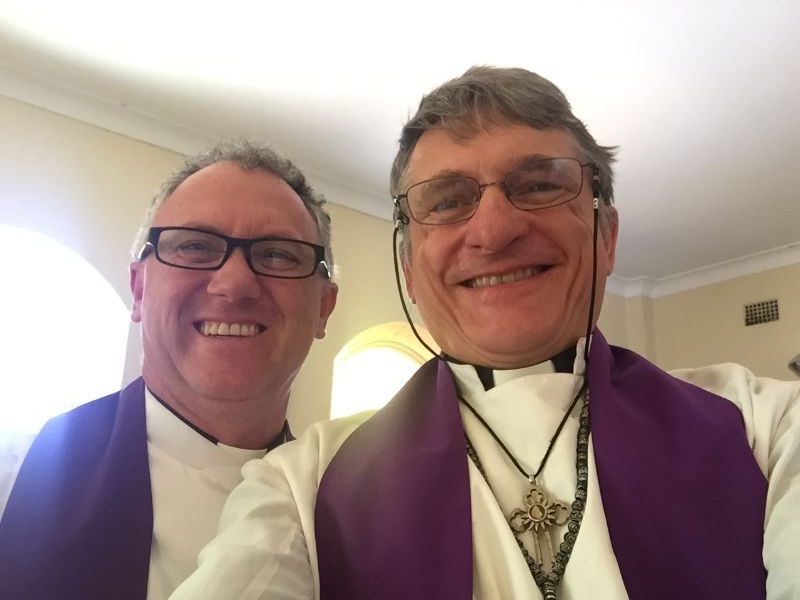 November 28 - with Canon Brett in Dubbo, celebrating the life of the late Mavis Gibbs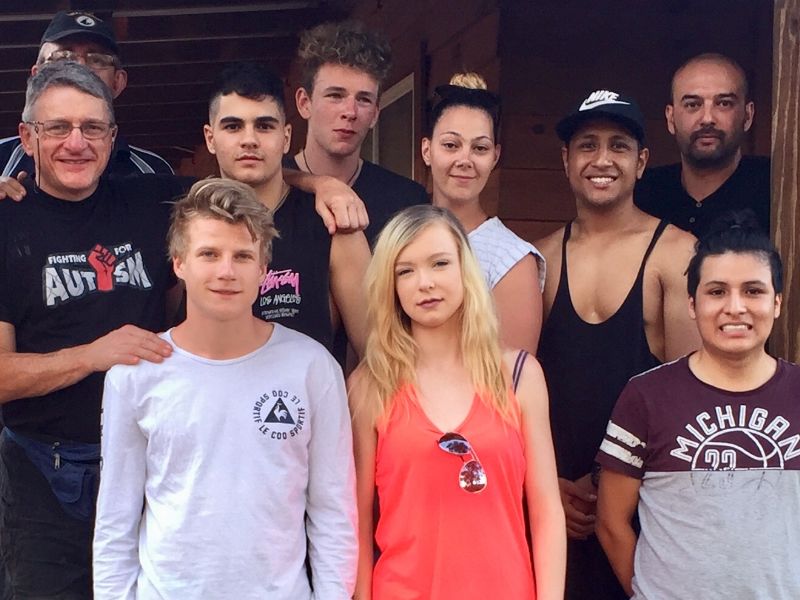 December 4 to 5 - another great Warrior Weekend at Binacrombi bush camp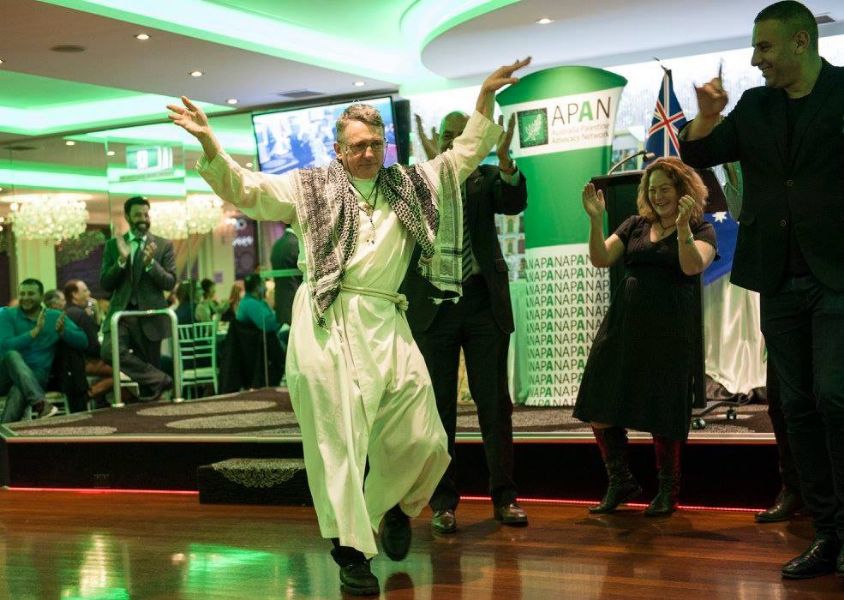 Always dance assuming that nobody is going to take a picture!
Hi Fighter,
As usual, it's been far too long since I communicated with you, and here we are at the pointy end of the year already!
I have been flat out:
Running some amazing Warrior Weekends
Sharing in some fantastic cross-cultural and interfaith bridge-building work
Doing plenty of praying and boxing
And now I'm heading back to Syria, hoping to pray in the New Year in one of the ancient Christian communities north of Damascus!
This latest scheme might seem like my craziest yet, but let me lay it out in more detail:
Firstly, I'm planning on celebrating Christmas with my church and my family first. That's a priority. Secondly, I'm taking a contingent of Christian leaders with me:
Ven. Carol Wagner (Archdeacon of the Coast – Canberra-Goulburn Diocese)
Rev. Michael Palmer (rector of Vaucluse)
Troy Hester (formerly our community worker, and now with Anglicare, in charge of the resettlement of Syrian refugees in Sydney)
My son, Soren (representing Australian Christian young people)
In other words, we are going to pray rather than box this time (though I am trying to see if I can get a fight in while I am there).  Our goals, at any rate, are:
To take some much-needed medical supplies into Syria
To establish sister church relationships with Syrian Christian communities
To allow Syrian Christians to share their stories (through our media team)
We currently have two expert journalists in our media team. Hopefully, by the grace of God, you will soon be seeing their work on your TV and social media, with Syrian Christians telling their story – a story that, up to this point, has not been told!
It is an auspicious time in Syria right now. Aleppo is on the verge of being liberated from the coalition of terrorist groups that have controlled the east of the city for some years. Conversely of course, Palmyra (where we were only a few months ago) has fallen back under the control of DAESH/ISIS. Even so, all indications are that this reversal will not last for long.
Indeed, my hope is that our New Year celebrations will mark the end of the carnage in Syria, for I do believe that once Aleppo has fallen, foreign investors in the war are likely to close their accounts, after which the violence will end as quickly as it began.
Please keep praying for the people of Syria. Their resilience is remarkable, but even if this marks the end of the violence, these good people have a long road to recovery ahead. That's one of the reasons it's so important to establish long-term supportive relationships between churches and other community organisations at this point in time. Pray with me that our team will make a genuine contribution in this process.
As always, we are dependent on our support team to get us there and to make it all happen. I appreciate that this is the worst time of year to be asking for financial support. Even so, if you can forward us even a small amount it will be greatly appreciated.
If you'd like to forward us some cash via Paypal, please use my 'Buy me a drink' page, and PLEASE DO NOT MENTION SYRIA anywhere when you make the donation!
On the last occasion, a number of lovely people who tried to contribute included messages of support, along the lines of 'peace for Syria' and the very mention of the word 'Syria' triggered Paypal's alarm system. The result was that the account was frozen for a number of weeks and none of those contributions got through.
If you'd like to give support but would prefer to avoid Paypal, just contact me and we'll work something out. All my contact details (phone number, map to my place, etc.) are in the 'contact' section of www.fatherdave.org (ie. the non-mobile version).
Christ is King
For our sermon today, I want to take you back a few weeks, to that day in the church year known as 'Christ the King Sunday'. It fell on November 20th this year, and is day when we celebrate the rule of Christ in our world.
I appreciate that the very idea that Christ rules our world may seem absurd to many. To all appearances, it is money and power that rule our world. In what sense is God really in charge of anything in this world, and if God is in charge, why isn't He making a better job of things?


(you can read this sermon here if you prefer, or watch the YouTube version here)
Of course, I can't close off today without inviting you to be a part of our Christmas celebrations here at the Church of the Holy Trinity in Dulwich Hill.
We'll be having carol-singing on our rectory lawn, as per usual, from 7pm on Christmas Eve. We'll also be celebrating our Christmas Eucharist from around 9.15am on Christmas Day. And if you haven't got anywhere special to be for lunch on Christmas Day, let me know. We currently have plenty of room at our table.
I'll be in contact again before the big day!
Your brother in the Good Fight,
Dave
www.fatherdave.org
www.fighting-fathers.com
www.holytrinity.org.au
www.binacrombi.com.au
www.israelandpalestine.org
www.prayersforsyria.com
www.dulwichhillgym.com
www.warriorweekends.com
P.S. Support the work of the Fighting Fathers by joining our online community at  www.fighting-fathers.com. It only costs you $10/month and the first month is free.
Preacher, Pugilist, Activist, Father of four