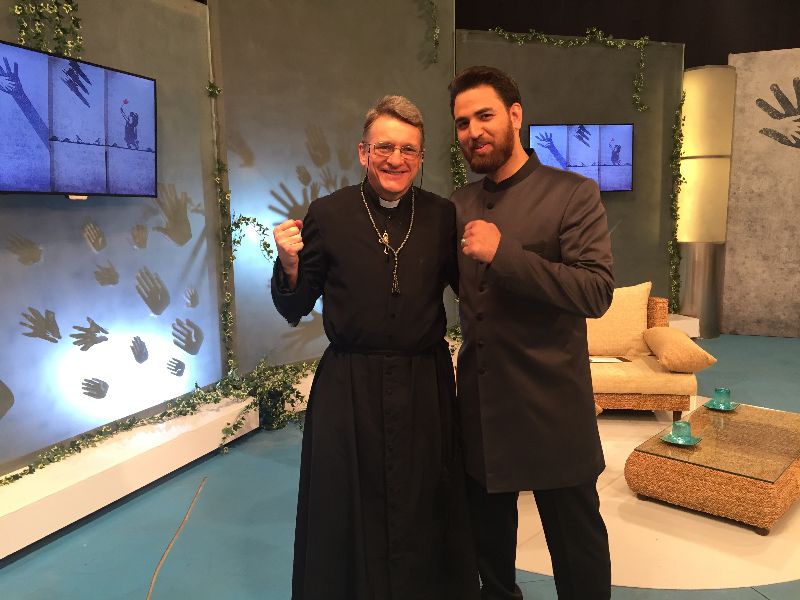 On the set of Hamghesse with Roohulla Rezvi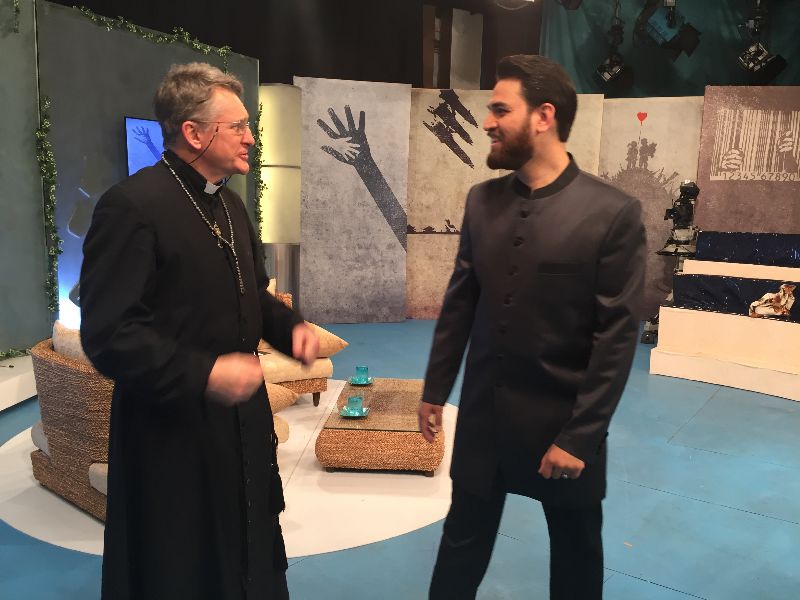 On the set of Hamghesse with Roohulla Rezvi
hanging with the studio audience after the show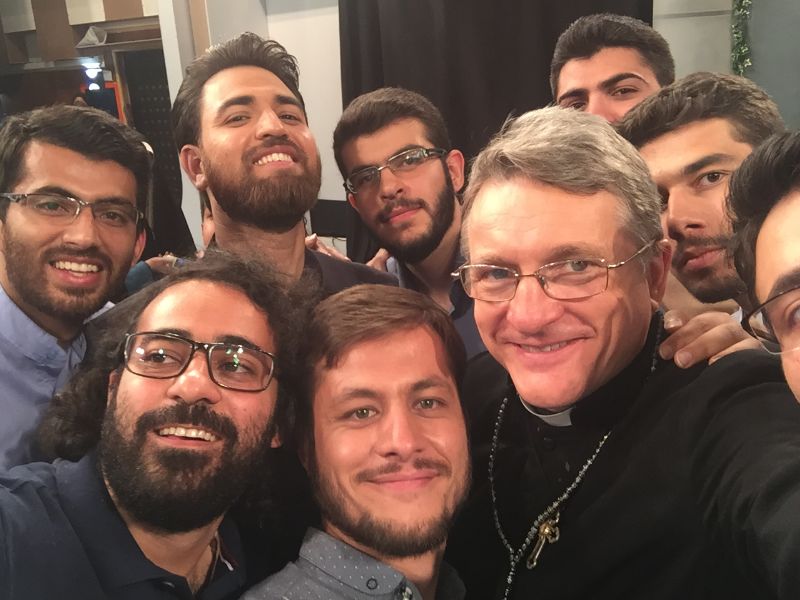 hanging with the studio audience after the show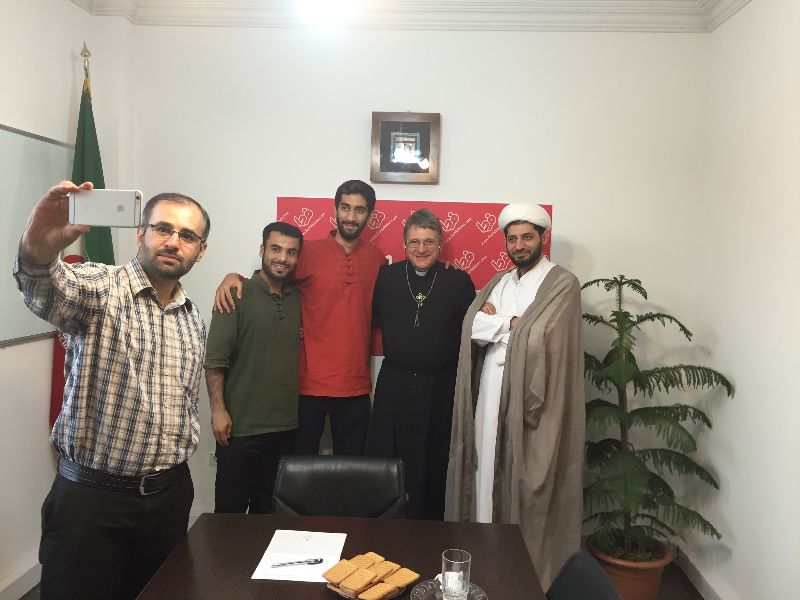 on Farda News with Sheikh Mohebbi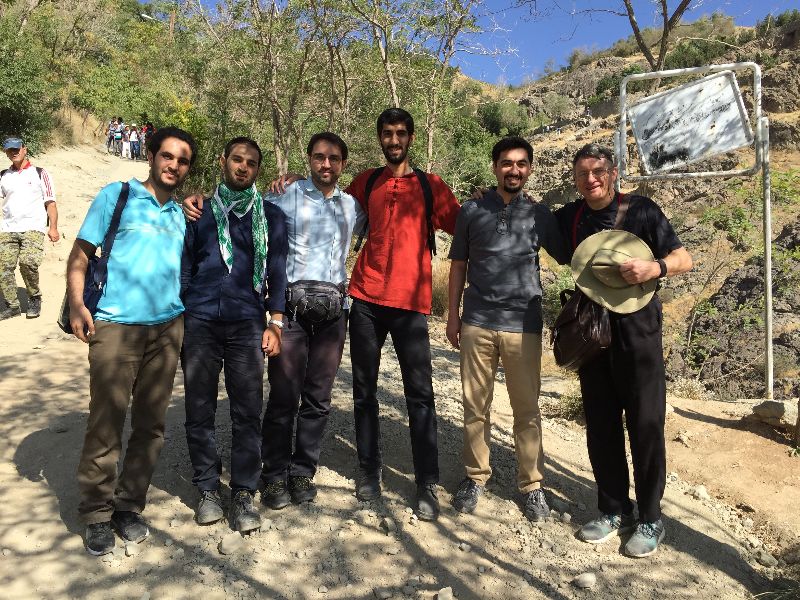 Half way up Mount Kolakchai with the lads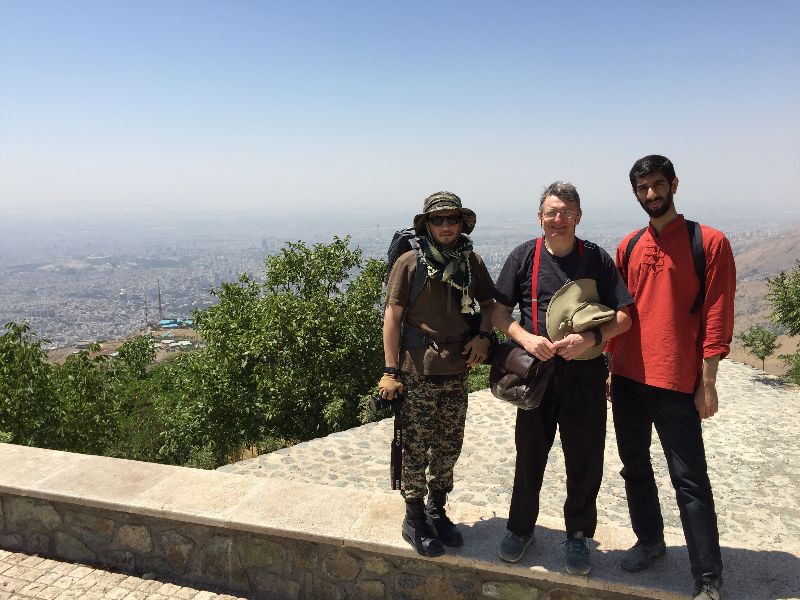 At the top of Mount Kolakchai!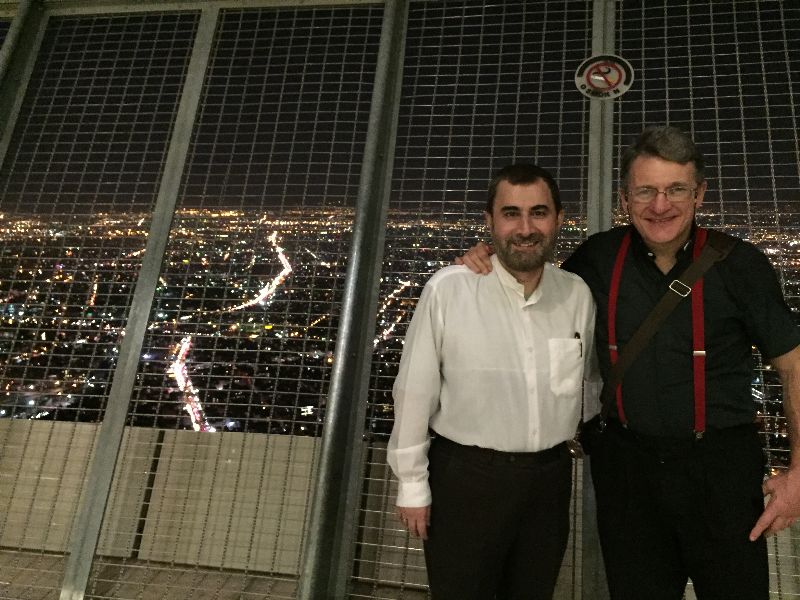 with Sheikh Mansour at the top of Tehran Tower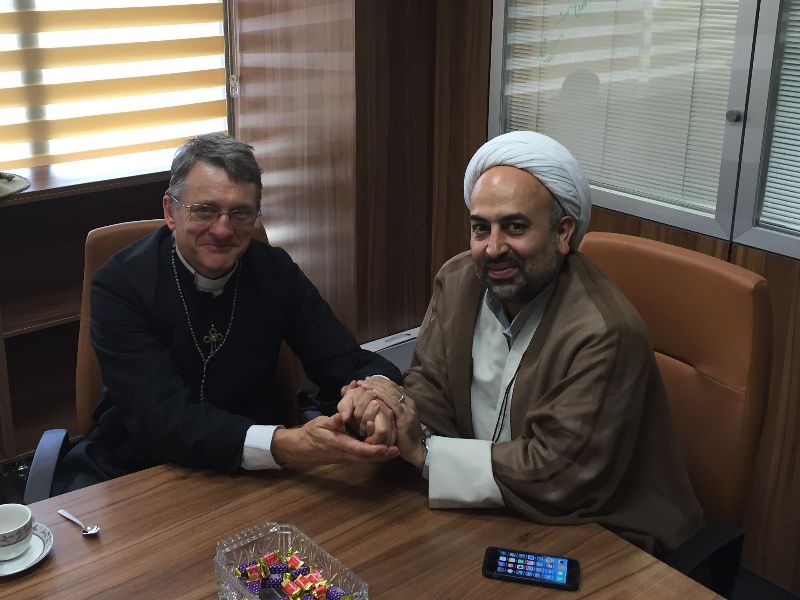 catching up with an old friend - Sheikh Mohamad Reza Zaeri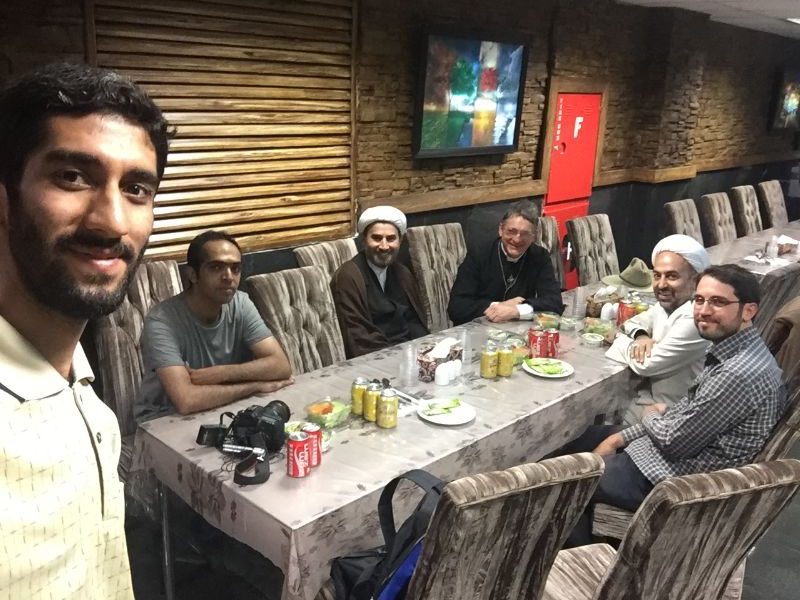 lunching with the lads
Hi Fighter,
At time of writing, I'm on a plane home after a week in Tehran. With the miracle of in-flight Internet, I thought I'd share something of the experience with you while I can, as I fear I'll be overwhelmed with work once I hit the ground!
I was flown to Iran primarily to appear in a TV show called 'Hamghesse' (which just means 'stories'). It's a one-hour show, so I got to share quite a few stories, and most of the rest of my time was filled with interviews with different Iranian print and radio media.
I also got to catch up with some old friends – most importantly with my dear brother, Sheikh Mansour Leghaei! It was great to see him though, in truth, we didn't end up having as much time together as we'd hoped. I seemed to have endless interviews and he struggled to free himself from the phone! Even so, it was good for my soul to see him
One question I was asked time and time again in the media interviews was 'What's it like for an Australian visiting Iran?' The question reflected the fact that Iran doesn't get many Aussie tourists, and I think the Iranians genuinely don't understand why.
I had to say that for the average Australian, Iran is very confronting. Most people from our culture find the enforced dress-code, where women must wear a scarf to cover their heads whenever in public, very off-putting. The no-alcohol rule likewise seems unreasonable to a lot of us. Indeed, I suspect that for most of us, Iran is not one of countries we'd most like to visit, so let me offer you a few reasons why you should go:
Iranians are amongst the most gracious and gentle people I've met
The hospitality shown to foreigners is extraordinary
Taking a drive in a taxi in Tehran is an experience everybody should have at least once in their lives (and probably best only once)
You get a lot of bang for your buck!
With regards to this last point, I spent most of my week with zero Iranian money in my pocket (as my hosts insisted on paying for everything). Even so, I managed to get my hands on the equivalent of $5 USD at one point and with it I bought:
A bowl of blackberries!
A ticket across town on the subway
Two pairs of socks (from the subway sock-salesman)
An ice-cream and a drink for my friend Ali, on arrival at our destination!
And the word on the street in Tehran is that compulsory veiling may soon be a thing of the past. Indeed, There's a #MeninHijab social media campaign going on at the moment where Iranian men are putting on hijabs in support of their female partners, protesting the compulsory veiling laws! (see some great #MeninHijab images here).
Peace in Palmyra – Virtual Tour!

You will remember (I hope) the 'Peace in Palmyra' exhibition that we held in our church's Community Centre a little over a month ago, celebrating the Boxers for Peace visit to Syria a month earlier, and our time in liberated Palmyra more specifically.
The exhibition was a great success, with hundreds of visitors enjoying Tom Toby's amazing images of life and hope in Syria. The only problem was that most of our supporters couldn't make it to Dulwich Hill, so I put together a virtual tour of the exhibition before I took everything down. Enjoy! 🙂

I still have about half of these wonderful pictures stored in my dining room at the moment and I'm keen to sell them to anyone who is interested, both to cover the cost of the exhibition and to help fund our further work. If you'd like to have one of these amazing artworks hanging in your living-room, the costs are as follows:
12 by 8 inch (30 cm x 20 cm) $150 AUD
30 by 20 inch (76 cm x 51 cm) $400 AUD
Call me or email me if you're interested and we can work out how to get the artworks to you. All my contact details are here.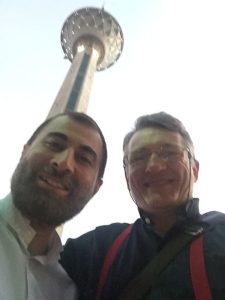 I'll close with this image of myself and Sheikh Mansour at the base of the Tehran Tower, and with a piece of trivia about the Tehran subway system that I bet you didn't know!
The first two and last two carriages on every train are designated 'women only'. Even so, the carriages in between are NOT men-only. In other words, women can choose to travel with the men if they wish but they also have the option of girls-only carriages (and it seemed that most choose to take that option)!
I'll be in contact again soon. Pray for me, that I don't get too overwhelmed as I get back into the thick of things this week. As I mentioned last time, we do need more help here, and if you're feeling called to join the team, I'm keen to hear from you!
May the Lord bless you and strengthen you for the work for which you have been called.
Your brother in the Good Fight,
Dave
www.fatherdave.org
www.fighting-fathers.com
www.holytrinity.org.au
www.binacrombi.com.au
www.israelandpalestine.org
www.prayersforsyria.com
www.zerocostwebsite.net
www.dulwichhillgym.com
www.warriorweekends.com
www.how2changetheworld.com
P.S. Support the work of the Fighting Fathers by joining our online community at  www.fighting-fathers.com. It only costs you $10/month and the first month is free.
Preacher, Pugilist, Activist, Father of four