with my darling daughters - Veronica and Imogen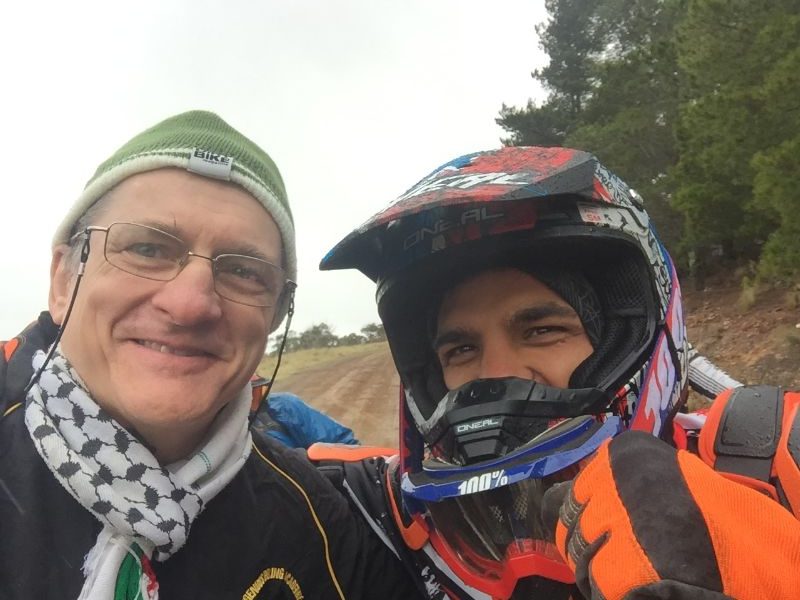 with Billy Dibb at Binacrombi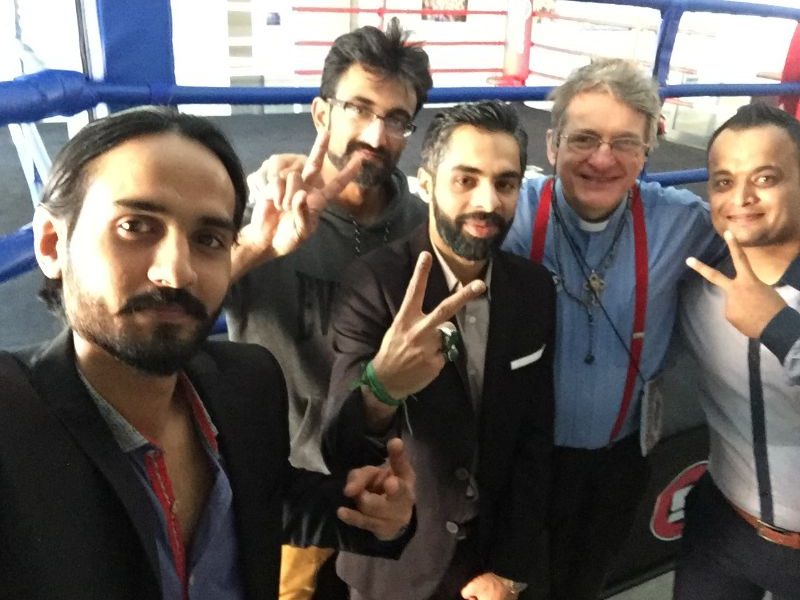 Voice of Hussain says #Australia is hate free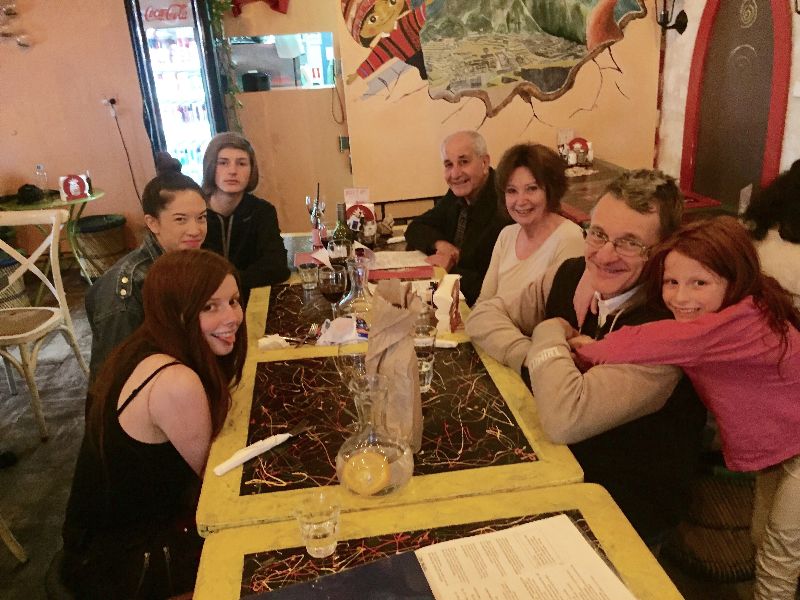 Imogen's 19th birthday dinner!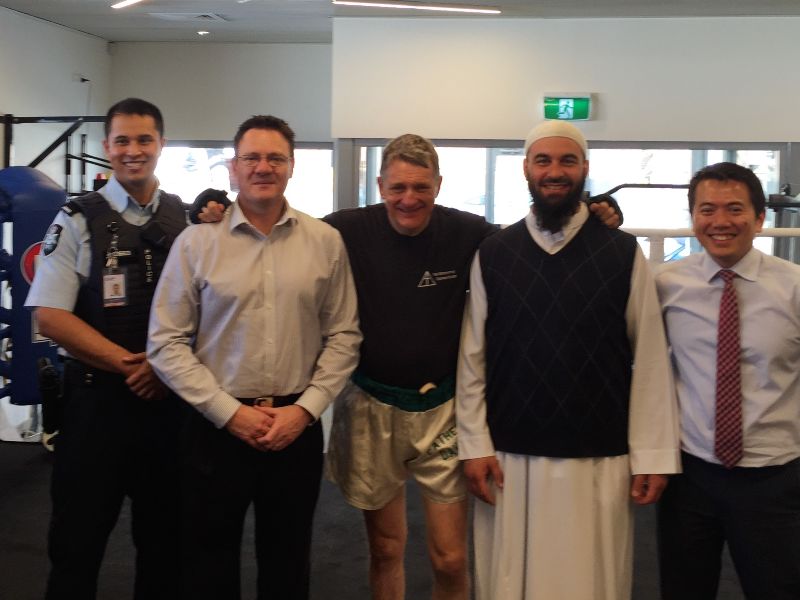 with our friends from the Australian Federal Police!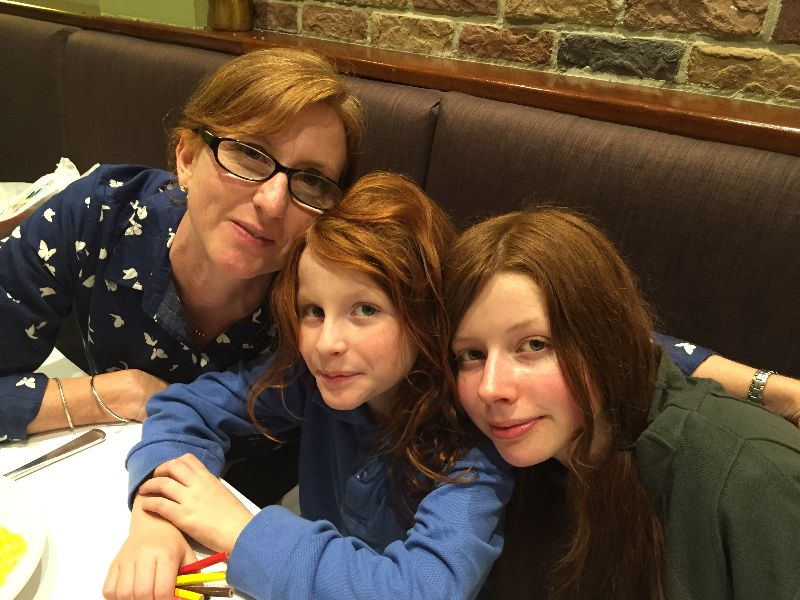 Ange's birthday dinner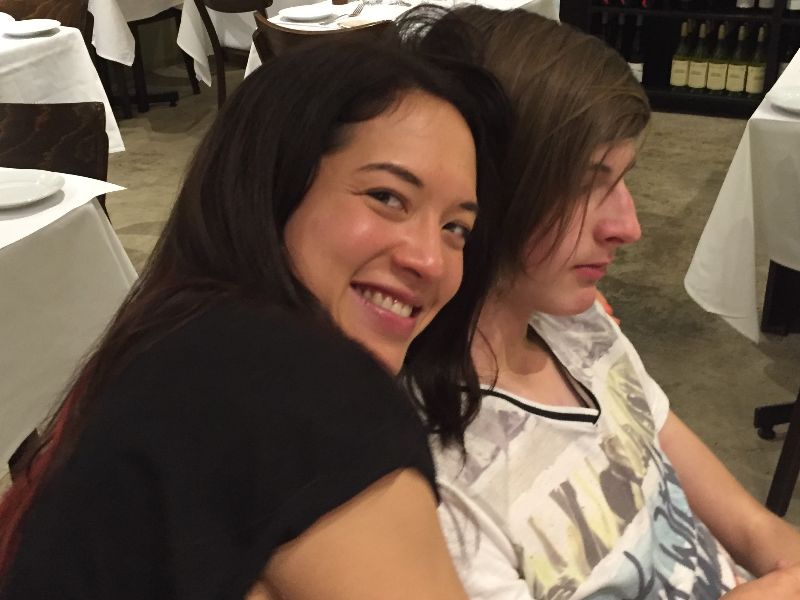 Veronica and Soren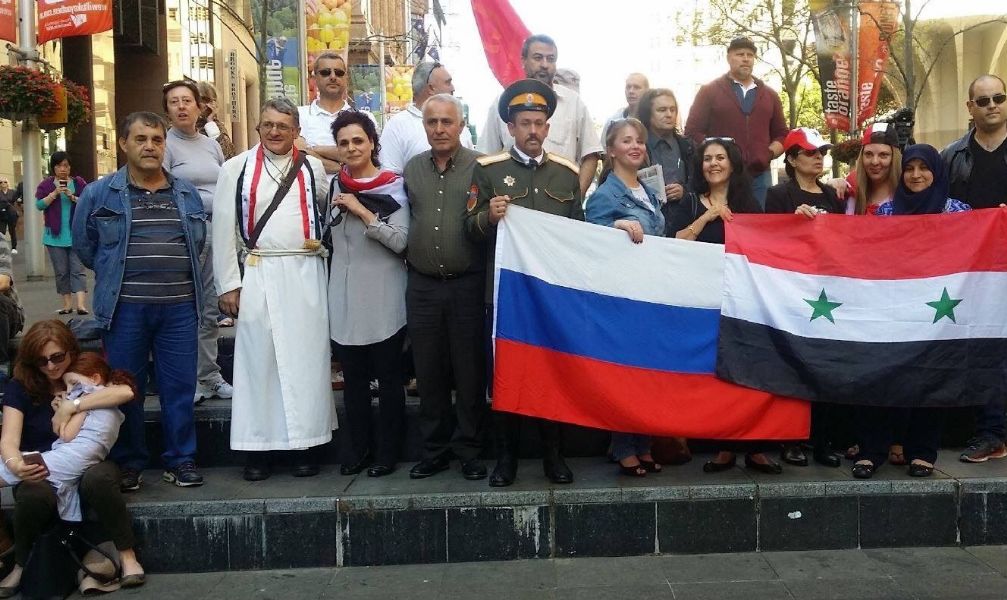 Protesting Australia's military action in Syria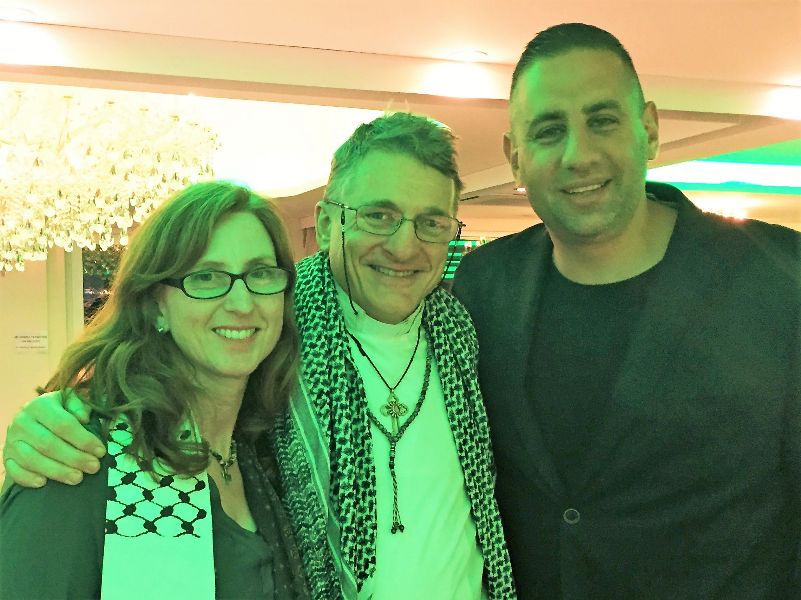 with comedian Rob Shehadie, supporting Palestine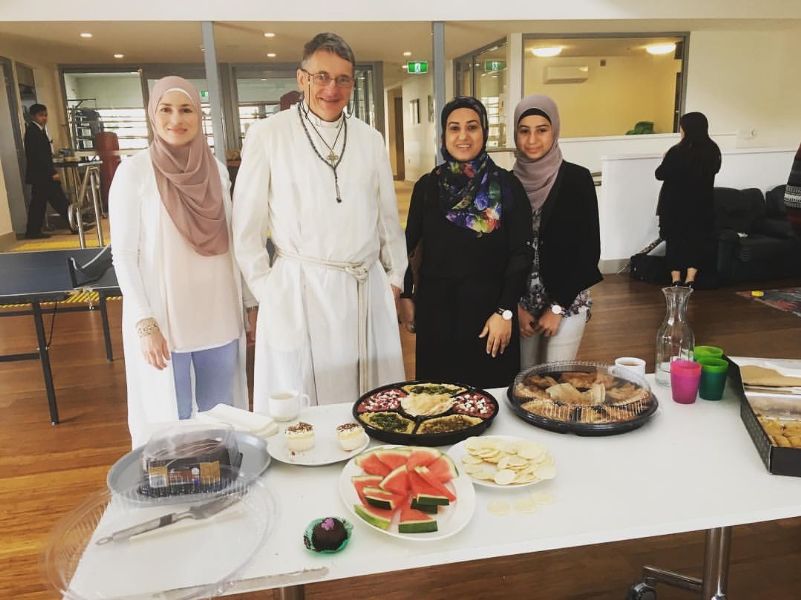 with the girls from #Spread Hummus not Hate
with the girls from #Spread Hummus not hate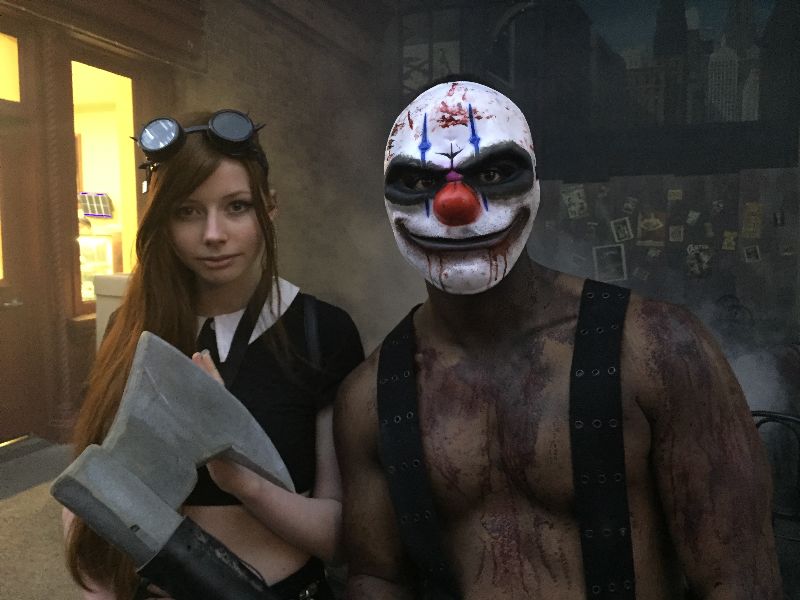 Imogen at #FightNights at Movie World
Hi Fighter,
Father Dave here with a very belated newsletter.
I do apologise for the long lapses in communication. There was a time when I managed to keep in touch with my friends and supporters almost every week.  Nowadays I struggle to find time each month, and probably wouldn't manage it now, except that I'm in synod this week and find myself with time on my hands between sessions!
For those who don't know what a synod is, it's the Annual General Meeting of the church – not of our local church community in Dulwich Hill but of the whole Sydney Anglican Diocese, which includes us along with 382 other church communities!
I will say a little more about synod towards the end of this post but I have a lot of things I want to share today, and lots of events I want to invite you to, so I'll list them all here first and you can choose where you want to go first:
Pray for Syria
Please redouble your prayers for Syria. The situation there is very volatile at present, and let me challenge you too to question everything you hear in the media.
Whatever else you've heard about Syria lately, you've almost certainly been told that:
The Syrian government and the Russians are committing atrocities in Aleppo.
The violence in Syria will never end unless there is a humanitarian intervention from the US and NATO.
I'd suggest to you that both of these seeming truisms are completely false.
The problem, as I see it, is that the Syrian Arab Army (and their Russian, Iranian and Lebanese comrades) are on the verge of winning the war against DAESH/ISIS, Al Nusra, etc. Indeed, if it hadn't been for the recent ceasefire (during which period the rebels in Aleppo re-armed) that battle might be over already, and once Aleppo is back in Syrian hands, the war is basically finished.
My reading of all the rhetoric coming in about the atrocities of the Syrian Army and the Russians is that it's an attempt to slow things down, at least until Hillary Clinton takes the reins in the US, so that the violence might then be escalated.
I appreciate that this will sound outrageous to those who get all their news from ABC and CNN, but let me offer you two pieces of alternative media:
This video of my friend, Vanessa Beeley, interviewed by the Ron Paul Institute
This insightful article by Prof James Petras about media propaganda
And if you'd like to hear what I've personally been saying about Syria lately, there's a video of a short speech that I gave at a recent 'Hands Off Syria' rally below.
Praying with me in Syria
While I can't divulge any details at this stage, I may have an opportunity in the near future to head back to Damascus to pray for peace with Syrian religious leaders. I'm looking for church leaders who will join me – the more high-profile the better.
My main aim, as always, is to allow the Syrians to tell their story. If we can put together a high-profile religious team, we'll be able to take a strong media team with us, and if we have the media with us, we can open up the real Syria to the people back home.
If you'd like to join me, let me know. All my contact details are on www.fatherdave.org (the non-mobile version).
Supporting Refugees and Asylum-seekers
I appreciate that not everybody is able to travel to Syria, and it may be that you can do far more for Syria and for Syrian refugees from where you are. One very simple thing you can do to highlight the plight faced by refugees and asylum-seekers in Australia is to help promote the 'Skye Boat Song' by my friend, Ruth McCall!
Ruth is a musician, and she has gone to enormous trouble to put together this video/song as a protest against the treatment of asylum seekers in offshore detention centres. Sydney musicians and choirs got together to say 'no more' to the cruelty off offshore detention and seek to promote an honourable response to the current worldwide refugee crisis. You can contact Ruth via her website: www.ruthmccall.com.
Video Break 
Australian-Indonesian Boxing Club
As a part of our greater effort to build bridges between people of different races and religions, I am proud to announce the foundation of the Australian-Indonesian Boxing Club!
We'll be having an official launch ceremony for the club at Holy Trinity's Australia-Indonesia Friendship Afternoon on October 23rd, and you are invited!
Download the flyer here, print it, copy it, share it around, pin it to the fridge, etc.
We expect to have the Indonesian Consular General with us for the occasion, along with a good assortment of community leaders. Most exciting of all, not only the Indonesian Consulate, but also Lina and her team from "Spread Hummus not Hate" will be providing us with a sumptuous afternoon tea to enjoy!
When: October 23rd, 2016, 2 pm
Where: Trinity's Community Centre, 2 Herbert Street, Dulwich Hill
The Friendship Afternoon officially finishes at 4 pm and Fight Club starts at 4.30 so bring your gloves and complete the day's celebrations with a few rounds in the ring!

Warrior Weekends
Following the foundation of our new club, the obvious next step is to head to Binacrombi – our training camp in the middle of the Australian bush – for another Warrior Weekend, so we'll be attempting to train like Trojans and pray like monks over the first weekends of both November and December.
These bush training-camps are guaranteed to build your physical and spiritual fitness. They will also hopefully give you a chance to make some of our new Indonesian friends!
The flyer for this one is here. Download it, fill it out and give it back to me. And if you're not clear as to exactly what you're signing up for, watch the video.
An invitation to join the Binacrombi management team
And while we're on the subject of Binacrombi Bush Camp, here's a question from left-field: would you like to be a part of the management team?
We've been developing Binacrombi for fourteen years now and we're on track, I believe, to build our bush-camp into Australia's greatest ever retreat-space for young people. We're now at the stage where we need to upgrade our management team, and train up a new group of people to help manage the site on weekends. Are you interested?
Perhaps you've often thought of yourself as a bush-camp manager?
You love dirt-bike riding
You know how to operate generators and pumps
You can work with people
You may be just the person we're looking for! Here's the deal:
We train you in how to run the Binacrombi site
You let us know when you can help cover a weekend
You get $300 for your efforts when your turn comes
It's not a huge pay-out, but we're not looking for people who are in it for the cash.
We are the Fighting Fathers. Our mission is to offer an alternative culture to our young people, based on values of courage, integrity, self-discipline and teamwork. We don't run at a profit but we do need funds to keep our programs going and this is how we make it work.
Interested? Let me know. All my contact details, as mentioned already, are on www.fatherdave.org (the non-mobile version of the site). We'll be training people between now and the end of the year.

Video Break II (Sermon Time)
The lies and the violence of the great powers can be so overwhelming! That's why we constantly need to be reminded of the love of God for all of His fragile and broken children. Few of Jesus' teachings bring home that love more powerfully than his well-known parables of the lost sheep, the lost coin and the lost son.
Now all the tax collectors and sinners were coming near to listen to [Jesus]. And the Pharisees and the scribes were grumbling and saying, "This fellow welcomes sinners and eats with them." (Luke 15:1-2)
And so Jesus told them a joke …

(and if this video isn't displaying properly, you can view it here)
Synod
Synod has been a tense time for me personally this year as one of the main subjects under discussion is the church's stand on same-sex marriage.
I published an article supporting same-sex marriage some four years ago (see here) though I appreciated, even back then, that my views were not shared by many in my Diocese. This disappoints me, but of more immediate concern to me is the way this issue has affected my friend and colleague at Holy Trinity – the Rev Dr Keith Mascord.
Keith recently published his second book – Faith without Fear – in which he raises lots of questions about our traditional understanding of the faith, including issues of sexuality. Keith is also a supporter of same-sex marriage. In his case though, his views seem to have cost him his license to minister as a priest in the Diocese (which you can read more about here)! This has been a cause of great upset for both Keith personally and for our parish.
There was much said in synod about Keith and about same-sex marriage. I kept quiet for the most part but decided that something had to be said in opposition to a motion put forward that was designed to mobilise the church in opposition to same-sex marriage. I was the only person to speak against the motion. I forgot most of what I meant to say but an audio of that I did say is below.
The motion was passed, of course, despite my plea, though I did hear at least two or three other persons say 'no'. I guess I expected that. What I didn't expect, and what I personally found much harder to deal with, regarded a proposed amendment to the motion, put forward by my friend Rev. Michael Palmer.
Mike's amendment, proposed after my brief speech, condemned the "vilification, bigotry or other expressions of hate or fear" directed towards "Christians holding or considering divergent views on same-sex relationships" (eg. me). This proposed amendment was defeated, meaning, one might think, that Anglican Christians in Sydney are at liberty to vilify me (and Keith and other dissenters) as much as they please! I'm sure that wasn't the intention behind the rejection of the motion, but it did leave me feeling very alienated from the synod as a whole.
Please put in a prayer for Keith, for our Diocese, and for me, but most especially for the GLBTI+ community of Sydney who, I suspect, will interpret synod's decisions as just another slap in the face from the church. These people have already been subject to a significant history of ecclesiastical abuse.
I do pray for the day when all forms of abuse and discrimination will end, and when the church everywhere will turn to their gay and lesbian sisters and brothers with love and respect, seeking forgiveness for past wrongs. I fear though that that day may yet be a long time coming.
That's more than enough from me for today.
Your brother in the Good Fight,
Dave
www.fatherdave.org
www.fighting-fathers.com
www.holytrinity.org.au
www.binacrombi.com.au
www.israelandpalestine.org
www.prayersforsyria.com
www.zerocostwebsite.net
www.dulwichhillgym.com
www.warriorweekends.com
www.how2changetheworld.com
P.S. Support the work of the Fighting Fathers by joining our online community at  www.fighting-fathers.com. It only costs you $10/month and the first month is free.
Preacher, Pugilist, Activist, Father of four